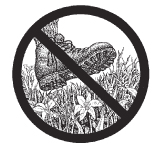 Backpacking will not be an official part of De Anza College Outdoor Club trips to the Grand Tetons, but you could get a permit for a backpack adventure if you plan ahead and bring appropriate gear, including gear for a potential early winter storm during the fall trip or late spring storm during the summer trip. In summer, remember that the snow doesn't clear on the highest trails until late July or even August and you'll need an ice axe (and knowledge of its proper use to self arrest and self belay) for safe travel over many passes/divides. When you pick up your permit the rangers can give you current details.
A confirmation letter for a 2017 permit we got said, in part, "Safety Check-Do you need an ice axe for your hike?
Snow usually melts from valley trails, approximately 6,700 feet by mid-June but remains in parts of the high country through much of the summer. Safe travel over Paintbrush, Static Peak and Moose Basin Divides and Hurricane, Mt. Meek and Fox Creek Passes requires an ice axe and knowledge of its use as late as August. Snow conditions vary from year to year. If you have questions about the status of these divides as your hiking date approaches call 307-739-3309. "
The Grand Teton Online Ranger Station, with climbing, mountain pass, canyon and trail route conditions is at: http://www.tetonclimbingpass.blogspot.com/
There you will find info you need to know, for example, by June 8, 2014 there was 60% snow up Cascade Canyon and nearly 100% snow to Lake Solitude. By June 4, 2013 the first 4.5 miles of the Cascade Canyon trail had minimal snow, by July 4, 2013 the Cascade Canyon trail was free of snow all the way to to Lake Solitude. In 2012, Lake Solitude started to melt around the edges by June 30, and was open water July 13. By July 13 the north fork of Cascade Canyon was mostly dry and all campsites were snow free. By July 20 only patchy snow remained in the upper portion of Paintbrush Canyon.
Most park high elevation trails, canyons and passes still contained patchy snow or small snowfields to cross by the end of July 2010/2013, mid July 2012. By the end of July 2011, there was still 2-5 feet deep snow at higher elevations and many passes.
High elevation campsites can clear up from snow with enough space to pitch a tent in mid to late June, but the bear boxes can remain buried in snow so bear canisters will be required by the park.
Below, park service photos of the north fork of Cascade Canyon as seen from the summit of the Grand Teton July 25, 2010 and June 28, 2012. In July, 2010 Lake Solitude was barely melted out and Paintbrush Canyon had a small path shoveled out of it's steep snow patch. A backpacker had lost his balance on this steep snow, and broke (open fracture) his leg July 18.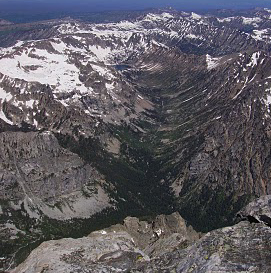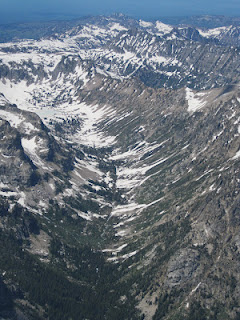 In 2014 the Teton range had it's deepest snowpack recorded in 18 years, as much as 500 inches.
———————————
If you decide to backpack overnight you'll need a permit. As of a 2016 brochure, still at the website in 2017, the basic rules are: individual parties of 1 to 6 people. Groups of up to 12 people can only backpack to designated group sites. You can't stay overnight everywhere, for example, not in the first 4+ miles of the Cascade Canyon trail, or the first 6+ miles of the Paintbrush Canyon trail. There are designated campsites at some places, zones where overnights are allowed at others and no sleeping overnight allowed some places. There are limits to how many nights you can stay at some places, as few as two or three, and a maximum total in the backcounty in summer.
Backcountry camping permits are issued to walk-ins on a first-come, first-served basis one day before the start of a trip OR requests for advance reservations are accepted from early January to mid-May. The cost, as of Jan. 2017, is $25 per walk-in permit, with an additional charge of $10 for advance reservations. All advance reservations must be done through the Recreation.gov system. You have to pick up an advance reservation permit. During the peak season, July and August, competition for walk-in permits is high.
They would like you to watch this Backcountry Travel video
https://www.nps.gov/grte/learn/photosmultimedia/parkvid.htm
before you go.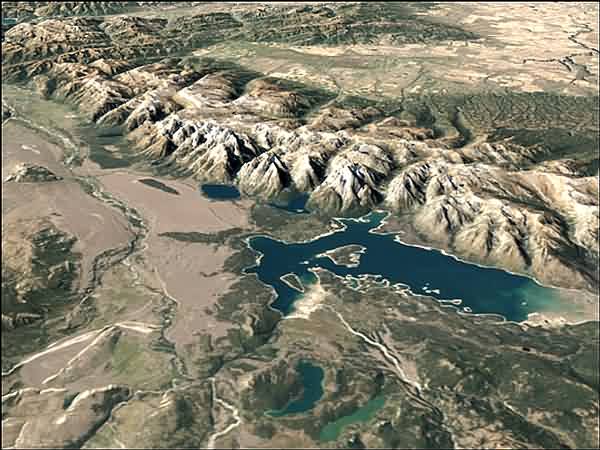 The main Grand Teton Park backcountry camping page is at:
http://www.nps.gov/grte/planyourvisit/back.htm
There you can download a backcountry trip planner, find links to camping zones, reservations and more.
Watch a Grand Teton National Park backcountry trip planning video:
http://www.nps.gov/grte/photosmultimedia/tp.htm
As of 2002, the Park Service was promoting a more complete pack-it-out policy and providing 'rest stop' bags to pack out human waste from the Grand Teton lower saddle. Climbing guide companies were requiring their clients to use the bags.
You can climb and day hike without a permit, as long as you don't camp/bivouac. But it's always wise to check with the Rangers for info before even a long hike above the valley floor. In 2000 they banned eating snacks or lunch in the Hidden Falls and Inspiration Point areas of Cascade Canyon because a black bear sow and her two cubs had found they could bluff charge and get people to abandon their picnic or pack.
It is wise to keep your backpack or daypack within arm's reach at all times it is not on your back, if not because of the bears, to keep a rodent from chewing into it.
De Anza students planning a backpack as a part of one of our official trips to the Tetons are asked to read:
Backpacking Advice, which has these sections: Must bring for each large group (or perhaps for each couple or person), Must bring backpacking for each person, Some (crazy?) people think these are optional for backpacking, Backpacking luxuries(?), Do not bring these backpacking, To keep down on weight backpacking, Don't rush out and buy, BACKBACKING FOOD, Low-cook backpacking foods, Yosemite National Park WILDERNESS PERMITS, Leave no trace camping has these basic principles.
and to plan to check out one or more Garcia food storage containers from the club: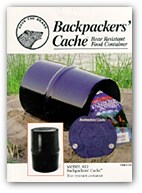 using a bear resistant food storage container has how-to info and advice on how to fit more in each container.
Bear-proof canisters are required for overnight stays where there is no food storage box provided.
Counterbalance hanging of food does not work; bear canisters (or campsite bear lockers, such as those at lakeshore backcountry sites on Leigh, Phelps, and Jackson lakes) are the only effective and proven method of preventing bears from getting human food, and only if the humans use them properly.
(Some bear resistant food containers have been invented made of Kevlar, fabric and/or fabric aluminum have been invented, but are not allowed at many parks. Check in advance to see which brands of hard plastic models are okay where you go.)
____________________________________________________
Afternoon thundershowers are common in the summer. At least one period of interesting weather with snowfall at the higher elevations occurs in late August every year. Grand Tetons Weather
Horses and pack trains have the right-of-way. Yield to them by stepping off the trail on the uphill side and stand still and quiet until they are well past you.
Teton County (Wyoming) Search and rescue would like you to know:
"Do not stand in moving water, even if shallow. If your foot gets trapped in the rocks, the current will push you over, wedging you foot tighter, and pushing your head underwater. You will drown. Others have drowned in 2 feet of water this way."
_____________________________________________
Leave no trace camping and hiking has these basic principles:

Plan Ahead and Prepare
Travel and Camp on Durable Surfaces
Dispose of Waste Properly
Leave What You Find
Minimize Campfire Impacts
Respect Wildlife
Be Considerate of Other Visitors
For more details about 'Leave No Trace' camping go to:
http://www.tetonclimbingethics.blogspot.com
To truly be able to leave no trace and follow backcountry rules about camping the proper distance from a lake or digging your personal latrine hole the proper distance from water, etc., you will need to know how far 100 feet is. Lay out a tape measure at home and walk it and count your paces.
_____________________________________________
A few clues about other distances:
about eight miles away the shapes of prominent trees and buildings become distinguishable
about 2 miles away you can see individual windows in a building
about a mile away a person looks like a moving dot without limbs
about 400 yards away (a little under a quarter of a mile) you can make out a person's legs or a kayaker's arms
about 250 to 300 yards away faces are discernible (but not recognizable)
_____________________________________________
See also:
Enhance your hike by reading:
The day hike gear section at Camping equipment checklist
Thunderstorm and lightning safety includes the answer to the question: Why can't you swim during a lightning storm? A strike on a lake doesn't kill all the fish in the lake.
see also: Cell phones in the wilderness which has advice on how/when to use a cell phone to contact 911 in the wilderness and a warning about interference between cell phones, iPods and avalanche beacons.

You can't always expect a helicopter rescue
fatal, near fatal or close call incidents/accidents in camping, backpacking, climbing and mountaineering
Can a person who is prescribed an epi-pen risk going into the wilderness? and some sting prevention notes are at: Anaphylaxis quick facts
Hiking Advice has hot weather hiking advice, hiking logistics and the answer to the question: When is the best time of day to cross a mountain stream?
Enhance your drive to the park: Road trip advice and etiquette
The day hike gear section at Camping equipment checklist
Rocky Mountain mammal size comparisons
Grizzlies are rare in the Grand Tetons, but growing in number.
your safety in grizzly bear territory tells you what to do if
you see a bear in the distance or a bear charges you and has info, including links to park videos about Bear Pepper Sprays.
Camping solutions for women has tips for and answers typical questions from first-time women campers,
including the question: Can menstruating women camp or backpack around bears?
Bears has links to general info about bears, then practicalities of camping and backpacking around bears, (food storage, what to do if you see a bear) mostly geared towards our trips around black bears in California.
See also Grand Tetons sightseeing, Grand Tetons backpacking
Grand Teton and Yellowstone National Park photos
NASA aerial photo of Teton Range
For details about our next club trip to Grand Teton National Park, go to: Grand Tetons.
Grand Tetons trip pages index has brief descriptions of most of the pages about this trip.
______________________________________

Where you must pack out your poop, Clean Mountain Cans: http://www.nps.gov/dena/planyourvisit/cmc.htm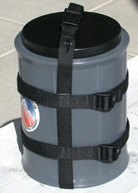 ______________________________________