The best way to see animals in Grand Teton National park is to get up early.
The first morning we were up early on the 2006 Tetons trip, three of us up and out the earliest heard wolves howling for as long as 4 or 5 minutes with three separate songs.
Below: Tiffany Tseng helps unload kayaks before sunrise for an early morning kayak exploration of Oxbow Bend.
As we launched that first morning we heard elk bugling from three directions, saw and heard Canada geese overhead and watched two does and three fawns wade across the river in front of us.

During the morning kayaking we occasionally get out of the craft and go exploring. While walking Tiffany found the daybed of a bull moose: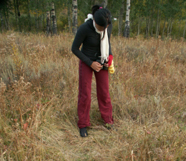 That morning we saw 5 different moose: a female eating on an island, a bull (see below), a young male with the start of antlers swimming across Oxbow Bend, and another female (collared) with her calf (see below). (Not all posed for pictures, but we did watch some of them browsing.)
We also watched other people getting too close to the bull moose, so close it was uncomfortable to watch. Notice that he is not browsing anymore in these pictures. Also notice that some of the people too close would have little choice but to slide down a cliff into the Snake River if he were to get more agitated than they were making him and charge.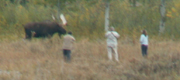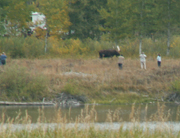 Later that morning driving to brunch we watched a collared cow and calf. As the cow moved from place to place feeding, the calf lost track of her for a moment, then ran to her: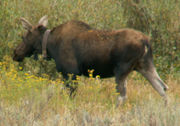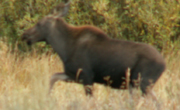 Animals on or near the road cause traffic backups referred to as moose jams or bison jams: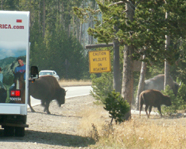 The reason for the animal jam above near the entrance to Jackson Lake Lodge was these two: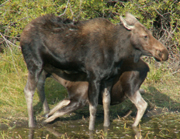 There are more pictures of this cow and calf at:
Moose cow and calf, Grand Teton National Park September, 2006
On another morning out kayaking we photographed trees cut by beaver(s) at Oxbow Bend (below: Debbie Adams and Tiffany) and saw two Bald Eagles.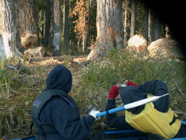 On a hike in Cascade Canyon we sat still and waited to see animals, then watched this pika (shown below nibbling) and across the trail, a weasel: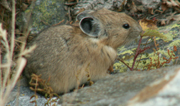 (The size of the animals in relation to each other in these two photos is deceiving. The pika is about the size of an adult fist and the weasel is the size of a large house cat.)
There are more pictures of the pika at: Pika
There is a description of the Cascade Canyon trail
and lots more pictures at: Cascade Canyon, Grand Teton National Park
On the road near the cabins we rented for most of the trip: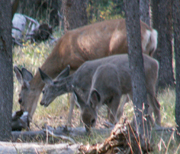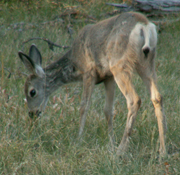 The very flat tire on the kayak trailer tow vehicle held up the start of a overnight kayak/camping trip:

Could it have been caused by the four-wheeling people did the day before? That road had been named "we're gonna bottom out road" by previous trip 4-wheelers.
Since the group campsite we got a wilderness permit for is regularly used, we anticipated a lack of firewood in the area and collected a bunch along the portage trail from the lake we launched at to the lake we camped at. Our record late start meant that we we just beat the start of the afternoon wind, and it was a good thing because the canoe with most of the wood supply was a bit top heavy.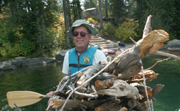 Below: a view of Mount Moran through a front tent door at our Leigh Lake backcountry campsite.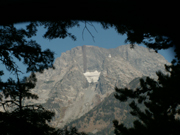 At ten that night coyotes chorused for us. Much later that night Debbie heard a moose walk through the campsite very near her tent but was too nervous to confirm it by looking. Alan and Mary stood out on the beach at about 2 a.m. stargazing and watching the Milky Way reflected in the still lake water, and heard a moose walk out into the lake and back down the shore. We found bear tracks in the sand on the beach just steps from camp the next morning.
On the portage back from the overnight, club President Shannon Mathey hitched a ride (wink, wink) from Alan and Debbie: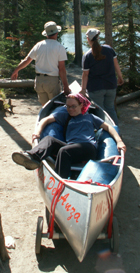 There is a bigger copy of this photo at: Picture: Debbie Adams and Alan Ahlstrand give Shannon Mathey a portage ride at String Lake, Grand Tetons Sept. 2006
There are more photos of the two lakes, the portage and the campsite at: String Lake to Leigh Lake, Grand Teton National park
The trip was not all wildlife watching, kayaking and camping. Some of the group saw part of the Jackson Hole Fall Arts Festival displays, some went sailing. We borrowed an educator's traveling trunk from the National Museum of Wildlife Art and studied raptor's flight and found out that moose scat is smoother than elk.
Each trip can become what different trip participants want it to be: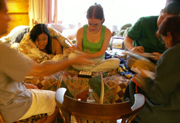 Meanwhile a squirrel chewed through a window ledge at the back of one of our cabins and the maintenance people filled the entrance to his new winter home or acorn storage bin with insulating foam:

The main De Anza College Outdoor Club Grand Tetons trip information page is at Grand Tetons
See also: Grand Tetons kayaking
Grand Teton and Yellowstone National Park photos
Grand Tetons trip pages index has brief descriptions of most of the pages about this trip.