Just outside of Grand Teton National Park, Headwaters Campground at Flagg Ranch has mostly pull-through RV sites along with a few tent sites.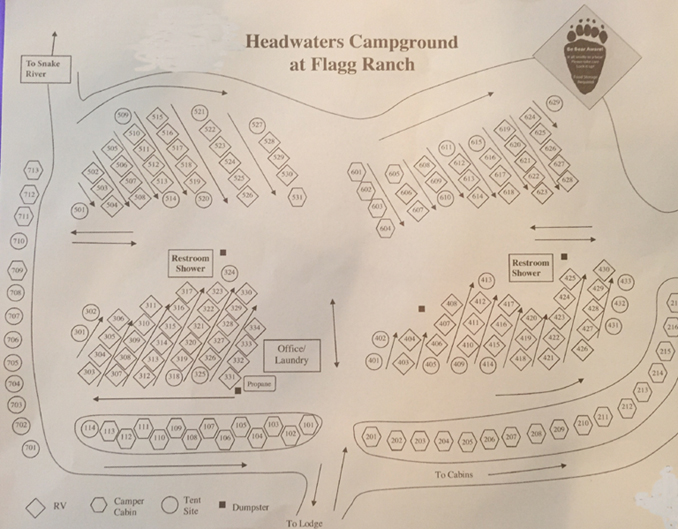 The park service says: "Located in the John D. Rockefeller, Jr. Memorial Parkway, just south of Yellowstone National Park's south boundary and five miles north of Grand Teton National Park. . . . full hook-up RV sites (20 and 50 amp electric), and camper cabins. Services include dump station, showers and laundry.
All RV sites may be reserved. All campsites in the Headwaters Campground can be reserved.
Reservations: https://www.recreation.gov/camping/campgrounds/258832
"Heading north from Jackson on US 26/89/191, turn left (west) at Moran Junction. Continue north on US 89/191/287 22 miles to Flagg Ranch. Turn left (west) and follow the signs. Heading south from Yellowstone on US 89/191/287, continue two miles south. Turn right (west) at Flagg Ranch and follow the signs."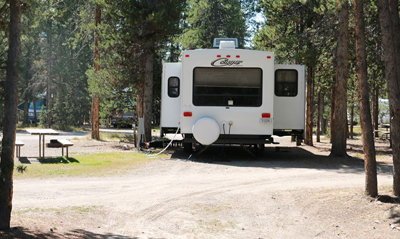 Camper cabins are also available (bunk style beds with padding, either a double-double bunk or double-single bunk, no electricity, bedding, or private restrooms, but a 24 hour shower house).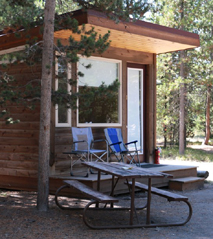 Nearby is a gift shop/restaurant/gas station.
The map below has cabins (brown) on the left, campsites and camper cabins on the right. The large almost rectangle on the upper right is guest registration, restaurant, saloon, convenience store.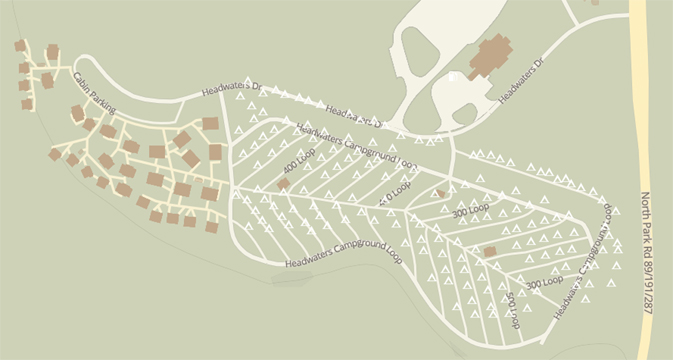 Google maps 365 degree photo you can rotate page and page
and here.
Unfortunately, the few tent only sites are mostly at the end of rows of RVs, giving them bare dirt/roads sometimes completely around them, as in the photos below.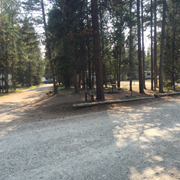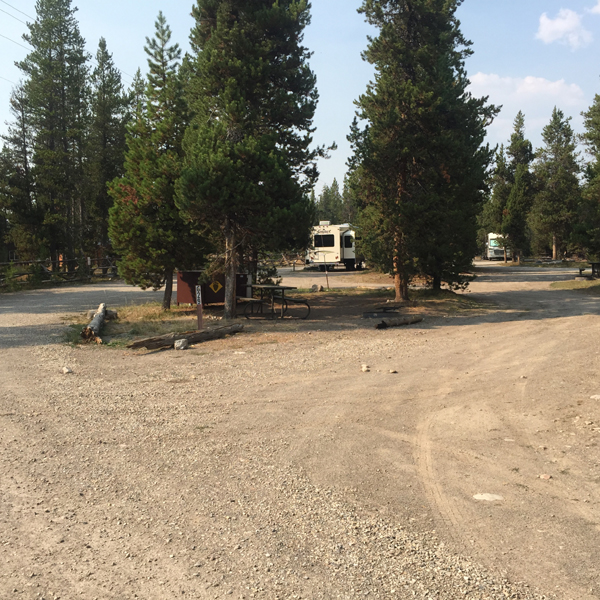 Grand Teton National park has an announcement that some park visitors seem to not have learned about:
"Be thoughtful of how music may affect others. Operating an audio device, such as a stereo, Bluetooth speaker, radio, or musical instrument in a manner which is unreasonable and impacts park users is prohibited by law."
COSTS:
May 12, 2023 – September 30, 2023
Camper Cabin Nonelectric $99.00
Full Hook Up Rv Site $102.00
Tent Site Nonelectric $52.00
Most other Grand Teton National Park campgrounds have more vegetation between sites,
such as these campsites in Lizard Creek campground, down the highway from Headwaters: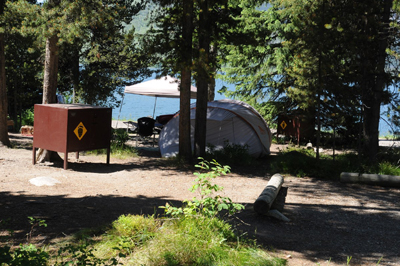 Jenny Lake campground, a short distance from Jenny Lake, 49 sites, tents only, one vehicle only less than 14 feet long, was the first to fill each day, often early in the morning when it was first-come first-served. With reservations in place, it could be filled well in advance most of the summer.
Signal Mountain (86 campsites) is the campground with some sites with views across the lake to the mountains. Shower house and laundromat near the campground office. Grocery and restaurants.
Lizard Creek campground also has sites on Jackson Lake, some with views.
Colter Bay campground includes 335 individual campsites (160 tent spots with tent pads), 11 large group campsites (by reservation only), 13 electric sites, and ADA-accessible hookups. None of these campsites are on the lake and none have views. Shower house and laundromat, grocery and restaurants.
Gros Ventre campground, 4.5 miles from Gros Ventre junction, is the closest campground to the town of Jackson (9 miles +/- Northeast). Sites vary in size and can accommodate RVs up to 45ft. Thirty-six sites have electricity. Ten are ADA compliant with the adjacent restroom being ADA compliant. It has cottonwood trees and sagebrush along the Gros Ventre river. You might see a moose wander through the campground and sometimes can find one along the river.

Jackson Hole, Wyoming has a map and description of the main streets and how to find the largest groceries, Ace Hardware, REI, Target, UPS, Radio Shack, St John's Health Medical Center (hospital) (24 hour emergency room), city parks, electric vehicle charging stations and more.

Restaurants in Grand Teton National Park are non-smoking, many others in Wyoming and Montana allow smoking. There are dozens of restaurants in the town of Jackson. They vary from burgers, Chinese, Mexican, sushi, pasta, Italian, steakhouse to four-stars with "an award-winning wine list". Most lean towards family or casual atmosphere. Grand Teton National park restaurants includes menus and links to some in town.
Grand Teton National Park
al fresco dining: