One of the major differences between trips to Grand Teton and other national or state parks, is the existence of such a major town, Jackson, Wyoming, so close by. Usually you can't get to a large grocery easily, but here you have choices. There are dozens of restaurants, kinds of hotels, specialty gift shops and headquarters for float trips, etc.
photo below used with permission from Ron Niebrugge: http://www.wildnatureimages.com/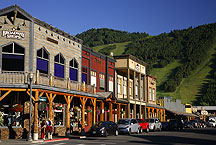 Jackson is at longitude W110.8, latitude N43.5.
The two main streets of Jackson are W Broadway and N Cache in yellow on the map (from the park service webpage) below: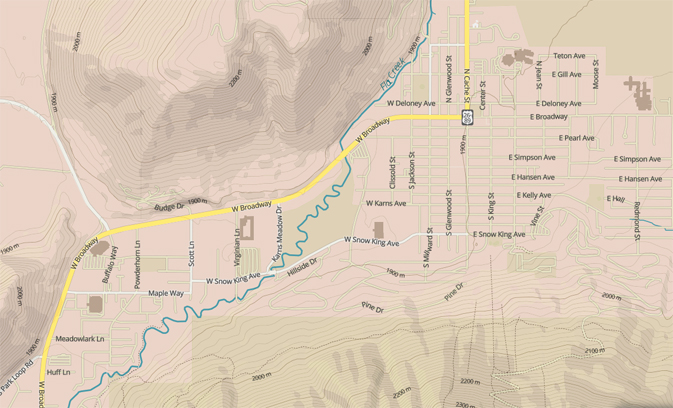 Highways 191, 89, 26 change names when they enter Jackson, and become W Broadway / N Cache (in yellow on the map) but sometimes have signage with the highway numbers.
Parking and traffic gets tighter near the vicinity of the intersection of W Broadway and N Cache.
On the NPS map above, the white road coming from the north (left hand side of the map) is Highway 22 from Wilson, Wyoming and Teton Pass.
Google maps view of the intersection of West Broadway and Highway 22.
On Highway 22, just south of Wilson, (not shown on the map), is Teton Village road to the east, with Teton Village, 12 miles northwest of Jackson. Then Teton Village road becomes the Moose Wilson road (390). The Moose Wilson road can be an alternate route into Grand Teton Park (in season, but NOT if there are frequent closures due to mama bears and cubs eating berries . . . or dust abatement . . .or . . . when plans for one way only are in place). The Grand Teton park entrance station on Moose-Wilson road is 7 miles from Moose.
At the intersection of Highway 22 from the north and W Broadway, W Broadway curves south and eventually becomes highway 89/191/26 heading towards Hoback Junction.
At the northeast corner of the intersection of W Broadway and N Cache is the Town Square with the arches of antlers.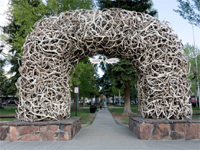 Traffic (pedestrian and vehicle) is worst in the vicinity of the Town Square, so college trip members should be sure to see the map the Outdoor Club has of alternate truck routes through town.
As it leaves town, (not shown on the map) N. Cache becomes routes 191, 89, 26, the main route to Grand Teton Park and the route to the airport (8 miles north of Jackson on 89). The Jackson Hole Airport runway will be CLOSED on April 11, 2022 and reopen on June 28th for full runway reconstruction. https://www.jacksonholeairport.com/projects/terminal-improvement/
Grand Teton Park begins about five miles north of Jackson on Highway 89 (N. Cache). An entrance gate and visitor center is at Moose Junction, 12 miles north. Another entrance is at Moran Junction, about 30 miles north of Jackson. The south entrance of Yellowstone NP is about 60 miles north on U.S. Hwy 89. Old Faithful is about 40 miles further, about 100 miles from Jackson.
The drive from Colter Bay, for example, to the edge of Jackson is about 42 miles.
A climbing school warns its customers:
"It is very important that you arrive on time, so please allow enough time for travel from wherever you are staying. Speed limits in the Park are low to protect wildlife and visitors, and rangers ticket offenders regularly. We want your entire experience here to be positive, so please do not speed."
______________________________
photo below used with permission from Ron Niebrugge: http://www.wildnatureimages.com/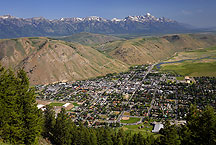 As you go through Jackson downtown, East Gros Ventre Butte (tan in the photo above) blocks the view of the Teton range until you are just getting out of town, past the visitor center, but before the airport.
As you leave town and go past the butte, on the right there is a large Grand Teton National Park sign on 12 foot tall posts/beam and a small parking lot you can stop at for picture taking.


Albertson's, (105 Buffalo Way) with a big deli/bakery/produce section, is at the corner of 22 coming south from Wilson and the curve of W. Broadway. photos of interior
https://local.albertsons.com/wy/jackson/105-buffalo-way.html
A couple of blocks south between Maple and Meadowlark, the KMART closed in 2020, and was replaced by a Target in 2022. https://www.target.com/sl/jackson-hole/3409 At that webpage you can click on store map.
Outdoor Club favorite Jackson Whole Grocer – was sold to the Whole Foods Market chain, 1155 south Hwy 89, on the west side of the highway, south of Stelleria and north of flat creek, (the creek, not the road)- 307-733-0450. It is remodeled with different hot food items, etc. Tesla Supercharge stations.
https://www.wholefoodsmarket.com/stores/jacksonwyoming
https://www.wholefoodsmarket.com/products
Smith's grocery / pharmacy is further south at 1425 S Highway 89 on the west side of the highway at High School road.
https://www.smithsfoodanddrug.com/weeklyad?StoreCode=00184&DivisionId=706
__________________________
The UPS store is at 970 W. Broadway on the south side of W Broadway, about equidistant between Powderhorn and Scott. And inside the Staples at 520 W Broadway Ave and Flat Creek.
REI moved into the space in Powderhorn Plaza previously occupied by a Lucky's Market and before that, the original location of the Jackson Whole Grocer, next to the U.P.S. store. https://www.rei.com/stores/jackson-hole.html
https://www.rei.com/stores/jackson-hole/virtual-tour
Stone Drug is a bit south of W Broadway (highway 89/26/191) at Virginian Lane. http://www.jacksonholetraveler.com/profile/stone-drug/
Further south on Virginian is the Teton County library (on Virginian near Snow King). It no longer allows out-of-town visitors to have a free library card. http://tclib.org/
The Ace hardware is on the north side of W. Broadway near Flat Creek. https://www.acehardware.com/store-details/10554
St John's Health (former name: St John's Medical Center) https://www.stjohns.health/
(24 hour emergency room) is at 625 E. Broadway at Redmond (set of brownish buildings at the upper right hand corner of the map above at this webpage) (307) 733-3636. 360 degree view of the emergency room building from the intersection. In an emergency in Grand Teton National park, call 911 as usual. For a problem you can't quite handle yourself, but short of an emergency, there is a medical clinic, (307) 543-2514, on the grounds of Jackson Lake Lodge, (usually open 10 a.m. to 5 p.m. in the summer and fall), which is closer to places in the park. To find it, look for the black and white aerial photo at: Jackson Lake Lodge vicinity.

At 532 North Cache Street on the right as you start to leave Jackson going towards Grand Teton National Park is the Jackson Hole Greater Yellowstone Visitor Center, with the sod roof at the Elk Refuge has public restrooms, phones for free local calls to that rafting company, restaurant, etc., dozens of free brochures and souvenirs/books/posters for sale.
BUT it is being replaced see a drawing of the conceptual design at:
https://www.fws.gov/press-release/2022-06/press-release-final-environmental-assessment-replacement-visitor-center
This was previous info:
You can get your fishing license or National Parks pass.
It's "generally" open 8 a.m. to 7 p.m. in the summer, 9 to 5 in the winter. (Summer 2023: 9 a.m. -5 p.m.)
According to an article in the Jackson Hole News and Guide, the "Visitor Center … offers maps, books, exhibits and answers to virtually any question… Children can crawl through a bear den and feel velveted antlers. Upstairs there are mounts of bighorn sheep, elk, eagles, wolf and grizzly."
You can hold your hand up next to the grizzly's: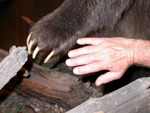 You can take a self-guiding tour and earn a Junior Blue Goose Ranger badge. Ask at the National Elk Refuge (Forest Service) desk in the lobby.

"… The center sits on the edge of a Flat Creek marsh on the National Elk Refuge. Visitors can walk out on a deck overlooking the swamp or use a spotting scope to identify duck species. The recorded screech of bugling elk draws people upstairs to a 22-seat television room, where videos on the history, flora and fauna of the Greater Yellowstone Ecosystem are screened continuously."
The Elk refuge has "Jackson Hole's largest and most studied elk herd, which was assessed at a population of 10,734 animals" when studied in winter 2021." "From October through December, deepening snows push the elk down from their higher summer ranges to seek food at lower elevations. Elk frequently move onto and off the Refuge during the transitional autumn months. The National Elk Refuge begins to see a more stable wintering population by mid-December . . . during April and May, elk begin migrating off of the Refuge towards their summer ranges. . . during the summer you are unlikely to see elk on the Refuge . . . in the summer, marsh edges attract songbirds. . ."

CITY PARKS Dogs are not allowed in city parks.
Mike Yokel Park, 455 East Kelly St, has a sand volleyball court and horseshoe pits. Miller Park, between Delony and Gill at 257 West Delony St has a tennis court and a basketball court. Fair Grounds at 351 West Snow King has two first come – first served tennis courts.
http://www.tetoncountywy.gov/Facilities/Facility/Details/Mike-Yokel-Park-17
The Recreation Center with a gym / lunch hour basketball, a seven lane swimming pool, play pools, spa and one small and one huge spiral slide is at 155 East Gill Avenue. Open swim usually 1 – 7 p.m. +/- (Fees higher for non-residents, lower for seniors.)
4.5 acre Owen Bircher Park (aka Wilson Park) at 5650 West Main street in Wilson, Wyoming, (just west of Jackson on Highway 22, take Wilson Square Road (which becomes West Street/Phelps Ridge Road) north to Main Street), has a sand volleyball court, green open space for pick-up games, and a lighted arena with local equestrians, barrel races, ropers at practice. http://www.tetoncountywy.gov/facilities/facility/details/owenbircherpark-20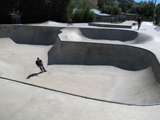 14,000 square feet Teton Co./Jackson skatepark, with four grind bays of varying difficulty (hey, bring a helmet/knee and elbow pads, wrist protection) is a bit hidden. Use an online searchable map to find "Skatepark of Jackson Hole, Wyoming" or "Jackson Hole Skatepark" or "Jackson Wyoming skate park."
Take High School Road on the left off Highways 89/191 as they come into town from the south, then turn right on Gregory and between where Berger and Martin come in from the right, make a left on more of a driveway than a road, then around to the right and on the right see a pathway the between 2 softball fields (also known as Cow Pasture Softball Fields) that leads to the skatepark. Hours 8 a.m. to dark when we were last there. Even though the address is on Gregory Lane, there is no direct access from Gregory Lane when we were last there.
(Grand Teton National Park only allows skateboards, roller blades, skates in a few areas like developed campgrounds and the bike pathway.)
Phil Baux Park, at 10 E Snow King and S Cache (at the base of Snow King Mountain) has artificial climbing boulders, (is one of them still the world's largest artificial boulder?), open to the public for free (except when booked by a group) with built-in hand/foot holds.The main adult sized is 30 feet long at the base and 40 feet wide at the 12 foot high top. Another is kid sized. The park foam footprint was made of preconsumer recycled material. http://www.tetoncountywy.gov/facilities/facility/details/philbauxpark-15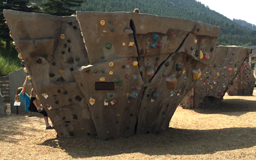 The Center for the Arts (dancer's workshops, recitals, theatre company, art exhibits, classes, touring ballet/bands/choir/dancers/guitarists/pianists/blues/blues rock/funk/jazz/western swing/bluegrass/cowboy balladeer/hootennany/puppeteer/comedy) is at 265 S Cache, 2 blocks south of the town square. http://www.jhcenterforthearts.org/
photos of interior and exterior
Restaurants in Grand Teton National Park are non-smoking, many others in Wyoming and Montana allow smoking. There are dozens of restaurants in the town of Jackson. They vary from burgers, Chinese, Mexican, sushi, pasta, Italian, steakhouse to four-stars with "an award-winning wine list". Most lean towards family or casual atmosphere. Grand Tetons restaurants describes the restaurants in the park and has links to menus of many in town.

You can park a big RV downtown here and there in a few major shopping area parking lots, at the Home Ranch Town parking lot at North Cache and E Gill, west of the recreation center or the lot on Milward, south of the Pearl Avenue Post Office and west of the Center For the Arts. Please do notice the MINIMUM size for parking signs, as in, your 19 foot long SUV does not qualify for a parking space reserved for RVs and vehicles towing trailers that are a minimum 20 feet long.
Public Parking: https://www.jacksonwy.gov/230/Public-Parking
(Besides a few at some businesses, hotels and at the airport, only some of which have DC Fast Chargers), city of Jackson Wyoming Electric Vehicle Charging Stations.

We tell people on our college trips to Grand Teton National Park to fill their gas tank whenever they are in Jackson, Wyoming, as the lowest cost gas stations are in town and the prices almost always get higher the further you go into Grand Teton park. See a map of gas stations in Grand Teton National Park and gas costs at some of them over the years.

There is FREE for anyone in-town shuttle, (along with routes you pay for) usually 6 ish a.m. to 10 ish p.m. The route maps are worth printing just for the list of things that are at various stops:
routes:
https://www.jacksonwy.gov/404/Schedules
fares:
https://www.jacksonwy.gov/396/Fares
Maps of bikeways in town can be found at: http://www.tetoncountywy.gov/DocumentCenter/View/4157 one bikeway runs all the way into Grand Teton park and thru to Jenny Lake.
As of an article in the Jackson Hole News and Guide, June 2018: bike riders must come to a full stop at stop signs, not just slow down and ride thru intersections as they might do in other western states.
. . . police say the potential ramifications are too great to ignore minor traffic violations.
"The negative consequences for violating the law and the potential of injury is so high that we think $135 is appropriate for a cyclist running a stop sign," Schultz said. "I would rather have you hate me for giving you a stop sign ticket than have you hate me for not protecting you from yourself and your family hating me for not doing my job and you getting killed."
https://www.jacksonwy.gov/280/Police


Grand Teton National Park Campgrounds:
Gros Ventre campground, 4.5 miles from Gros Ventre junction, is the closest campground to the town of Jackson (9 miles +/- Northeast). Sites vary in size and can accommodate RVs up to 45ft. Thirty-six sites have electricity. Ten are ADA compliant with the adjacent restroom being ADA compliant. It has cottonwood trees and sagebrush along the Gros Ventre river. You might see a moose wander through the campground and sometimes can find one along the river.
(Larger RVs should check out the Colter Bay R.V. park with hookups.)
Gros Ventre Campground is the closest campground to the town of Jackson (9 miles +/- Northeast) with 300 individual campsites and 5 large group sites. They vary in size and can accommodate RVs up to 45ft. There are two loop areas that do not allow generators and one loop that only allows tents. Thirty-six sites have electricity. Ten are ADA compliant with the adjacent restroom being ADA compliant. It has cottonwood trees and sagebrush along the Gros Ventre river. You might see a moose wander through the campground and sometimes can find one along the river.
Jenny Lake campground, a short distance from Jenny Lake, 49 sites, tents only, one vehicle only less than 14 feet long, was the first to fill each day, often early in the morning when it was first-come first-served. With reservations in place, it could be filled well in advance most of the summer.
Signal Mountain (86 campsites) is the campground with some sites with views across the lake to the mountains. Shower house and laundromat near the campground office. Grocery and restaurants.
Lizard Creek campground also has sites on Jackson Lake, some with views.
Headwaters campground, near the Yellowstone Park border, has 100 trailer sites and 75 tent sites, as well as Camper Cabins.
Colter Bay campground includes 335 individual campsites (160 tent spots with tent pads), 11 large group campsites (by reservation only), 13 electric sites, and ADA-accessible hookups. None of these campsites are on the lake and none have views. Nearby shower house and laundromat, grocery and restaurants.

For details about our next club trip to Grand Teton National Park, go to: Grand Tetons.
Grand Tetons trip pages index has brief descriptions of most of the pages about this trip.
A sculpture on a roof in Jackson, Wyoming of bears enjoying rafting: