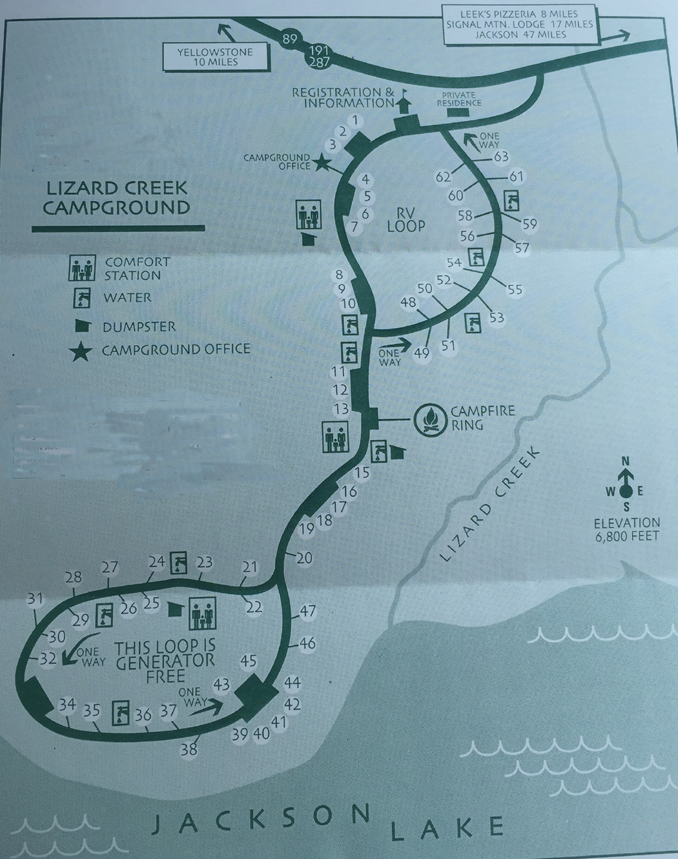 This "60-site campground sits on the northern shore of Jackson Lake and offers access to the lake waters and views of the northern Teton Mountain Range." 2023: $48.
Grand Teton National Park Lizard Creek campground has a few sites with Jackson Lake views, all in the no generators loop, such as 32, 34 and 35. Other lakeside, (some view) sites include 38 and walk-in 39-42. There are no hookup sites.
Use this Google maps 360 degree view to see Lizard Creek Campground site #32 and scroll down the road to site #34.
Some sites have a view of the lake, or a view of the lake through another campsite: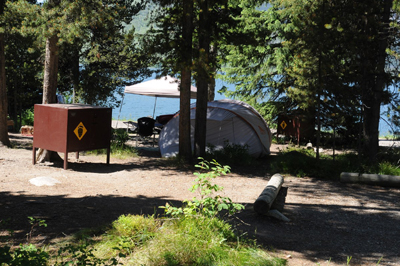 The Park Service says: Lizard Creek campground "At the north end of Grand Teton National Park, about 32 miles north of Moose, has 60 sites and fills in the evening if at all. A less heavily developed campground with sites in the spruce and fir forest. One side of the campground is adjacent to and slightly above Jackson Lake."
"Heading north from Jackson on US 26/89/191, turn left (west) at Moran Junction. Travel north on US 89/191/287, 18 miles to the Lizard Creek Campground sign, turn left (west) into the campground. Heading south from Yellowstone on US 89/191/287, continue 11 miles and turn right (west) at the Lizard Creek Campground sign continuing into the campground."
Keep an eye out for the Lizard Creek Campground sign at the entrance road.
Restrooms with (cold) "running water and flush toilets."
Grand Teton National park has an announcement that some park visitors seem to not have learned about:
"Be thoughtful of how music may affect others. Operating an audio device, such as a stereo, Bluetooth speaker, radio, or musical instrument in a manner which is unreasonable and impacts park users is prohibited by law."
"The maximum length for a trailer or RV is 25 feet. Parking dimensions vary widely at this campground, please take care when making reservations, to ensure that the site you are reserving will accomodate your equipment. Parking is allowed only in designated parking areas or site pads. Moving barrier logs is prohibited. All vehicles must fit completely on parking pads. Vehicles protruding into roadway will not be accepted. If travelling with a trailer or 5th wheel and the combined length of the towing vehicle and trailer/5th wheel is greater than the length of the driveway, the trailer/5th wheel will have to be diconnected in order to fit in the campsite. In these instances, campers must reserve a "Double Driveway" parking spot or a driveway wide enough to accommodate both the trailer and the vehicle.
 
Maximum 25 feet for trailers, RVs and motorhomes. (Larger RVs – up to 35 feet, should check out Colter Bay Campground – up to 45 feet – should check out Gros Ventre campground.)
The Lizard Creek Campground reservation page had this note:
"Please double check the dimensions of the parking pad for your specific site reservation to insure that your equipment will fit. If your RV or trailer has slide outs, please take this into consideration when determining if the site will match your needs." (RV or tent sites have a maximum 16, 18, 20, 23 or 26 feet. Some tent-only sites have a maximum 15 or 20 feet.)
"Roadways are narrow at this campground and backing into certain sites can be difficult. Please look at the pictures provided and read all warnings and need to know info about your site."
"Parking is allowed only in designated parking areas or site pads. Moving barrier logs is prohibited. All vehicles must fit completely on parking pads. Vehicles protruding into roadway will not be accepted."
The park webpages say:
"All park campgrounds are by advanced reservations only. Campsites are reservable on Recreation.gov. . . . up to six months in advance."
(The most popular Grand Teton National Park campground, Jenny Lake, has filled within minutes each day new reservations are opened up. Lizard Creek has always been one the last campgrounds to fill.)
____________________________________________
Below, a sign on a post at a drinking water faucet: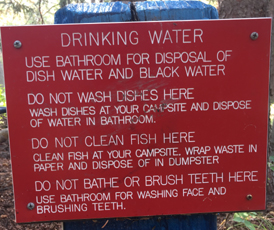 ____________________________________________
" Pets – "are prohibited on trails, multi-use pathways, and swimming in any park waters…
Pets must be on a leash (six feet or less), under physical restraint, and within 30 feet of the roadway… "
"Leave your pets at home. Pets are not allowed on trails or in the backcountry of Grand Teton National Park. They may become lost or prey for wildlife, they can also adversely impact park resources. If you need to bring your pet to the park, consider hosting it at a kennel in Jackson during your outing in the mountains."
"Pets are prohibited from riding in boats on park waters, except for Jackson Lake."
There are bears that frequent this campground, keep your food in arms reach or locked up.
Your safety in Grizzly bear territory


Some of the sites have the bearbox not near your picnic table.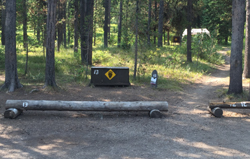 ____________________________________________
It is wise in all the campgrounds that along with placing your camping permit on your campsite post, that you leave a non-valuable item to show that your site is occupied, such as this site with a bright yellow cloth on a clothesline: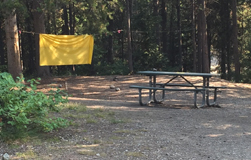 There is free WiFi available at the Colter Bay laundromat, the Moose Visitor Center and in the Jackson Lake Lodge parlor that anyone can use without a secret code.
There are public showers, laundromat, a museum, picnic area with lake-side swim beach, grocery/gift stores, marina, Ranger talk/campfire amphitheater at Colter Bay, 9 miles south: Colter Bay, Grand Teton National Park
Showers (2022) "$5 and there is no time limit on that. If you have a group of five or less, you can pay the family shower rate of $15 and each additional person after the first 5 will be $3.00 extra." at the Colter Bay shower house/launderette.
____________________________________________
NASA aerial photo of Teton Range
You can download a Grand Teton National Park map at: http://www.nps.gov/grte/planyourvisit/maps.htm
During a thunderstorm, don't take a shower or use a sink, including washing dishes. Don't talk on a land line phone. Don't use your I pod. Don't get zapped! Please read Thunderstorm and lightning safety
____________________________________________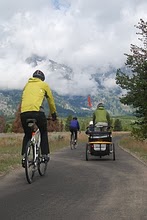 It is safer to enjoy a bike ride on a designated bike/roller blade/walk path like the teton multi-use pathway, than on the road/highway with drivers looking at scenery instead of you on your bike, and there is an 8 mile long pathway from South Jenny Lake to the Moose Visitor Center (please walk your bike in the parking lots). The pathway goes all the way into the town of Jackson. Pets (except guide dogs) are prohibited and the pathway is closed from dusk to dawn for wildlife and public safety. Grand Tetons biking
____________________________________________

How much water is in Jackson Lake (reservoir) right now? Will I be able to launch my boat at the Colter Bay ramp or will I need to go somewhere else?
Check out the boat ramp link below. Full pool of Jackson Lake (reservoir) is 6769′. The end of the boat ramp at Colter Bay is at 6753′, at the end of the boat ramp at Signal Mountain Lodge is 6737′ and at Leek's Marina it's 6735′.
The webpage tells you how high the water level has been on Jackson Lake for the last five days. (Scroll down past the drawing at the top.)
http://www.usbr.gov/pn/hydromet/ramps/jackson/jackson.html

Jackson Hole, Wyoming has a map and description of the main streets and how to find the largest groceries, Ace Hardware, REI, Target, UPS, Radio Shack, St John's Health Medical Center (hospital) (24 hour emergency room), city parks, electric vehicle charging stations and more.

Restaurants in Grand Teton National Park are non-smoking, many others in Wyoming and Montana allow smoking. There are dozens of restaurants in the town of Jackson. They vary from burgers, Chinese, Mexican, sushi, pasta, Italian, steakhouse to four-stars with "an award-winning wine list". Most lean towards family or casual atmosphere. Grand Teton National park restaurants includes menus and links to some in town.
Grand Teton National Park
al fresco dining:

____________________________________________
Jenny Lake campground, a short distance from Jenny Lake, 49 sites, tents only, one vehicle only less than 14 feet long, was the first to fill each day, often early in the morning when it was first-come first-served. With reservations in place, it could be filled well in advance most of the summer.
Signal Mountain (86 campsites) is the campground with some sites with views across the lake to the mountains. Shower house and laundromat near the campground office. Grocery and restaurants.
Headwaters campground, near the Yellowstone Park border, has 100 trailer sites and 75 tent sites.
Colter Bay campground includes 335 individual campsites (160 tent spots with tent pads), 11 large group campsites (by reservation only), 13 electric sites, and ADA-accessible hookups. None of these campsites are on the lake and none have views. Nearby shower house and laundromat, grocery and restaurants.
Gros Ventre campground, 4.5 miles from Gros Ventre junction, is the closest campground to the town of Jackson (9 miles +/- Northeast). Sites vary in size and can accommodate RVs up to 45ft. Thirty-six sites have electricity. Ten are ADA compliant with the adjacent restroom being ADA compliant. It has cottonwood trees and sagebrush along the Gros Ventre river. You might see a moose wander through the campground and sometimes can find one along the river.
____________________________________________
For details about our next club trip to Grand Teton National Park, go to: Grand Tetons.
Grand Tetons trip pages index has brief descriptions of most of the pages about this trip.