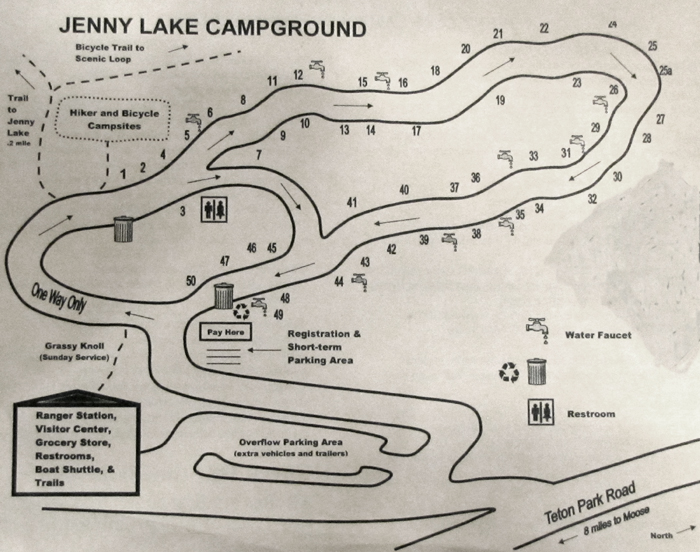 The Jenny Lake campground, the first developed campground in Grand Teton National Park, has a maximum of two tents and six people per campsite with one vehicle, maximum 14 feet long and 8 feet tall (or two motorcycles) .
No RVs, generators or pop-up tent trailers.
The campground often fills by noon, or even hours earlier. Overflow parking and all other parking in the vicinity becomes crowded between 10 a.m. and 3 p.m.
Other park campgrounds fill later or do not always fill.
Note that there is only one campground restroom building. Some sites have much more privacy and space than others. It is worth considering which site you want, close to the restroom or with some privacy.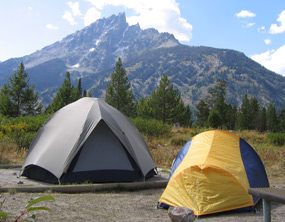 Each site has a tent pad, but many are right on the road and will have vehicle headlights shining in your tent at night. Look for a site in the 20s or 30s with the tent pad set back farther from the road.
Site 49 will have car headlights aimed at the tent pad from anyone who pulls into the self-registration area thinking they can get a campsite that late.
There really are bears in the campground, keep your food in arms reach or locked up.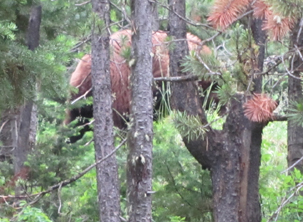 A paved trail takes you from one end of the campground to the lake, a little over one tenth of a mile. There are stairs very near the end of the trail to access small beaches at the lake shore. Please note that there are also parts of the bank quite worn out from people climbing down where there are no stairs. Please use the stairs. Part way along the trail to the lake, a paved bike loop along part of the lake starts. (This worn out area will be rehabilitated during the summers of 2016 and probably 2017.)
Some years there has been a leave-what-you-don't-need / take-what-you-need bearbox at the registration area. People who flew in won't be able to take their leftover propane home on the plane and could leave it there, for example.
below, a photo of a display at the Jenny Lake visitor center, the campground is in the bottom left hand area: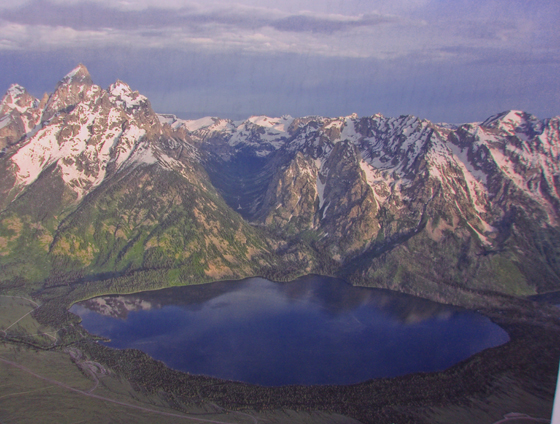 There is free WiFi available at the Colter Bay laundromat/showers, the Moose Visitor Center and in the Jackson Lake Lodge parlor that anyone can use without a secret code.
You can download a Grand Teton National Park map at: http://www.nps.gov/grte/planyourvisit/maps.htm
and a map of lakeside trails at:
http://www.nps.gov/grte/planyourvisit/upload/Lakeshore12.pdf
and a map of the Jenny Lake area in the vicinity of the campground (small store, ranger station, visitor center, other restrooms, trailheads for around the lake and up into Cascade Canyon, dock for the (fee) shuttle boat across Jenny Lake, Exum Guides office, start of the multi-use pathway) at: http://www.nps.gov/grte/planyourvisit/upload/JLVC_map_2010.pdf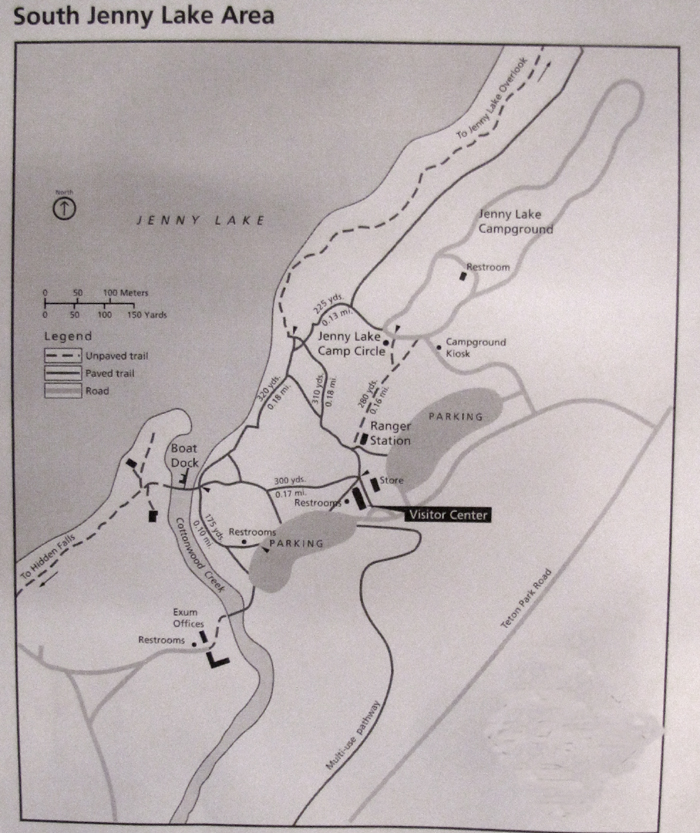 During the summers of 2016 and 2017 the Jenny Lake Visitor Center will be housed in a temporary building as the visitor complex is rehabilitated. Below is a map showing the area expected to be closed for construction the summers of 2016 and 2017: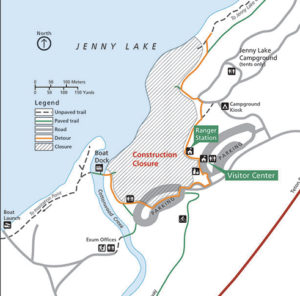 Read about the project at: Jenny Lake renewal project
and see before and after pictures at the campaign for Jenny Lake
You can find a larger copy of the NPS photo map below of Jenny Lake, String Lake, Leigh Lake, Paintbrush Divide, Cascade Canyon, Paintbrush Canyon, Hanging Canyon, Mount Woodring, Mount Moran, Teewinot, Holly Lake and Lake Solitude at:
https://www.nps.gov/grte/planyourvisit/loader.cfm?csModule=security/getfile&PageID=2325994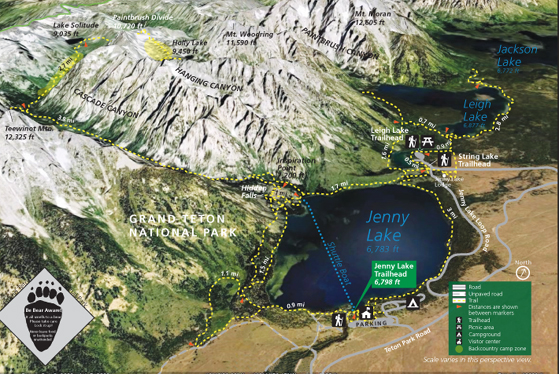 – – – – – – – – – – – – – – – – – – – – – – – – – – – – – – – – – – –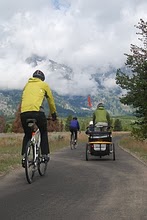 It is safer to enjoy a bike ride on a designated bike/roller blade/walk path like the teton multi-use pathway, than on the road/highway with drivers looking at scenery instead of you on your bike, and there is an 8 mile long pathway from South Jenny Lake to the Moose Visitor Center (please walk your bike in the parking lots). The pathway goes all the way into the town of Jackson. Pets (except guide dogs) are prohibited and the pathway is closed from dusk to dawn for wildlife and public safety. Grand Tetons biking
____________________________________________________________________________
There are public showers, laundromat, a museum, picnic area with swim beach, larger grocery/gift stores, marina, Ranger talk/campfire amphitheater at Colter Bay Colter Bay, Grand Teton National Park
– – – – – – – – – – – – – – – – – – – – – – – – – – – – – – – – – – –
Signal Mountain (86 campsites) is the campground with some sites with views across the lake to the mountains. Flagg Ranch, near the Yellowstone Park border, has 100 trailer sites and 75 tent sites. Gros Ventre Campground is the closest campground to the town of Jackson (9 miles +/- Northeast) with 300 individual campsites and 5 large group sites. They vary in size and can accommodate RVs up to 45ft. There are two loop areas that do not allow generators and one loop that only allows tents. Thirty-six sites have electricity. Ten are ADA compliant with the adjacent restroom being ADA compliant.
NASA aerial photo of Teton Range
For details about our next club trip to Grand Teton National Park, go to: Grand Tetons.
Grand Tetons trip pages index has brief descriptions of most of the pages about this trip.
During a thunderstorm, don't take a shower or use a sink, including washing dishes. Don't talk on a land line phone. Don't use your I pod. Don't get zapped! Please read Thunderstorm and lightning safety
Jenny Lake Lodge is not near Jenny Lake Campground (or Jenny Lake, for that matter). Grand Tetons hotels, cabins, lodging
June 12, 2015 press release
"Out of concern for public safety, Grand Teton National Park staff euthanized a 3-year-old female black bear on Thursday afternoon, June 11. Earlier in the day, the bear exhibited bold behavior and appeared to have little concern regarding the presence of humans and their activities, which prompted park officials to make the difficult decision to remove her from the population in order to reduce future threats to people and their safety. This is the first bear to be euthanized in Grand Teton this year. Two black bears were euthanized in 2014.
The brown-colored bear climbed into the open—and temporarily unattended—trunk of a vehicle after guests of Jenny Lake Lodge removed their luggage and entered their cabin to settle in for the night. While in the trunk, the bear found food items, which she ate. She then climbed on top of the same car. Witnesses reported that the bear appeared to be trying to gain entry into the passenger compartment. The bear then proceeded to visit other cabins before she ripped into items left in a parked housekeeping cart and stole a purse, which she carried off into the woods. Witnesses also reported that the bear stood on its hind legs and pressed its front paws and face against the windows and doors of several cabins in an apparent attempt to enter.
The bear was estimated to weigh approximately 125 pounds and had no ear tags or other identification that would mark it as a previously captured bear. . ."