A map and information about Colter Bay Campground: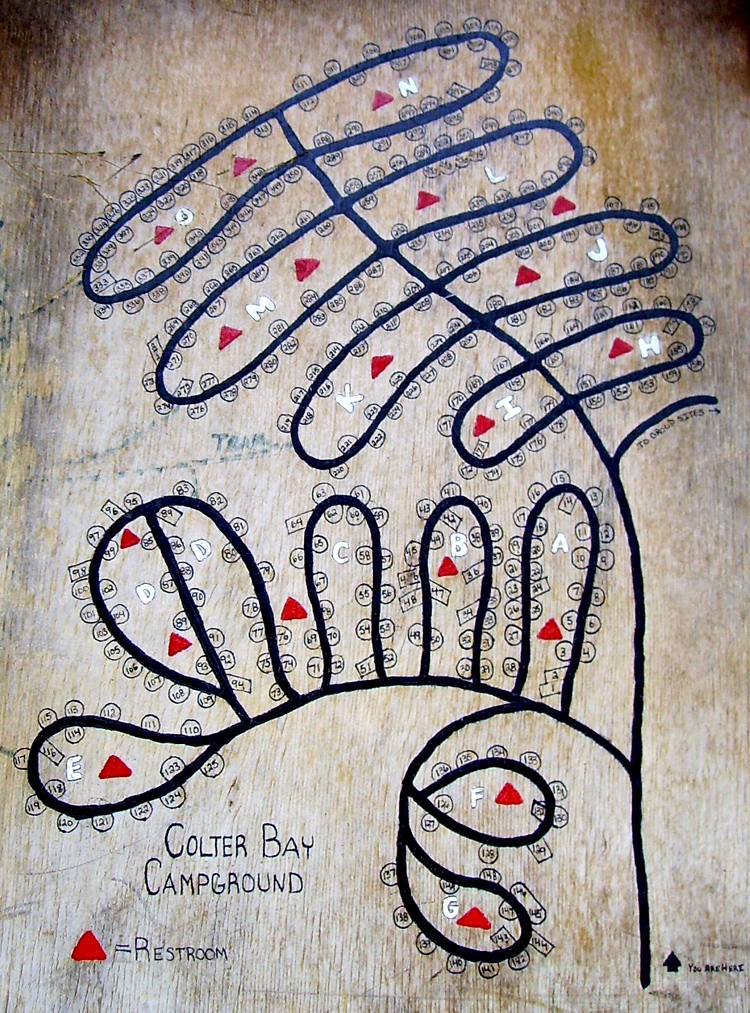 The faded blue dotted lines on the map above show trails mostly leading out to the lake shore.
The arrow and 'You Are Here' in the right bottom corner of the map above is the campground entrance station kiosk where you check in and get a campsite assignment IF there are any campsites not already reserved available.
Heading north from Jackson, Wyoming on US 26/89/191, turn left (west) at Moran Junction. Continue north on US 89/191/287 ten miles to Colter Bay Junction. Turn left (west) just past the gas station and follow the signs. Heading south from Yellowstone on US 89/191/287, continue 20 miles south. Turn right (west) at Colter Bay Junction and follow the signs
to a right hand turn, then straight ahead on a roadway to the campground entrance station kiosk pictured below: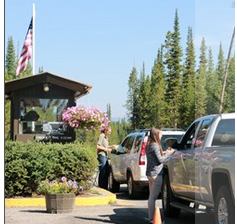 Do not turn left and head for the Colter Bay RV park: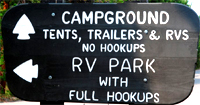 There are bears that frequent this campground, keep your food, toiletries in arms reach or locked up. Your safety in Grizzly bear territory

Grand Teton National park has an announcement that some park visitors seem to not have learned about:
"Be thoughtful of how music may affect others. Operating an audio device, such as a stereo, Bluetooth speaker, radio, or musical instrument in a manner which is unreasonable and impacts park users is prohibited by law."
Campsites include 346 individual campsites, (2023 prices below)
Individual Tent and RV Sites (no hookups) cost $50 per night (Senior and Access Pass Holders less each night).
13 Electric/ADA RV Sites (electric only, no full hookups) cost $77 per night (Senior and Access Pass Holders less each night).
5 large group campsites that accommodate groups of more than 10 visitors who wish to tent camp. The reservation fee ($__?) with an additional $15 per person per night.
(see the tiny words and arrow on the right hand side center of the map, just below the H loop, "to group sites").
Here, for example, is group site #3:
Hiker/Bicyclist Sites $13 fee per person per night for campers on bicycle or foot. (Senior and Access Pass Holders less each night).
All sites have picnic tables and fire rings. "Campfires – must be contained within a metal fire grate . . . Visitors should never leave a fire unattended. The fine for an abandoned campfire is $225, but campers can also be held liable for suppression costs if their campfire becomes a wildfire."
Fireworks and drones (unmanned aircraft) are banned at all times in the park.
Bear boxes "are available for most tent sites."
"22 restrooms with" (cold) "running water and flush toilets."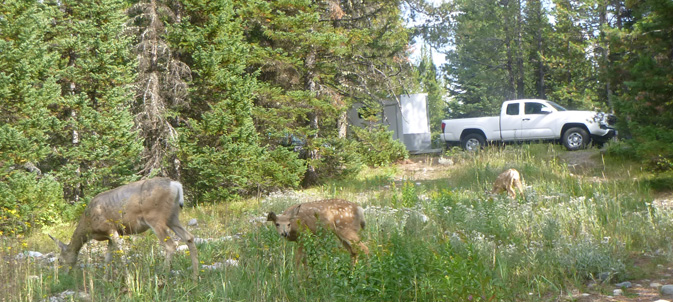 Advance campsite reservations recommended
https://www.recreation.gov/camping/gateways/13525
(The most popular Grand Teton National Park campground, Jenny Lake, has filled within minutes each day new reservations are opened up. Lizard Creek has always been one the last campgrounds to fill.)
None of these campsites are on the lake and none have views.
As always, sites at the outside edge of loops may have more forest and vegetation around them, giving more privacy: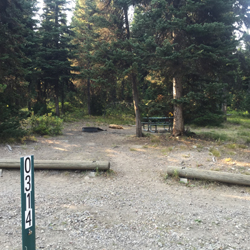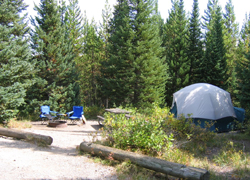 There is sufficient distance and enough forest between the campground and the main Colter Bay road that goes to the swim beach for privacy from vehicles on that road. Campsites at the back, outside edge of Colter Bay campground loop E (115, 116, 117, 119, 120) and the back, outside edge of Loop D (98, 100, 101, 103, 105) have enough forest between them and the road to the swimming beach behind them. There are no formal trails from these loops, but there are paths people have created when they walk through the woods, giving a short walk to the swimming beach from those loops.
It is wise in all the campgrounds that along with placing your camping permit on your campsite post, that you leave a non-valuable item to show that your site is occupied, such as this site with a bright yellow cloth on a clothesline: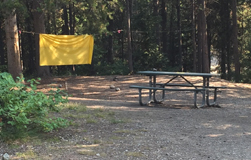 Campsites at the end of loops L and J might get a bit of noise from the group campsites.
Some of the sites have parking for rigs right at the edge of the road, with potential headlights in units and noise. Here loop "O" sites 318 on the left and 319 on the right: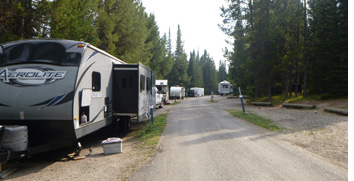 It is faster from almost every campsite loop to walk to the amphitheater for the evening ranger program/ campfire program than to drive and try to find parking.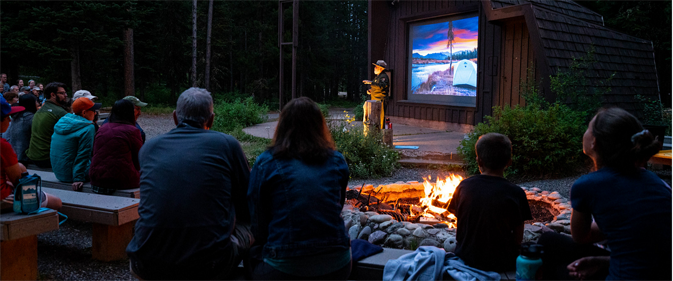 Campsites in E and D loops are closest to the amphitheater
and lakeside picnic area & swim beach with restrooms, picnic tables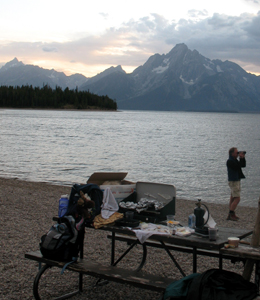 The trailer dump station is in I loop.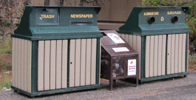 Recycling bins are located outside of the nearby store, including the brown one in the center of the photo specifically for used propane tanks.
In the off season the O,N,M,L loops are often closed. One year in the off season late summer, we got this notice :
"Special Notice. Due to increased bear activity Loops D, E, M, N, O are closed.
For your own safety, please pay attention to barricades.
No Foot traffic in these areas."
Maximum 35 feet for RVs, motorhomes or trailers in the campground.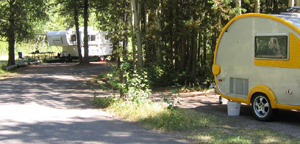 Larger RVs, up to 45 feet, should check out Gros Ventre campground, or the Colter Bay R.V. park with hookups.


In late summer 2021, a cell phone tower was put in the Colter Bay campground and you can expect to be able to use your cell phone as a hotspot to get wi-fi on your laptop.
Here are views of Colter Bay campground loop F, on the right, campsite number F132 with the cell phone tower:
and the view of the towers from the road leading from the Colter Bay cabins to the campground: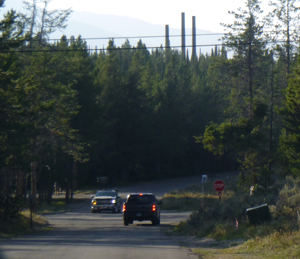 And see details about and maps / photos of the Colter Bay RV campground, that has full hookups the Colter bay campground does not have.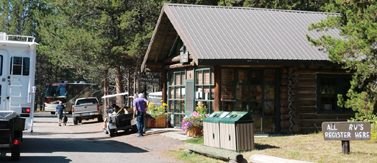 https://www.nps.gov/grte/planyourvisit/pets.htm
Pets – "are prohibited on trails, multi-use pathways, and swimming in any park waters…
Pets must be on a leash (six feet or less), under physical restraint, and within 30 feet of the roadway… "
"Leave your pets at home. Pets are not allowed on trails or in the backcountry of Grand Teton National Park. They may become lost or prey for wildlife, they can also adversely impact park resources. If you need to bring your pet to the park, consider hosting it at a kennel in Jackson during your outing in the mountains."
"Pets are prohibited from riding in boats on park waters, except for Jackson Lake."

Below: an aerial photo with Colter Bay environs in the foreground and part of Jackson Lake. The campground area is towards the right, the long stripe of buildings leading from the bay is the stores, laundromat and restaurants.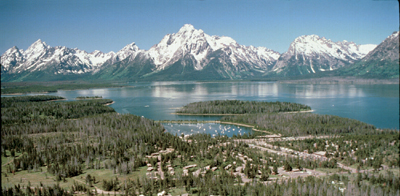 There is a black and white aerial photo/map to go with the above picture with details of where to find the museum, picnic area, grocery/gift store, restaurants, coffee bar, laundromat with shower house, hiking trails, marina, Ranger talk/campfire amphitheater, etc. at Colter Bay, Grand Teton National Park.
And sometimes there are unusual pedestrians in the store/laundromat area, like this mama bear and her two cubs in August 2023, which were also seen in the campground: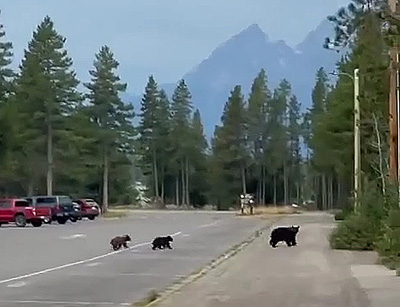 There is free WiFi available at the Colter Bay laundromat,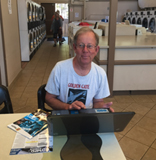 the main Colter Bay restaurant, and farther away from the campground, at the Moose Visitor Center and in the Jackson Lake Lodge parlor Jackson Lake Lodge vicinity that anyone can use without a secret code.
The laundromat is in the row of the store and gift shops. If you have a roll of quarters you will not have to depend on the change machine being operable. (We found that we only needed one or two quarters for a small dryer load to get things dry.) They sell laundry products but if you want unscented (scented can attract mosquitos) or hypo-allergic, or a specific brand of detergent or stain remover, it would be wise to bring small containers from home.

There are lots of machines, but if they are all taken and you notice that someone left their machine and it is finished running, you can ask the laundromat attendant to remove the clothes so you can use the machine.
Showers (2022) "$5 and there is no time limit on that. If you have a group of five or less, you can pay the family shower rate of $15 and each additional person after the first 5 will be $3.00 extra." at the Colter Bay shower house/launderette.
There is a coffee bar in the Colter Bay grocery, a short walk from some loops. Or make coffee when you cook out dinner, fill a thermos and have some ready when you wake up in the morning. (But if your are tent camping, please be sure to keep the thermos overnight in the campsite food storage container rather than in your tent.)
There are restaurants (only one open late season) in walking distance of the Colter Bay campground.
Grand Tetons restaurants describes the restaurants in the park and has links to menus of many in Jackson, Wyoming.
There are dozens of restaurants in the town of Jackson. They vary from burgers, Chinese, Mexican, sushi, pasta, Italian, steakhouse to four-stars with "an award-winning wine list". Most lean towards family or casual atmosphere.
Restaurants in Grand Teton National Park are non-smoking, many others in Wyoming and Montana allow smoking.
Grand Teton National Park
al fresco dining:
Jackson Hole, Wyoming has a map and description of the main streets and how to find the largest grocery stores, Ace Hardware, Target, REI, UPS, Radio Shack, city parks, electric vehicle charging stations and more.
St John's Medical Center hospital (24 hour emergency room) in Jackson is at 625 E. Broadway at Redmond.
There is a medical clinic on the grounds of Jackson Lake Lodge, near the gas station, ten miles from Colter Bay, open 7 days a week in the summer, usually 9 a.m. to 5 p.m. (307-543-2514, 307-733-8002 after hours). No appointment needed. See the map at: Jackson Lake Lodge vicinity
There is a Colter Bay Visitor Center also in walking distance from the campground, with films, talks, info, postcards, books and Indian Arts museum (info about the museum is at: Grand Tetons sightseeing)
and just down the road from the Visitor Center, a marina, free boat launch ramp, canoe and boat rentals, fishing equipment and licenses, cruises with meals, boat fuel and dump services.
Here, a photo outlining accessibility improvements ("provide an accessible route from the proposed accessible parking stalls to the restroom and down to the marina Lakeshore Trail") at the marina to docks and parking: (The purple dot is at the end of the free boat launch ramp.)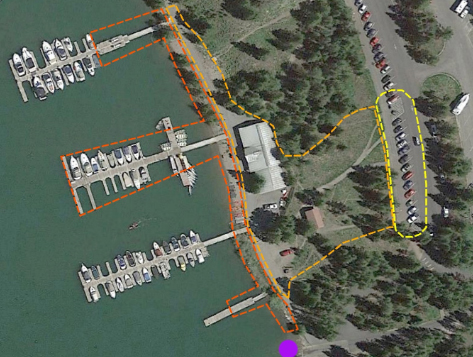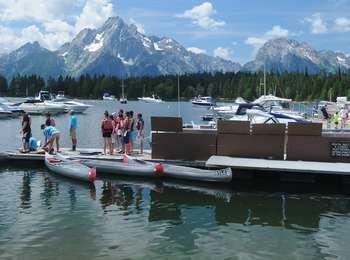 Don't be surprised on our fall trips if you go to take a look and find that the marina is all mud due to irrigation water for Idaho farms being drained from Jackson Lake, and there are no longer boat rentals.

Here is the view as you paddle out in Colter Bay towards the exit from the bay to Jackson Lake: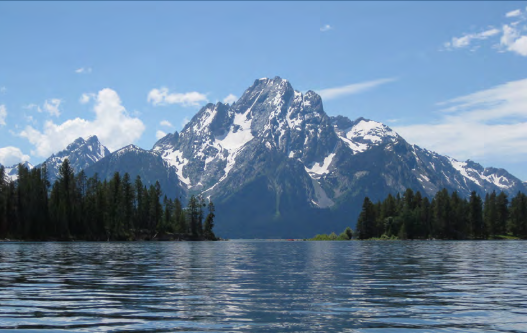 In the town of Jackson there is FREE for anyone shuttle, (along with routes you pay for) usually 6 ish a.m. to 10 ish p.m. The route maps are worth printing just for the list of things that are at various stops:
routes:
https://www.jacksonwy.gov/404/Schedules
fares:
https://www.jacksonwy.gov/396/Fares


Trails from the Colter Bay :
At the north end of Colter Bay there is a 1.5 mile trail with a small causeway out to and around an island. One of the views from this Lakeshore Trail:


A self-guiding nature trail goes around the island. The Lakeshore Trail starts behind the visitor center or at the day use area or even from the marina.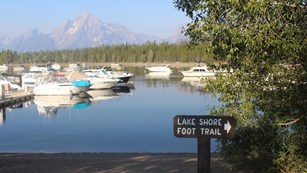 On the map below of the lakeshore trail, the red letter C is the cabins area, V is the Visitor Center and A is the amphitheater.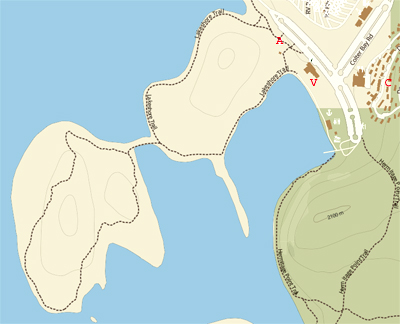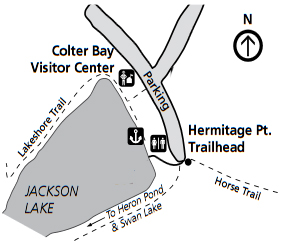 The Hermitage Point Trail goes out to Heron Pond and Swan lake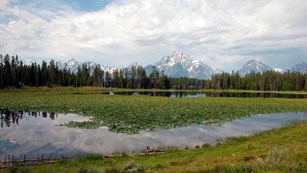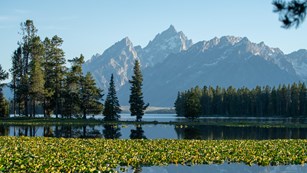 For a full day hike, you can follow the Hermitage Point trail along Third Creek, out to a peninsula on the lake and follow the shoreline of Jackson Lake back to the marina
(easy – moderate, 9.7 mile / 15.6 kilometer round-trip loop trail).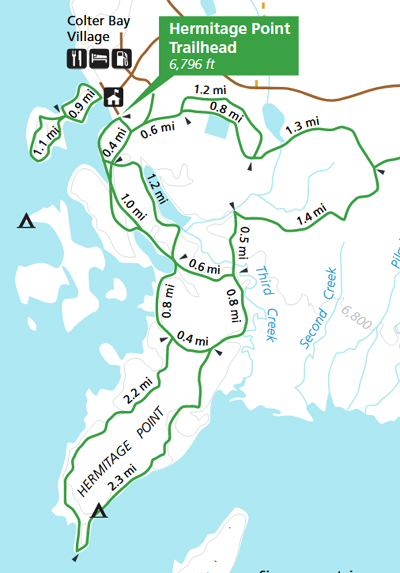 A hiking map of the Hermitage Point area that the map above was copied from is at::
https://www.nps.gov/grte/planyourvisit/upload/Hermitage_Point_topo.pdf
Since it is not safe to hike by yourself, if you have no companions to hike with, you can join a Ranger for this hike, for example, from 2019:
"Swan Lake Hike
Join a ranger to hike through the forest and learn about the park's natural history. A classic national park experience. Bring food, water, binoculars, rain gear, and insect repellent.
3 hours * Meet at flagpole in front of Colter Bay Visitor Center
3 miles * Moderate hike
Daily 4 pm, June 5-Sept 3, 2019"
The Swan lake Trail can be "temporarily closed for the safety of visitors and wildlife"
(for nesting birds to have peace and quiet).
https://www.nps.gov/grte/learn/management/wildlife-closures.htm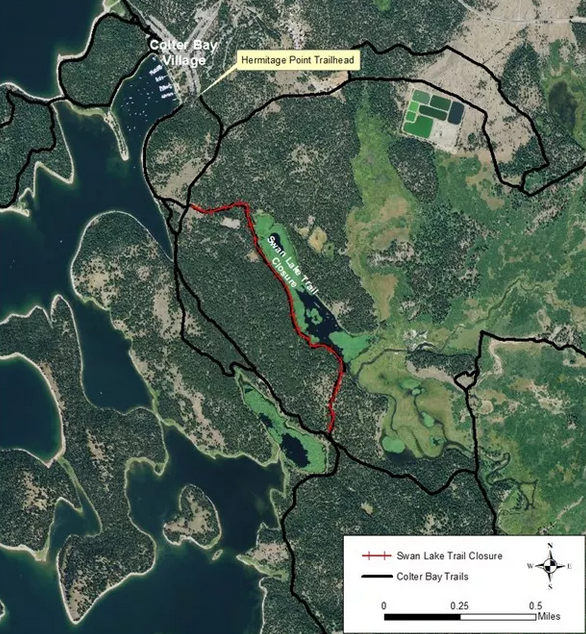 You can find a larger size copy of the NPS photo trail map below, with the Colter Bay Campground, Colter Bay Cabins and Colter Bay village streets in the lower right corner, as well as Donoho Point, Hermitage Point, Half Moon Bay, Colter Bay, Little Mackinaw Bay, Willow Flats, Pilgrim Creek, Elk Island, Heron Pond, Swan Lake and Cygnet Pond
at:
https://www.nps.gov/grte/planyourvisit/loader.cfm?csModule=security/getfile&PageID=2326181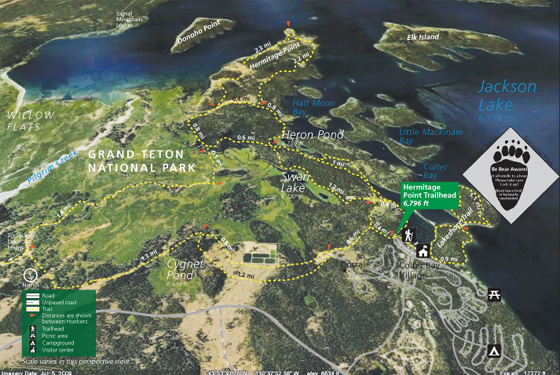 (The trail map above is oriented the usual way with north at the top, the photo map above is not.)
You can download a Grand Teton National Park map at: http://www.nps.gov/grte/planyourvisit/maps.htm
and a map of most lakeside trails in the park at:
http://www.nps.gov/grte/planyourvisit/upload/Lakeshore12.pdf
____________________________________________

During a thunderstorm, don't take a shower or use a sink, including washing dishes. Don't talk on a land line phone. Don't use your I pod. Don't get zapped! Please read Thunderstorm and lightning safety
____________________________________________
How much water is in Jackson Lake (reservoir) right now? Will I be able to launch my boat at the Colter Bay ramp or will I need to go somewhere else?
Check out the boat ramp link below. Full pool of Jackson Lake (reservoir) is 6769′. The end of the boat ramp at Colter Bay is at 6753′, at the end of the boat ramp at Signal Mountain Lodge is 6737′ and at Leek's Marina it's 6735′.
The webpage tells you how high the water level has been on Jackson Lake for the last five days. (Scroll down past the drawing at the top.)
http://www.usbr.gov/pn/hydromet/ramps/jackson/jackson.html
____________________________________________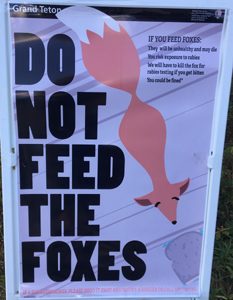 This sign above in the campground details what can happen if you decide to feed the foxes that are all over the Colter Bay area:
DO NOT FEED THE FOXES
If you feed foxes:
They will be unhealthy and may die.
You risk exposure to rabies.
We will have to kill the fox for rabies testing if you get bitten.
You could be fined.


Read in the Concessions Services Prospectus Development Environmental Assessment about potential Colter Bay Campground Electric Hookup Expansion
https://parkplanning.nps.gov/document.cfm?parkID=68&projectID=79731&documentID=104120

Jackson Hole, Wyoming has a map and description of the main streets and how to find the largest groceries, Ace Hardware, REI, Target, UPS, Radio Shack, St John's Health Medical Center (hospital) (24 hour emergency room), city parks, electric vehicle charging stations and more.
We tell people on our college trips to Grand Teton National Park to fill their tank whenever they are in Jackson, Wyoming, as the lowest cost gas stations are in town and the prices almost always get higher the further you go into Grand Teton park. See a map of gas stations in Grand Teton National Park and gas costs at some of them over the years.
– – – – – – – – – – – – – – – – – – – – – – – – – – – – – – – – – – –
Grand Teton National Park boat launch access has maps and answers to questions:
When do Grand Teton National Park and Jackson Lake boat ramps open and close?
Where and how long can I park my boat trailer in Grand Teton National Park?
Can I bring my dog on my boat in Grand Teton National park?
and photos, details & maps about marinas and/or free boat launch ramps at Leeks Marina, Colter Bay, Jackson Lake Dam, Snake River Launch to Pacific Creek Landing, Snake River Launch and take out, Signal Mountain Lodge, and a String Lake launch ramp for non-motorized, hand carried boats
as well as details and maps of boat-in camping on Jackson Lake.
– – – – – – – – – – – – – – – – – – – – – – – – – – – – – – – – – – –
___________________________________
Other Grand Teton National Park campgrounds:
Gros Ventre campground, 4.5 miles from Gros Ventre junction, is the closest campground to the town of Jackson (9 miles +/- Northeast). Sites vary in size and can accommodate RVs up to 45ft. Thirty-six sites have electricity. Ten are ADA compliant with the adjacent restroom being ADA compliant. It has cottonwood trees and sagebrush along the Gros Ventre river. You might see a moose wander through the campground and sometimes can find one along the river.
Jenny Lake campground, a short distance from Jenny Lake, 49 sites, tents only, one vehicle only less than 14 feet long, was the first to fill each day, often early in the morning when it was first-come first-served. With reservations in place, it could be filled well in advance most of the summer.
Signal Mountain (86 campsites) is the campground with some sites with views across the lake to the mountains.
Lizard Creek campground also has sites on Jackson Lake, some with views.
Headwaters campground, near the Yellowstone Park border, has 100 trailer sites and 75 tent sites, plus Camper Cabins.
___________________________________
Grand Teton National Park birds has photos and details about the most common ones we can hope to see
including Bald Eagle, Red-winged Blackbird, Canada Geese, Clark's Nutcracker, Golden Eagle, Great Blue Heron. Great Gray Owl, Harlequin duck, Loon, Magpie, Merganser, Northern Flicker (woodpecker), Osprey, Ouzel, Pelican, Peregrine Falcon, Ptarmigan, Raven, Sandhill Cranes, Steller's Jays, Trumpeter Swan , Western Meadowlark, and Western Tanager, with links to calls / songs from most of them to listen to.
and you can Download photos of over a hundred birds of Grand Teton National Park
https://www.audubon.org/climate/national-parks/grand-teton-national-park

___________________________________
Colter Bay driving distances:
Colter Bay – Old Faithful, Yellowstone 58.4 miles
Colter Bay – West Thumb, Yellowstone 39 miles
Colter Bay – Signal Mountain Lodge 9.4 miles
Colter Bay – Leek's marina 2.4 miles
Colter Bay – Jackson Lake Lodge 5.9 miles (one source says 5.4 miles, 9 minutes)
Colter Bay – String Lake 18.1 miles (and often an hour long drive)
Colter Bay – Jenny Lake 19.6 miles
Colter Bay – Jackson airport 30.7 miles
Colter Bay – Dairy Queen Grill & Chill, North Cache Street, Jackson 39.3 miles
Colter Bay – Jackson Visitor Center 39.9 miles
Colter Bay – Albertsons, Buffalo Way, Jackson 42 miles (and often an hour long drive)
Colter Bay – Whole Foods Market, U.S. 89, Jackson, 42.7 miles

For details about our next club trip to Grand Teton National Park, go to: Grand Tetons.
Grand Tetons trip pages index has brief descriptions of most of the pages about this trip.
NASA aerial photo of Teton Range