A map and information about Colter Bay Campground: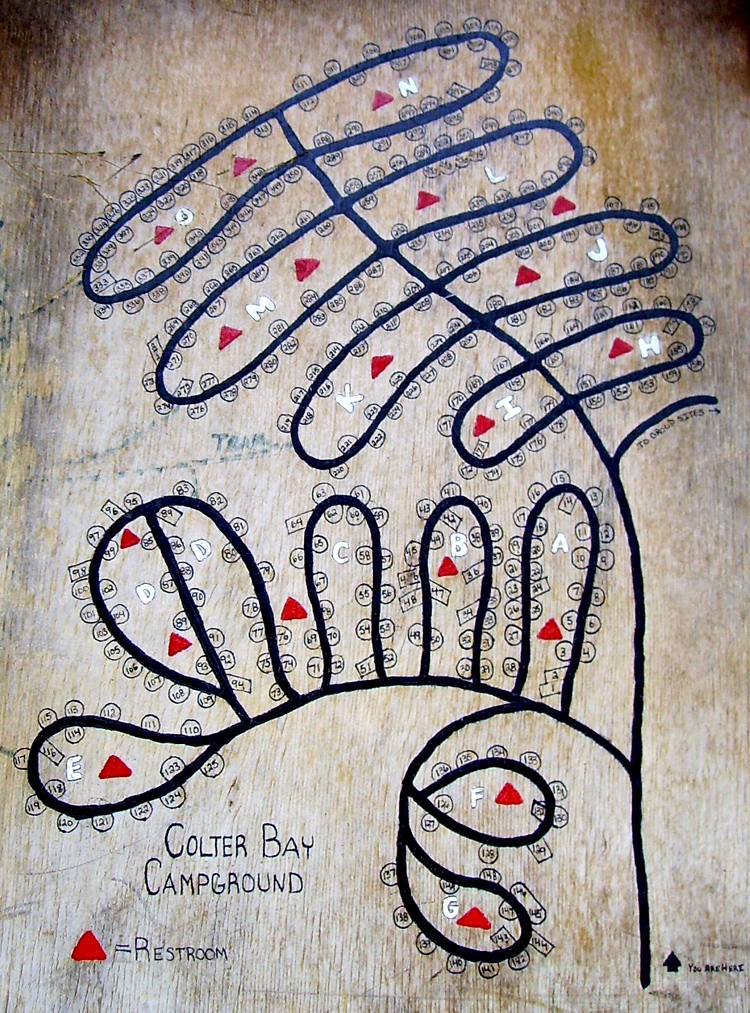 The 'You Are Here' in the right bottom corner is the campground entrance station kiosk where you check in and get a campsite assignment.
There are bears that frequent this campground, keep your food in arms reach or locked up. Your safety in Grizzly bear territory

"Campsites include 335 individual campsites (160 tent spots with tent pads), 11 large group campsites (by reservation only), 13 electric sites, and ADA-accessible hookups.
All sites have picnic tables and fire rings. Bear boxes are available for most tent sites. . . 22 restrooms with running water and flush toilets."
None of these campsites are on the lake and none have views.
As always, sites at the outside edge of loops may have more forest and vegetation around them, giving more privacy: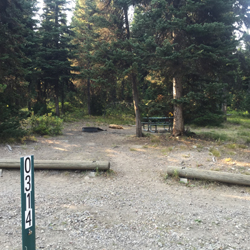 The blue lines on the map above denoting trails mostly lead out to the lake shore.
Campsites in E and D loops are closest to the amphitheater and lakeside picnic area & swim beach with restrooms, fire rings, picnic tables

It is faster from almost every campsite loop to walk to the amphitheater for the evening ranger program/ campfire program than to drive and try to find parking.
The trailer dump station is in I loop.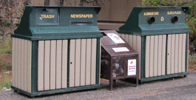 Recycling bins are located outside of the nearby store, including one specifically for used propane tanks.
In the off season the O,N,M,L loops are often closed.
Maximum 35 feet for RVs, motorhomes or trailers in the campground. (Larger RVs, up to 45 feet, should check out Gros Ventre campground, or the Colter Bay R.V. park with hookups.) To find the entrance to the RV park, go towards the campground from the main road, and turn left.
____________________________________________
It is wise in all the campgrounds that along with placing your camping permit on your campsite post, that you leave a non-valuable item to show that your site is occupied, such as this site with a bright yellow cloth on a clothesline: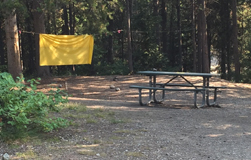 ____________________________________________
Below: an aerial photo with Colter Bay environs in the foreground and part of Jackson Lake. The campground area is towards the right, the long stripe of buildings leading from the bay is the stores, laundromat and restaurants.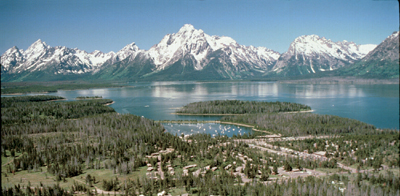 There is a black and white aerial photo/map to go with the above picture with details of where to find the museum, picnic area, showers, grocery/gift stores, restaurants, coffee bar, laundromat, hiking trails, marina, Ranger talk/campfire amphitheater, propane canister recycling bin, etc. at Colter Bay, Grand Teton National Park.
There is free WiFi available at the Colter Bay laundromat,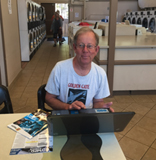 the main Colter Bay restaurant, and farther away from the campground, at the Moose Visitor Center and in the Jackson Lake Lodge parlor Jackson Lake Lodge vicinity that anyone can use without a secret code.
There is a coffee bar in the Colter Bay grocery, a short walk from some loops. Or make coffee when you cook out dinner, fill a thermos and have some ready when you wake up in the morning.
There are restaurants (only one open late season) in walking distance. Grand Tetons restaurants
There is a medical clinic on the grounds of Jackson Lake Lodge, near the gas station, ten miles from Colter Bay, open 7 days a week in the summer, usually 9 a.m. to 5 p.m. (307-543-2514, 307-733-8002 after hours). No appointment needed. See the map at: Jackson Lake Lodge vicinity
(St John's Medical Center hospital in Jackson (24 hour emergency room) is at 625 E. Broadway at Redmond.)
In the town of Jackson there is FREE for anyone shuttle, (along with routes you pay for) usually 6 ish a.m. to 10 ish p.m. The route maps are worth printing just for the list of things that are at various stops:
routes:
https://www.jacksonwy.gov/404/Schedules
fares:
https://www.jacksonwy.gov/396/Fares
You can find a larger size copy of the NPS photo trail map below, with the Colter Bay Campground, Colter Bay Cabins and Colter Bay village streets in the lower right corner, Donoho Point, Hermitage Point, Half Moon Bay, Colter Bay, Little Mackinaw Bay, Willow Flats, Pilgrim Creek, Elk Island, Heron Pond, Swan Lake and Cygnet Pond
at:
https://www.nps.gov/grte/planyourvisit/loader.cfm?csModule=security/getfile&PageID=2326181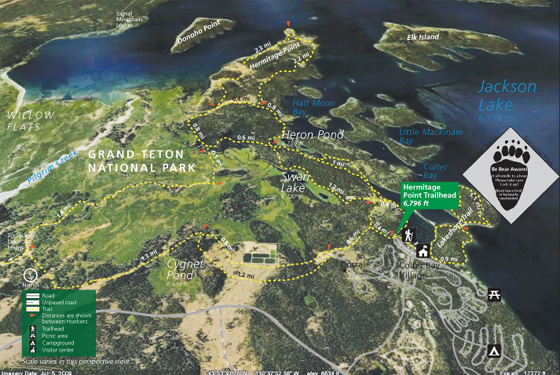 and a hiking map of the Hermitage Point area at:
https://www.nps.gov/grte/planyourvisit/upload/Hermitage_Point_topo.pdf
You can download a Grand Teton National Park map at: http://www.nps.gov/grte/planyourvisit/maps.htm
and a map of most lakeside trails in the park at:
http://www.nps.gov/grte/planyourvisit/upload/Lakeshore12.pdf
____________________________________________
During a thunderstorm, don't take a shower or use a sink, including washing dishes. Don't talk on a land line phone. Don't use your I pod. Don't get zapped! Please read Thunderstorm and lightning safety

How much water is in Jackson Lake (reservoir) right now? Will I be able to launch my boat at the Colter Bay ramp or will I need to go somewhere else?
Check out the boat ramp link below. Full pool of Jackson Lake (reservoir) is 6769′. The end of the boat ramp at Colter Bay is at 6753′, at the end of the boat ramp at Signal Mountain Lodge is 6737′ and at Leek's Marina it's 6735′.
The webpage tells you how high the water level has been on Jackson Lake for the last five days. (Scroll down past the drawing at the top.)
http://www.usbr.gov/pn/hydromet/ramps/jackson/jackson.html
____________________________________________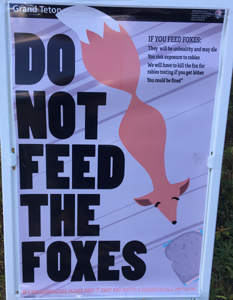 This sign above in the campground details what can happen if you decide to feed the foxes that are all over the Colter Bay area:
DO NOT FEED THE FOXES
If you feed foxes:
They will be unhealthy and may die.
You risk exposure to rabies.
We will have to kill the fox for rabies testing if you get bitten.
You could be fined.
____________________________________________
See also:
Gros Ventre campground, 4.5 miles from Gros Ventre junction, is the closest campground to the town of Jackson (9 miles +/- Northeast). Sites vary in size and can accommodate RVs up to 45ft. Thirty-six sites have electricity. Ten are ADA compliant with the adjacent restroom being ADA compliant. It has cottonwood trees and sagebrush along the Gros Ventre river. You might see a moose wander through the campground and sometimes can find one along the river.
Jenny Lake campground, a short distance from Jenny Lake, 49 sites, tents only, one vehicle only less than 14 feet long, is the first to fill each day, often early in the morning.
Signal Mountain (86 campsites) is the campground with some sites with views across the lake to the mountains.
Lizard Creek campground also has sites on Jackson Lake, some with views.
Headwaters campground, near the Yellowstone Park border, has 100 trailer sites and 75 tent sites.
NASA aerial photo of Teton Range
For details about our next club trip to Grand Teton National Park, go to: Grand Tetons.
Grand Tetons trip pages index has brief descriptions of most of the pages about this trip.