Lake Tahoe (22 miles long, 12 miles wide), is one of the biggest fresh water lakes in the world, with an astounding water clarity. The lake is various shades of intense blue and peaks surrounding it are snowcapped year 'round.
We used to camp frequently at D.L. Bliss State park and do a day long paddle into Emerald Bay State park. I am leaving info here in case we go again.
For info about the end of summer Tahoe Day (or weekend) trip, that we do more often recently (rather than the trip described below) go to:
Outdoor Club Coming Attractions
The De Anza Outdoor Club has done camping at D. L. Bliss State park at Lake Tahoe August, when the water will be at a swimmable temperature and there will still be lots of wildflowers. The group campsite we get has lots of space and a shower house.
D.L. Bliss state park has one of the best sand beaches at Tahoe.
Photos below courtesy of El Dorado County Film and media office: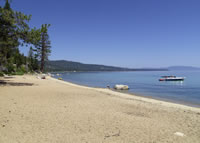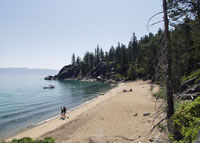 The main activity on this trip will be an all day eight-mile round trip kayak on Saturday along the lake shore and into Emerald Bay.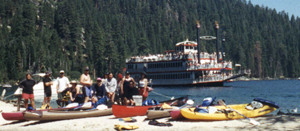 The photo above was taken on the shore of Emerald Bay. The tourists on the paddleboat in the background paid $20+ for a two-hour tour with no stops to explore.
Some local kayak tour companies do Emerald Bay day trips for $65 to $85 (3 1/2 to 5 1/2 hours). Our trip usually costs less than that for kayaking all day and the campsite for the weekend.
You must have long distance kayaking experience with the club to participate, which even beginners can get on our spring break ocean kayak day trip to Monterey. OR you can be oriented to kayak use and pass a swim test of 20 twenty-five yard laps of freestyle or breastroke in 15 minutes or less.
We launch very early in the morning Saturday and paddle the four miles to Emerald Bay. The bay is probably the most scenic stretch of shore on the lake. Because the beach at Emerald Bay is only accessable by boat or by walking .8 mile from a small parking lot, the beach is less congested than other beaches open to the public.
People who don't want to kayak can hike from the campground to Emerald bay and join us there. Three photos of the trail and the view from the trail courtesy of the El Dorado County Film and media office: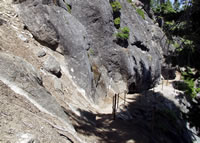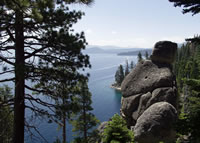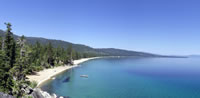 When we went in 2000, 2001 and 2004 we landed first at the beach at the west end of Emerald Bay and had a huge picnic. Some people toured Vikingsholm (a reproduction of a Norse fortress of 800 A.D.). It has 38 rooms, but tourists aren't allowed upstairs to the bedroom wings due to safety precautions. The park charges a small fee for the tour.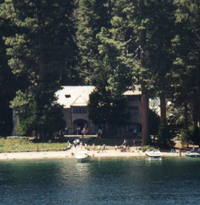 This Vikingsholm photo courtesy of the El Dorado County Film and media office: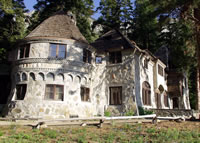 Then we paddled out the quarter mile to Fannette Island.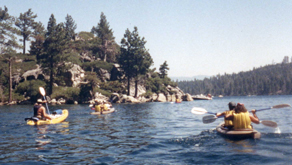 and hiked up to the tea house on the top. The photo below was taken on the trail to the top. Notice the kayaks tied up at the edge of the cove below. Sorry, we can't have tea in the teahouse as no picnicking is allowed on the island and you can't swim between the beach and the island.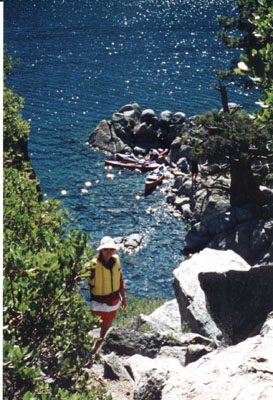 Some people swam in a cove on the island and some swam all the way around the island.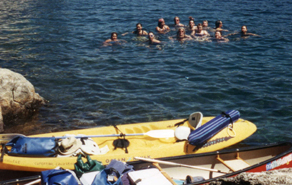 Everybody pitches in when we return and reload the kayaks on the trailer at the starting point.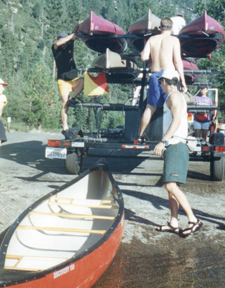 Plans for a long hike the next day never materialized.
Evenings and nights were spent cooking out, watching stars on the beach, playing cards or singing around the campfire. Some nights we've chased bears from the campsite.
_____________________________________________
(pictures from the 2003 trip are at
Group photo with bear box)
If you were a student during spring quarter you don't have to take summer quarter classes to go on our summer quarter trips. Likewise, faculty don't have to teach summer quarter. For cost details about this trip go to: Outdoor Club Coming Attractions
NO REFUNDS The club will provide: campsite space, a faculty advisor, a first aid kit, and a water purifying pump for club led hikes/kayaking. The club intends to provide tandem kayaks, paddles, lifejackets (which must be worn and strapped securely) and possibly the club advisor will loan dry bags, but circumstances may preclude kayaking. The club will probably also provide a shared stove and lantern for at least one dining canopy covered cooking area, but if the club does not, people usually are successful in getting cooking gear together before thr trip.
Trip participants are responsible for any other gear, including food and food preparation equipment, tents, sleeping bag, insulating sleeping pad, mosquito repellant, (read some advice at: insect repellant)
waterproof outer layers in case of rain, (you can get a set of rain pants/jacket at Home Depot then Improve your inexpensive rain gear), swimsuit, and other personal gear. State Park shower houses are usually pay – bring quarters.
Pleeease follow the MUST HAVE guidelines at the Camping equipment checklist
You can find lists of gear to bring for winter camping that have things that apply to this trip at Snow or rain camp must-haves. If you don't have gear for, or have never been rainy/cold camping, we really recommend you read the lists.
You might also want to read GORP and hiking snacks
Hiking Advice has hot weather hiking advice, hiking logistics and the answer to the question: When is the best time of day to cross a mountain stream?
If you have decided you are going on this trip, reading a step by step description of loading kayaks on the De Anza trailer will make the job go easier.
canoe over canoe rescue also can be used for kayaks.
At Have more fun camping you can learn how to build campfires that don't smoke too much, how to pack an ice chest, do dishes in camp and lots more.
Two photos below of Emerald Bay and Fanette island, from a viewpoint on the road around Lake Tahoe, are courtesy of the El Dorado County Film and media office: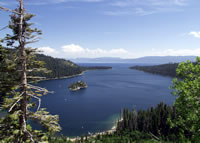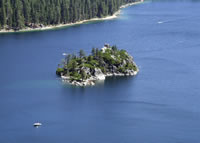 _____________________________________
_____________________________________________
We are staying at 6,300 plus feet elevation. You will probably feel out of breath at first and may even get a headache and lose appetite. You can get more sunburned. Read At altitude for advice. It includes why your tent mate might seem to stop breathing.
______________________________________________
There will be bears in the campground and quite possibly in our campsite.So far bears do not break into cars at this area of Tahoe, but they could learn to, so be extra prepared by reading the info about Yosemite how bears break into cars, what to do if you see a bear and more at: Bears
A good way to wake up the whole campground is to set your car alarm. Then if a curious animal or clumsy person bumps the vehicle at night you've succeeded.(The alarm won't keep bears out of your vehicle).
Tent walls are thin. You can wake up everybody in the vicinity when you want to get into your car and you use the keyless (remote) door opener and the car makes the usual loud beep. People don't think to just use the key to open the door or don't know that if you look in the owner's manual you can find a way to disable the beep.
For a laugh, go to:
Camping Blunders
______________________________________________
When camping with a large group of people some complain there is not enough room in their shared bear box for all their gear. In the summer at Tuolumne, when we often get a group campsite and have to put all our gear in the bearboxes, we have had serious problems fitting everything.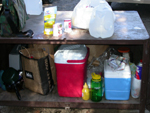 More things could fit in the campite bear-proof storage lockers if everyone brought smaller containers of food, etc.
NO!→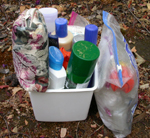 ← Yes!!
and if everyone brought their gear in small, deep plastic trash cans or other plastic boxes close to, but no more than, 17 inches tall. A typical bedroom waste receptacle could be 9″ by 12″ by 17″ deep and hold quite a few cans of food, cooking items and toiletry bags. If bears at Tahoe learn how to break into cars, the rules for food storage will become stricter. Pleeeease read:
Using a campsite food storage locker
_____________________________________________
Can I parasail or scuba at Tahoe?
ACCORDING TO DE ANZA'S RISK MANAGEMENT:
NO, at least not during one of our trips.
At the end of the trip, after the campsite is packed up and vacated, people are on their own. Then people can try a scuba dive (Emerald Bay has a permanent dive bouy and underwater interpretive panels at the site of two sunken barges), pay for a parasail experience (not cheap) or go gambling. During our trip none of these will be allowed. During or after it is not safe to dive head first, slide off rocks or even to jump into many swimming holes or lakes.
The Indiana University Underwater Science Program has a page about the scuba opportunities at Emerald bay.
"California's first underwater shipwreck park, the Emerald Bay Historic Barges was officially opened to the public following the September 23, 1994 dedication ceremony.
Located in 10 to 30 feet of clear water in picturesque Emerald Bay, Lake Tahoe, the site consists of two large wooden barges constructed of massive Ponderosa pine timbers."
http://www.indiana.edu/~scuba/embay/index.html
_____________________________________________
Emerald Bay topographical map:
http://terraserver-usa.com/image.aspx?T=2&S=14&Z=10&X=234&Y=1348&W=1&qs=%7cEmerald+bay%7cCalifornia%7c
black and white aerial photo of the same area:
http://terraserver-usa.com/image.aspx?T=1&S=14&Z=10&X=234&Y=1348&W=1&qs=%7cEmerald+bay%7cCalifornia%7c
Yosemite nature and photography links has links to online field guides to Sierra birds, flowers, mammals, etc.
Tahoe emergency phone numbers are at:
http://www.boattahoe.com/emergency_services.htm
sunrise/set times adjusted for surrounding elevations
http://www.boattahoe.com/sundata.htm
also of potential interest:
____________________________________________
Emerald Bay and Fanette Island at dawn:

photo below by Quang-Tuan Luong/terragalleria.com, all rights reserved.