Or this page could be titled:
Must-haves for camping
How to camp for beginners
_______________________________
Camping rule number one: Don't buy a cheap tent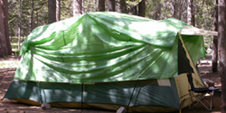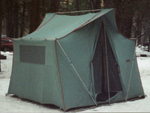 _______________________________
Learn to build Campfires that don't smoke too much.

_______________________________
Bears in some places have learned how to break into vehicles, so many campsites have metal boxes to put food and toiletries into. Using a campsite food storage locker has some tips for using them, especially if you have to share with a large number of people.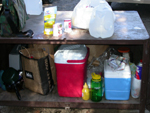 Whether you are in a park with a rule (such as Yosemite) that you must stay within arms reach of your food at all times it is out, it is still good advice because birds like Steller's Jays want to get at your food: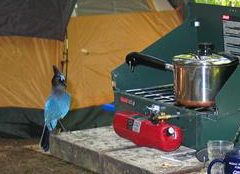 _______________________________

You can Improve your inexpensive rain gear Will you bring real rain gear (like a hooded rain jacket and rain pants) on trips, or will you make a garbage bag 'rain jacket' like the girl on the right is modeling?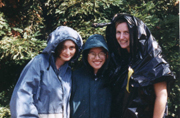 _______________________________
Any time you spend preparing food at home means more time to play. If you do as much cooking at home in advance as possible, with a clean counter to work from and hot running water, you will be able to have great menus with less work.
You could eat grilled chicken spinach caesar salad easily if you grill the chicken, rinse the spinach and grate the cheese at home.
In the photo below, the jar has eggs, a little grated cheddar, sour cream and chives. It's ready to be shaken and turned into scrambled eggs or an omelet. And the eggs store more easily in the jar when in an ice chest than in the package they came from the grocer in.
The prewashed and precut raw bell pepper, celery and cauliflower in the plastic container lasted for days.

Cook bacon, sausage or chicken in advance at home. Then you can deal with drippings much more easily and you don't have to wait as long to eat when you're starving from all that exercise you got hiking and swimming.
For safety's sake, don't bring raw chicken. Much chicken has salmonella which needs to be killed during cooking. It's easier to prepare it cleanly at home and just re-heat it at camp, plus you reduce the risk of raw chicken juice spilling on other things in your ice chest and contaminating everything. We are talking about very sick from salmonella.
Melt the butter and garlic for scampi in advance. De-vein the prawns and cook them in advance, then chill them. You can then make the scampi or have a prawn cocktail as the mood moves you.
Create garlic bread and wrap it in foil to reheat over coals. Bake potatoes at home, quarter or thick slice them and wrap them in foil for reheating as well.
Cook pasta in advance and mix it with the marinara sauce in a container. Then just reheat it in a thick pan like a cast iron skillet or over a double boiler.
or cook pasta in advance and reheat it briefly in boiling water, then drain and add a choice of simmering sauce.
_______________________________
For food preparation needed in camp you will want a clean surface. Pack a large, shallow pan, or as in the photo below, a plastic placemat.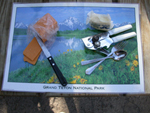 _______________________________
For backpacking we use a high powered one burner stove. For camping from a car we use a two burner stove capable of cooking at a simmer on one burner while the other boils at full blast. A thick cast iron pan distributes the heat from a flame more evenly.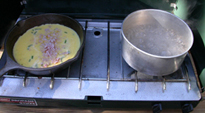 Since a high powered flame could cook the handles of some pans, we use handle-less pans and a pot gripper.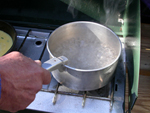 Wood matches and a lighter are more reliable and easier to use than paper book matches.
_______________________________
When you first fill an ice chest (cooler) with food and ice everything is fine. As you drive along to your destination, and as days of getting things in and out go by, things get jiggled around. Containers' lids can loosen. The ice melts and water fills up the bottom of the ice chest, but you don't have the time to drain it as often as you should. The ice chest may have been 'clean' to start with, but if it had any even unseen mold or… the water is not so clean. The smaller containers near the bottom of the ice chest end up partially submerged in the melted ice water and some of the water leaks in, possibly contaminating the food. That plastic bag of food somehow gets down into the melted water and is potentially contaminated.
A solution to this problem is to create an extra upper shelf in your ice chest that can hold the smallest containers or plastic bags of items like loose fruit on it. Below, we used an old dish drainer and a cupboard organizer.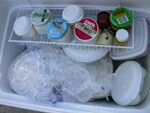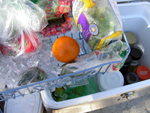 then finally, put a "layer" of ice on top in zip lock bags that can be easily removed to get at food: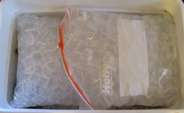 Plastic ice blocks that are advertised to work a whole weekend don't last that long. Ice cubes melt relatively fast. Buy ice in blocks and split it with a hatchet to make it fit around in the ice chest better, or plan a little in advance to make your own mini-ice blocks in pans in your freezer. A loaf pan is a very good size. You'll still need ice cubes, but they will last longer.
_______________________________
If you roll down the top edge of a grocery paper bag it will sit upright for use as a trash bag. You can line it with a grocery plastic bag. Put it up on the picnic table; if you leave it sitting on the ground animals will get into it more easily. (But you will still need to keep everything at your picnic table within arms reach, campground animals are used to sneaking up quickly and running off with food/trash, or quickly chewing into packs to find snacks.)

_______________________________
A clothesline can be used to dry swimming towels, but it can have other uses.
Put one up in the right location with a big tarp on it and you can keep headlights from cars from shining into your tent at night.
Let's say you end up in a campsite across the road from where the free campground shuttle bus drops off people. Most people walk from the bus stop to their campsites along a path between your campsite and the next campsite. But some people walk right through the middle of your campsite, between your picnic table and your tent. If you put up a clothesline in the right place you can divert foot traffic.
The clothesline in the photo below was set up to give a little privacy between our campsite and the next one.
We have seen people get carried away with privacy and space issues. One group we saw put yellow hazard tape around the trees circling their campsite! If you decide to use a clothesline for a little traffic diversion or privacy making, be discreet and be certain to not block a neighbor's great view.
Most campgrounds have rules about not driving nails, stakes or other objects into trees. Be careful when you put up a clothesline that you don't strip off bark.
_______________________________
Most campgrounds have restrooms or outhouses, some with nearby dumpsters and recycling bins.
Please separate out the recyling and find the appropriate bin or bring it home. If the 810,000 tons of aluminum cans Americans throw away every year were recycled we'd save 730 million gallons of oil by not having to make new aluminum.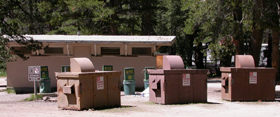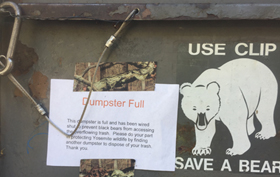 In the photo above, the note on it says:
"Dumpster Full
This dumpster is full and has been wired shut to prevent black bears from accessing the overflow trash. Please do your part in protecting Yosemite wildlife by finding another dumpster to dispose of your trash. Thank you."
PLEASE, when a dumpster is full don't just leave your trash sitting next to it, find another dumpster.
Restrooms in most public campgrounds don't have hot water. And most public campgrounds don't have showers. Camping solutions for women tells how to wash your hair.
Not all campgrounds have drinkable water, so check in advance and bring a water purifying pump.
Do dishes the easy way. Many campgrounds will have signs up giving some specific directions. Most don't want you to do dishes in restroom sinks as the little bits of food clog the sink and the smell of food lures animals, (yes, even bears), into the restroom.
Some directions say to fill a wash basin you brought with you with water, do the dishes at your campsite and then dump the dish water into the toilet OR into a specific utility sink for waste water, often located in the restroom building, but separate from the restrooms. Don't pour waste water on the ground.
From a park service restroom sign
"dishwashing procedure
no dish washing in restroom sinks!
before dish washing, scrape all food waste from dishes and deposit in bear-proof dumpsters
fill your washbasin at water spigot and bring back to your campsite
please dispose dishwater in toilet in restroom
please be sure to not flush silverware!"
In the pictures below, the Yosemite restroom building has men's and women's restrooms on either end and a center room with a basin for waste water disposal.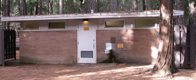 The easiest way is to do messy cleanup cooking at home in advance, like grease-producing bacon, and then just reheat the food in camp. When it's time to clean up, start by wiping off the dishes and pans with paper towels. Then you can use just a little soapy water to wash with and will have less waste water to carry and dump.
_______________________________
There are no restrooms, privies or outhouses along most trails in the wilderness, or even close in to many developed areas in parks.
During any hike or backpack,
To truly be able to leave no trace and follow backcountry rules about camping the proper distance from a lake or digging your personal latrine hole the proper distance from water, etc., you will need to know how far 100 or 200 feet is. Lay out a tape measure at home and walk it and count your paces.
How to poop in the woods
_______________________________
It is possible to enjoy rainy weather or even camping in the snow. If you plan ahead and pack for interesting weather you don't have to give up and go home when a little of it hits. You can enjoy earlier and later season camping when the campgrounds aren't as crowded.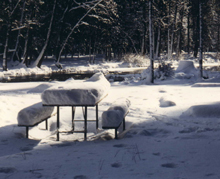 Read Snow or rain camp must-haves
a list of gear is at:
and read Thunderstorm and lightning safety
A typical campsite will have a parking place (perhaps with a one or two vehicle limit, check with the park in advance). Some are big enough for large trailers or motorhomes, but most do not have electrical or sewer hookups. Not all campgrounds allow pets. Each campsite usually has a firepit and picnic table, some have a food storage locker, some have a raised pad on which to pitch your tent. You need to plan and pack for all your other needs. Camping equipment checklist is the De Anza College list for late spring, summer and early fall camping.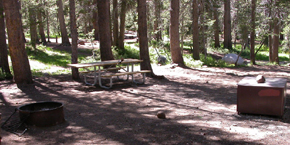 and see Yosemite valley tent cabins tips and tricks for not quite camping
_______________________________
Learn to tie and use proper knots. A bowline makes a loop of any size that will not jam or give. A sheetbend is used to tie together two ropes of different thicknesses. A sheepshank is used to shorten a rope.
A page of Animated Knots (how-to) is at:
_______________________________
The most important camping advice might be to
Do some research in advance of the trip.
Read what the Rangers would like you to know before you set out.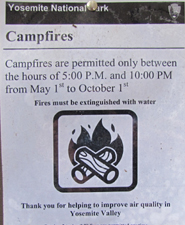 All US National Parks have info starting at:
http://www.nps.gov/
All California State Parks have info starting at:
http://www.parks.ca.gov/
___________________________________________
Grand Tetons recommended reading has a link to the park newspaper, a booklist and other more
___________________________________________
The Mountains of California by John Muir can be read at:
http://www.abovecalifornia.com/lib/JohnMuir/MountainCa/index.php
Can I recommend these chapters?
VII THE GLACIER MEADOWS
XII SIERRA THUNDER-STORMS
XIII THE WATER-OUZEL
______________________________________________
Look up wildflowers at the California Academy of Sciences at Golden Gate Park site at:
http://researcharchive.calacademy.org/research/botany/wildflow/
______________________________________________
How much water will there be in the Yosemite waterfalls?
______________________________________________
In most cities and suburbs you can't see all the stars you can while camping farther away from night light. Almost any night you can see an occasional sporadic shooting star, but you can also plan a trip around a meteor shower peaks for guaranteed shooting stars (in good weather, away from lights and with not too much moonlight).
The list below has some of the biggest meteor showers. All times are Eastern Standard Time, so if you are going camping where and when they observe Daylight Saving Time, add an hour.
If there is a full moon or near to a full moon during one of these showers you'll see less or hardly any shooting stars, so especially watch for a year when there is no moon during these days.
We set an alarm to wake up at the right time and then set out from the usually treed campsite to a more open area. We bring lounge chairs (with blankets, sleeping bags and insulating pads) we can lie down on our backs on instead of regular chairs we have to crane our necks back to watch from. Turn off flashlights (electric torch), it will take ten to twenty minutes until you can see the sky well. Or bring red cellophane covers for flashlights to protect your night vision. We bring binoculars and sometimes a telescope to look at specific stars, but for shooting stars you need to watch the whole sky.
The directions to look are somewhat arbitrary, some showers seem to come from all parts of the sky. Some shooting stars you might see might not actually be from the desired shower, but who cares?
Quadrantids (6 to 12 an hour) run Jan. 1-5 and peak January 3 or 4 (look Northeast from 4 to 6 am).
Lyrids (10-20, occasional outbursts of 100 an hour) are April 16 to 25 with a peak 21-22 (look overhead 2 to 4 am) for fast streaks.
Eta Aquarids (20-40) are April 19 to May 28 with a peak May 4-5 (look Southeast) 2 to 4 am for very swift, long paths.
Delta Aquarids (15-25) are July 27, 28 and/or 29 (look South) 1 to 3 am for slow, long paths.
Perseids (60-100 an hour!!!) are July 17 to Aug. 24 with a peak August 11-13 (look Northeast) 1 to 4 am for a very fast, very frequent display.
Orionids (15-25)are October 2 to Nov. 7 with a peak Oct. 21 maybe 22 (look South) 2 to 4 am for swift streaks.
South Taurids (10-20) are November 2-4 (look South) 1 to 3 am for very slow, bright shooting stars.
North Taurids (10-20) peak November 12-14 (look South) 12 to 2 am for slow fireballs.
Leonids (25-50) peak November 17-18 (look South/Southeast) 4 to 6 am for very fast shooting stars.
Geminids, maybe the most reliable, (50-100) are December 7 to 17 with a peak Dec. 13 or 14. (Look overhead) 1 to 3 am for an average show.
Ursids (15-25)are December 22-23 (look North) all night for an average show.

Enhance your hike by reading:
The day hike gear section at Camping equipment checklist
Thunderstorm and lightning safety includes the answer to the question: Why can't you swim during a lightning storm? A strike on a lake doesn't kill all the fish in the lake.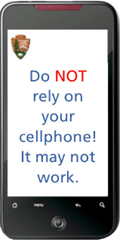 Your cell phone will not function in a lot of Yosemite and other parks away from cities. Cell phones in the wilderness which has advice on how/when to use a cell phone to contact 911 in the wilderness and a warning about interference between cell phones, iPods and avalanche beacons.
The use of cell phones for photography (with or without a selfie stick) has made preventable injury or even death by selfie common They were just taking a selfie . . .

You can't always expect a helicopter rescue
fatal, near fatal or close call incidents/accidents in camping, backpacking, climbing and mountaineering
Can a person who is prescribed an epi-pen risk going into the wilderness? and some sting prevention notes are at: Anaphylaxis quick facts
insect repellant has answers to questions about the percentage of DEET needed in an effective insect repellant, toxicity allergies, and more.
If you expect lots of mosquitos you could pitch your tent IN a screenroom:

Hiking Advice has hot weather hiking advice, hiking logistics and the answer to the question: When is the best time of day to cross a mountain stream?
Enhance your drive to your adventure: Road trip advice and etiquette

Rocky Mountain mammal size comparisons has photos and comparisons of beavers, squirrels, pika, marmot, elk, moose, bison, fox, coyote, wolf, golden-mantled ground squirrel, chipmunk, Red Squirrel (also known as) Chickaree, Unita Ground squirrels, bobcat, lynx, mountain lion (cougar), pine marten, mountain goats, bighorn sheep, pronghorn, grizzly and black bears.


Camping solutions for women has tips for and answers typical questions from first-time women campers,
including the question: Can menstruating women camp or backpack around bears?
Bears has links to general info about bears, then practicalities of camping and backpacking around bears, (food storage, what to do if you see a bear) mostly geared towards our trips around black bears in California.
Quit being paranoid about sharks
Yosemite nature and photography links
___________________________________

Natural Resources Defense Council
Water Quality at U.S. Beaches
How to find out whether state and local authorities test for beach pollution, and what they do if they find it.
http://www.nrdc.org/water/oceans/gttw.asp
The U. S. Environmental Protection Agency has a beachgoer's guide at:
http://www.epa.gov/waterscience/beaches/goer2.html
Advice there includes that you avoid swimming at beaches where you can see discharge pipes or at urban beaches after a heavy rainfall.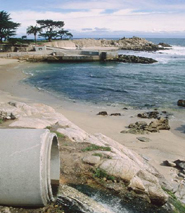 _______________________________

During any long hike or backpack,
To truly be able to leave no trace and follow backcountry rules about camping the proper distance from a lake or digging your personal latrine hole the proper distance from water, etc., you will need to know how far 100 or 200 feet is. Lay out a tape measure at home and walk it and count your paces.
How to poop in the woods.
_______________________________
A good way to wake up the whole campground is to set your car alarm. Then if a curious animal or clumsy person bumps the vehicle at night you've succeeded. (The alarm won't keep bears out of your vehicle).
Tent walls are thin. You can wake up everybody in the vicinity when you want to get into your car and you use the keyless (remote) door opener and the car makes the usual loud beep. People don't think to just use the key to open the door or don't know that if you look in the owner's manual you can find a way to disable the beep.
For a laugh, go to:
Camping Blunders
for fun: an eight person tent holds this many campers
______________________________________________

The Yosemite National Park rangers would like you to call them
if you see a bear in Yosemite,
no matter where it is or what it is doing.
Since 2003 there has been a note in the Yosemite Guide: "REPORT ALL BEAR SIGHTINGS! To report bear sightings, improper food storage, trash problems, and other bear-related problems, leave a message for the Bear Management team at: 1 (209) 372-0322. Your call can be made anonymously."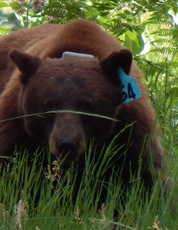 If you can, in all the excitement, try to notice if the bear has a tag (usually on the ear), the color of the tag and if possible, the number on it (the tag is large enough that with a telephoto lens you should be able to read the number).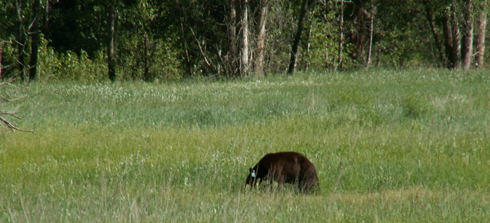 From the Yosemite Daily Report newspaper:
"It is extremely important to remember to yell at bears that are in and around development, even if they are foraging on natural food. Though it is very tempting to get close for a picture, or just to watch these incredible animals, it is important not to give into this urge. Yelling at them if they are in residential areas or near people is critical to keep bears natural fear of humans. Giving bears plenty of space. When bears become too comfortable around people, they will often start causing damage to structures and vehicles, or will even become too bold around people, creating safety concerns."
And the Yosemite Daily Report also said:
"Scare bears when you see them. . . in developed areas- Yell like you mean it!
Make as much noise as possible, try waving your arms, stomping your feet
or anything to make you look intimidating and to get the bear to run away.
We know it's fun to see bears and it can feel mean to scare them,
but this is a simple way to truly help save a bear's life."



______________________________________________
t causing damage to structures and vehicles, or will even become too bold around people, creating safety concerns.



Where were they when they got that great picture in Yosemite?

Where can I take a photo that looks like the one on a Yosemite postcard I just bought?
Places to take photos of
Half Dome
,
Bridalveil Fall
,
El Capitan
,
Yosemite Falls
and
Staircase Falls
.