GORP stands for "good old raisins and peanuts." The first ones I remember from Girl Scout backpacking added chocolate. Stores sell various mixes, often at much higher cost than creating your own custom mix(es).
For my own snacking, and for no-cook backpacking meals, I like to carry various ingredients separately and mix as the mood or tastebuds or dining companions or scenery/weather dictates. (Although I will admit that anything sharing a bear-resistant food can or just a large plastic bag for days (even if the separate ingredients are double-bagged) will all smell and taste somewhat like all contents of the other baggies.)
Invent your own mix. Most people like a mix with something nutty/crunchy, something sweet and something salty. Do plan a taste test before hand of any new ingredients you are considering.
You'll need to look to health food stores or grocery baking sections for some of the following. Trader Joe's has a large selection of dried fruit, nuts and seeds.
Don't limit your dried fruit to just raisins and apricots. (Some of the following suggestions may only be available freeze-dried, not simply dried.) You might want to buy these chopped or cut them into bite-sized pieces at home. Taste test some tropical fruit mix, cranberries, bananas, blueberries, tart cherries, sweet cherries, carrots, yogurt-covered raisins, berries, pineapple, papaya, guava, soft or crunchy apples.
Along with drinking lots of water, you need salty snacks for hiking or you might not be able to sweat (required to cool down). For the salty/crunchy/nutty part : (roasted, dry-roasted, salted, unsalted, raw or smoked) almonds, cashews, peanuts, pine nuts, walnuts, sunflower seeds, pistacio nuts, sunflower seeds or kernals, pumpkin seeds, walnuts, macadamia nuts, corn nuts, beer nuts, soy nuts, Wheat Chex cereal, Goldfish cheese crackers or pretzels, Cheerios or Honey Nut Cherrios, granola, corn chips, pretzel nuggets, Chex Party Mix, wasabi peas, rice crackers, spicy sesame sticks, garlic/cheese croutons.
Would halves of walnuts be better than chopped up?
For the sweet part (chocolate is a food group and yes, some kinds are more likely to melt, even if kept in the center coolest part of your pack) white or dark chocolate, M&Ms, candy corn, jellybeans, vanilla wafers, flaked coconut, chocolate-covered coffee beans, sugar-coated (or not) rice cereal, Raisinettes, Reese's Pieces, red or black licorice, baking style semisweet chocolate chips or butterscotch chips, peppermints, toffee peanuts, hard candy.
I've been known to pack crackers for snacks in a small box so they don't crunch into bits. Small cloth drawstring bags can hold plastic baggies of snack or other food items and protect the plastic from wearing out too soon.
Crackers and toppings.
Peanut butter (with or without jelly) may leak from squeeze tubes, so put it in a baggie in a plastic container. Or bring pre-made, pre-packaged cheese crackers with peanut butter.
Monterey jack cheese, gouda or cheddar keep well, especially in the center of your pack insulated from heat. The cheese will "weep" (sharper cheeses will almost melt) but will last long enough for a short trip. Individually wrapped string cheese or cheddar cheese snack sticks might hold up longer than a block of cheese you slice from. Brie will not hold up.
Tiny cans of tuna in oil (not in water; you'll want the calories), deviled ham, sardines in mustard.
Salami or beef logs, double bagged and kept from heat.
Beef jerky.
Other fresh food will also keep for a day or two, like flour tortillas, pita bread, carrots, tomatoes, and cucumber if you don't mind the weight.
Snack bars, athlete's bars, popcorn, brownies and cookies. Be prepared for crumbled cookies or pack only hard ones.
You can premix lemonade powder/Tang/Koolaid with half the sugar. Mix drink mixes (athletes' drink mixes, Tang, or Koolaid) in your cup, not your water bottle, or the bottle will smell like food and you won't be able to keep it in your tent at night without risking a visit by a bear or raccoon.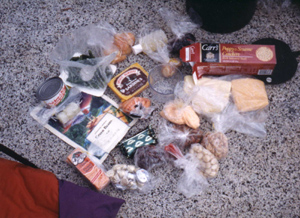 _______________________________________
Potato chips make great fire starters as well as providing the salt you need to replenish sweat while hiking. On a winter snow camp trip, potato chips won the fire starters experiment in competition against dryer lint, dryer lint with candle wax drips (which did quite well), Fritos (which did not do at all well), Cheetos and two flavors of Doritos: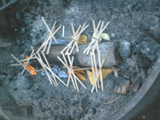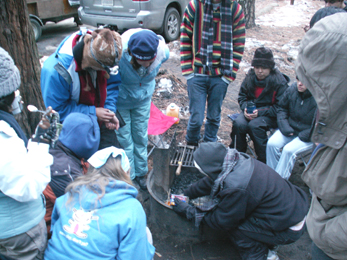 _______________________________________
http://sierrawild.gov/bears/how-pack-bear-can has this on it's backpacking food list: "Backcountry Food Suggestions: Trail mix, String cheese, Jerky, Tortillas, pita bread, Dried fruit, Nutrition/energy bars, 
Peanut butter
, Salami and sliced meats, Powdered milk, Granola
Nuts, 
Instant coffee and 
tea, Hot chocolate, Candy, Spaghetti, flat pasta, Mac and cheese, Burritos (dehydrated beans, rice, cheese), Soups, Oatmeal, Tuna packets, "Tasty Bite" (Indian food packs), Fresh veggies (for the first few nights), Freeze-dried meals, 
Condiment packets
, Chocolate, More chocolate, Consider chocolate."
__________________________________________________
Make your own sports drink:
http://www.berkeleywellness.com/healthy-eating/nutrition/article/make-your-own-sports-drink
__________________________________________________
Enhance your hike by reading:
The day hike gear section at Camping equipment checklist
Thunderstorm and lightning safety includes the answer to the question: Why can't you swim during a lightning storm? A strike on a lake doesn't kill all the fish in the lake.
see also: Cell phones in the wilderness which has advice on how/when to use a cell phone to contact 911 in the wilderness and a warning about interference between cell phones, iPods and avalanche beacons.

You can't always expect a helicopter rescue
fatal, near fatal or close call incidents/accidents in camping, backpacking, climbing and mountaineering
Can a person who is prescribed an epi-pen risk going into the wilderness? and some sting prevention notes are at: Anaphylaxis quick facts
Hiking Advice has hot weather hiking advice, hiking logistics and the answer to the question: When is the best time of day to cross a mountain stream?
Enhance your drive to the park: Road trip advice and etiquette
Rocky Mountain mammal size comparisons
Camping solutions for women has tips for and answers typical questions from first-time women campers,
including the question: Can menstruating women camp or backpack around bears?
Bears has links to general info about bears, then practicalities of camping and backpacking around bears, (food storage, what to do if you see a bear) mostly geared towards our trips around black bears in California.