The De Anza College Outdoor Club had so much fun on our 28th annual February Yosemite National Park trip (everyone who wanted to get to the top of Yosemite Falls on a hike made it all the way!), that we are planning another trip for the weekend (or longer) between winter finals and spring break.
"Official" activities could be approximately Thursday, March 29 to Sunday, April 1, but trip participants can stay in the park for many more days.
The first of the plans will be here, even before we have formal college permission to do the trip.
A big part of the reason we are going to Yosemite again so soon is that there will be a full moon on Saturday, March 31. (Winter quarter finals week is Monday, March 26 to Friday, March 30.) When there is a full moon during lots of water flow for Yosemite Falls, (one of the tallest waterfalls in the world) people can see a moon-bow at night. It is like a rainbow people see in the mist in daylight, but with silvery muted colors. Usually people look forward to seeing a moonbow in May or June, but snowfall has been so sparse this year that the waterfalls might be drying up before June. So we decided to take a chance on the weather/water flow and go for the full moon in late March, early April.
Watch a Yosemite National Park video about moonbows:
https://www.nps.gov/yose/learn/photosmultimedia/ynn15-moonbows.htm
We also plan to look for rainbows on a daytime hike along the mist trail, literally on stairs through the mist of Vernal Fall. People could decide to take all day and go to the top of Nevada Fall as well as Vernal Fall. As of mid March the misty section of this trail in the photo below is closed, but the weather has been changing sooooo frequently that it could be open the weekend we plan to be there. MUST SEE pictures and winter trail route are at:
https://www.nps.gov/yose/planyourvisit/vernalnevadawinter.htm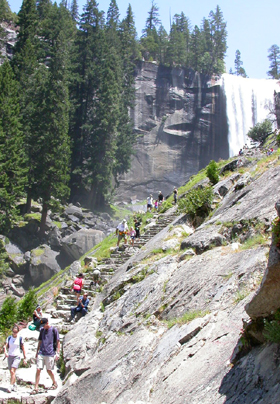 OR if there are lots of people new to Yosemite they could decide to do the same hike to the top of Yosemite Falls that people did in February.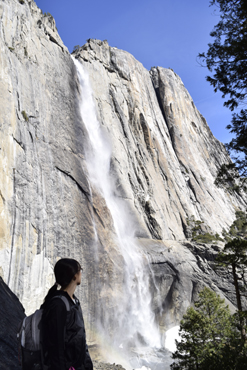 OR BOTH hikes if you come for many days.
The Ansel Adams gallery has free photo walks with a professional photographer (see more on this below).
There are daily Ranger led nature walks in Yosemite Valley.
If the weather is spring-like, rollerblading, biking or a climbing lesson could be in your plans.
Making ice cream sundaes has been considered, date/time TBA, with the club providing the ingredients and trip members bringing their own plates/spoons (and bring-your-own-banana if you want a banana split).
If enough people want to, we can do the fabulous Ahwahnee Hotel brunch Sunday (pack some Friday casual clothes).
– – – Each trip participant is responsible for their own overnight accommodation. As this is being written there are no campsite reservations available in the big Yosemite Valley campgrounds, but on the recent February trip, most people decided to stay in Half Dome Village heated or un-heated canvas sided/roofed tent cabins instead of camping, and (again as this is being written) there are tent-cabin reservations available. – – –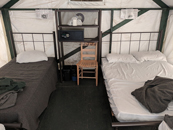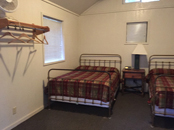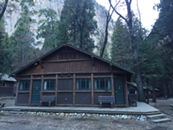 More pictures of and links to COST and AVAILABILITY of all potential overnight accommodations are at the Yosemite valley overnight accommodations webpage Look for pictures and hints for which tent cabin to choose.
Or people can look for possible reservations opening up at the major campgrounds,
Or hope for room at first-come-first-served Camp Four (35 shared walk-in sites for tents only) campground (it is difficult to get sites at Camp Four, suggest you come early on Wednesday or Thursday, not as late as Friday, to try for this).
Or people could camp in National Forest Service campgrounds outside of the park, or stay in one of the many hotels just outside the park. Mariposa is 35 miles (one source says 32.2 miles) from the park entrance, but it can be a slow 35 mile drive, especially if you do not get up early to beat the crowds to the entrance station check-in line that can stretch for quite a ways. (But to do one of the all-day-and-usually-partially-after-dark hikes you will want an early start anyway.)
(Occasionally people have decided to just come up for the day, but that is not recommended if you intend to do one of the all-day-and-often-into-the dark hikes.)
– – – – – – – – – – – – – – – – – – – – – – – – – – – – – – – – – – – – – – – – – – – – – – – – – – – – – – – – – –
The club requires that we see your waterproof rain gear when you sign up,
because on previous trips the faculty advisor has had to dress people in plastic leaf bags.
Really.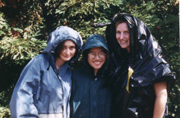 "But I haven't a thing to wear."
There are ideas for people on a budget at the complete description of what to bring at: Snow or rain camp must-haves You can rent a winter ski parka/pants, winter boots, a great sleeping bag at local ski suppliers.
You must have (and show us when you sign up) a waterproof jacket and pants, either a simple rain jacket/pants set like the construction workers ones they sell at hardware stores, or as fancy as a set of Gortex gear. Your snowboarding gear could be snow-proof, but not actually waterproof out in the rain. We will not accept rain ponchos or thin, easily torn temporary rain gear like they sell at airports for emergencies.
– – – – – – – – – – – – – – – – – – – – – – – – – – – – – – – – – – –
TRIP COST paid to the Outdoor Club:
$10 Outdoor Club members, $20 other students.
Trip participants are responsible for trip arrangements and costs, including, but not limited to: food you bring and potential meals eaten at restaurants, campsite, cabin or hotel cost, gas and other transportation costs, a little change for the laundromat to dry some damp clothes, ski/snowboard costs (IF it snows more and there are rentals and lessons at the Yosemite ski resort, as of early March the cross-country ski rebtals are open), skate rentals and/or ice rink fee, postcards, t-shirts and other souvenirs, sleeping and eating gear and other personal gear. You can rent winter boots, jacket/pants at home before the trip. In a note from the park March 16, they said that the free snowshoes walks are starting : "Ranger-led Snowshoe Walks on Thurs/Fri Start Today. The ranger led snowshoe walks at 10:30am begin today March 15th, running as listed in the Yosemite Guide on Thursday and Friday only. Please note, if people are asking about the snowshoe walk on Thursdays, alert them that there will be no bathrooms available at the YSSA area. The closest bathrooms will be at Chinquapin, or at Summit Meadow, which is 1 mile from YSSA up the Glacier Point Road."
You will need to pay the park vehicle entrance fee (as of early 2018, one vehicle, valid 7 days = $30, effective June 2018 the Yosemite park entrance fee will be $35 per vehicle or $20 per motorcycle. An annual park pass will cost $70).
OR better yet, find someone to carpool with who already has a (National Parks and Federal Recreation Lands) Interagency annual pass. (If you also go on the club late summer Grand Teton National Park trip it could be wise to get a year long pass, $80 as of early 2018.)
OR find someone who is a U.S. military dependent and has their Dependent ID Card (form 1173) and can get a free national parks pass http://store.usgs.gov/pass/military.html
(The passes can't be transferred/shared, the pass holder needs to be in your vehicle and show a photo ID.)
If you are riding in a carpool bring your share of gas, park entrance fee, etc. money.
The proposed Yosemite National park entrance fee increase to $70 per vehicle for a week would be in effect May 1 to Sept. 30, and will not affect this trip.
– – – – If you are fairly sure (or completely sure) you are going on the 2018 Yosemite moonbow trip, please email the club advisor at donahuemary@fhda.edu to get on the trip email list.
Include how sure you are that you are going, how you will get to Yosemite National park, and where you will stay overnight. The time to sign up will be at the pool deck on Saturday, March 24 at 1 p.m. at the required pre-trip meeting and trip signups. If you do not email the club advisor your info at donahuemary@fhda.edu by Wednesday, March 22 at noon, there will not be any paperwork for you to fill out to go on the trip!!
The club advisor does not have the time to answer questions about the trip that you could have found the answers to by reading ALL the Yosemite moonbow trip webpages linked to from this page thoroughly and carefully.
Signing up will go much faster if you have read the Yosemite moonbow trip agreement.
_______________________________________________________
For info on the logistics of dealing with iced car door locks, staying warm and comfy overnight, how bears reeeeeaaaally do break into cars and much more, go to: First-timer's instructions .
_______________________________________________________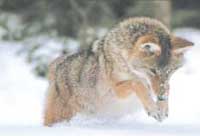 This National Park Service photo shows a coyote going after a meal under the snow. There
WILL BE coyotes and raccoons, possibly bears, in the campground and cabin/hotel areas.
We've seen coyotes every time of the day and night and heard them singing overnight. People on previous trips have made lots of mistakes about food storage and dealing with animals. PLUS When any De Anza club camps as a group we face this problem: Someone in a nearby campsite will expect the worst (noise, etc.) from an obviously college-age group. And they will be quick to complain about any rule infraction (some of which carry heavy fines). To go on our trip you must read
A problem and its solution
_______________________________________________________
What will the weather be like? It has snowed in Yosemite Valley in April. We could have 1 1/2 foot deep snow in Yosemite Valley or very-early-spring type weather with only a little or no snow on the ground. We could have to deal with the Mono winds. You might encounter hazards on trails. It might snow or rain while we are there, or the sky could be clear of clouds and at night we can see the stars of the Milky Way and a moonbow. To go on this trip you must read: Snow camp weather, hike safety and first aid considerations
As of early March, there has been enough snowfall for cross-country ski rentals to start at the ski area.
Ranger snow shoe walks might also be in operation.
_______________________________________________________
Timing for the potential moonbow:
(All of the following are times from the United States Naval Observatory Astronomical Applications Department and may be slightly different in Yosemite valley due to the height of the cliffs.)
– – – On Friday, March 30 there will be a 99% full moon. The sun will set at 7:23 p.m., civil twilight will end (it will get dark) at 7:49 p.m. and in the meanwhile, the moon will rise at 6:46 p.m. This means that if the sky is at least partially clear (it is not cloudy, raining or snowing), there will be bright almost-full-moon rays on the mist of Yosemite Falls.
– – – On Saturday, March 31 there will be a 100% full moon. The sun will set at 7:24 p.m., civil twilight will end (it will get dark) at 7:50 p.m. and right after that, the moon will rise at 7:51 p.m.
– – – On Sunday, April 1 there will be a 100% full moon. The sun will set at 7:25 p.m., civil twilight will end (it will get dark) at 7:51 p.m. and the moon will rise at 8:53 p.m., with plenty of time for stargazing with a dark sky, without moonlight (and seeing the Milky Way that we can't see at home) and then the possibility of the moonbow.
a Night Skies video is at: https://www.nps.gov/media/video/view.htm?id=CFC7487A-1DD8-B71B-0B2096D9A0182056
https://www.yosemiteconservancy.org/nature-notes-night-skies
Most photographers who post advice online say you could aim for not only a 100% full moon, but even 96% (Waning Gibbous or Waxing Gibbous), which means that not only the "official, 100%" full moon viewing could be fine for the possibility of a moonbow, but the days preceding and after.
– – – On Thursday, March 29 there will be a 96% full moon. The sun will set at 7:22 p.m., civil twilight will end (it will get dark) at 7:48 p.m. and the moon will already be up, rising at 5:41 p.m., and we might find angles of moonlight enough for a moonbow.
10mm-18mm wide angle lens recommended for shots at the bridge below lower Yosemite Falls, but people gather there in large groups and many do not understand that if they use flashlights without red filters or the flash function on their cameras, people will have their night vision lessened. Trip members could walk the path to lower Yosemite Falls to personally see the potential arc/lightly colored glow in the mist of the falls and then try out in a nearby meadow or other place with less people where the entire falls is visible to use a tripod for their camera with various sizes of lenses and extended length of time for photos that might collect enough light to give a photo with a full color moonbow.
Advice from photographers experiences with moonbows, from a San Francisco newspaper article: "Beyond the standard, necessary equipment (a camera, tripod) Tony Rowell suggests 10 to 20 second exposures with ISO settings of 800 to 1,000, but encouraged experimentation. To achieve star trails, Rowell said a lower ISO setting will help. Beth Young suggested using a wide-angle lens and a polarized filter when taking your shot, which she said could enhance the look of the moonbow."
and all the photographers recommend waterproof raingear.
– – – – – – – – – – – – – – – – – – – – – – – – – – – – – – – – – – – – – – – – – – – – – – – – – – – – – – – – – –

In Yosemite Valley
A free shuttle bus goes to 17 stops (to stores, restaurants, visitor center, trailheads) in the valley in the winter (early 2018) from 7 a.m. to 10 p.m. (but check the timetable at each stop) at 20 to maybe 30 minute intervals. The route, stops and how to find the stores, restaurants, etc. are at: Yosemite Valley free shuttle bus
From shuttle bus stop number six, you can take a short walk along a loop to the base of Yosemite Falls, with this view from the far left portion of the loop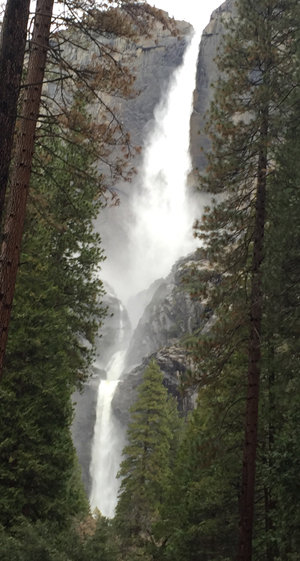 Read more about this walk, and find a map at:
How to find the location of John Muir's cabin (hang nest) in Yosemite Valley
At stops 5 and 9, the Visitor Center and bookstore are open 9 a.m. to 5 p.m. Two films play every half hour in the theater behind the main building. (early 2018 – Mon.- Sat. 9:30 a.m. to (last film) 4:30 p.m. (Sunday first showing at noon). Yosemite – a Gathering of Spirit by Ken Burns shows on the hour and The Spirit of Yosemite a great visitor orientation film with some swooping aerial views along with history and scenes from all seasons and all parts of the park, shows on the half hour. Free.
The Yosemite Museum, next to the main valley visitor center is usually open (early 2018) 9 a.m. to 5 p.m., may close for lunch.
Ice skating info is at:
http://www.travelyosemite.com/winter/half-dome-village-ice-skating-rink/
Pay to ice skate at stop 13B.
( 1 (209) 372-8341 ) Usually more sessions on Saturday, Sunday and holidays than on weekdays. (Free helmet upon request.) Could close during and after rain.
photo below by who?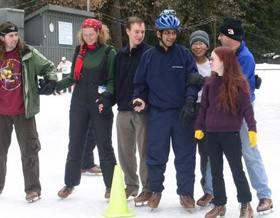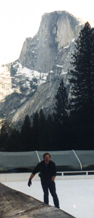 The Ansel Adams gallery has free photo walks with a professional photographer, weather permitting, at 9 a.m. for 1 1/2 hours Saturdays (early 2018). Both digital and traditional formats welcome. Usually limited to 12 or 15 people. Sign up in advance at the gallery, or sometimes they accept phone reservations, but often they do not take reservations until three days in advance. Check with them for the current details. 1 209 372-4411.
There are more than 12 miles of surfaced bike paths on the valley floor and the weather is sometimes good enough to ride or rollerblade, but not if there is ice. A map of bike paths is at: http://www.nps.gov/yose/planyourvisit/biking.htm
When we get early spring weather instead of snowy winter, the bike rental stands are sometimes open. Look for the rental info (and a map) at Yosemite Lodge at free shuttle bus stop number 8.
Yosemite Today / Yosemite Guide newspaper has lots of safety info, a calendar of park activities including Ranger walks, and hours of operation for visitor centers and museums.
Early 2018 these ranger walks met at 2 p.m. for 1 1/2 hours:
Thursday: Trees, Learn about the trees in Yosemite Valley meet at The Ahwahnee Hotel, shuttle stop #3
Friday: Discovering Yosemite An Insider's Look, meet in front of the main visitor center, near shuttle stops 5/9
Saturday: Ahwahneechee games and stories, learn about the culture of Yosemite's first people. Meet in front of the Yosemite Museum, near the main visitor center, near shuttle stops 5/9
Sunday: Wildlife, meet in front of the main visitor center, near shuttle stops 5/9
Monday: Yosemite's First People, Meet in front of Yosemite Museum, near shuttle stops #5/9
Evening programs 7 to 8 p.m. Friday, Saturday, Sunday and Monday (check local postings and/or the Yosemite Guide for topic and location), evening films likely at the Yosemite Valley Lodge hotel Cliff Room.
The Yosemite Guide newspaper has hours of operation for tours, stores (early 2018 from 8 a.m. to 7 or 8 p.m.), food service (early 2018 from 6:30 a.m. to 6 p.m. 7:30 p.m. or 8:30 or at one place even 10 p.m.) (Curry Village, Coffee Corner 7 – 11 a.m. Fri. & Saturdays in winter, Pizza deck weekends only in winter (Fri and Sunday 5-9 p.m., Saturday 11:30 a.m. to 9 p.m.), laundromat (early 2018, 8 a.m. to 10 p.m. at Housekeeping Camp), showers (early 2018, 24 hours at Curry Village, closed for cleaning sometimes), post office, auto service, gas stations (no gas stations in Yosemite valley, fill up before you come into the park, or drive 30 minutes to Crane Flat and hope the self-service pumps are in order) and more.
__________________________________________
When camping or sharing tent cabins with a large group of people, some complain there is not enough room in their shared bear box for all their food.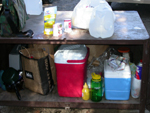 More things could fit in the bear-proof storage lockers if everyone brought smaller containers of food, etc.
NO!→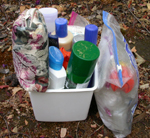 ← Yes!!
and if everyone brought their gear in small, deep plastic trash cans or other plastic boxes close to, but no more than, 17 inches tall. A typical bedroom waste receptacle could be 9″ by 12″ by 17″ deep and hold quite a few cans of food, cooking items and toiletry bags. If you've never shared bear boxes with a big group, read
Using a campsite food storage locker
__________________________________________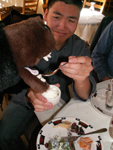 Sunday, (if there are enough people interested) people get a shower and go to the Sunday brunch at the Ahwahnee (briefly named Majestic Yosemite) hotel: Outdoor Club winter campers at brunch Some years on the winter trip everyone has gone to brunch. (This will be an official club activity, but the cost of it is not included in the trip fee, just as the cost of bike rentals, ice skating, etc. are not included.)
You will need nice clothes for this. At least pack some Friday casual, but some ladies in our group get quite dressed up and men frequently wear a suit, yes with a tie. Puuuleeeeease, no dirty camping/ski clothes, they might not even let you into the dining room in those.
Directions to the hotel from Half Dome Village or the lodge (and logistics for getting your well-dresses passengers there in possible wintery weather) are at the Sunday brunch page.




There is a shower house at Half Dome Village. For trip members not staying at Half Dome Village, note that in the winter they usually don't have anyone at the shower house door asking for money, or anyone to pay at the Half Dome Village front desk. Pictures of the shower house, and directions for finding it are at the YOU WILL WISH YOU HAD section of snow or rain camp must haves
– – – – – – – – – – – – – – – – – – – – – – – – – – – – – – – – – – – – – – – – – – – – – – – – – – – – – – – – – –
Getting to Yosemite:
The club can't arrange rides, (students arrange carpools among themselves), but people going on our Yosemite road trip have various options of how to get there. For ideas, driving directions and a few pictures of what you will see along the way, please take look at (and we advise you print a copy of) snow camp carpools and driving directions, so you can find the campground and hotels and miss out on the $280 fine you might not be aware of.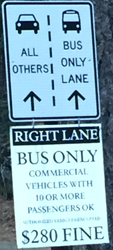 Prepare for winter driving has a link to bad weather driving tips, tips for using tire chains, tricks for dealing with frozen car locks, how to prepare your vehicle for winter driving, how to de-fog the windows, a winter survival kit for your car and what to do if you get stranded. Don't have tire chains? Yosemite requires them in the winter. Try: Snow chain rentals
Road trip advice and etiquette from club road trip experts, could make the drive more fun.