Yosemite National Park has museums in Yosemite valley and at the Mariposa Grove; visitor centers in Yosemite valley, at the Crane Flat entrance, Wawona, and Tuolumne Meadows.
Three favorites are the Valley Visitor Center, west of the main post office, the Happy Isles Visitor Center, (there is little or no parking at these except with a handicapped permit), so ride the Yosemite Valley free shuttle bus and the Tuolumne Meadows Visitor Center, on the right just a little bit up the road into the meadows area from the Crane Flat direction.
The main Yosemite Valley visitor center has Park rangers on duty to answer questions, and bookstore with the usual maps, books, postcards, posters, clothes (with discounts for Yosemite Conservancy donors)
There is also a huge raised relief map of the geological features.
Below, a photo of part of this display, showing Half Dome from above and the trail to Vernal and Nevada Falls (and on towards the top of Half Dome), on the right: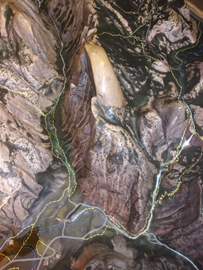 There are history, geological and nature displays.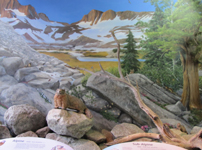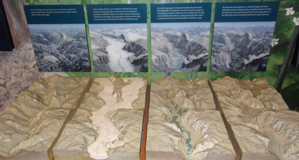 Two films play every half hour play in the theater behind the main building. (2016 – Mon.- Sat. 9:30 a.m. to (last film) 4:30 p.m. (Sunday first showing at noon). Yosemite – a Gathering of Spirit by Ken Burns shows on the hour (you can watch it at: http://www.pbs.org/video/2365316730/) and The Spirit of Yosemite a great visitor orientation film with some swooping aerial views along with history and scenes from all seasons and all parts of the park, shows on the half hour. Free.
To the left as you face the Visitor Center is the Yosemite Museum (Indian Cultural Museum)/store.
Restrooms are located a little behind and between the Visitor Center and the Indian Cultural Museum.
In front of the Indian Cultural Museum is a cross‐section of a Giant Sequoia tree that visitors can touch and a re-creation of an umacha, a Miwok and Paiute cedar bark house.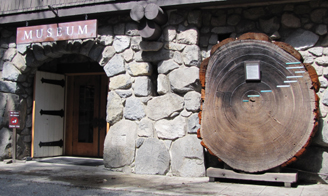 Museum exhibits are listed at https://www.nps.gov/yose/learn/historyculture/museum-exhibit.htm including links to some displays after an exhibit has closed.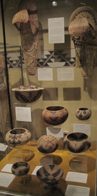 The valley museum occasionally features paintings and watercolors.
For example, one summer, paintings by Chris Jorgensen, such as shown in the photo, (courtesy of the National Park Service), below: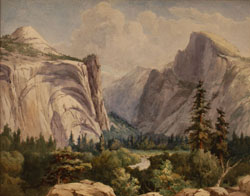 You can look at some of the collection online ". . . explore more than 2,000 catalog records for objects and images from the Yosemite Museum collection. These records include American Indian basketry, historic objects related to John Muir, and photographs taken by Carleton Watkins and George Fiske" (including the Jeffrey pine that once grew on Sentinel Dome). "This project was made possible by a generous grant from Yosemite Conservancy, which has supported the Yosemite Museum for over 90 years."
Go to
https://museum.nps.gov/ParkPList.aspx and search for Yosemite National Park.
The Indian Cultural Exhibit, (which interprets the cultural history of Yosemite's Miwok and Paiute people from 1850 to the present) Village of the Ahwahnee, is behind the visitor center. Sometimes staff present programs about Ahwahneechee skills and culture.
https://www.nps.gov/yose/learn/historyculture/indian-village-of-the-ahwahnee.htm
The Wilderness Center is a couple of buildings away to the right as you face the Visitor Center, with displays on pre-trip planning, minimum impact and Yosemite's wilderness as well as bear canister rentals and wilderness permits.
In front of the main visitor center are displays of color photo aerial maps for trails that you can take a look at (and even photograph to bring on your hike for reference).
The Happy Isles Visitor Center (Nature Center) (usually not open in the winter) is up a side trail from shuttle bus stop 16, on the other side of the river from the popular John Muir trail to Vernal Fall, Nevada Fall and Half Dome and can be easily overlooked, but it is well worth a stop.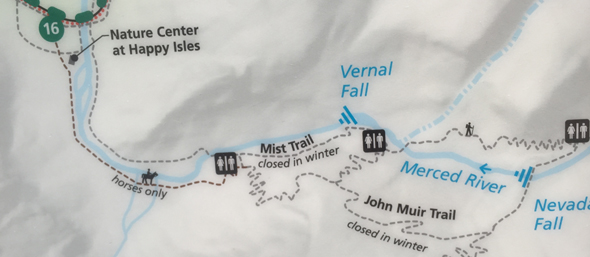 It has natural history exhibits including the animals pictured below, tree and geology explanations.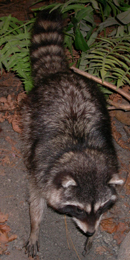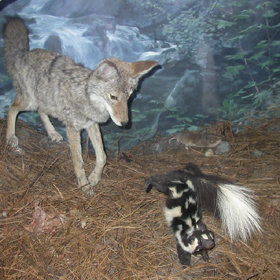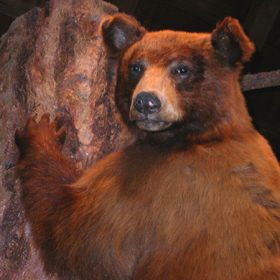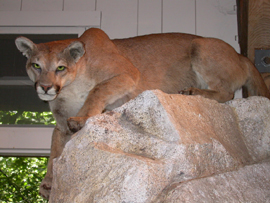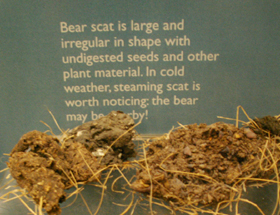 There is a great interactive display with the voices of animals including bear, mule deer, raccoon, mountain lion, ringtail, bobcat, coyote, chipmunk, ground squirrel and more. You can put your paw up next to an impression of an animal paw and compare:
Art Activity Center (https://www.yosemiteconservancy.org/happy-isles-art-and-nature-center with lessons and programs "for artists of all ages and abilities, usually open late March through October).
Nearby are short trails focusing on the Happy Isles environment: forest, river, talus slope and the fen (marsh).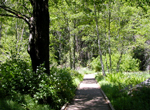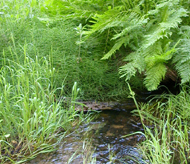 There is an outdoor exhibit on the geologic story of rockfalls in Yosemite.
You can place a refundable deposit and borrow a day pack with activities and guidebooks to help you explore. They come in four subject areas: birds, geology, trees and small wonders.
The Tuolumne Meadows Visitor Center has has the usual maps, books, postcards, various natural history displays including a butterfly display and a raised relief map of the high country. Shown below is the section from Tenaya Lake to Tuolumne Meadows.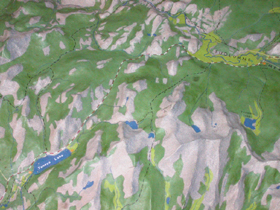 The Tuolumne Meadows hiking map has drawings and descriptions of trails to / around (easy, mostly flat) Soda Springs/Parsons Memorial Lodge, Lyell Canyon via the John Muir Trail, (moderately Strenuous, moderate elevation gain) Dog Lake or Lembert Dome, Elizabeth Lake, Cathedral Lakes, Glen Aulin, Mono Pass, Gaylor Lakes, and (strenuous, long with elevation gain) Vogelsang Area.
_______________________________
The Yosemite Guide newspaper has hours of operation for tours, stores, food service, post offices, laundromat, showers, auto service, gas stations, and a calendar of park activities including Ranger walks, and current hours of operation for visitor centers and museums,
http://www.nps.gov/yose/planyourvisit/guide.htm
How much water will there be in the Yosemite waterfalls? has the answer
Yosemite nature and photography links
Yosemite rock falls 2008 to the most recent report and safety tips for hikers
______________________________________