Photo below of a long line of people on the Half Dome cables (the tiny dots in a row from the lower left of the photo to the upper right)
was taken with a telephoto lens from Olmstead Point near Tuolumne Meadows: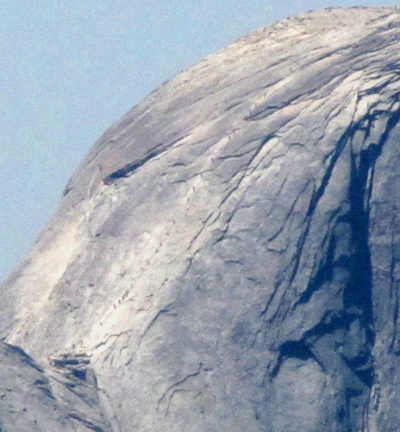 View from Olmstead Point without as big of a telephoto: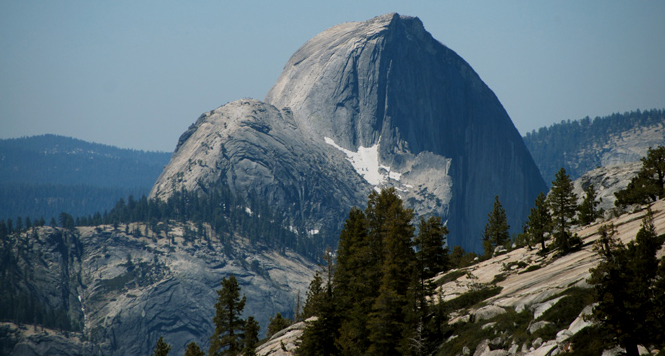 Google maps street view of the cables from the subdome.
Two NPS aerial views of Half Dome (in both of these the cables side is not showing):
NPS photo of the view of Half Dome from the trail between Little Yosemite Valley and Half Dome: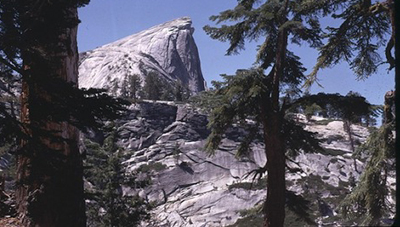 Just before sunrise, people with headlamps going up the cables: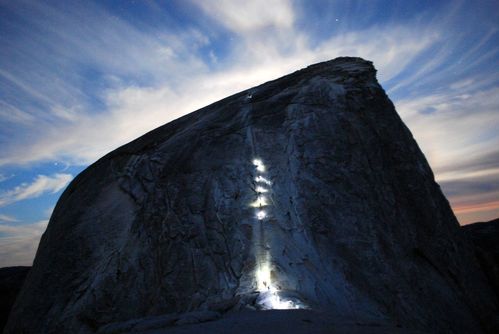 NPS photo of the view from the top of Half Dome down to Yosemite valley: (the man at the left is at the top edge, the "lip" of Half Dome)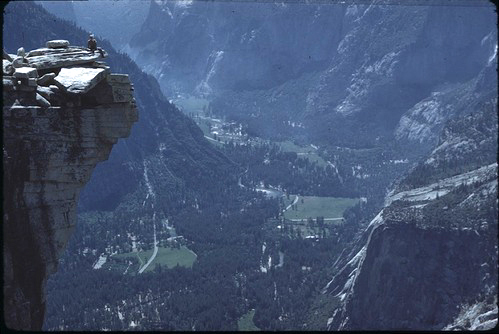 Photo of El Captain (center of the top section of peaks) from the top of Half Dome by Mollie Boun: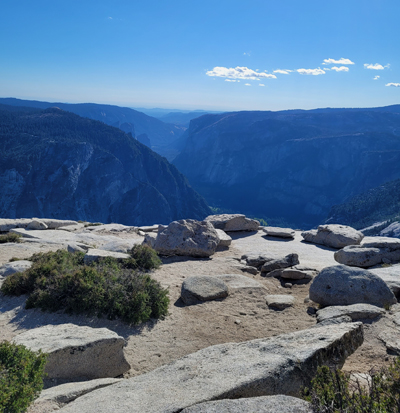 The view from the top of Half Dome to the northeast includes
(right to left) Cloud's Rest, Cockscomb, Echo Peaks, Tenaya Peak, a bit of Tenaya Lake, Mount Watkins, Tuolumne Peak and Mount Hoffman.
Cloud's Rest is in the center of the top section of peaks in this photo
from the top of the Half Dome cables by Mollie Boun: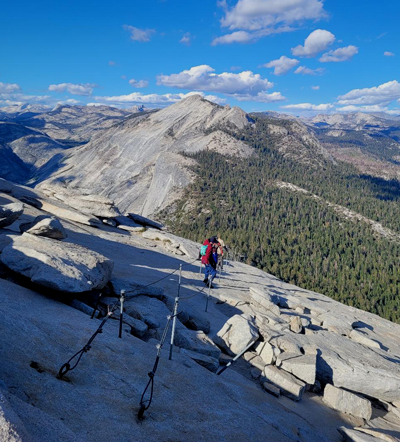 Below, a view of the top:

Yosemite park recommends: "Keep moving around the summit once you've reached the top, or if you plan to rest for a longer period, stretch before and after."
Google maps street view from the top of Half Dome.
On the top of Half Dome, what is the name of that peak? See peaks surrounding Half Dome, including Tenaya Peak , Tressider Peak, Echo Peaks, Clouds Rest, Kuna Crest, Fletcher Peak, Vogelsang Peak, Cathedral Peak and Mount Watkins, at this photo: https://www.nps.gov/yose/learn/photosmultimedia/upload/sentineldome-key.jpg
Photo below taken with a telephoto lens from Glacier Point, note the silhouettes of people against the blue sky on top of Half Dome: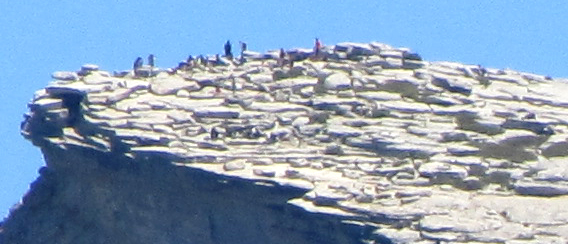 Info on the Yosemite Half Dome hike:
Yosemite National park says:
"The 14- to 16-mile round-trip hike to Half Dome is not for you if you're out of shape or unprepared.
You will be gaining elevation (for a total of 4,800 feet) most of your way to the top of Half Dome."
Here you can compare the elevation gain and length of various strenuous hikes up from / down to Yosemite Valley: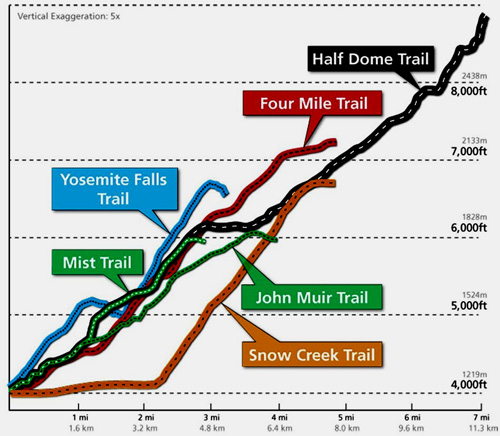 Note that the chart says "vertical exaggeration five times."
The start of most people's Half Dome hike is on the spectacular Vernal Fall mist trail. Find photos and various maps here, including the photo below of part of a display in the main valley visitor center, a huge raised relief map of Yosemite geological features with trails marked on it. Here is a section from the raised relief map showing Half Dome from above and the trails (dotted yellow) lines to Vernal and Nevada Falls (and on towards the top of Half Dome), on the right. The trail that goes past the white of the river and waterfalls is the Mist Trail, to trail to the right of it is the John Muir Trail.
These two trails start together at Happy Isles, and split apart a ways above the Vernal Fall footbridge. (When you get to where the John Muir Trail splits off to the right on your hike up, it can be good to stop for a moment at the junction and look around at what it will look like when you are on your way back if you use the John Muir Trail to come down, so it will look familiar to you. You will be more likely to remember to turn left at the junction on your way down and not need to have an argument with your hiking companions on which way to go.)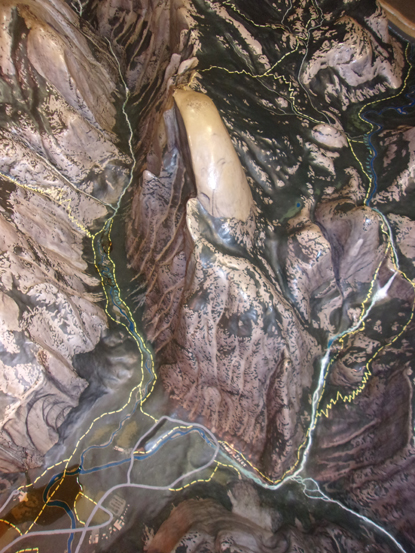 If you get an early start you can miss the CROWDS on the Mist Trail and have a more pleasant and perhaps faster Half Dome hike.
Going back down the trail along the John Muir trail section is longer, but because there are more gradual switchbacks (and fewer people) it can be a half hour faster than going down the Mist Trail portion, and easier on your tired legs / knees.
The hike to the top of Nevada Fall is 5.4 mi (8.7 km) round trip (via Mist Trail) with an elevation gain of 2000 ft (610 m). It takes most people 5-6 hours.
You will note that this means if you use that route going up to Half Dome,
when you get to the top of Nevada Falls you are not yet half way there.
The campsites that are the best for a short walk to the trailhead at Happy Isles or a short walk back after a Half Dome or Mist Trail hike that took a bit longer than you expected and ended after the free shuttle buses are running, are those in higher numbered campsite loops (188 – 240 and 158 to 187) of Upper Pines campground. Map of Pines campgrounds.
These campground loops are in the upper left corner of this map of the Mist Trail (in red) and John Muir Trail (in yellow):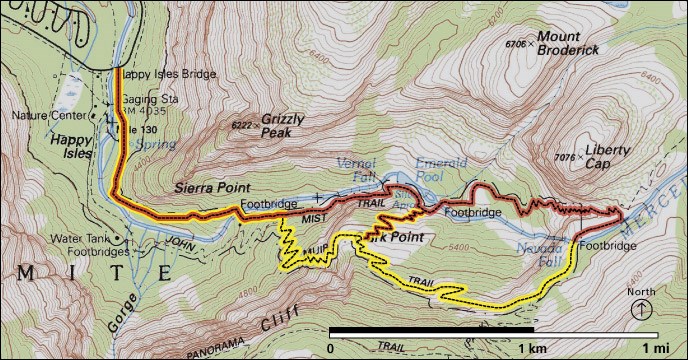 The park service warns:
"DO NOT BEGIN THIS ASCENT IF:
1) the cables are down,
2) there is any chance of rain (moisture makes the granite too slick for safety), or
3) there is any chance of lightning.
Follow the Mist Trail or John Muir Trail to Nevada Fall. Continue on the trail, following the signs to Half Dome. The last 900 feet (275 m) of trail is a very steep climb up the east side of Half Dome. Cables assist hikers on the final 400 feet (122 m). They consist of two steel cables, about 3 feet apart and suspended waist high from pipes set in the rock. . . Take your time and be patient with slower hikers. Allow faster hikers to pass you (when possible). . ."
Stay inside (between) the cables and keep your hands on the cables. Save the selfie for once you are at the top safely away from the edge.
In this Google maps you can scroll around to see people up close on the cables route.
The park recommends you leave around sunrise or earlier (find sunrise sunset at: https://www.sunrisesunset.com/USA/California/ )
and have a pre-agreed, non-negotiable turnaround time,
such as if we are not at the top by 3:30 p.m. we will turn around.
(Most hikers take 10 to 12 hours to hike to Half Dome and back; some take longer.)
(Remember that
it can take a minimum ONE hour to get from the base of the subdome to the top of Half Dome.)
A view from the subdome looking at the cables: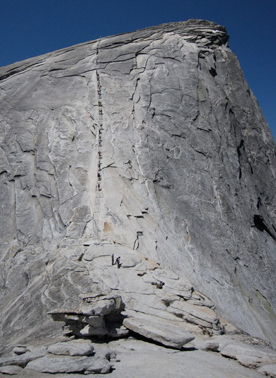 Google maps street view from the subdome looking at the cables.
From the NPS: "No matter how fit you are, the Half Dome hike is very strenuous. The suggested minimum amount of water intake for hiking Half Dome is 1 gallon (4 liters) per person. Equally important is ensuring you are maintaining a good electrolyte balance."
(When you have been sweating a lot you need to replace your salt or you will not be able to sweat to cool off!! Salted peanuts are a good protein, good quality carbohydrate and help you replenish salt you need to even be able to sweat.)
The National Park Service often warns hikers :
"Avoid becoming dehydrated or experiencing heat exhaustion. Drink plenty and drink often; pace yourself; rest in the shade; eat salty snacks."
"Replace sodium lost through sweat by supplementing your water intake frequently with salty, easily digested snacks, such as trail mix or nuts."
Avoid salt tablets, as they can irritate your stomach and cause nausea and/or vomiting, can raise blood pressure, cause stomach ulcers, and seriously affect people with heart disease.

NPS: "The Half Dome cables usually go back up the Friday before the last Monday in May (Memorial Day) and come down the day after the second Monday in October (Columbus Day). These dates are subject to change based on conditions." The Half Dome cables were put up on May 19, 2022, May 18, 2021, June 6/7, 2019, May 11, 2018, June 2, 2017, May 27, 2016; May 2, 2015; May 23, 2014; May 24 2013; May 25 2012; June 22, 2011 and June 16, 2010 (twice as much snowpack in 2011/2010 as in 2012, 2013 and 2014). The Half Dome cables were taken down Oct. 14, 2020/2014/2013; Oct. 9, 2012; Oct. 10, 2011 and Oct. 11, 2010.
When the cables go up early in spring, the trail will be wet and icy in places and people are encouraged to be prepared for winter hiking conditions. Sometimes the cables do not go up as early as expected, due to snow.
People who get May permits should verify that the cables are up before they do the long hike and find out the cables are not up.
If there is a fire in the vicinity the cables can be closed.
http://www.nps.gov/yose/planyourvisit/halfdome.htm

Permits to hike to the top of Half Dome and ascend the Half Dome cables, are required 24 hours a day, seven days per week when the cables are up.
You can face misdemeanor charges if you go up without a permit – recently up to a $5,000 fine and/or six months in jail.
There is a preseason lottery for permits to climb the cables to go to the top of Half Dome.
Saturday, Sunday, Friday and Monday are the most popular days.
See stats, including the daily Half Dome permits lottery success rates
at: https://www.nps.gov/yose/planyourvisit/hdpermitsapps.htm
Recently, but quite subject to change, a maximum 300 hikers are allowed each day (about 225 day hikers) and "the quota for Half Dome permits for backpackers is 75 permits per day (50 available by reservation and 25 available two weeks in advance).
Wilderness permits issued outside of Yosemite are not valid for hiking Half Dome. Backpackers planning to be in the area should get a Half Dome hike permit with their backpack permit.
Camping is not permitted on top of Half Dome,
or anywhere between Yosemite Valley and Little Yosemite Valley.
If you are planning on camping along the hike to Half Dome, read:
https://www.nps.gov/yose/planyourvisit/lyv.htm
For the most current details of the Preseason Lottery (with current dates for it, recently "The application period for this lottery is from March 1 through March 31 (eastern time)" and the Daily Lottery, how to apply for a permit, the two separate fees, with bunches of rules you should understand, go to http://www.nps.gov/yose/planyourvisit/hdpermits.htm
Why the permits? In summer of 2009 on Saturdays and holidays Half Dome hikers averaged 840 per day (estimated at a peak of 1100 to 1200) and people had to wait up to an hour to go up. It became dangerous at times.
The park service had notes about why they instituted the permits to limit the number of people:
"Most of the major documented accidents on the Half Dome cables occurred when the rock was wet or icy. Even during days that start out as dry, rapidly moving summer storms can bring rain, hail, or snow to Half Dome and quickly change conditions.
High use levels result in delays in accessing the cables and longer ascent and descent times on the cables. This increased time to ascend and descend the cables:
• Causes people to spend more time on the cables, exposing them to increased fatigue as they hold themselves in place while waiting out the delays. On days with inclement weather, the danger of longer times spent on the cables increases exposure to the elements (rain, lightning, hail, wind, cold etc.,) as well as the slippery rock surface and cold, wet cables.
• Makes it more difficult for hikers to manage their own risk when they see approaching storms and try to descend to avoid the storm but are unable to do so in a timely manner because of crowding.
• Makes a scenario more likely where many people, unable to descend because of delays, could be stranded on the summit and/or cables causing prolonged exposure to dangerous weather conditions. Results of modeling scenarios in a 2011 study showed that descent from the summit during periods of peak unregulated use could cause 45-minute delays for people on the summit attempting to access the cables, resulting in a total descent time of 83 minutes.
In 2009, during a rainstorm on a busy Saturday, one person was killed and 41 other hikers were rescued from the cables by NPS search and rescue personnel. Rescues in this type of environment, requiring rapid access via helicopter in inclement weather present a risk to park rescue personnel."

You can't always expect a helicopter rescue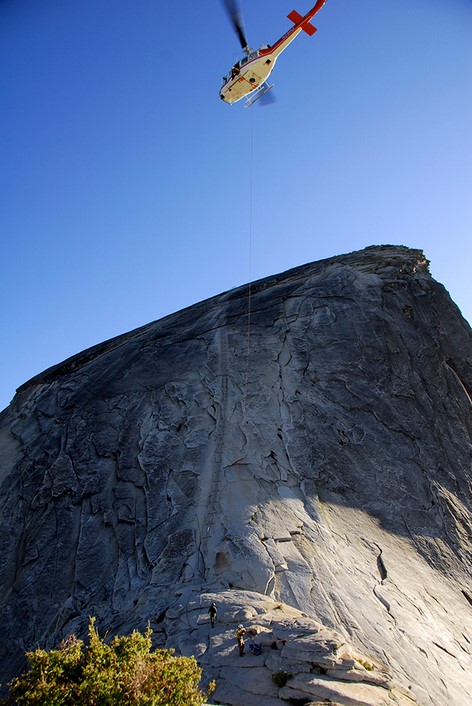 You can read the results of the 2011 study that showed what trouble the crowding has caused, and could cause, including more on how long it would take to get a larger number of people off the top and down the cables if a lightning storm developed and a mass descent was required. The study noted that when it is crowded, "some visitors travel outside of the cables, incurring increased exposure to unarrested falls from the granite dome . . . When there are 30 or more people on the Half Dome cables at one time, visitors' ascent times exceed free flow conditions and at least one visitor can be expected to travel outside the cables."
Please don't be one of them.
https://www.nps.gov/yose/learn/nature/upload/halfdomescenariosfinal_2011.pdf

Don't go up in the rain, most deaths on Half Dome have occurred when people try to descend in wet weather.
You can check the Yosemite valley and vicinity weather report: https://forecast.weather.gov/MapClick.php?lon=-119.51510&lat=37.73231
Many people attempt the Half Dome hike unprepared:
https://www.nps.gov/yose/blogs/Half-Dome-Corridor-Two-Rescues-in-One-Day.htm
The first rescue that day included these notes: "The salesperson advised the subject not to wear his new boots on his upcoming Half Dome hike, since new boots that haven't been broken in on shorter hikes often cause hot spots, blisters, and soreness on a long, strenuous hike like the Half Dome hike. Even so, the subject chose to wear his new boots. . . .
The second rescue that day had these notes: " . . .had the subject tried a shorter uphill hike before attempting the Half Dome hike, it is possible he would have discovered that his knees could not handle the stress of hiking back downhill. Half Dome hikers routinely underestimate the level of difficulty of the hike; from the trailhead at Happy Isles, in Yosemite Valley, to the top of Half Dome, the trail gains 4,800 feet in elevation, and the hike is 14 to 16 miles round trip, depending on which route hikers use. Most hikers take 10 to 12 hours to hike up and back (please note, permits to hike to the top of Half Dome are required seven days a week when the cables are up). Proper preparation is also critical. For a strenuous all-day hike like the Half Dome hike, bringing plenty of drinking water (1 gallon is recommended), food, a headlamp or flashlight for each member of the hiking group, and a detailed map is a must. As the first rescue illustrates, wearing proper footwear helps prevent problems from developing on the Half Dome hike: choose comfortable, well broken-in shoes or boots with good traction and ankle support (tennis shoes are not recommended)."
Here, at the top during a search and rescue: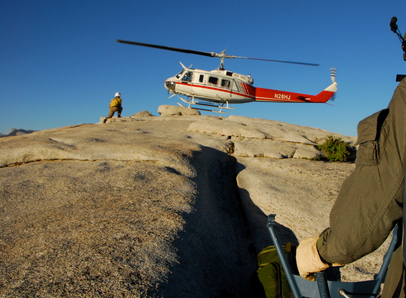 Start hikes early, perhaps even before sunrise, especially long ones like the all day Half Dome hike from the valley and back. It can be sunny and dry at the start of the day and have fog/rain/lightning storms by mid day. As a sign at Half Dome, (which also applies to other peaks), warns:
Travel on Sub-dome and Half Dome
DANGEROUS
During and after lightning and rain storms
SERIOUS INJURY AND DEATH
Have resulted from:
Falls on wet, slick rock
Lightning strikes to hikers on exposed terrain
EVALUATE THE WEATHER BEFORE
PROCEEDING PAST THIS POINT
On your way down the Half Dome cables, you can't see the bottom from the top, and some of the rock face is slick from glacial polish. People sometimes put themselves and others in danger running down or even climbing outside the cables and running down, making others even more nervous. If you want to be extra safe, instead of clinging to the cables, you can sit and slowly slide down slick sections on your rear. Doing this could also empower others who are nervous by allowing them to do it without feeling embarrassed.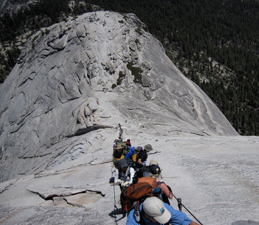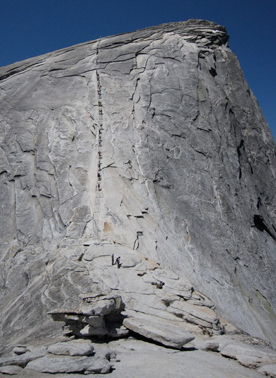 – – – – – – – – – – – – – – – – – – – – – – – – – – – – – – – – – – –
Didn't make it to a Yosemite Visitor Center? You can buy a Half Dome tshirt, poster or art work online from the Yosemite Conservancy https://shop.yosemite.org/
And see places to get a photo of Half Dome. At some locations you see the "classic" (front, western) face of Half Dome,
at others, you can see the north or south side (or even the backside).
and watch an NPS video with a description of the Half Dome hike and how you can be best prepared to complete it
https://www.nps.gov/yose/planyourvisit/halfdome.htm
Your flashlight / headlamp does have fresh batteries in it, right?
You did remember to put the memory chip back in your camera the last time you took it out to look at those photos, correct?
A hooded waterproof rain jacket and rain pants that fit over some warm layers can help keep you warm, (especially if it is windy), as well as protect you from the rain that can show up sometimes with little notice. Advice about choosing the right gear is here.
Your hiking boots do still have tread left on them, correct?
Are your boot laces about worn out?
Take a close look. People have not noticed separating soles – which increases your risk of trips.


Selfies can be great, OR dangerous. They were just taking a selfie.
Using a drone is illegal in Yosemite National park, including for photography. See an index of rules and regulations webpages.
Cell phone service is NOT available in all parts of Yosemite.
It is usually okay in the vicinity of the main visitor center.
Many years (checking in 2017 to 2022) we got 4 bars for Verizon and 3 bars for AT&T near the main visitor center, versus 2 bars for each at the Ahwahnee and 2 bars Verizon, 1 bar AT&T in Upper Pines campground, at the Yosemite Valley Lodge, Curry Village and some other locations in East Yosemite Valley.
In Feb and May 2022, we got 2 bars for Verizon and 1 bar for AT&T at almost all east Yosemite Valley locations including the Ahwahnee, in Upper Pines campground, Happy Isles, at the Yosemite Valley Lodge, Curry Village and at Yosemite Village locations such as the grocery and Visitor Center.
Glacier Point and the top of Half Dome usually have 3 bars Verizon, 2 bars AT&T.)
The park service said: "Cell phone coverage in Yosemite is spotty . . . Cell service is often impacted during daily peak visitation by the large number of people trying to access limited service; if you have four bars of service, but you can't get a signal, this is why . . . cell coverage depends on your phone, the cloud cover and other seemingly mysterious factors and is not always reliable. "
The park service said: "Cell phone coverage in Yosemite is spotty . . . Cell service is often impacted during daily peak visitation by the large number of people trying to access limited service; if you have four bars of service, but you can't get a signal, this is why . . . cell coverage depends on your phone, the cloud cover and other seemingly mysterious factors and is not always reliable. "
Yosemite trail conditions info is at: http://www.nps.gov/yose/planyourvisit/wildcond.htm
Hiking Advice has HIKING SECRETS and etiquette including hiking in the heat, preventing and/or dealing with blisters, logistics of hiking, a day hike gear list, winter hiking and the answer to the question: When is the best time of day to cross a mountain stream?
It includes this:
Bears on the trail? From the Yosemite Daily report Sept. 20, 2021: "In Yosemite Valley, an elevated number of reports has been received of bears on the Mist Trail. One bear even used the railed steps to come down from the top of Vernal Falls during the middle of the day. If you run into bears on trails, give the animal plenty of space and protect your food—do not abandon it.
Given the many heavily populated, narrow, switchbacking trails in the park
– it is easy for a bear to quickly become surrounded with no exit if it is not given proper space.
Always try to maintain 50 yards from a bear,
even if that means backtracking and waiting for the bear to pass.
If the bear approaches you (closer than 50 yards) yell as loudly as possible and try to scare the bear off…"
Videos about Yosemite: https://www.nps.gov/yose/learn/photosmultimedia/index.htm
Yosemite webcams: https://www.nps.gov/yose/learn/photosmultimedia/webcams.htm

The most current route map for the free Yosemite Valley shuttle bus is in the Yosemite Guide newspaper https://www.nps.gov/yose/planyourvisit/guide.htm , which you will be offered a copy of as you enter the park, or can print in advance.
It looks something like this when there is no road construction, rock slides, excess snow affecting the times/routes:
(Map below courtesy of NPS)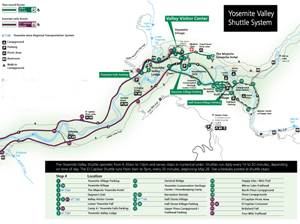 ______________________________________________

The Yosemite National Park rangers would like you to
call them if you see a bear
in Yosemite,
no matter where it is or what it is doing,
at 1 (209) 372-0322.
If you can, in all the excitement, try to notice if the bear has a tag (usually on the ear), the color of the tag and if possible, the number on it (the tag is large enough that with a telephoto you should be able to read the number).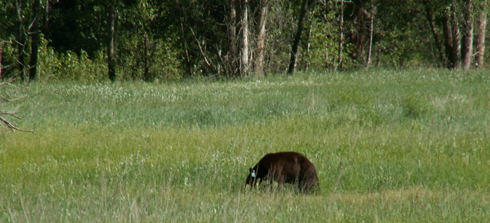 From the Yosemite Daily Report newspaper:
"It is extremely important to
remember to yell at bears that are in and around development
, even if they are foraging on natural food. Though it is very tempting to get close for a picture, or just to watch these incredible animals, it is important not to give into this urge. Yelling at them if they are in residential areas or near people is critical to keep bears natural fear of humans. Giving bears plenty of space. When bears become too comfortable around people, they will often start causing damage to structures and vehicles, or will even become too bold around people, creating safety concerns."
______________________________________________
See also an
index
to over a dozen park webpages with park laws, rules, regulations and policies.
– – – – – – – – – – – – – – – – – – – – – – – – – – – – – – – – – – –
Drivers should note that there are sections of road in Yosemite Valley with two lanes (usually) in the same direction, with the right lane ONLY for the free shuttle buses, ambulances, ski bus, commercial vehicles with ten or more passengers. The NPS says: "The bus lane ensures emergency vehicles can respond to incidents when traffic is backed up and provides preference for mass transit."
Parking and traffic jams
has the above advice, with maps of each of the three major day-use parking lots, with advice to help you NOT get a Yosemite National Park traffic or parking ticket, and not contribute to preventable traffic backups. And some details of
where you can't park in Yosemite, or can't park without a permit.

– – – – – – – – – – – – – – – – – – – – – – – – – – – – – – – – – – –
Hotel, cabin and tent cabin choices in Yosemite valley are at: Yosemite Valley accommodations
Restaurants, cafeterias, coffee bars, pizza, grocery stores are at: Yosemite valley restaurants
___________________________________________
____________________________
________________________________________________
Here a Park Service photo of the cables on Half Dome going up in 1939: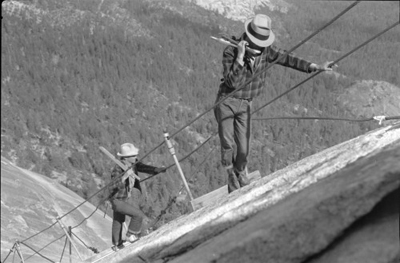 ___________________________________________
____________________________
________________________________________________