El Capitan (once known as Tu-toch-ah-nulah and "The Great Chief of the Valley"), rises 3,593 feet above Yosemite valley and can be seen from many viewpoints, thirteen of which are described here, some considered the best locations to photograph El Capitan.
(Elevation at the top of El Capitan is 7,569 feet.)
NPS photo of Tunnel View (the massive rock form on the left is El Capitan, in the background in the center is Half Dome, the waterfall on the right is Bridalveil Fall: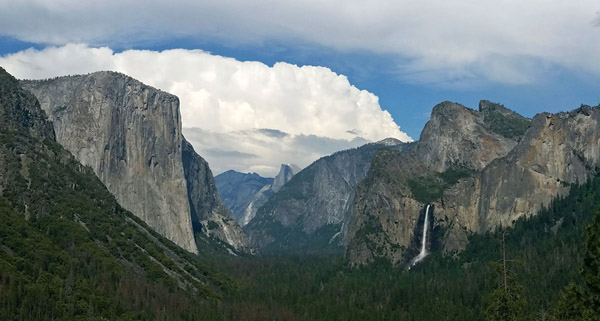 This next photo is courtesy of Tom Ingram Photography, all rights reserved Tom Ingram photography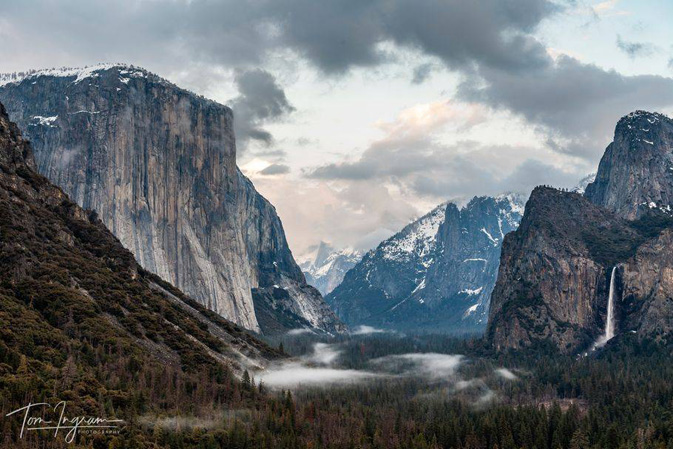 This was painted by Andrew Melrose in the vicinity: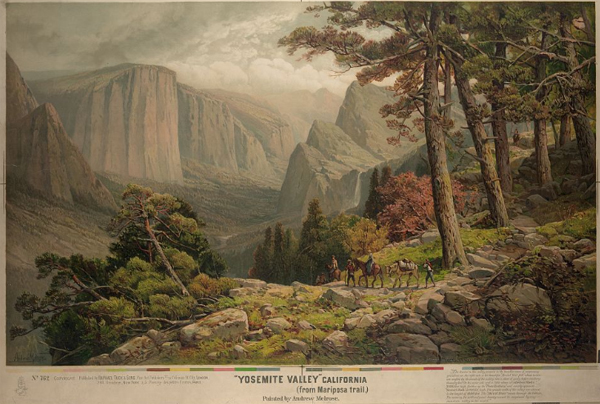 Below a photo from the NPS webpage:
https://home.nps.gov/yose/learn/historyculture/thomas-hill.htm
The website said: View of the Yosemite Valley, 1865, by Thomas Hill, which
served as the backdrop for the President Obama's 2009 Inaugural Luncheon in Washington D.C.
Courtesy of Collection of The New-York Historical Society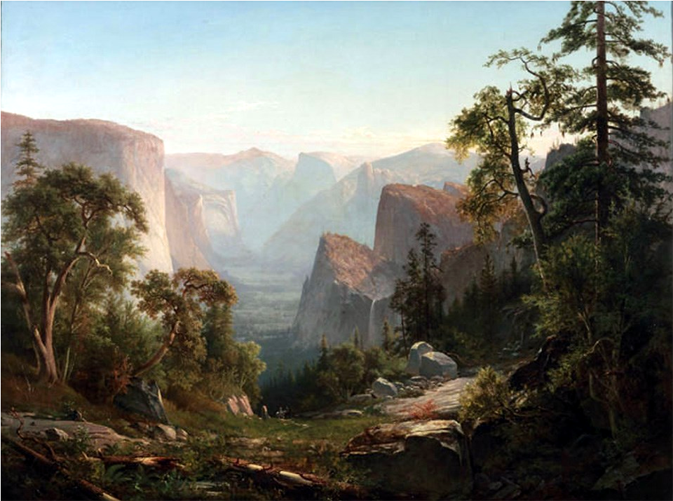 Coming into Yosemite valley on Highway 41, just before the valley, about 7 miles after Wawona, you go through a long tunnel just above the valley floor. Or you can get to Tunnel View from Yosemite Valley by driving on Northside drive until the Pohono Bridge, then making a left over the river and continuing until a right hand turn (almost U-turn) then up the Wawona Road towards Wawona and Glacier Point road, (this almost u-turn is the same as you would take entering the valley on Highway 140 / El Portal Road to go to Tunnel View) as in the map below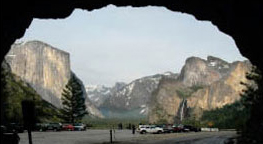 Coming from highway 41, after going through the tunnel, slow down and put on your right blinker at the end of the tunnel and pull carefully into the small parking lot. Walk across the road (watch out for drivers watching the scenery and not seeing you) to the main viewpoint. Coming from Yosemite Valley, watch for the parking lot on the right before the tunnel.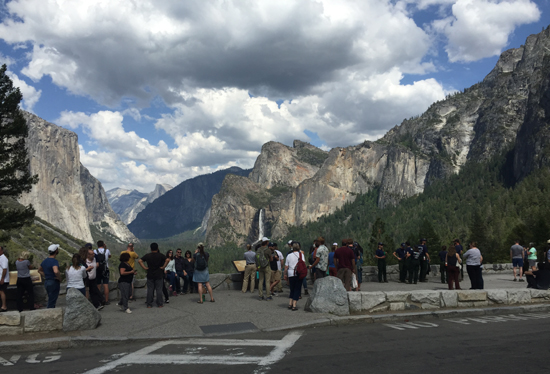 This view is worth stopping for even if you are running late and even if there is rain or snow falling. The Yosemite Fund (now called the Yosemite Conservancy) and the National Park Service funded a remodel in 2008 with educational exhibits, expanded handicap accessible viewing area and improved traffic flow. Thousands of people stop each day in the summer.
Clouds might hide the full view of peaks when you arrive, but they usually clear quickly (and can add more drama to your photos):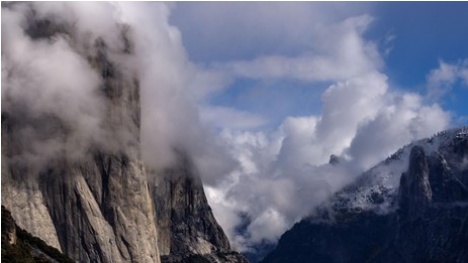 Webcam view of El Capitan near Tunnel View, located on a dome near the Wawona Tunnel:
https://www.nps.gov/customcf/webcam/dsp_webcam_image.cfm?id=81B464D8-1DD8-B71B-0B27F29DCD4CE913
More photos of the view from the parking lot at tunnel view:
photos below by Quang-Tuan Luong/terragalleria.com, all rights reserved.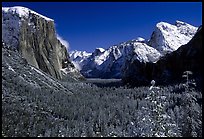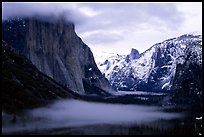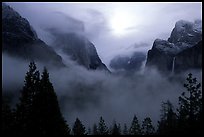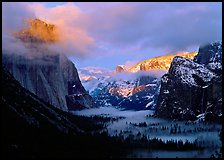 Here, NPS photos of the Tunnel View before and after trees were cleared that had been blocking the view:

The red X below is where Tunnel View is: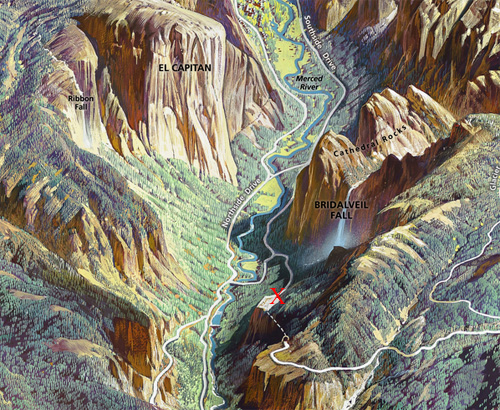 __________________________________________
Going back down into Yosemite Valley on (usually one-way) Southside drive (0.25 miles east of the intersection of Southside Drive and Wawona Road) there are
long paved turnouts at Bridalveil Straight
on both sides of the road with a view of El Capitan on the left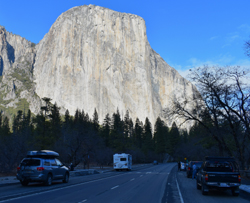 and Bridalveil Fall on the right, where a long trail to Bridalveil fall comes out to the road.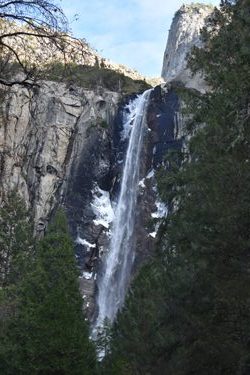 Watch out as you drive through here for people standing in the roadway to look at the view, get a picture, often not looking at oncoming traffic: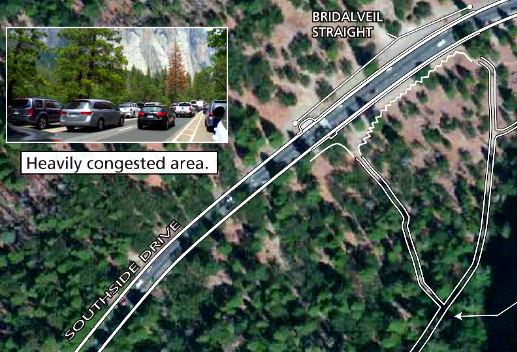 Bridalveil Straight was redesigned in 2022. Note that if you want to stop here, as you approach you should be in the left hand lane to find a parking space, as much of the right hand lane is a no parking zone designated for shuttle buses and tour buses. (See the four blue stripes in the map below.)

__________________________________________
From some of the east end of Yosemite valley , rooms and out on the grounds at the Ahwahnee Hotel, you can see a little of the top of El Capitan: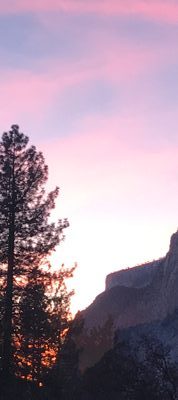 and the top of El Capitan (on the left, to the right of the trees) with upper Yosemite Fall (lit up on the right):

__________________________________________
Sugarpine Bridge is along one route to Mirror Lake
Looking to the west while on Sugarpine Bridge, you can see the top section of El Capitan, in the upper center of this photo: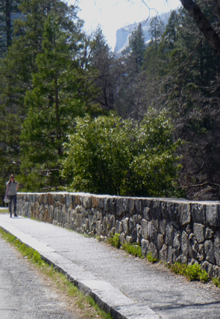 In the photo below, the Ahwahnee hotel is in the upper left, the Ahwahnee Bridge crosses the Merced River near the center and Sugarpine Bridge is to the right.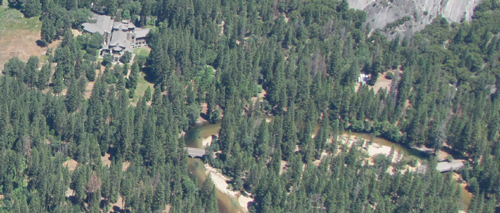 __________________________________________
Exiting Yosemite valley on usually one-way northside drive, (top road on the map below) there are four stops many people take to see El Capitan.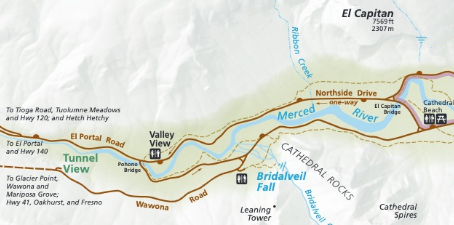 The first brown dot above the road on the upper right is Devil's Elbow (the U shaped part of the Merced River), below the view of El Capitan from Devil's Elbow: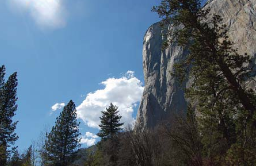 El Capitan crossover (name of the road section) goes over the Merced River on the El Capitan bridge in the right hand section of the map above, where you can take a photo of an El Capitan reflection in the river.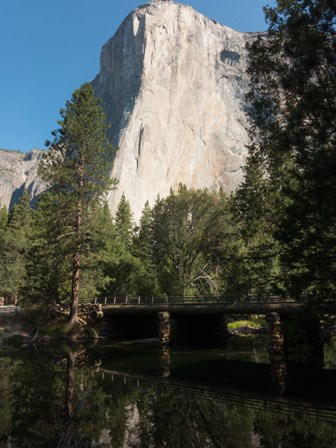 Just past El Capitan crossover, there is lots of parking on the left hand side of the road
along El Capitan meadow
Signs direct people to where they can go to multiple choices of viewing areas
by walking through a space in the fencing:
There are specific viewing areas, with worn out soil,
to keep people from trampling wildflowers in the rest of the El Cap meadow,
such as Showy Milkweed (Asclepias speciosa), a source of nectar for butterflies, hummingbirds and bees:
And see common Yosemite wildflowers:
https://www.nps.gov/yose/learn/nature/common-wildflowers.htm
If you walk out into the meadow as far as the path goes, you can get more of El Capitan in your photo and fewer tree tops. You can leave your vehicle in the shot for perspective or for trip memories, (and crop it out later if you want).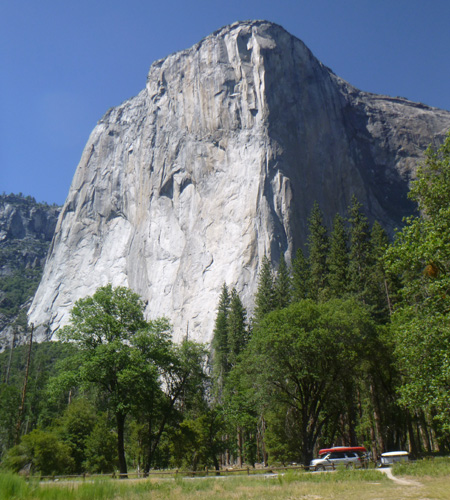 This watercolor of El Capitan by Chris Jorgensen (photo courtesy of the NPS), was painted in the vicinity.
https://www.nps.gov/yose/blogs/an-artist-and-his-chocolate.htm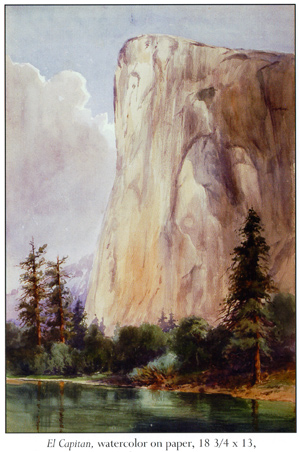 or you might find this view in May or June with Western Azalea blooming: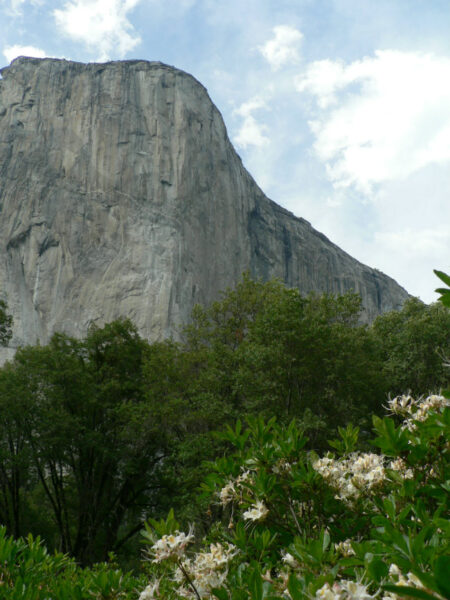 Granitic rocks of different compositions (and colors) are juxtaposed on the southeast face of El Capitan.
The darker rock in the center of the right hand side of the photograph above is the Diorite of North America.
At https://www.nps.gov/yose/learn/nature/granite.htm) you can find a larger copy of this NPS photo, the "Geologic map of the southeast face of El Capitan showing the complexity of the granitic rocks there" and descriptions of how granite is formed.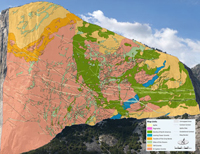 Find a full sized copy of this labeled map of geological data for Yosemite National Park (including many kinds of Granodiorite, diorite, granite) at: https://www.nps.gov/articles/nps-geodiversity-atlas-yosemite-national-park.htm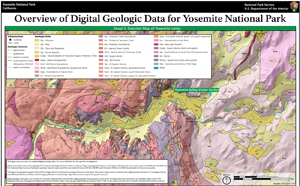 Many consider El Cap meadow the best place to watch (using binoculars or a telephoto lens)
climbers on El Capitan.
You might be able to spot climbers sleeping overnight on their portaledge.
Below a painting of climbers on their portaledge
from the Yosemite Valley main Visitor Center display Climbing and Stewardship: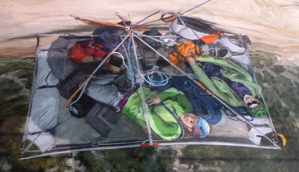 This climbing display in the main visitor center also has the 31 pitches to climb the El Capitan Nose Route: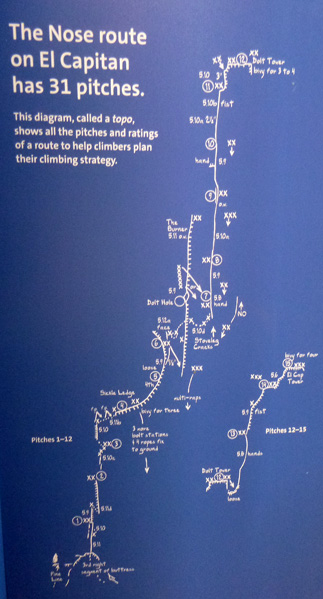 The Merced River Plan, has projects to improve views by removing trees. It says about the view from El Capitan Meadow (see page H-33):
"The El Capitan Meadow vista is in the northeastern portion of El Capitan Meadow. The vista includes a large portion of the Yosemite Valley with iconic natural landmarks such as El Capitan, The Three Brothers, Cathedral Rocks, and the Cathedral Spires. The viewpoint is part of the Yosemite Road Guide (marker V8). Views from Northside Drive to El Capitan are also listed as a contributing vista to the Yosemite Valley Historical District. The Meadow is a popular location for visitors to watch climbers ascending the Yosemite Valley walls. The Merced River Plan proposes constructing a If a boardwalk is built, the vista should be managed from that location. No trees should be removed from within the rockfall hazard zone."
247 trees (152 Ponderosa, 97 Cedar and 1 Fir) are in the plan to be removed.
This is the view to be improved, shown in the plan: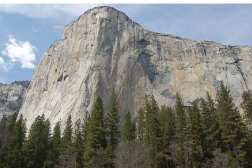 and below, before and after NPS photos of another El Capitan view tree clearing project:

And also note
"Ahwahnee Meadow, El Capitan Meadow, Big Meadow, and Tuolumne Meadows are
closed to kite flying regardless of size.
This restriction is necessary to ensure the safety of low flying aircraft being used in SAR (Search and Rescue), medical, fire, or other emergency situations."
__________________________________________
A bit further along usually one-way Northside Drive, at Valley View also known as Gates of the Valley, (the small parking lot is on the left hand side of the road, restrooms on the right hand side of the road).
The water here is usually moving fast enough that you will not find flat enough water to get a great reflection of El Capitan in the river.

A Thomas Hill painting from 1871 (photo courtesy of the Library of Congress) looks to be the same angle of El Capitan as from near Valley View: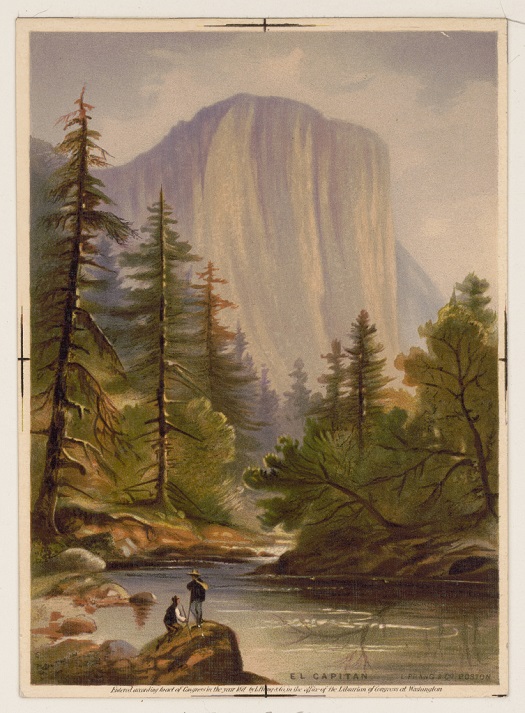 This (1885 +/-) painting by Thomas Hill (photo courtesy of the Library of Congress) is in the vicinity.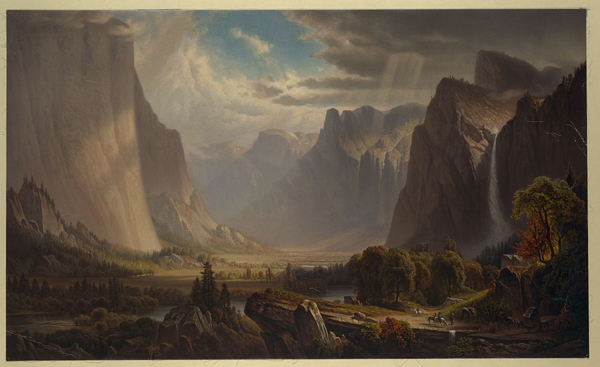 Below a photo from the NPS.
The Yosemite website said: Credit: Artist: Phyllis Shafer; Courtesy of the Artist.
Phyllis Shafer: Autumn in Yosemite Valley, 2005
Nevada artist Phyllis Shafer, a plein air landscape painter, is inspired by a "kind of transcendental essence at the heart of all natural forms and objects." She paints directly from the natural environment and is particularly intrigued by the juxtaposition of high altitude vistas with "the intimate microcosm of the flora and fauna."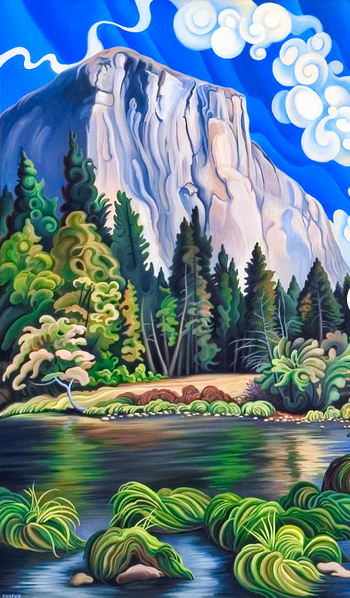 panorama spring and winter:

photos below by Quang-Tuan Luong/terragalleria.com, all rights reserved.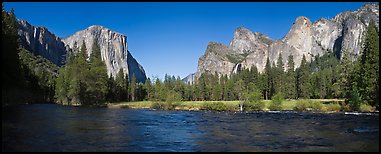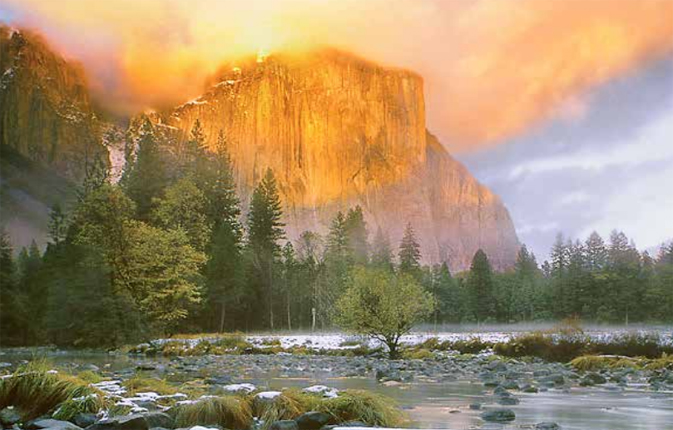 If you are lucky you might see a Water Ouzel (also known as a Dipper) swimming in and out of the ripples very near you, any time of year, including this photo taken in December:


The N.P.S. Merced River Plan, (see page H-35) has projects to improve views by removing trees. It says about the view from Valley View:
"Valley View is at the west end of Northside Drive. This is the vista on the 2010 quarter from the US Mint's "America the Beautiful" series. The viewpoint is part of the Yosemite Road Guide (marker V11) which describes it as being a view of the "gates" of Yosemite with El Capitan on the left and Cathedral Rocks on the right. The landscape of the surrounding Yosemite Valley is reflected in the calm water of the Merced River. The primary objective in managing the vista is to open the mostly obscured view of Bridalveil Fall, and to reduce the number of conifers encroaching on the meadow. There are a large number of dead trees from a controlled burn in 2007. The area from which trees will be removed is approximately 4 acres. There are 117 snags within this area, and of these, those less than 12" dbh will be removed and larger snags of greater habitat value will remain." 519 trees will be removed.
__________________________________________
From Taft Point : (2.2 miles round-trip hike from the Glacier Point road, 2 +/- hours). Road closed in the winter. See a map of the trail to Taft point at: https://www.nps.gov/yose/planyourvisit/upload/glacierhikes.pdf and see the Glacier Point road on this free official Yosemite National Park map.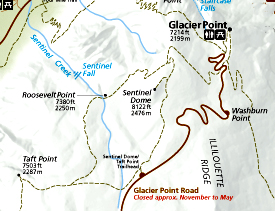 This panorama from Taft point has both El Capitan (on the left) and Yosemite Falls:

Below two shots of the official Taft Point, with El Capitan across Yosemite Valley (but do be sure to carefully explore the area, there are different, some say better views from further to the left of the official Taft Point):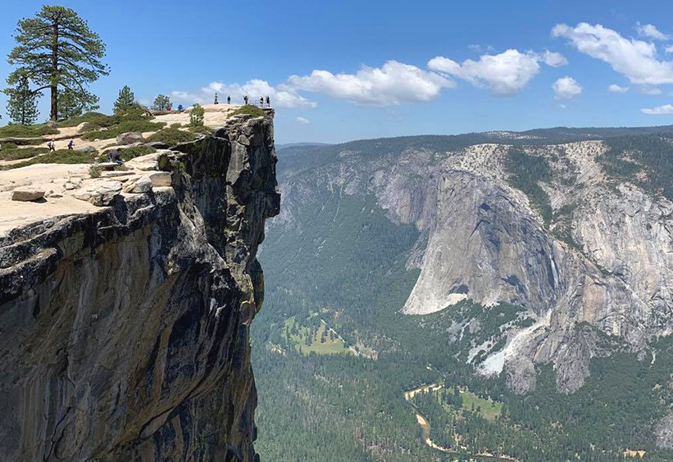 In this next shot, the railing (at the upper left of the photo) is more visible: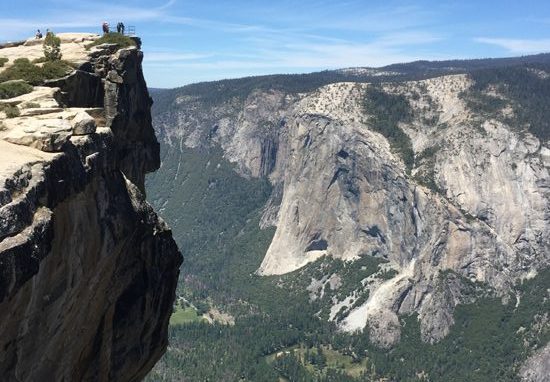 And a man held the back of a woman's daypack as she took photos at the edge of the Taft point viewpoint, (perhaps to protect her from falling over the high railing?)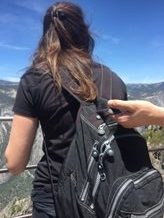 __________________________________________
Looking down at El Capitan from the south rim of Yosemite Valley :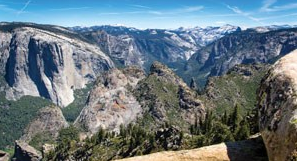 __________________________________________
and here from Dewey Point, to the west of Taft Point: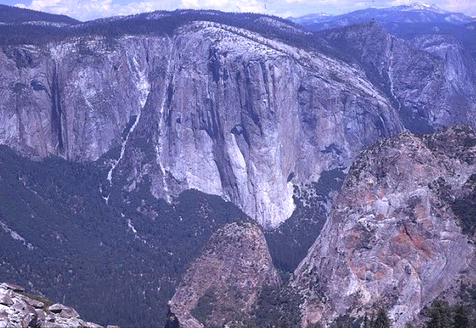 __________________________________________
Photo of El Captain (center of the top section of peaks) from the top of Half Dome
by Mollie Boun: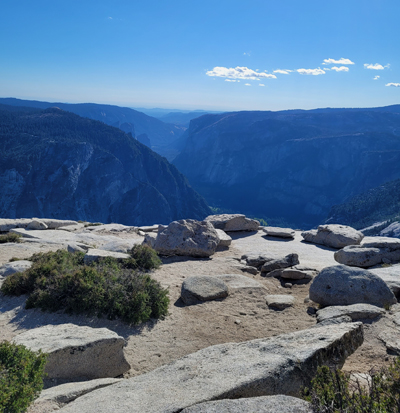 __________________________________________
Coming down to Yosemite Valley from Crane Flat on new Big Oak Flat road (the extension of Highway 120) on the right hand side, after the road to Foresta, but before the tunnels, there is a
small parking lot with a
view of El Capitan and Half Dome seemingly right next to each other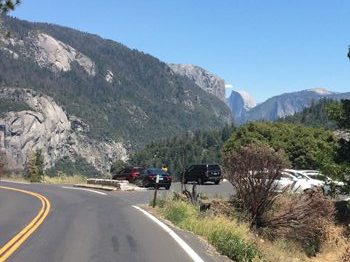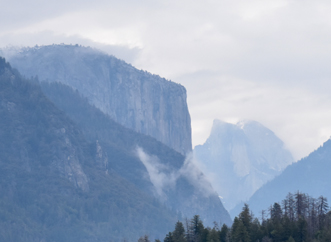 This next NPS photo is from
"Planning for a Changing Climate: Climate-Smart Planning and Management in the National Park Service."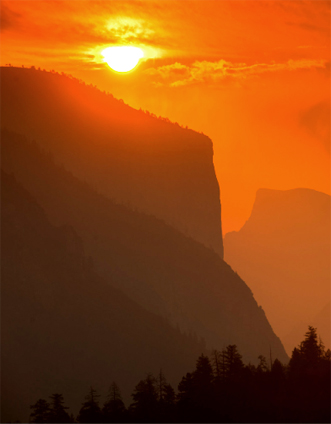 Google maps 365 degree street view of this parking lot and the view.
__________________________________________
This painting on the wall at the Yosemite Lodge Starbucks also shows El Capitan and Half Dome
in seemingly close proximity to each other: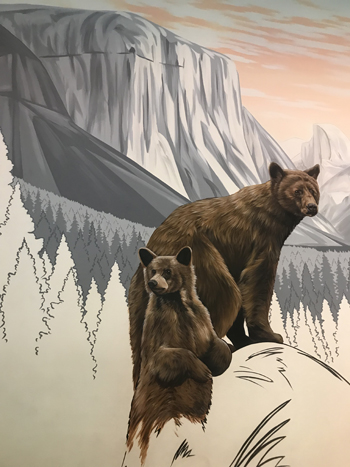 __________________________________________
__________________________________
During the February Horsetail Fall natural firefall, lanes of some roads are closed either to vehicles and/or pedestrians. Road-side parking (parts of both Northside and Southside Drives as well as El Cap crossover) and turnouts, many parking lots and picnic areas are closed to parking, and some years you need a permit to go to where you can see this natural light show. (For example, in 2022 "Event management for Horsetail Fall viewing will be set up on February 10 and taken down February 28. 'Peak viewing' is around February 19.")
(Horsetail Fall flows over the eastern edge of El Capitan.)
This Firefall comes and goes in roughly only ten minutes.
Watch for signage. Wear warm clothes, waterproof boots, possibly waterproof outerwear and carry a flashlight or head lamp, since your cell phone will not function as a flashlight long enough or brightly enough.
A map of the location of Horsetail Fall, permit (or no permit, depending on the year) info for viewing Horsetail Fall, the February "natural firefall," at sunset is at: https://www.nps.gov/yose/planyourvisit/horsetailfall.htm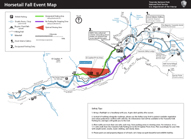 Watch a Yosemite Conservancy video of Horsetail Fall.
Horsetail Falls firefall photo courtesy of Tom Ingram Photography, all rights reserved tomingramphotography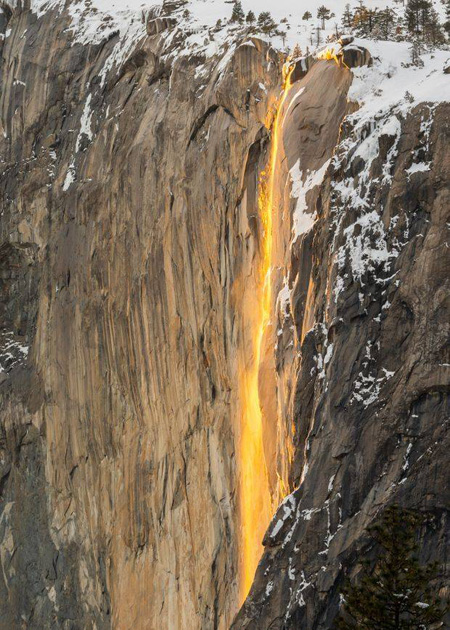 __________________________________________
_________________________________________________________________

_______________________________________
A
study
, Detection of rock bridges by infrared thermal imaging and modeling, published in Sept. 2019, says, in part:
"Over the past 150 years, rockfalls have been intermittently documented from the southeast face of El Capitan, with 45 rockfalls recorded between 1857 and 2017. Exfoliation sheets are characteristic of the Yosemite landscape and are ubiquitous on El Capitan. Boot Flake and Texas Flake are particularly impressive exfoliation sheets and are famous features given their location along the popular rock climbing route "The Nose"."
__________________________________________
The NPS photo below of a climber on El Capitan is from the Yosemite park webpage:
https://www.nps.gov/yose/planyourvisit/climbing.htm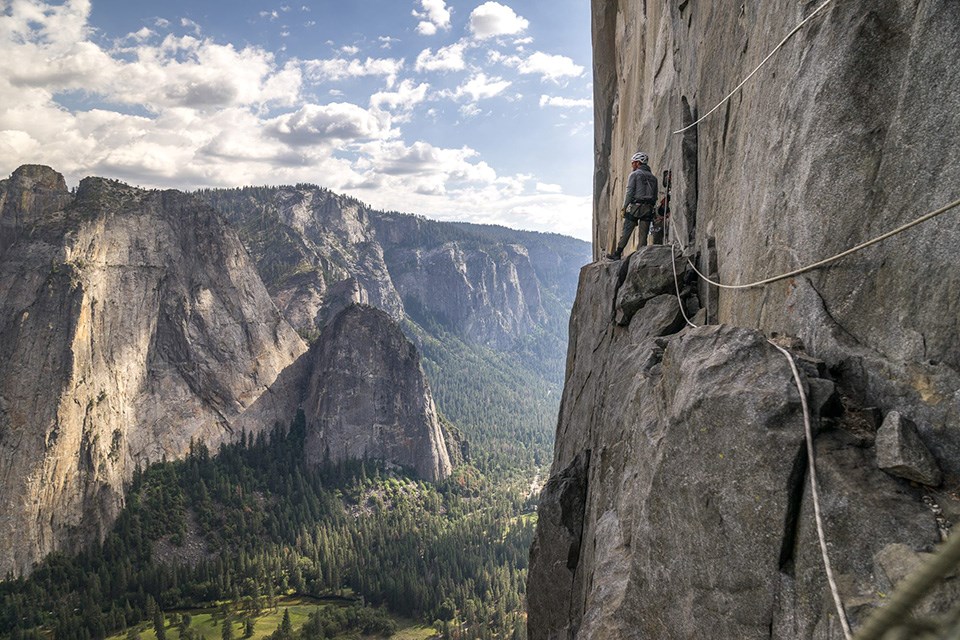 __________________________________________
Scroll around the almost 3,000 foot El Capitan Dawn Wall to look up close at climbers, a base camp of tents secured to the rock and follow their ropes during a 2015 free climb:
https://www.nytimes.com/interactive/2015/01/14/sports/the-dawn-wall-up-close.html

And see also:
Rescue of Injured Climber from El Capitan
"On Thursday, September 11," (2014) "at approximately 10:30 am, the Yosemite Emergency Communications Center (ECC) received an international call from a woman stating that her husband's climbing partner had sent her a text from El Capitan requesting a rescue. A 39-year-old male climber fell while climbing pitch 25 of 31 (the Glowering Spot) on the Nose route, which is a 2,900-foot climb (Grade VI, 5.14a or 5.9 C2). The subject, along with his climbing partner, had slept at the base of pitch 25 on their second night on the wall. The subject began leading pitch 25 at about 9 am, aid climbing off a ledge above where the two climbers had slept. As the subject climbed, he placed protection gear: one stopper, followed by a second stopper, and then a cam. The cam pulled out and the subject started falling, hitting the ledge about 20 feet below him; as he fell beyond the ledge, the first stopper caught him. Later examination revealed that the second stopper was still in the wall with the quickdraw (a piece of webbing) hanging from it, but the lower carabiner, which had been clipped to the rope, was gone. The climbers do not know whether the carabiner broke or became unclipped during subject's fall. As a result of the fall and hitting the ledge, the subject had severe lower back pain. . . "
The above is from a detailed description of the rescue at:
https://www.nps.gov/yose/blogs/rescue-of-injured-climber-from-el-capitan.htm
Below, three NPS photos. In the left photo, Yosemite Search and Rescue (SAR) Ranger John Dill watched the climbers with a spotting scope and communicated with them by megaphone, in the center photo a rescuer was delivered to the top of El Capitan by helicopter, and the right hand photo shows rescuers sitting by their rigging.


There is fascinating reading on how Yosemite climbers can avoid injuries/stay alive, by Yosemite Search and Rescue (SAR) Ranger John Dill, (including sections on environmental dangers, descents, big wall bivouacs, unplanned bivouacs, loose rock, climbing unroped, leading, falling, learning to lead, the belay chain, helmets, states of mind, rescues, and risks, responsibility and the limits of climbing), at: climbing advice
and read about climbing regulations, the reasons behind them and practical advice on how to follow the rules, including fixed ropes, permits and sleeping on big walls, food storage, trash and human waste while climbing, bouldering, slacklining, and bolting ethics at: https://www.nps.gov/yose/planyourvisit/climbing_regulations.htm
– – – – – – – – – – – – – – – – – – – – – – – – – – – – – – – – – – –
On May 11, 2021 Yosemite National park announced:
Yosemite National Park To Implement Pilot Overnight Climbing Permit System Beginning Friday, May 21, 2021
– Yosemite News Release Release May 7, 2021
Yosemite National Park – All visitors planning to overnight on any rock climbing routes in Yosemite National Park will be required to obtain an overnight wilderness climbing permit beginning on May 21, 2021. This pilot program is being implemented to better understand how park visitors use Yosemite's big walls and to help improve climbing wilderness ethics and reduce negative human impacts associated with overnight big wall use.
Overnight climbing permits will be available beginning at 8 a.m. on May 14, 2021. For the duration of the pilot program, these permits will be free. Please visit https://yosemite.org/climbingpermits/ to learn more.
NPS photo of climbing the Shield Route on El Capitan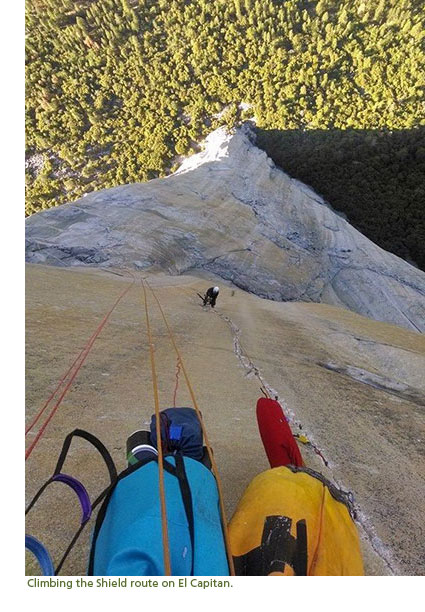 – – – – – – – – – – – – – – – – – – – – – – – – – – – – – – – – – – –
https://www.nps.gov/yose/planyourvisit/climbingclosures.htm
and see also logistics of sleeping on Big Walls at: http://www.climbingyosemite.com/services/regulations/

also from the park service, fine dining on El Capitan: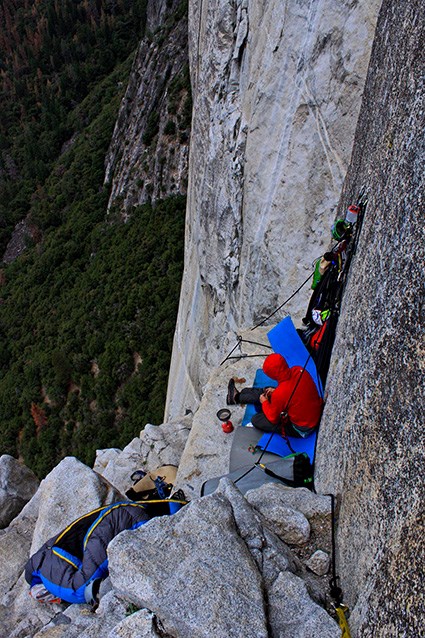 – – – – – – – – – – – – – – – – – – – – – – – – – – – – – – – – – – –
"El Capitan, Nose Route VI 5.11 A3
El Capitan, Salathé Wall VI 5.10 A3"
Are each listed as one of the Fifty Classic Climbs of North America, by Steve Roper and Allan Steck.
"At 5.9 C2, the Nose is considered to be the easiest full-length route on El Capitan, which makes it extremely popular and draws relatively inexperienced big-wall climbers. But the Nose also is a complex climb, requiring a large repertoire of techniques that may be unfamiliar to newcomers. . ." read more at: https://www.nps.gov/yose/blogs/danger-zones-the-nose.htm
A spread sheet of all accidents on the Nose of El Capitan reported in American Alpine Club Accidents from 1973 through 2013, with links to the relevant articles is here.
And see:
Rappellers Rescued off of El Capitan
"One of the two rappellers had a climbing helmet. . . This climbing party had some multi-pitch traditional climbing experience but no big wall or aid climbing experience. This incident is a good example of the dangerous cascade of events that can occur when a team is ill-prepared for what is a very serious undertaking. Although climbing El Capitan and other long big wall routes has become increasingly popular, it is still a committing endeavor that requires extensive climbing experience and rope/rigging knowledge in order to be completed safely. Climbers and rappellers attempting to rappel big walls should ensure they have the skills and equipment to troubleshoot and adapt in the event that things do not go as planned. Being able to ascend a rope is a fundamental skill that no rappeller, especially one on such a large cliff, should be without. The consequences of unpreparedness can be, and have been, grave for many parties, and mounting a rescue mission always causes risks for rescuers."
Injured Climbers Rescued from El Capitan
"Helicopter 551, Yosemite's fire and rescue helicopter, flew a team of 14 YOSAR members to the top of the Nose . . . Meanwhile, an afternoon thunderstorm approached from the east end of the Yosemite Valley."
Climber Fall on "Lurking Fear" "The placement of multiple questionable pieces of gear (which were used to provide protection in case of a fall) in a row was perhaps the main contributing factor to this accident. Perhaps most importantly, this is a reminder of how helpful helmets can be in preventing serious head trauma. According to medical personnel on scene, it is very likely that the climber's head injuries would have been much more substantial had the climber not been wearing a helmet."
Rescue from Muir Wall on El Capitan.
– – – – – – – – – – – – – – – – – – – – – – – – – – – – – – – – – – –
The Yosemite Assn used to have a page of photo tips from photographer Michael Frye which included:
"November, December, and January are the best months to photograph Half Dome and El Capitan. From late afternoon until sunset, low-angle sunlight highlights the texture on the face of Half Dome. Late in the day, El Capitan is also flushed with warm light."
Didn't get quite the photo you wanted? You can buy a El Capitan or other Yosemite t-shirt, calendar, poster or art work online from the Yosemite Conservancy https://shop.yosemite.org/
and see: places to take photos of Half Dome in Yosemite National Park (with maps)
Places to take photos of Bridalveil Fall in Yosemite National Park (with maps)
Places to take photos of Yosemite Falls
Places to take photos of Staircase Falls in Yosemite National Park

Selfies can be great, OR dangerous. The use of cell phones for photography (with or without a selfie stick) has made preventable injury or even death by selfie common. They were only taking a selfie
Using a drone is illegal in Yosemite National park, including for photography. See an index of rules and regulations webpages.
Yosemite trail conditions info is at: http://www.nps.gov/yose/planyourvisit/wildcond.htm
And see shots of Yosemite valley from Glacier Point.
_______________________________________

– – – – – – – – – – – – – – – – – – – – – – – – – – – – – – – – – – –
Drivers should note that there are sections of road in Yosemite Valley with two lanes (usually) in the same direction, with the right lane ONLY for the free shuttle buses, ambulances, ski bus, commercial vehicles with ten or more passengers. The NPS says: "The bus lane ensures emergency vehicles can respond to incidents when traffic is backed up and provides preference for mass transit."
Parking and traffic jams in Yosemite valley tips and tricks has the above advice, with maps of each of the three major day-use parking lots, with advice to help you NOT get a Yosemite National Park traffic or parking ticket, and not contribute to preventable traffic backups. And some details of where you can't park in Yosemite, or can't park without a permit.

– – – – – – – – – – – – – – – – – – – – – – – – – – – – – – – – – – –
Hotel, cabin and tent cabin choices in Yosemite valley are at: Yosemite Valley accommodations
a map of and floor plans for the Ahwahnee cottages is at:
Yosemite Ahwahnee Hotel cottages, (bungalows / cabins) floor plans and map
– – – – – – – – – – – – – – – – – – – – – – – – – – – – – – – – – – –
You can find basic to extravagant, (a few with a dress code),
casual, fast (grab and go)
or with table-side service,
indoor and outdoor food service

at multiple locations in Yosemite Valley, as well as four grocery stores
all of which are served by the Yosemite valley free shuttle bus.
– – – – – – – – – – – – – – – – – – – – – – – – – – – – – – – – – – –
swimming in Yosemite including thunderstorms, bacteria in the water, safety issues, favorite beaches, swimming pools with lifeguards.
– – – – – – – – – – – – – – – – – – – – – – – – – – – – – – – – – – –
The most current route map for the free Yosemite Valley shuttle bus is in the Yosemite Guide newspaper https://www.nps.gov/yose/planyourvisit/guide.htm , which you will be offered a copy of as you enter the park, or can print in advance.
It looks something like this when there is no road construction, rock slides, excess snow affecting the times/routes:
(Map below courtesy of NPS)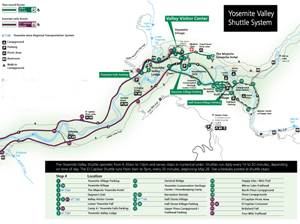 Hiking Advice has HIKING SECRETS and etiquette including hiking in the heat, preventing and/or dealing with blisters, logistics of hiking, a day hike gear list, Half Dome hiking advice, winter hiking and the answer to the question: When is the best time of day to cross a mountain stream?
______________________________________________

The Yosemite National Park rangers would like you to call them
if you see a bear in Yosemite,
no matter where it is or what it is doing.
Since 2003 there has been a note in the Yosemite Guide: "REPORT ALL BEAR SIGHTINGS! To report bear sightings, improper food storage, trash problems, and other bear-related problems, leave a message for the Bear Management team at: 1 (209) 372-0322. Your call can be made anonymously."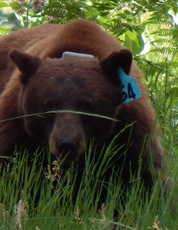 If you can, in all the excitement, try to notice if the bear has a tag (usually on the ear), the color of the tag and if possible, the number on it (the tag is large enough that with a telephoto lens you should be able to read the number).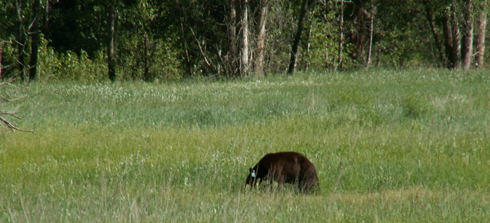 From the Yosemite Daily Report newspaper:
"It is extremely important to remember to yell at bears that are in and around development, even if they are foraging on natural food. Though it is very tempting to get close for a picture, or just to watch these incredible animals, it is important not to give into this urge. Yelling at them if they are in residential areas or near people is critical to keep bears natural fear of humans. Giving bears plenty of space. When bears become too comfortable around people, they will often start causing damage to structures and vehicles, or will even become too bold around people, creating safety concerns."
And the Yosemite Daily Report also said:
"Scare bears when you see them. . . in developed areas- Yell like you mean it!
Make as much noise as possible, try waving your arms, stomping your feet
or anything to make you look intimidating and to get the bear to run away.
We know it's fun to see bears and it can feel mean to scare them,
but this is a simple way to truly help save a bear's life."



______________________________________________