This is the De Anza College list for spring, summer and early fall camping. Our winter gear (or sometimes appropriate all year) list is at: Snow or rain camp must-haves . Our list for backpacking is at Backpacking Advice . And see Grand Tetons trip equipment.
(Also see below For a hike and For kayaking.)
YOU MUST HAVE
____ waterproof outer layers in case of rain,
Please don't make the mistake two girls on one Yosemite August trip did. They thought they could get by without rain jackets and brought a plastic sheet to hold over their heads. They went home early.
Water repellent, water resistant, 'blocks light rain' or 'wind pants' are not good enough in the bursts of heavy rain we could have. If it rains much, you will not be happy with a rain poncho. Thin, easily torn temporary rain gear like they sell at airports for emergencies will not hold up on a camping trip.
Waterproof material looks and feels plasticy or rubbery. If a jacket feels like cloth it is probably not waterproof, except possibly Gore-tex. It's advertised as being both waterproof and capable of letting your sweat out. If you can afford it, at $200-690 for a parka, (and if all of the newer ones really work that well, the first ones didn't always function in heavy rain or when dirty) then go for it.
Buy your waterproof outer layer a size larger than normal to have room for warm things under it. On a budget? Get a set (pants and jacket with a hood) of ($16 to 24 in late 2010) construction worker raingear at Home Depot or Orchard Supply. Yes, it will be bright yellow, but you won't be the only one. Look for a jacket with a hood, as some do not have one.
If you buy the construction worker rain gear set, and if you can sew, you can Improve your inexpensive rain gear.
One girl on the '98 winter trip really thought the jacket she brought was waterproof, but within seconds of stepping out of the car into a light rain she found out otherwise. We made a cover for her out of plastic bags to try to keep her dry until she got to the store. If you want to use your ski jacket and are not sure if it is really waterproof, wear it in the shower. After you dry it out, wear it to Home Depot to try on rain gear that fits over it.
____ warm jacket or parka
At least one change of clothes:
Leave no trace If going into the wilderness, choose hiking, backpacking, and camping gear and clothing that are natural earth tone colors like green, brown, tan. (Some websites also recommend black, but it, along with flowery prints and bright colored clothing, attract insects that sting.) Bright colors like white, purple, blue, red and yellow do not blend in with the environment, can be seen from miles away and contribute to a crowded feeling. But do carry at least one item of very visible clothing and/or gear to help rescuers find you if needed.
____ shorts/pants
____ wool or fleece pants
____ non-cotton long underwear /base layers (top and bottom) in polypropylene (capilene, polartec, drylitest, versatech, etc.), wool, silk or polyester (or a blend, spun poly / lycra / rayon, for example). Cotton (or ramie) won't work because it soaks up sweat and makes you cold. Wool and silk can get sweaty, or even soaked, and still be warm. The synthetics "wick" away moisture from your skin to the outer layers. (Would you believe professional football teams actually wore pantyhose before the more modern stuff was invented?) On a budget? Think about things in your own wardrobe or things friends have before you spend a lot of money. Skin-tight stirrup pants, leggings and / or silk pajamas under pants could work. A dressy silk turtleneck, tights or a leotard could work. Or a layer of pantyhose with any of the above.
On a budget? In a shopping survey Target had the lowest prices for synthetic base layers, (long underwear / long johns) from $15 to $20. Look in the men's clothing department, there weren't any in the women's. Big Lots usually only has part cotton long underwear, but it could be worth checking there. Sports Basement in Sunnyvale has a little of everything, although not always in every size. A local huge recreation equipment supply had their house brand lightweight base layer for $30 and name brands for much more.
People sometimes ask: "Isn't it a waste to buy this polypropylene for just one camping trip?"
The answer is that you will use this gear for years for camping and outdoors adventures all year long. Once you know how to deal with winter weather, you'll probably never camp again without proper rain/cold gear, an insulating sleeping pad, or a decent tent. Then when Mom Nature sneaks up on you with an unexpected spring or fall storm, you'll be able to not only survive, but even enjoy it.
____ many different warm inner layers like sweaters, a wool workshirt, or a vest
On a budget? Goodwill usually has lots of wool and synthetic sweaters, (but they have more in at least part cotton and you don't want those). They might be a little worn, but that's fine for camping.
____changes of shirt, underwear
____synthetic or wool socks for your boots NOT COTTON
On a budget? In a shopping survey Target had thin non-cotton pants socks that sure work like polypro sock liners and wear like the ones at a big recreation equipment store, at less than half the price of the recreation equipment store ($6.29 for two pairs of liners type at Target versus $6 for one house brand pair at the big recreation store or $12 for one pair of a major brand at the big recreation store.
_____ sneakers that still have tread (maybe a second pair to get wet kayaking or creek wading)
Please don't try to hike in tennis shoes, you need
______boots (with ankle support).
if you fly to an out of state trip, wear your hiking boots on the flight to save on weight in your luggage AND to be sure your well-broken in, comfy boots actually get to your adventure. When you get there and your luggage has been delayed or lost, buying new boots and trying to get them broken in enough for our longer hikes would be a mistake.
from Yosemite Search and Rescue, lessons from the field:
http://www.nps.gov/yose/blogs/psarblog.htm
"The subject" (who slipped/fell on very fine gravel on a trail and needed evacuation) "was wearing tennis shoes with slick bottom soles."
___ rubber sandals, (NOT FLIP FLOPS) the kind that Velcro around your ankle to stay on your feet (if you don't want cut feet when out wading/swimming and you want to wear them in any public shower)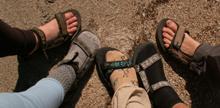 _____ hat (with a brim for low angle morning sun when out kayaking, for example)
____ at least a daypack, but a full sized backpack holds more
If you fly to a trip destination, for carry on bags, one airline quoted "Baggage may not exceed 45 linear inches (or 114 cm) in combined length, width and height, including any handles and wheels . . . Baggage must meet carry on size limits (approximately 22″ x 14″ x 9″ or 56 x 35 x 23 cm)."
Consider whether you want to make your really great day pack for our hikes your carry-on instead of a small suitcase.
______ towel
____ personal toiletries kit, something to tie back or braid long hair
Most women camping don't wear as much makeup as they might at work or school, if any at all. See also: Camping solutions for women
_____High-SPF sunscreen (5 is a joke, remember that the sun reflects up off the granite of mountains we hike and water we paddle on and you need sunscreen under your chin and on the underside of and just inside your nose).
____ dry skin lotion, maybe more than one small bottle, but if you put one in your daypack for a hike, be sure to remove it before bedtime so you won't attract animals to your tent
_____ Chapstick (with sunscreen)
_____ insect repellant (read some advice at: insect repellant)
Your fingernails may have more wear, so a real, sturdy 'sapphire' type ______ nail file will be better than a paper emory board. Real nail clippers _____ work for nails; scissors don't.
____ not-cheap sunglasses, wide enough to really help, with UV protection
___ whistle in case you get a little or a lot lost. You can blow on a whistle much longer than you can yell for help. Three blasts on a whistle at a time is a "help-needed" signal.
Metal ones really can stick to your lips in the winter. Better plastic ones without a pea inside will more likely make sound when wet, sandy or icy.
Wear it on a lanyard around your neck most of the time, except while paddling, then wear it on the lifejacket.
____ very good sleeping bag
Store your sleeping bag in a car during the day when you're away from the campsite so it can't get soaked or stolen.
On a budget? You can rent a 3 season sleeping bag from Sports Basement (Campbell in the Pruneyard Shopping Center, 1875 S. Bascom at Campbell Ave. suite 240, same parking lot as Trader Joe's), (Sunnyvale 1177 Kern Avenue off Lawrence Expressway between 101 and Central Expressway), 2 to 5 days starting at $30. Reservable online a minimum of 5 days in advance, or take your chances for a same day walk-in rental. Please verify rates/terms.
____sheet or blanket to cover your bag if you sleep cold
____ an insulating sleeping pad, (two would be much better). An air mattress (the kind you float on in a pool) won't work by itself, the air in it between you and the ground will make it softer for you, but what you need most is insulation from the cold ground. You can put an insulating pad on top of an air mattress or on top of a chaise lounge pad. You can bring a futon if there's room in the vehicle you are going up in. A cot won't be enough without insulation even though it gets you up off the ground. (A cot won't fit in most good tents, and edges of the legs could make holes in the tent floor). An egg carton type foam pad might not be thick enough to insulate properly by itself, unless it is folded over a few times, or unless it is a 'closed-cell' pad made for winter.
____ Air pump if you bring an air mattress (the club usually remembers to bring one of these)
____ freestanding tent with a rain fly that goes all the way down the sides.
Cheap tents have only a partial, cap-sized rainfly. Rain soaks through all the tent roof not covered by the rainfly and drips into the tent. This can happen fairly quickly.
A good tent will have full zippers around doors and windows, not flaps. It will have full zippers around window and door covers in the rain fly, not flaps. Pitch the tent and test the zippers to see if they open and close easily.
The tent and rain fly should pitch taut. There should be a small amount of space all around between the fly and the tent when it is pitched.
If your friend says he's bringing a tent for a bunch of you, pin him down on how good it is. On one trip a guy brought a big box shaped very old tent with acres of plastic sheeting to cover it. It didn't work, but on that trip there was space in other tents for the people who were expecting to sleep in it.
If you borrow a tent, pitch it before the trip to be sure all the poles and parts are there, and so you know how to do it in a hurry if you arrive after dark and it's precipitating. If you can't quite figure out how to pitch it, we've got experienced people to help, so bring it to the pre-trip meeting.
Check out the tents near the bottom of Camping Blunders
____ a couple of large plastic leaf bags for various emergency uses, including keeping your gear dry as you move it to and from your tent in the rain
___ your sense of humor
____ one or two large screw-top water bottles that never had anything but water in them (if they smell like lemonade they can attract animals to your tent)
____ personal small first aid kit, ace bandages, ankle/knee wraps as needed
____ your own prescriptions/painkillers, etc.
____ cash/credit card for your share of the park entrance fee, gas,
____ real flashlight (electric torch) / headlamp, not one of the types you squeeze to make it work, or a tiny key chain model, and enough batteries. Your cell phone will not last long enough or be bright enough in the flashlight function.
____ some food that requires no cooking, for lunch and snacks on a hike, or in case the weather prevents or hampers cooking. You might also want to read GORP and hiking snacks
___ enough money to eat out,
but in case the restaurants/grill are closed due to a power failure or there are none where we are:
_____ food that is
precooked and only needs to be rewarmed or that is very simple to cook or that only needs hot water added.
Maybe some fancy food that does require fancy cooking, but realize that you might not be able to have a fire to cook over.
Snow or rain camp must-haves includes a discussion of cooking in cold weather.
At Have more fun camping you can learn how to build campfires that don't smoke too much, how to pack an ice chest, do dishes in camp and lots more.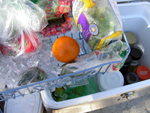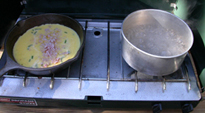 If you cook out:
If you fly to a trip destination, consider this for your ice chest / cooler, the standard bag size for one airline is "must not exceeded 62 inches when you total length + width + height." One year flying to a trade show we packed clothes and gear in an ice chest, which we put in a box we made for it just the right size and it came out to just under the 62 inches. That way you won't need to buy an ice chest when you get there. It is especially not fun trying to use a styrofoam ice chest for any length of time. (Sometimes people who drove all the way to Grand Teton National Park instead of flying have made room for an ice chest for someone who is flying.)
____ personal dishes, silverware, pans, cooking utensils
____ dish soap, scrubbie, paper towels, etc.
____ stove, fuel ____ potholder
____ if you use charcoal you need charcoal lighter fluid
____ good wood matches, preferably some waterproof, not paper 'book' matches. The striking surface on a box of matches wears out well before the match supply is used up, so strike anywhere are preferred.
___ paper grocery bags lined with plastic bags for trash

_____ think through the whole process of whatever you will cook and remember to bring each 'ingredient,' like mustard, mayo, cooking oil, grated cheese, butter, eggs, milk, green onions, pickles, barbeque sauce, pepper, salad dressing, sugar, spices, herbs or…….
and can opener, paring knife, foil, sandwich bags, ….

NO vegetable peeler– (except for a long trip) do all the peeling at home in advance so you have more time to play on the trip
NO uncooked spaghetti on a short trip (cook it al dente at home and reheat it briefly in boiling water for a quicker, easier meal.)
no raw chicken!!! Much chicken has salmonella which needs to be killed during cooking. It's easier to prepare it cleanly at home and just re-heat it at camp, plus you reduce the risk of raw chicken juice spilling on other things in your ice chest and contaminating everything. We are talking about very sick from salmonella.
Plus, if you grill the chicken, rinse the romaine and grate the romano or parmesan at home, you can have grilled chicken caesar salad quickly in camp.
No uncooked bacon. Items that are greasy are difficult to clean up. Cook whatever you can at home where you can deal with the grease easily, then reheat in camp.

YOU MIGHT WISH YOU HAD
____ high-carbohydrate/high-fat snacks for just before bedtime to help keep you warm while you sleep (cashews or peanuts, for example)
____ marshmallows, chocolate bars and graham crackers (If you've never eaten them together we'll give you the recipe on the trip.)
____ well broken-in hiking boots instead of sneakers
Buy them well in advance of a trip so you can wear them around and break them in. Buy boots late in the day, after your feet have swollen some. Have the salesperson measure your feet–don't rely on your street shoe size. Bring the two pairs (one light, one heavy) of socks you'll wear with the boots and any orthotic devices you'll use. To carry a pack most people need boots that go up over their ankle. The cool- looking pair might not be the best fit. Spend some money on these, you'll use them for a long time. Many places will let you return pairs you only wore inside.
Be sure that they fit well enough when laced up tight that your toes don't cram into the toe end when you hike downhill.
___ polypropylene glove and sock liners
____spare prescription glasses or contacts and fluid
_____ earplugs in case the neighbors stay up late and ignore the quiet hours rules. Not the simple foam ones, but the ones with a thicker wax-like quality, often made with silicon putty.
____ clothesline to dry towels (the club usually remembers to bring some)
___head phone cassette player
____ mini-alarm clock
____second flashlight or 'snake light' or headlamp, extra batteries, bulb
____art supplies
___insulated drinking mug
___ more firewood
(FIREWOOD: As long as Sudden Oak Death is still a problem, we must follow quarantines of host material, including local (Santa Clara County and other infected coastal counties) firewood. We can't even bring cut up scrap lumber or pallets. We need to buy it in the park, or bring Presto type "logs"(compressed sawdust and wax) or collect it in the park outside of Yosemite Valley since firewood collecting in Yosemite Valley is illegal.)
___ compact umbrella
______ backpack rather than a tiny daypack for hikes
____ guitar, music ___ bird, nature books
____ fishing gear and permit
_____ addresses of people to send postcards to
____ candles, preferably in a candle lantern
_____ set of decent clothes/shoes so you can eat out at a restaurants if there are any, or on the way home
______ quarters (for ice machines or pay showers at some campgrounds)
_____ rollerblades (and pads, helmet)
___ favorite pillow
___ bike (and helmet, spare tube, etc.)
_____ folding or pop-up chair / hammock
____ dining canopy
____ swimsuit and cap (the cap will keep you warmer) or maybe a spring-suit sized wetsuit or wetsuit vest
____ long handled cooking utensils and a pot gripper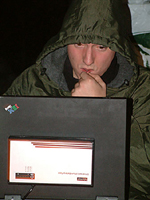 – ____ journal, pen, maybe a laptop for homework?
____ 'Wash'n Dri' or other antibacterial towelettes for quick handwashing (unscented, not lemony scent that will attract mosquitos)
_____ extra money for postcards, t-shirts, etc.
____ extra empty, clean gallon bleach, milk or juice bottles to bring water to the campsite from the faucets.
___reflective covers to put over the food storage lockers (to keep down the heat inside and save on ice costs) The club has some of these and we usually remember to bring them on summer trips.
___ extra clean gallon water bottles to set on top of the reflective covers to warm up all day for hairwashing in the afternoon (pour the water over your head at a bathroom sink, not on the ground!) See also: Camping solutions for women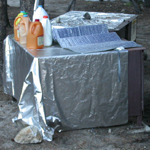 _____ binoculars / telescope / star charts
____ red cellophane for over your flashlight to protect your night vision
____ if you rent a car, get a spare door key made and keep it in your pocket so you can't lock yourself out
____ deck of cards ___book(s), magazine(s)
___ lantern / extra fuel / spare propane
____ camera and more film than you thought you could use, lenses, filters, tripod
–More things could fit it the campsite bear-proof storage lockers if everyone brought their gear in ______ small, deep plastic trash cans or other plastic boxes close to, but no more than, 17 inches tall. A typical bedroom waste receptacle could be 9″ by 12″ by 17″ deep and hold quite a few cans of food, cooking items and toiletry bags. If this makes no sense to you, read
Using a campsite food storage locker
___ a knit hat to wear to bed to stay warmer overnight
-lots of people bring a favorite stuffed animal
____ chargers for your cell phone, camera. Someone might have an
_______inverter in their car (or on some trips, like the fall Grand Teton trip, some people stay in cabins)
What malady do you often get, Athlete's foot or ….? that would wreck a trip if you got it and the tiny store at the park didn't carry a remedy? Then
_____bring a medication for it
You might wish you had been to the dentist/doctor within the last six months. Are your immunizations up to date? If not
_____ get an appointment
_____ Covid mask even if they are not currently required. N95 in case of smoke drifting from even a far away forest fire.

Do not bring:
boomboxes, drums, generators, noisy equipment to fill air mattresses, etc. (noise is the first thing other campers complain about to the rangers)
firearms/tasers/stun-guns
axe
alcoholic beverages or other mind altering substances on college sponsored events
clothes that have been rinsed or dried with mosquito-attracting scented softeners (dryer sheets can make a greasy stain on clothes if they get stuck to them, and the softeners can decrease the lofting and wicking of garments)
salt tablets–but do bring salty soups and snacks and maybe a tiny salt shaker
a snake bite kit with razor blades or a suture kit–take a real first aid class and learn how to handle emergencies properly
No baseball, frisbee, kite flying, soccer, biking or other trampling of meadows! Drones are banned in National Parks and other places as well. .
Many parks ban volleyball/badminton, etc. in campsites or on beaches, but you might find a place you can play.
No drones. Use of drones is illegal in National Parks. Animals get aggressive when people fly drones around/over them, endangering everyone in the vicinity. Please try to get the vehicle license number (and if possible make, model and color) / campsite number of anyone using a drone and report them to Rangers. If you have cell phone coverage, call park dispatch. The phone number for dispatch is usually in the park newspaper you receive when you enter the park. (When people fly drones around forest fires, the helicopters with firefighters and tankers with sprays to put out the fire can't fly!)
__________________________________________
The Mountaineers Club of Washington climbing code tells us to:
Carry all the necessary clothing, food and equipment at all times.
Necessary means a full day pack, or perhaps a more comfortable partly full backpack, with enough stuff on a hike to stay overnight on the trail, maybe not comfortably, but survivably.
The right gear is much more important than a cell phone, read: Cell phones in the wilderness
If you don't carry your raingear on a hike and it starts to rain, your clothes can get soaked through. In the cold temperatures of the mountains, winter or not, you could die from exposure.
For a day hike in you need to pack some of the 'must have' gear from the preceding list:
____rain gear
____knit hat and gloves on a winter hike,
_______ hat for sun with a brim to shade your eyes and a warm hat in cold weather,
_____two or three lunches per person (not just a couple of lunch bars) … sandwiches, fruit or see GORP and hiking snacks
_____flashlight
____water bottle(s)
_____layers of warm clothes
____sunglasses
______ high SPF, waterproof, sweatproof sunscreen (put a layer on in the morning so you won't forget to use it, and bring some extra), SPF (sun protection factor) 5 is a joke, as is 15 for people out playing by/in the water or at high altitude where they get more sun. Read At altitude for advice.
_____ insect repellant
_____chapstick, dry skin lotion
_____personal first aid kit
____whistle
and add:
____well broken-in hiking boots or cross-training shoes with at least some ankle support instead of sneakers
_____ Two pairs of socks, one thin, one thicker (not cotton!!) are more comfortable than one in boots
___jackknife
___toilet paper, trowel and knowledge of how to use them
During any long hike or backpack,
To truly be able to leave no trace and follow backcountry rules about camping the proper distance from a lake or digging your personal latrine hole the proper distance from water, etc., you will need to know how far 100 or 200 feet is. Lay out a tape measure at home and walk it and count your paces.
How to poop in the woods.
___ quart sized plastic bag for a litter bag, or even better a double layer of bags (double plastic bag that's big enough to hold your own trash, toilet paper, and stuff you notice someone else left on the trail). If you decide to improve your karma, and the beauty of an off-trail spot, by cleaning up used toilet paper others left, remember that it has germs and carefully use a couple of twigs to get it into your trash bag without touching it. Don't bury any trash, or dump anything in the composting backcountry outhouses, even orange
peels will wreck their effectiveness.
____Personal I.D.s such as driver's license, medical insurance card, credit card, power of attorney for health care card, auto assn. card, spare car keys
____compass
____ map (the club often has extra maps for our dayhikes)
a map and map reading skills are a necessity, a GPS unit is not. GPS is not infallible
____waterproof matches (or matches in a waterproof container)
____ firestarter
____ water purifier pump (plus chemical means should the pump die, but be sure the chemical method you choose will work against cryptosporidium and giardia and note how long (four hours??) the water must be treated for the treatment to be effective)
______________________________________
Nice for a day hike, but not always necessary:
____croakies or other eyewear retainers to hold your sunglasses on while you peer over the top of a view point
____ spare socks
____spare prescription glasses or contacts and fluid
____ moleskin (if you know you need it to prevent blisters, put it on before the hike)
Hiking Advice has hot weather hiking advice, blister prevention, hiking logistics and the answer to the question: When is the best time of day to cross a mountain stream?
____Spenco 2nd Skin
____camera, _____more film than you think you'll need
____lenses ___ tripod
____small notepad and pencil ____minibinoculars
____ duct tape wrapped around one person's water bottle to repair various things
____ a couple of large plastic leaf bags for various emergency uses, or just to make a rain poncho for another hiker
____ If you will be swimming where you are going you probably want to either wear the swimsuit under or remember to pack it, as well as a lightweight towel (we carry single-fold cloth diapers or springboard divers mini-towels for this). Rubber sandals with tread on the bottom are useful for wading. Don't bring the slip-on flip-flop type, they should have a velcroed strap around the ankle and back of the heel.
_____ We use hiking poles (originally we got along fine with our cross-country ski poles) especially on long downhills, to protect our knees and transfer some of the load from our legs to our upper body. They also give extra stability crossing streams. Ones that telescope or unscrew into sections will more easily fit in airplane carry-ons or checked luggage. Shop around, you don't have to pay $80 for these.
______spare batteries and bulb for the flashlight,
_____and on our winter trips, a chemical handwarmer packet.
(If you bring a cell phone or family band radio don't leave your brains behind and take extra risks).
You won't be able to fit all this in a tiny day pack. A real, ____full-sized backpack would be much wiser
AND then you can fit____ enough water (even 2, 3 or 4 liters each)
for that long hike. Hiking dehydrated is a miserable experience.
see also:
http://www.nps.gov/yose/sar/hikesafe.htm
http://www.nps.gov/yose/sar/climbsafe.htm
One year a De Anza Outdoor Club group going to the top of Half Dome and back in one day took much longer than they expected. Then they found that the two flashlights they had among eight people ran out of batteries. They had warm clothes and lots of extra water and snacks, so they decided to wait on the trail for the moon to rise at 1 a.m. Around 11 p.m. another group of about a dozen people with one working flashlight also coming down from Half Dome caught up to where they were and they all hiked out together. If they each had their own
FLASHLIGHT!
well, they wouldn't have this story to tell!
More stories are at:Camping Blunders
_______________________
-Lifejacket (provided by the club and required: you must wear it all the time, and it must stay zipped),
–Wear: This depends on how warm/cool or even cold it is. Loose clothes (swimsuit, then polypropylene long johns with shorts on top OR swimsuit/wetsuit, OR swimsuit/fleece jacket and fleece pants).
Be sure to take car keys and things out of your pockets so you won't lose them in the lake/ocean.
On your feet: Nothing, OR neoprene booties, aquasocks, rubber sandals (Velcroed to stay on your feet), or old tennis shoes that can get wet. Hat with a brim for low angled morning sun. Maybe something to tie back or braid long hair.
–Bring: Chapstick, towel, good waterproof sunscreen (remember to put some on top of your feet if you go barefoot or in rubber sandals, and on top of your legs if they are bare), water bottle, sunglasses and croakies or other eyewear retainers, hat, windbreaker, long sleeve polypropylene and/or other warm sweater, possibly a rain jacket, change of clothes and shoes for afterwards in case you get wet.
see For a hike and choose what might be appropriate depending on the location, time of year and lenght of the kayak event
Lots of people bring binoculars or cameras, but there is some risk of getting them wet, or even losing them. The club has a limited number of drybags to keep cameras. etc. relatively safe, but you must share.
Please, for day long kayaking when we have lunch at a destination, no styrofoam ice chests. If they bust up they scatter bits of strofoam everywhere that can't be cleaned up.
___________________________________
In 1921, Raymond H. Bailey wrote a Handbook of Yosemite National Park. The chapter Camping and Mountaineering in Yosemite National Park, is at:
This is not our current advice on what to bring, it is just here for historical interest. In the section on what to bring, he wrote:
"Sleeping equipment is a most important consideration, since about a third of one's time is spent in bed. The type of bedding is largely a matter of choice, but as experienced campers differ materially as to the best, more than one will be mentioned. All bedding material is best if dark in color, so as not to show the dirt. Three wool blankets of about five pounds each are ample for cold nights in the higher altitudes, and two are sufficient for usual needs. A 10-ounce canvas about seven feet square when folded will serve as a ground cloth and also an extra covering. If the blankets are folded lengthwise and sewed along the bottom and side, or fastened with large safety pins or small blanket pins, this sleeping-bag will give greater warmth and comfort. The canvas may also be made into a bag.
The following quotation from an Outing Announcement of the Sierra Club describes a lighter weight sleeping outfit recommended for use in this region: "This should consist of a sleeping-bag made by doubling two wool comforts, so as to give the bag the greatest length, and sewing securely across the bottom and two thirds of the way up the side. This bag should be lined and covered with gingham or sateen, which should project a foot or two beyond the top as a loose flap. The wool comforters may be sewed up into separate bags as indicated, and one lined and the other covered. One bag can then be slipped inside the other for ordinary, use and removed easily for knapsack trips where economy of weight is desirable. A tall person will require extra length comforters. Blankets are too heavy and cotton comforts are not desirable. A waterproof sheet or covering at least six by six feet should be taken. Canvas and the ordinary rubber blanket are entirely too heavy for this purpose. The most serviceable and satisfactory material is waterproof silk (balloon silk). It is strong, durable, perfectly waterproof, and very light. A piece five yards in length, cut in half and sewed together along one side, will make a large sheet that will protect the sleeping bag from the ground and form a covering as well.
One thick lamb's wool batting comforter is lighter and has about the same warmth as two ordinary wool comforters, and an eiderdown quilt is still lighter for the same amount of warmth but not so serviceable. If a sleeping-bag is used it should be so made that it is capable of being aired easily. Should the bedding prove inadequate for the coldest nights, a hot-water bottle, heated rock, a pair of soft woolen bed socks will probably solve the difficulty by keeping the feet warm. A small down cushion makes a very light but comfortable pillow. Air cushions are less comfortable but more convenient."