This page has links to equipment checklists and links to details about the Colter Bay cabins the De Anza College Outdoor Club usually stays at on Grand Teton kayaking trips.
Photo below by Fred Hanselmann http://www.hanselmannphotography.com/Pictures_of_the_tetons.html)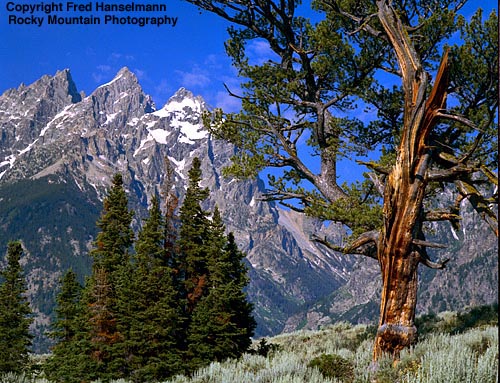 Photo below courtesy of Rick Konrad http://rickkonrad.com/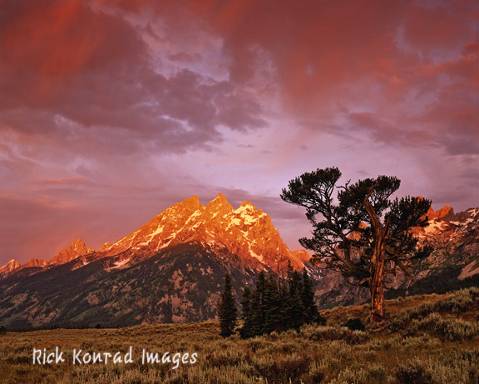 If they can be transported, the club will provide: a limited number of drybags, kayaks, paddles, and lifejackets, (which must be worn and strapped securely). If the group can transport the De Anza owned kayaks, the club will pay the kayak permit fees that Grand Teton park charges. Again, all this is if the De Anza-owned kayaks can be transported, if not, we can rent them in the park, but the club won't have a big enough budget for lots of rental time.
Trip participants are responsible for all other arrangements and costs, including, but not limited to: food, park entrance fees, campsite, cabin or hotel cost, gas and other transportation costs, sleeping and eating gear and other personal gear.
GEAR TO BRING:
It is worth investing in a spare vehicle key or two or three, in the pockets / daypacks of various people, since your cell phone does not function everywhere in the park and you could need to take a bit of a hike to get to a hotel front desk to try to use their phone to get a Auto Club locksmith to unlock you car when you lock the keys in it. And getting that help to your vehicle can take quite awhile! If you rent a vehicle for the trip, talk to me about where you might be able to find a spare key in that rental.
Bring the same stuff you'll need for the Yosemite February trip – and might want for early mornings on fall, spring or even summer trips. IT WILL RAIN ON THIS TRIP. If you do not have a hooded waterproof rain jacket big enough for a sweater, fleece and/or down vest underneath and waterproof rain pants to go over pants that have room for fleece pants and (non-cotton) polypro long johns underneath, you will not kayak, even in (temporarily) sunny weather. And you should always carry the raingear with you on all hikes. You can improve your inexpensive rain gear
We watch the weather reports closely and sometime track thunderstorms as they approach us. One day heavy rain and / or potentially large-sized hail, the size that can crack a windshield, was forecast, so we put two sleeping pads on the windshield under the wipers with a couple of straps tied across and through the shut car doors (the wind was coming up fast as we installed this.)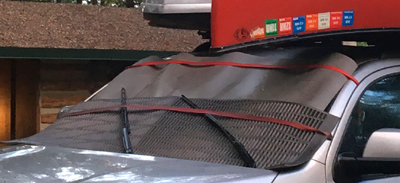 And bring your swimsuit, we often end days with long hikes at the swimming pool playing waterpolo then taking showers. (And spring wetsuit or at least a swim cap for possible cold water lake swimming unless you are intrepid.)
For fall or early morning summer kayaking we wear polypro longjohns, shorts over those and/or fleece on top, and bring rain gear, or on the 2000 fall trip one guy wore his wetsuit with a knit hat. It could be wise to also have a knit hat, mittens, gloves to put on if you feel cold and a swimcap for potentially under the knit hat. Expect things to get a little damp or even a little wet, so if at all possible pack a second set of long johns and fleece for wearing while not kayaking, including hikes, evening picnics and sleeping.
NO COTTON in the longjohns! You can find lists of gear to bring for winter camping that have things that absolutely apply to this trip at Snow or rain camp must-haves . If you don't have gear for or have never been rainy/cold camping we really recommend you read this list.
Your gear list should include food and food preparation equipment, tents, sleeping bag, insulating sleeping pads, waterproof outer layers in case of rain, (you can get a set of rain pants/jacket at Home Depot then Improve your inexpensive rain gear).
To watch the Perseid meteor showers and for stargazing in general, a chair you can lean back in will be most comfortable, but you can also use your sleeping pads and just lie on the ground.
Please also consult the Camping equipment checklist even if you intend to stay in a cabin or hotel. The day hike list and kayaking list at that page have lots of details.
It includes this:
_____ rubber sandals, (NOT FLIP FLOPS) the kind that Velcro around your ankle to stay on your feet (if you don't want cut feet when out wading/swimming and you want to wear them in any public shower)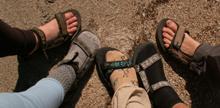 _____ hat (with a brim for low angle morning sun when out kayaking, for example)
____ at least a daypack, but a full sized backpack holds more
If you fly to a trip destination, for carry on bags, one airline quoted "Baggage may not exceed 45 linear inches (or 114 cm) in combined length, width and height, including any handles and wheels . . . Baggage must meet carry on size limits (approximately 22″ x 14″ x 9″ or 56 x 35 x 23 cm)."
Consider whether you want to make your really great large day pack for our hikes your carry-on instead of a small suitcase. . .
. . . if you fly to an out of state trip, wear your hiking boots on the flight to save on weight in your luggage AND to be sure your well-broken in, comfy boots actually get to your adventure. When you get there and your luggage has been delayed or lost, buying new boots and trying to get them broken in enough for our longer hikes would be a mistake.

Pack in haste, repent at leisure… trying to use a hatchet as a can opener on one of our wilderness overnights at Leigh Lake: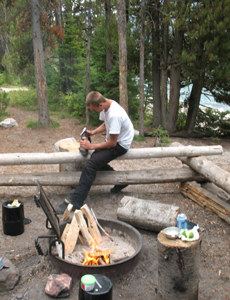 Put links to info on your smart-enough-phone to be able to access info more easily, including webpages about the trip AND
Jackson Hole weather
http://www.mountainweather.com/JACKSON.htm
For the drive: Tetons area road conditions (Wyoming Department of Transportation)
http://www.wyoroad.info/pls/Browse/WRR.STATIC5?SelectedDistrict=3
A drawing of the peaks with the names of the peaks, from various locations:
https://www.nps.gov/grte/learn/management/upload/profile.jpg
Lightning strikes in the last 24 hours are recorded at:
http://www.lightningmaps.org/?lang=en#y=43.7707;x=-108.2102;z=7;t=1;m=oss;r=0;s=0;o=0;b=27.83;n=0;d=2;dl=2;dc=0;ts=0;
https://www.lightningmaps.org/blitzortung/america/index.php?lang=en
https://www.accuweather.com/en/us/national/severe-weather-maps
You can check out where the storm lightning hits are moving and it can help you decide if you are going to the swimming pool, taking a shower now or later, and when you actually hear thunder you can check out where it hit (closer to Yellowstone, or nearby at north Jackson Lake, or . . .).
Yellowstone bear safety webpages:
https://www.nps.gov/yell/learn/nature/bearreact.htm
https://www.nps.gov/yell/learn/nature/bearspray.htm
The app for when Old Faithful in Yellowstone will next erupt
https://www.nps.gov/yell/learn/nature/oldfaithfulgeyserfaq.htm
An app for Grand Teton park info you can use even when you can't get WiFi in the park:
https://www.nps.gov/grte/planyourvisit/nps-grand-teton-app.htm
Download photos of over a hundred birds of Grand Teton National Park
https://www.audubon.org/climate/national-parks/grand-teton-national-park
Yellowstone park offers bird songs:
https://www.nps.gov/yell/learn/photosmultimedia/soundlibrary.htm
Download these instead of buying them at a visitor center, (well worth looking at for info about animals and much more):
https://www.nps.gov/yell/learn/resources-and-issues.htm
https://home.nps.gov/grte/learn/nature/upload/2017-grte-vital-signs-access-final.pdf

Backpacking Advice has food ideas for a potential wilderness overnight.
Photo below by David Whitten http://www.davidwhittenphoto.com/index.html?yellowteton.html~home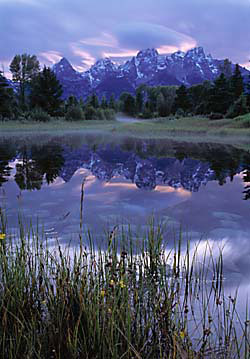 You really will be happier with a comfortable full-sized backpack that fits all your gear, instead of a tiny daypack, for any long hikes.
You can rent bikes in the park, but bringing your own on a vehicle is cheaper. Bike helmets are required for all ages of riders on all club trips, even if bike riding is not an official part of the trip. Biking in the park can be safe, but due to the large, unpredictable wild animals, there are safety precautions that are different than at home, please read: Grand Tetons biking.
Look for a thin warm beanie/ thin knit cap / maybe a cloth swim cap, that fits comfortably under your bike (and/or climbing) helmet and does not interfere with the proper fit of your helmet or interfere with your peripheral vision.

You will need a Wyoming fishing license to fish in Grand Teton National Park, which you can get at various vendors in the park and at the Visitor Center in Jackson. One-day licenses cost much less than annual, so you might want to get more than one one-day license. (One place recommends: "Dry Flies: Royal Wulff #10-16, Parachute Adams #10-20, Humpies #14-16, Elk Hair Caddis #14-18, Turck Tarantulas #8-12, Parahoppers #10-14, Parachute Hares Ears #12, Chernobyl Ants #6-12, Ants and Beetles #14-16, Stimulators #10-16, PMX's #12-16 Nymphs:Pheasant Tail #10-20, Hare's Ear #10-18, Copper Johns #12-18, Rubberlegs #6-10, Prince Nymph #10-16, Zebra Midge #18-20 and Streamers:Black Leeches #4-10, Tan Sculpins #4-6, JJ's Special #4-8, Zonkers #6-8, Wooly Buggers #4-10")
Fishing report about Tetons area streams includes this: "Pacific Creek, the Buffalo, Gros Ventre, and Hoback Rivers are the main tributaries to the Snake. Fishing any of these creeks with medium sized (#8-#16) attractor patterns will get the fish's attention."
Experienced surfers could bring their surfboard, there are sections of the Snake River (from West Table to Sheep Gulch, especially Taco Hole and Lunch Counter) you can surf in place on a rapid for as long as your legs hold out (or until a raft needs to go through or someone else wants to take a turn). Some really are only for experienced surfers, as the wash out below the rapids can be serious rapids as well. You know without asking this is not a college-sponsored event.
If you want to go horseback riding riders must weight no more than 225 pounds and must wear closed toed shoes (long pants recommended). No backpacks, video cameras or binoculars allowed by most outfitters. Recommend you apply sunscreen and insect repellent PRIOR to the ride. This is not a college-sponsored event.
We've sometimes needed mosquito repellent on fall Tetons trips. Read some advice at: insect repellent.
You will really want your own binoculars.
The club owns a few pairs of waterproof binoculars we can even use while out kayaking, (just be sure to attach the custom-sewn band of pool floats so they won't sink if you drop them overboard) but not enough for everyone on a big trip.
Cellphones don't function well everywhere.
The Grand Tetons Lodge Company website said in early 2005 (we found no mention of it since then):
"Verizon works at Jackson Lake Lodge. Cell phone service is not as reliable at Colter Bay Village and Jenny Lake Lodge." At the Colter Bay cabins, if you wander around a little many people get some bars of service.
If you intend to camp bring all your cell phone/lap top/camera chargers and an inverter to take turns with others in your carpool charging them as you drive around or maybe you can charge them in in one of the cabins someone is sure to rent.
People who intend to camp (as well as those in cabins) could bring a laptop, as there is free WiFi available at the Moose Visitor center, Jackson Lake Lodge parlor and the Colter Bay laundromat that anyone can use without a secret code (and a few DVD rentals in Jackson).
Be adaptable. Even if you are certain you will not camp, bring tent, sleeping bag and insulated sleeping pad so you can if the opportunity or need arrives. Most years we get a backcountry permit and paddle/portage in to a remote lake for a night of camping.
Do not buy Grand Teton topographical (hiking) maps until you see the ones the club has for trip participants.
If you ride in a carpool driving straight through, pack a small bag with the items you will wish you had for 24 hours so that you don't need to stop and go through your luggage looking for: your toothbrush, flashlight (electric torch), rain jacket, pillow, book, journal, camera, headphone CD player. Other people in the vehicle will appreciate it if you wear freshly laundered clothing without perfume or cologne and have recently washed yourself. See: Road trip advice and etiquette.

If you stay in a cabin, there is advice for more to bring at Colter Bay cabins, including fused power strips (with circuit breakers built in), a portable electric heater (and extension cord and a fused power strip), a few extra hangers, portable radio/tape player/DVD player or laptop, and maybe a folding laundry rack if you really have the space in your vehicle.
No alarm clocks are provided, and we often bring a bunch of small battery powered clocks so we can have one in the bathroom as well as each bedroom.
You need to not only have enough ice chests for all the fruit, milk, yogurt etc., but also lidded bins for cookies/crackers/popcorn/bread that you don't want the deer mice to nibble on.
Besides your rain jackets/pants, a big golf-sized umbrella can be great to get back and forth from the car to cabin to another cabin, and makes a good mini-dining canopy on the wilderness overnight if we get a sprinkle.
An old towel on the floor by the front door is often needed to wipe wet shoes on.
Logistics of packing for flying to the Tetons are at Grand Tetons trip transportation.

Where you stay in the Tetons is up to you, but it can be difficult to coordinate timing of activities if we don't all stay in the same area, so we've all stayed at Colter Bay for at least part of the time (usually all of the time) on previous trips. Colter Bay cabins, Grand Teton National Park. Colter Bay campground.
_____________________________
NO pets (including comfort dogs) on our trips. Pets scare away wildlife or even worse, can engage wildlife, endangering themselves, the people with them and the wildlife. Pets wake sleeping people. In Grand Teton park pets are not allowed more than 50 feet from the roadway (such as on any hiking trail), in boats on the Snake river or any lake except Jackson Lake, or on Ranger-led activities. The few places they are allowed they must be restrained on leash at all times.
No drones. Use of drones is illegal in National Parks. Animals get aggressive when people fly drones around/over them, endangering everyone in the vicinity. Please try to get the vehicle license number (and if possible make, model and color) / campsite number of anyone using a drone and report them to Rangers. If you have cell phone coverage, call park dispatch. The phone number for dispatch is usually in the park newspaper you receive when you enter the park. (When people fly drones around forest fires, the helicopters with firefighters and tankers with sprays to put out the fire can't fly!
There's easy camping info at: Have more fun camping
If you want to get a better room, or even a suite with fabulous lakefront or mountain view, fireplace, fridge, microwave, or even a complete kitchen, look at: Grand Tetons hotels, cabins, lodging
For details about our next club trip to Grand Teton National Park, go to: Grand Tetons.
Grand Tetons trip pages index has brief descriptions of most of the pages about this trip.
Grand Tetons trip transportation has flight info, driving distances and guesses at gas cost, previous trip examples, etc.
Grand Tetons trip cost has examples of
The cheap trip,
The not-so cheap trip,
The slightly more costly trip, but less driving time,
also known as the I-can't-get-much-time-off-work trip,
and The expensive trip.
Your safety in grizzly bear territory tells you what to do if you see a bear in the distance or a bear charges you and has info about Bear Pepper Sprays
What might happen before a bison charges.
During a thunderstorm, don't take a shower or use a sink, including washing dishes. Don't talk on a land line phone. Don't use your I pod. Don't get zapped! Please read Thunderstorm and lightning safety
photo below courtesy of Rick Konrad http://rickkonrad.com/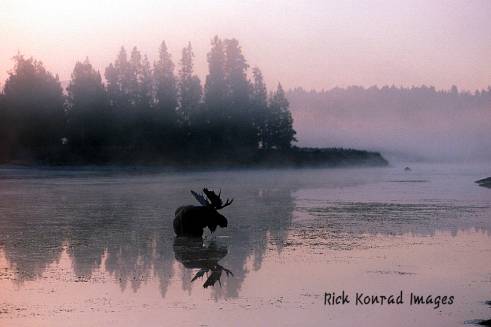 Grand Teton National Park campground information and maps are at: