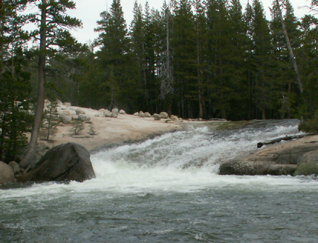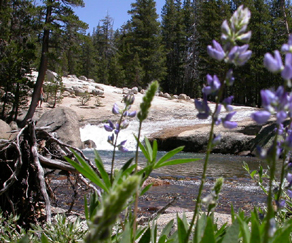 As we continue our lifetime search for the world's greatest swimming hole, one of our favorites is near Tuolumne Meadows, Yosemite. Above are pictures in very early summer with too much water flow for safe swimming and in late summer with lupine blooming.
In July it takes gumption to get in and swim, but any time of the year the water is cold.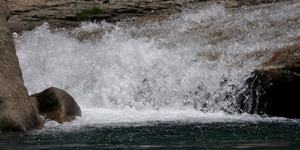 Below, views of the falls in July and June closeup from upstream: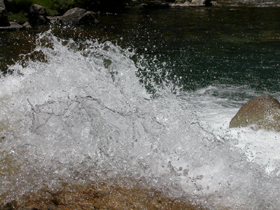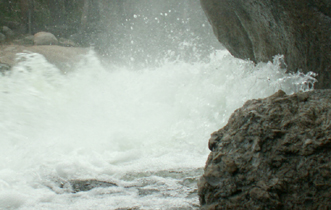 Two pictures from an August 2002 trip: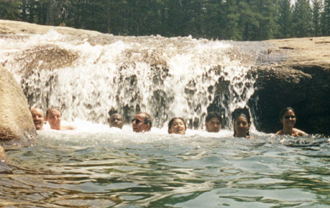 Check out the size (16 inches?) of the trout nibbling at his Teva!
Photo of group in July 2003 by Wendy Sato: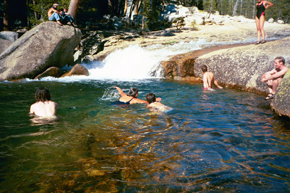 These black clouds over Lembert Dome, (with thunder and lightning), explain why the photo of the last people on the 2004 trip was not taken in the water: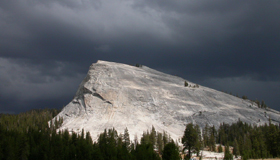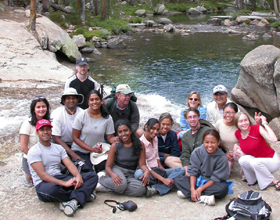 Thunderstorm and lightning safety has the answer to the question: Why can't you swim during a lightning storm? A strike on a lake doesn't kill all the fish in the lake.
August 2006: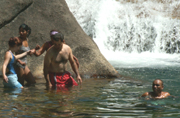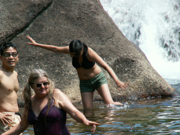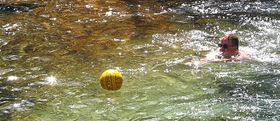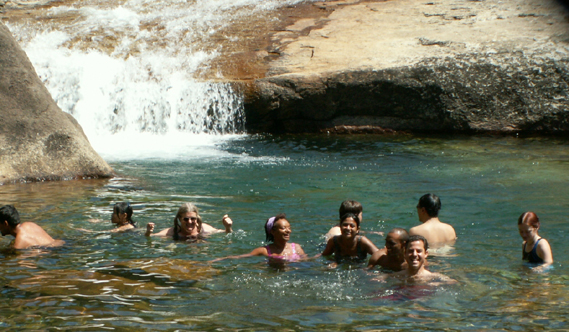 more pictures of swimmers are at:
De Anza College Outdoor Club Tuolumne trip August 2006
A deer on the trail to the swimming hole: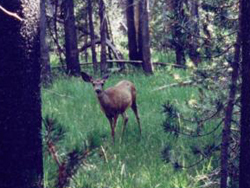 Where were they when they got that great picture in Yosemite?

Where can I take a photo that looks like the one on a Yosemite postcard I just bought?
Places to take photos of
Half Dome
,
Bridalveil Fall
,
El Capitan
,
Yosemite Falls
and
Staircase Falls
.
__________________________________________________
At bears you will find:
links to general info about bears,
then practicalities of camping and backpacking around bears, (Food Storage , what to do if you see a bear, how bears get into cars, info for backpackers) and lots of stories about bears getting into cars, tents, camps, etc., mostly geared towards De Anza College Outdoor Club trips around bears in California (especially Yosemite National Park) and Grand Teton National Park.
And the answer to the question:
Why don't the rangers just move the problem bears?
and the question:
How can I keep a bear out of my campsite? (You can't, but you can almost always keep it out of your food.)

__________________________________________________
______________________________________________

The Yosemite National Park rangers would like you to call them
if you see a bear in Yosemite,
no matter where it is or what it is doing.
Since 2003 there has been a note in the Yosemite Guide: "REPORT ALL BEAR SIGHTINGS! To report bear sightings, improper food storage, trash problems, and other bear-related problems, leave a message for the Bear Management team at: 1 (209) 372-0322. Your call can be made anonymously."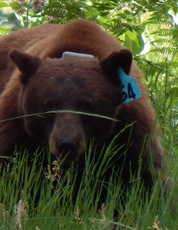 If you can, in all the excitement, try to notice if the bear has a tag (usually on the ear), the color of the tag and if possible, the number on it (the tag is large enough that with a telephoto lens you should be able to read the number).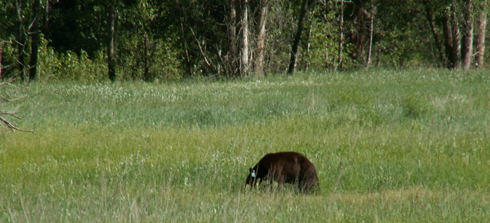 From the Yosemite Daily Report newspaper:
"It is extremely important to remember to yell at bears that are in and around development, even if they are foraging on natural food. Though it is very tempting to get close for a picture, or just to watch these incredible animals, it is important not to give into this urge. Yelling at them if they are in residential areas or near people is critical to keep bears natural fear of humans. Giving bears plenty of space. When bears become too comfortable around people, they will often start causing damage to structures and vehicles, or will even become too bold around people, creating safety concerns."
And the Yosemite Daily Report also said:
"Scare bears when you see them. . . in developed areas- Yell like you mean it!
Make as much noise as possible, try waving your arms, stomping your feet
or anything to make you look intimidating and to get the bear to run away.
We know it's fun to see bears and it can feel mean to scare them,
but this is a simple way to truly help save a bear's life."



______________________________________________