There are many locations to view and take pictures of Half Dome in Yosemite National Park that you can
drive to,
take the free Yosemite Valley shuttle bus to,
take a tour bus to
or take a short walk
or, for a few locations, a long hike to.
At some locations you see the "classic" (front, western) face of Half Dome, at others (many with easy accessibility), you can see the north or south side.
15 locations to photograph Half Dome are described at this webpage, but you will discover there are many more.
A National Park Service road side display at a small parking lot has a map of seven locations: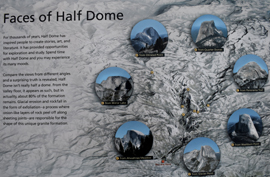 Here is the map on the display in a larger size: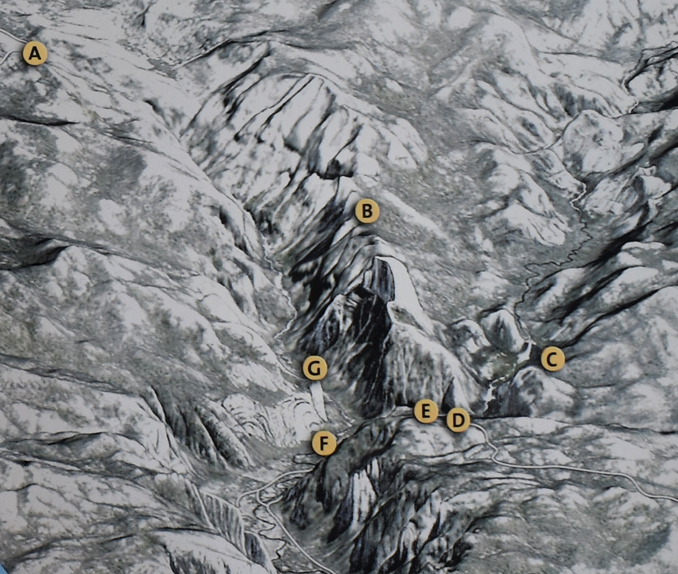 The map has locations listed by letters. Details about each are below.
A) is from Olmstead Point on the Tioga Road, (closed in winter and sometimes well into the spring in years with lots of snowfall).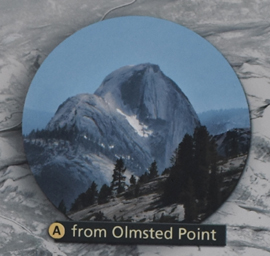 Once you are near Tuolumne Meadows, even if you think you are running late, watch the map and the roadside markers for road marker T24 for Olmstead Point on the right. (Find Olmstead Point on this official park map.)
Pull into the big parking lot for at least a short stop to look around.
Stop and get out of the car for a look at a different angle at Half Dome than you may have seen, the wide expanse of Clouds Rest and down to Tenaya Lake in the other direction. With a telephoto (photo below) spotter scope or binoculars you can see people (the line of tiny dots in the center of the photo) going up the Half Dome cables.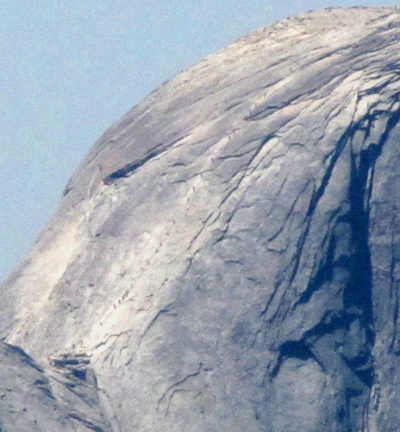 Google maps 360 degree street view of the Half Dome cables from the subdome.
Google maps 360 degree street view from the top of Half Dome.
Below: photos of Tenaya Lake from Olmstead Point
and the view from Olmstead Point with Cloud's Rest (left) and Half Dome (right)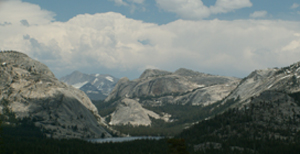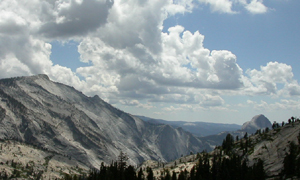 Much the same view of Clouds Rest and Half Dome can also be seen from the trail from May Lake to Mount Hoffman (with binoculars or a good telephoto you can see the hikers on the Half Dome cables),

B) is from Quarter Domes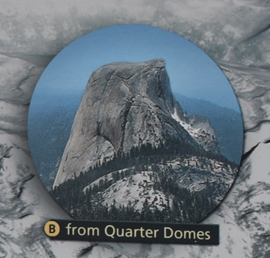 See Quarter Domes in relation to Half Dome here: https://www.nps.gov/yose/learn/photosmultimedia/upload/sentineldome-key.jpg
C) is from the Panorama Trail above Yosemite valley.
D) is from Washburn Point on the Glacier Point Road.
Washburn Point is before Glacier Point on the the Glacier Point road on this official park map.
and in this close up map of that part of the Glacier Point road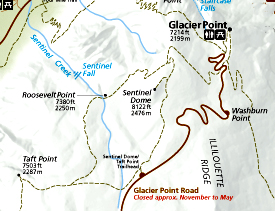 E) is from Glacier Point at the end of the Glacier point road or the end of the Four Mile Trail. See Glacier Point and the the Glacier Point road on this official park map.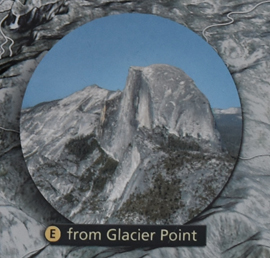 At Glacier Point, with a telephoto, you can see hikers on top of Half Dome: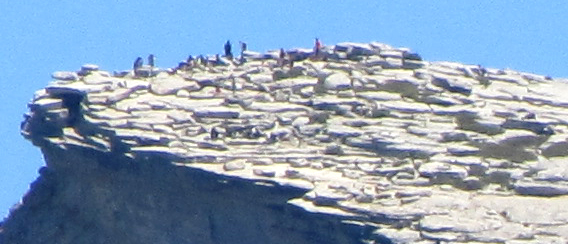 Nevada and Vernal Falls and the mist trail as well:
Half Dome and Nevada Falls from Glacier Point, courtesy of the National Park Service: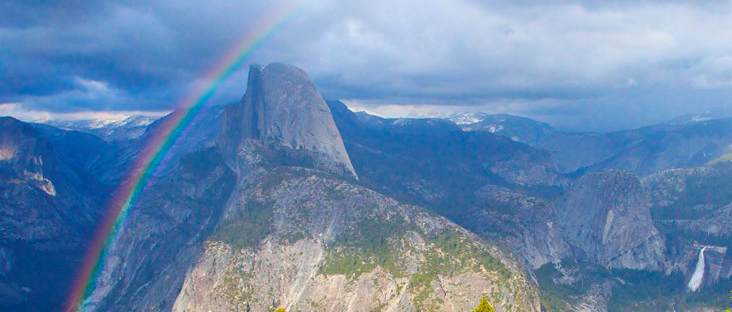 A Google street 360 degree view from Glacier Point down to Vernal and Nevada falls, and across to Half Dome.
F) is the "classic" view of Half Dome from the Ahwahnee Meadow , a short walk from the Ahwahnee (briefly named the Majestic Yosemite Hotel) Hotel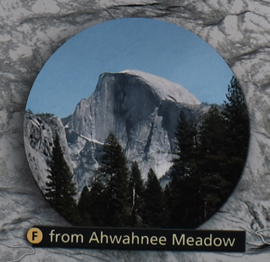 G) is from Mirror Lake .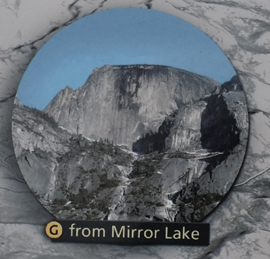 Other places, not shown on the map at the start of this webpage, include:
NPS photo of Tunnel View (the massive rock form on the left is El Capitan, in the background in the center is Half Dome, the waterfall on the right is Bridalveil Fall: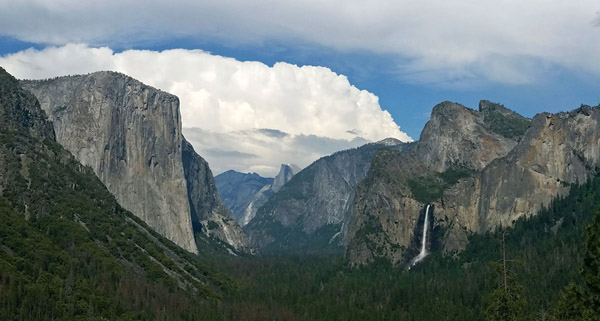 Coming into Yosemite valley on Highway 41, just before the valley, about 7 miles after Wawona, you go through a long tunnel just above the valley floor. Or you can get to Tunnel View from Yosemite Valley by driving on Northside drive until the Pohono Bridge, then making a left over the river and continuing until a right hand turn ( almost U-turn) then up the Wawona Road towards Wawona and Glacier Point road, as in the map below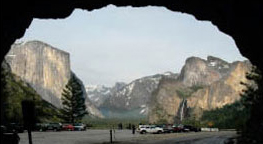 Coming from highway 41, after going through the tunnel, slow down and put on your right blinker at the end of the tunnel and pull carefully into the small parking lot. Walk across the road (watch out for drivers watching the scenery and not seeing you) to the main viewpoint. Coming from Yosemite Valley, watch for the parking lot on the right before the tunnel.
This view is worth stopping for even if you are running late and even if there is rain or snow falling. The Yosemite Fund (now called the Yosemite Conservancy) and the National Park Service funded a remodel in 2008 with educational exhibits, expanded handicap accessible viewing area and improved traffic flow. Thousands of people stop each day in the summer.
Google maps 360 degree street view at Tunnel View.
Webcam near Tunnel View located on a dome near the Wawona Tunnel:
https://www.nps.gov/customcf/webcam/dsp_webcam_image.cfm?id=81B464D8-1DD8-B71B-0B27F29DCD4CE913
More photos of the view from the parking lot at tunnel view:
photos below by Quang-Tuan Luong/terragalleria.com, all rights reserved.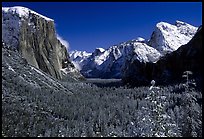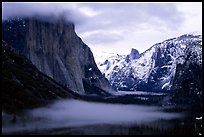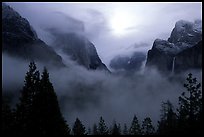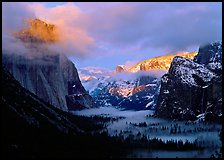 From Sentinel Dome , (a 2.4 mile round trip hike from the Glacier Point road), you can see Half Dome, Mount Watkins, Tressider Peak, Clouds Rest, Kuna Crest, Fletcher Peak, Vogelsang Peak, Mount Watkins, Cathedral peak, Ahwiyah Point, Quarter Domes, Little Yosemite Valley and Tenaya Canyon. Each of these is identified at:
https://www.nps.gov/yose/learn/photosmultimedia/upload/sentineldome-key.jpg
– – – – – – – – – – – – – – – – – – – – – – – – – – – – – – – – – – –
Coming down to Yosemite Valley from Crane Flat on new Big Oak Flat road (the extension of Highway 120) on the right hand side, after the road to Foresta, but before the tunnels, there is a small parking lot with a view of El Capitan and Half Dome seemingly right next to each other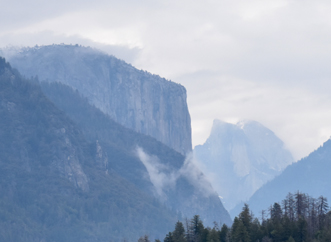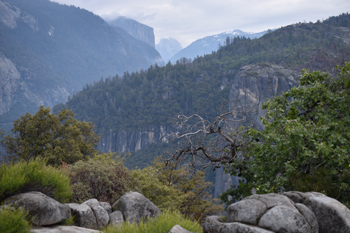 It is where you can find the park service display with locations of photo taking opportunities: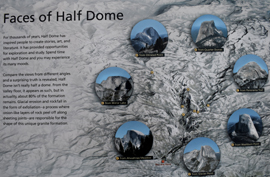 Google maps 365 degree street view of this parking lot and the view.
– – – You can also get just about the same photo as at the Ahwahnee from Cook's Meadow,
– – – And at Camp Four , from the parking lot, this shot after a winter storm: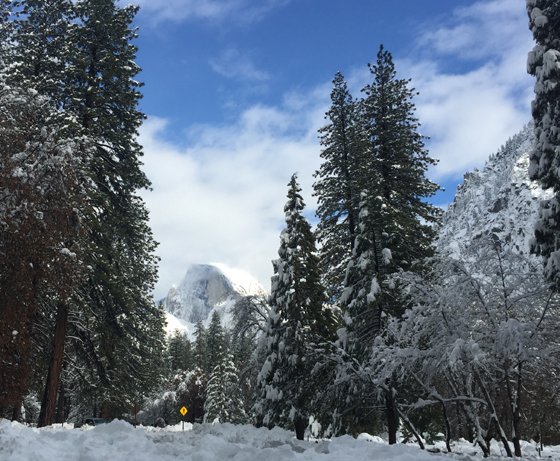 – – – At shuttle bus stop #11 you may see people on Sentinel Bridge near sunset,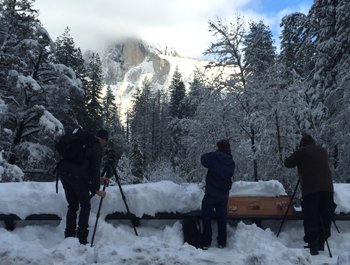 hoping to get a photo of Half Dome with pink or gold color, and if the water is flat enough, the reflection in the Merced River, as in the NPS photo below: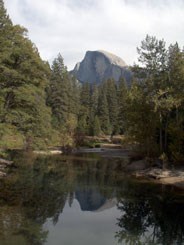 – – – From the trail to upper Yosemite Fall you can see the fall and Half Dome:

– – – From the river, while rafting you will see Half Dome at various places: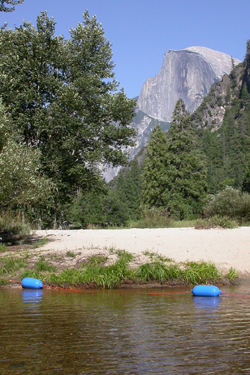 At the main Yosemite Valley visitor center at free shuttle bus stops 5 and 9,
you can see this display, showing Half Dome from above and the trail to Vernal and Nevada Falls (and on towards the top of Half Dome), on the right: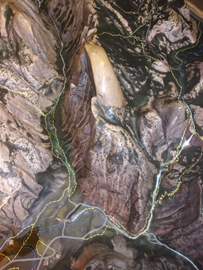 and see places to take photos of Yosemite Falls in Yosemite National Park (with maps)
Selfies can be great, OR dangerous. They were just taking a selfie.
Using a drone for your photography is illegal in Yosemite Nation park. See an index of rules and regulations webpages.
Yosemite trail conditions info is at: http://www.nps.gov/yose/planyourvisit/wildcond.htm

The most current route map for the free Yosemite Valley shuttle bus is in the Yosemite Guide newspaper https://www.nps.gov/yose/planyourvisit/guide.htm , which you will be offered a copy of as you enter the park, or can print in advance.
It looks something like this when there is no road construction, rock slides, excess snow affecting the times/routes:
(Map below courtesy of NPS)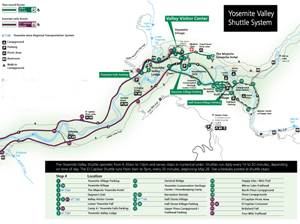 Hiking Advice has HIKING SECRETS and etiquette including hiking in the heat, preventing and/or dealing with blisters, logistics of hiking, a day hike gear list, Half Dome hiking advice, winter hiking and the answer to the question: When is the best time of day to cross a mountain stream?
Backpacking advice includes details about getting a permit to hike and climb up the Half Dome cables.
Videos about Yosemite: https://www.nps.gov/yose/learn/photosmultimedia/index.htm
Yosemite webcams: https://www.nps.gov/yose/learn/photosmultimedia/webcams.htm

To hike to Glacier Point via the Four Mile trail
(4.8 miles one way, 3,200 foot elevation gain, not open all the way in winter) There is very little parking at the trailhead, but you can use the Yosemite Falls day use parking lot at shuttle stop #7 and take a short walk across the river at Swinging Bridge and slightly south/west on the main road to the trailhead. (This would be faster than using the summer only El Capitan shuttle.)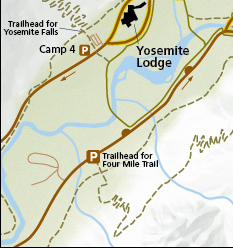 A Google street 360 degree view from Glacier Point down to Vernal and Nevada falls, and across to Half Dome.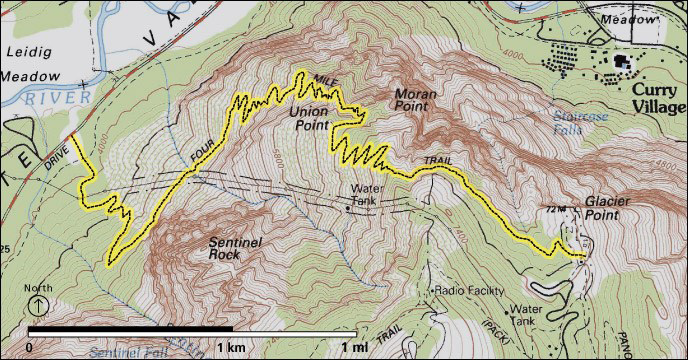 Read more at the park service page: https://www.nps.gov/yose/planyourvisit/fourmiletrail.htm
People who want to get a bus ride from Yosemite Valley to Glacier Point and back to Yosemite Valley
OR a bus ride up to Glacier Point and hike back down the Four Mile trail or the trail past Illilouette, Nevada and Vernal Falls,
can do so in months when the Glacier Point road is open. The road has opened anywhere from April 14 to July 1, depending on snow pack. Book a ride on the Glacier Point tour, most years leaving 8:30 a.m. from the Lobby entrance to Yosemite Lodge, free shuttle bus stop 8 http://www.travelyosemite.com/things-to-do/guided-bus-tours/
__________________________________________
The Yosemite rangers would like you to call them if you see a bear in Yosemite, no matter where it is or what it is doing, at (209) 372-0322.)

__________________________________________
Parking and traffic jams in Yosemite valley tips and tricks
See also an index to over a dozen park webpages with park laws, rules, regulations and policies.