Staircase Fall, (one of the first Yosemite waterfalls to dry up after spring flow) comes down from between Glacier Point and Moran Point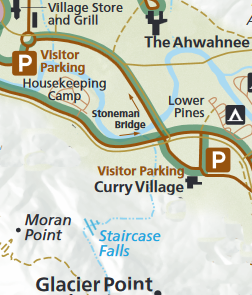 to Curry Village, free shuttle bus stop # 13 (13b), behind the cabins with bath, and can also be seen at the Curry Village parking, stop 14 & 20, or a better view walking from those bus stops out to the boardwalk across Stoneman meadow, and can be seen from the back lawn of the Ahwahnee and some of the Ahwahnee hotel rooms, stop #3.
This page has some of the best locations to photograph Staircase Fall.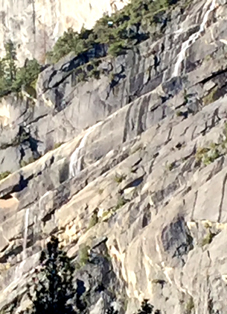 A boardwalk leads across Stoneman Meadow across the road from the Curry Village day use parking lot (lower right corner of this photo) to Lower Pines Campground: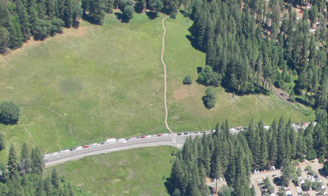 Along this boardwalk is one of the best views of Staircase Falls, here in full flow in May: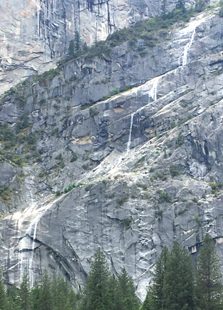 A Google maps 360 degree view shows upper Yosemite Fall, the top of Royal Arch Cascade, the Royal Arches, North Dome, (if you tip the photo up a little) Glacier Point, and Staircase Falls as seen from along the boardwalk.

This photo is from the Merced River Plan (look for page H-21), which has a description of the view the park seeks to improve by removing 94 Ponderosa and 66 Cedar trees that have grown along the edge of Stoneman Meadow. "the Stoneman Meadow boardwalk is located at the intersection of Happy Isles Loop Road and Curry Village Road. The boardwalk gives visitors a panoramic view of the meadow and many other significant Yosemite landmarks such as Glacier Point, North Dome, Royal Arches, and Washington's Column. Half Dome can be seen in the distance to the east and Yosemite Falls can be seen in the distance to the west. The primary vista to manage at this site is the view to North Dome, Royal Arches and Washington's Column where conifers have encroached onto the edge of the meadow."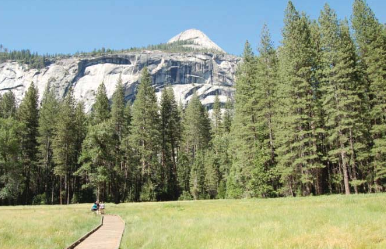 Here is a map of shuttle bus stops at Curry Village: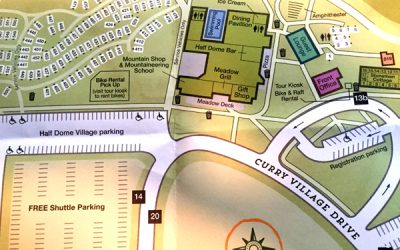 and see:
Locations to take pictures of Bridalveil Fall in Yosemite National Park (with maps)
places to take photos of Half Dome in Yosemite National Park (with maps)
places to take photos of Yosemite Falls in Yosemite National Park (with maps)
Places to take photos of El Capitan in Yosemite National Park, (with maps)

Selfies can be great, OR dangerous. They were just taking a selfie.
Using a drone is illegal in Yosemite National park, including for photography. See an index of rules and regulations webpages.
How much water will there be in the Yosemite waterfalls?
Videos about Yosemite: https://www.nps.gov/yose/learn/photosmultimedia/index.htm
Yosemite webcams: https://www.nps.gov/yose/learn/photosmultimedia/webcams.htm
– – – – – – – – – – – – – – – – – – – – – – – – – – – – – – – – – – –
Drivers should note that there are sections of road in Yosemite Valley with two lanes (usually) in the same direction, with the right lane ONLY for the free shuttle buses, ambulances, ski bus, commercial vehicles with ten or more passengers. The NPS says: "The bus lane ensures emergency vehicles can respond to incidents when traffic is backed up and provides preference for mass transit."
Parking and traffic jams
in Yosemite valley
tips and tricks
has the above advice, with maps of each of the three major day-use parking lots, with advice to help you NOT get a Yosemite National Park traffic or parking ticket, and not contribute to preventable traffic backups. And some details of
where you can't park in Yosemite, or can't park without a permit.

– – – – – – – – – – – – – – – – – – – – – – – – – – – – – – – – – – –
Hotel, cabin and tent cabin choices in Yosemite valley are at: Yosemite Valley accommodations

Restaurants, cafeterias, coffee bars, pizza, grocery stores are at: Yosemite valley restaurants

______________________________________________

The Yosemite National Park rangers would like you to call them
if you see a bear in Yosemite,
no matter where it is or what it is doing.
Since 2003 there has been a note in the Yosemite Guide: "REPORT ALL BEAR SIGHTINGS! To report bear sightings, improper food storage, trash problems, and other bear-related problems, leave a message for the Bear Management team at: 1 (209) 372-0322. Your call can be made anonymously."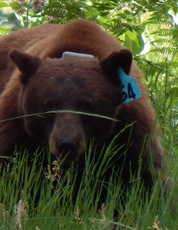 If you can, in all the excitement, try to notice if the bear has a tag (usually on the ear), the color of the tag and if possible, the number on it (the tag is large enough that with a telephoto lens you should be able to read the number).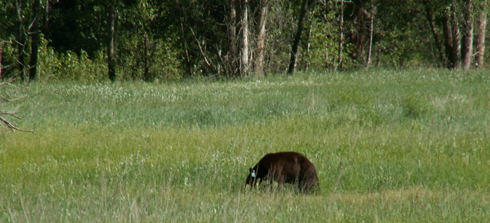 From the Yosemite Daily Report newspaper:
"It is extremely important to remember to yell at bears that are in and around development, even if they are foraging on natural food. Though it is very tempting to get close for a picture, or just to watch these incredible animals, it is important not to give into this urge. Yelling at them if they are in residential areas or near people is critical to keep bears natural fear of humans. Giving bears plenty of space. When bears become too comfortable around people, they will often start causing damage to structures and vehicles, or will even become too bold around people, creating safety concerns."
And the Yosemite Daily Report also said:
"Scare bears when you see them. . . in developed areas- Yell like you mean it!
Make as much noise as possible, try waving your arms, stomping your feet
or anything to make you look intimidating and to get the bear to run away.
We know it's fun to see bears and it can feel mean to scare them,
but this is a simple way to truly help save a bear's life."



______________________________________________