In order as you scroll down, the answers to where are there places to eat, (restaurants, cafes, fine dining, take-out food, pizza, brunch) in or near to Grand Teton National Park:
Jackson Lake Lodge Mural Room, Jackson Lake Lodge Pioneer Grill, Jenny Lake Lodge, Colter Bay Ranch House, Colter Bay Cafe Court, Leek's Pizza, Dornan's Pizza and Pasta, Signal Mountain Peaks Restaurant (with links to most menus included, or when they move, as I find them) and a few notes about restaurants in the town of Jackson.
Restaurants in Grand Teton National Park are non-smoking, most others in Wyoming and Montana allow smoking. Last we heard, the city of Jackson, Wyoming still did not have a complete non-smoking policy, but most restaurants have voluntarily gone non-smoking.
We often get takeout or pre-made food at the Jackson Whole Grocer in town. Go to http://jacksonwholegrocer.com/departments/kitchen/ and click on see menu(s).
GTLC (Jackson Lake Lodge, Jenny Lake Lodge, Colter Bay), see descriptions below, menus online: http://www.gtlc.com/dining/index.aspx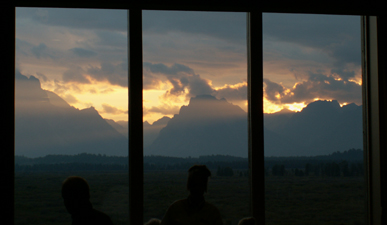 The Jackson Lake Lodge (5.9 miles from Colter Bay) Mural Room has high floor to ceiling windows with an unobstructed view out over Jackson Lake. Sunsets are great, as are lightning storms. (2019, much the same menu as 2009 to 2018) Dinner: entrees $22 – $46, pasts, beef tenderloin, salmon, elk, trout and more. Appetizers ($14 -16), Soups ($12 and 9.50), Salads ($11 – $16).
In fall, because it's the end of the season, some years they run out of the butter portions shaped like a moose. (But in the fall there are fewer crowds and lots more parking.) Even in the off-season, reservations are advised for restaurants that accept them.
Mural Room breakfast buffet 2019, $20, with the moose-shape-imprinted waffles. It's not at all as extravagant as the one at the Ahwahnee (Majestic) in Yosemite, but it's also not $50+.
2019: Mural Room breakfast 7 – 9:30, lunch 11:30 – 1:30 Dinner 5:30 – 9
Next door to the Mural Room, the Pioneer Grill has counter service and takeout from (2019) 6 a.m. to 10 p.m. Fountain ice cream specials. Dinner/lunch can include sandwiches, burgers, wraps, steak, chicken, trout. (2019?, the wrong menu was up for 2019 in June.) Salads including a taco salad, chef salad and classic Caesar.
To find locations of these, look for the black and white aerial photo at: Jackson Lake Lodge vicinity.
These tours of restaurants can take awhile to load:
tour of the Mural Room, Pioneer Grill, Blue Heron Lounge (scroll down to find everything) https://tourmake.it/en/tour/17038dc367d90af1ac2c16267305f0bf?heading=235.52&pitch=-0.59&zoom=0.17
Jackson Lake Lodge also offers, in season, Jackson Lake Cruises on the lake with meals.
Jenny Lake Lodge: fine dining
18 miles from Colter bay
2019 Breakfast: 7:30am – 10:00am, as of June 2019 there are even fewer hours for people who are not overnight guests at the lodge to make breakfast reservations, and some of our favorite dishes (trout filet, crab cake eggs Benedict, Monte Cristo) are missing from the breakfast menu. Instead of choose any and all from a selection of omelet ingredients as it had been in the past, the online menu (again, as of June 2019) says "Omelette (choose one of each)" of a protein, cheese and vegetable.
(Prix Fixe $30 in 2017, $33.92 with tax 2018, $34 plus tax in 2019.)
2019 Lunch: 11:30 am to 1:30 pm
2019 Dinner: five course dinner with nightly rotating menus included in the stay for overnight guests. Reservations are required and are available "6:00 – 7:00 pm and 8:00 – 9:00 pm every quarter hour". $98 adult or child, even if your child only wants a small portion of the dinner.
http://www.gtlc.com/dining/the-dining-room-at-jenny-lake-lodge Reservations: 307-543-3100
Tour the lodge main building, dining rooms and more (can be slow to load)
https://tourmake.it/en/tour/1e807855a0d466cc14b9af6e8a8ac9a2?heading=46.37&pitch=-5.1&zoom=0.69
A short walk from the cabins and campground where we usually stay, (1/3 mile or less) Colter Bay Ranch House (May 23 – September 29, 2019), breakfast 6:30-10:30, lunch 11:30-1:30 dinner 5:30-9p.m. (much the same menu from 2009 to 2019) dinner entrees include steak, trout, ribs, chicken, pastas. $19 to $25. Buffet breakfast (2019) $18 and a la carte. Typical lunch and salad bar/desserts. Large parties of 8 or more (like ours) are charged a 20% gratuity.
Next door, Colter Bay Cafe Court, late May through Labor Day (2019) 11 a.m. to 10 p.m.) with 18 inch pizza, subs, salads.
Colter Bay grocery with grab and go meals, salads, sandwiches (7:00am – 9:30pm. Hours are shorter May-early June and after Labor Day.) Starbucks Coffee bar (latte, cappuccino and a few pastries) in the grocery 7:30am – 3:00pm ("Hours may vary").
To find the Colter Bay restaurants and picnic area, look for the black and white aerial photo at: Colter Bay, Grand Teton National Park
Tour the Colter Bay Ranch House and Cafe Court (scroll down to find everything, can be slow to load)
https://tourmake.it/en/tour/23c1c2471f117ca91163193ffa1d8e35?heading=252.03&pitch=3.72&zoom=0.69
(At Colter Bay there is a picnic area with tables, firepits and restrooms at lakeside just down the road from the Colter Bay cabins and campground where the Outdoor Club usually stays, hang a right at the Visitor Center parking lot and go to the end of the road.)
2.4 miles north of Colter Bay, (take a left down a side road off the highway to the marina at the lake), is Leek's pizza/calzones (you can choose any & all of the 25 + toppings or get a specialty pizza/calzone), sandwiches, salads and spaghetti, all fresh, all of which our club trip members have liked (11 a.m. -10 p.m., May 25th – September 9th, 2018). Menu not updated to 2019 as of June 2019.
Menu https://www.signalmountainlodge.com/dining-2
and click on Leek's Pizzeria menu
Down a side road near the Moose visitor center, 28.4 miles from Colter bay, is Dornan's Pizza & Pasta, (open year-round, 2019 summer hours 11:30 a.m. to 9:00 p.m.) Menus are at: http://dornans.com/BIM/BIM.php?p=dining_pizzapasta_menu Club favorites have included various 12 inch or 7 inch pizzas, the chicken gorgonzola entree, and chicken caesar salad. We can't all sit as a group on the rooftop with the fabulous view because of the over 21 years old only rule.
See the black and white aerial photo at: Moose, Wyoming
At Signal Mountain, 9.4 miles from Colter Bay, Peaks restaurant incorporates natural and organic foods into their menu. (2018) Dinner entrees include whitebass, trout, sirloin, ribeye, fried chicken from $20 to $41.
Menu not updated to 2019 as of June 2019.
Menu: https://www.signalmountainlodge.com/dining-2 and click on Peaks restaurant
There are dozens of restaurants in the town of Jackson. They vary from burgers, Chinese, Mexican, sushi, pasta, Italian, steakhouse, fusion, tapas to four-stars with "an award-winning wine list". Most lean towards family or casual atmosphere.
restaurant guide with menus and you can usually search by cuisine, including Vegetarian / Vegan
http://www.focusproductions.com/HTML/diningguide.htm
Jackson Hole Grocer, 43 miles from Colter Bay,http://www.jacksonwholegrocer.com webpage has links to special orders for desserts, catering, etc.- 1155 south Hwy 89, south of Stelleria and north of flat creek, (the creek, not the road) – 7 a.m. to 10 p.m, 307-733-0450 has a large selection of organic and conventional groceries, deli, vegan, gluten-free, dairy-free, fair trade coffees, homopathics, herbs, vitamins. Some food from local growers, dairies, bakeries. Juice, smoothie and expresso bar, over a dozen custom sandwiches/boxed lunches, tacos/burritos/pizza, juice/coffee bar, bakery, salad bar, some take home meals, including organic rotisserie chicken, daily soups.
Tesla Supercharger stations.
____________________________________________________________
See also Grand Tetons hotels, cabins, lodging
For details about our next club trip to Grand Teton National Park, go to: Grand Tetons.
Grand Tetons trip pages index has brief descriptions of most of the pages about this trip.
During our fall trips we often attend parts of the Jackson Hole Fall Arts Festival, including the Taste of the Tetons sampling from valley chefs, restaurants and caterers, (and a juried art fair as well), in the town square. http://www.jacksonholechamber.com/fall_arts_festival/
Jackson Hole, Wyoming has a description of the main streets, how to find the town square, grocers, hardware, library, main visitor center, St John's Medical Center / hospital and more.