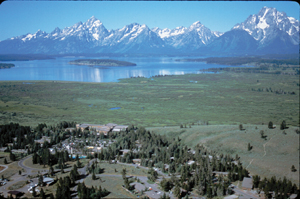 The main Jackson Lake Lodge building is the tan rectangle at the top of the section of forest at the bottom of the picture, with the hotel cottages, parking lots and swimming pool below it. Lunch Tree Hill rises to the right just above the forested area.
Pilgrim Creek, Third Creek and Second Creek flow through the broad expanse of Willow Flats (the center third of the photo). Mount Moran (12,594′) is the peak to the right. It's not the highest peak, it just looks like it in this picture. Colter Bay is just out of the photo to the right. For an aerial of Colter Bay go to: Colter Bay, Grand Teton National Park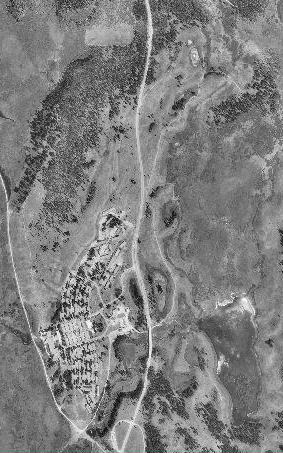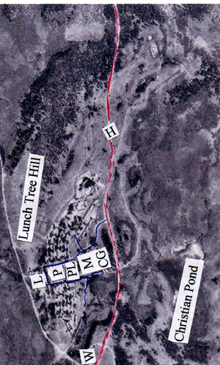 C = corral
G = gas station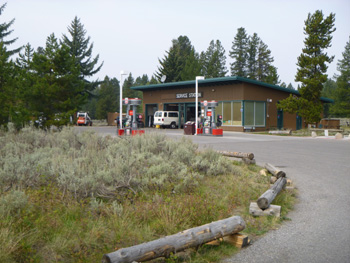 H = highways 191/89, Jackson 35 miles, Yellowstone 19 miles, Colter Bay 6 miles
L = Jackson Lake Lodge main building (Pioneer Grill, Mural Room restaurants, shops, see description below)
M = Medical Clinic near the gas station, open 7 days a week in the summer, usually 9 a.m. to 5 p.m. (307-543-2514, 307-733-8002 after hours). No appointment needed.

(St John's Health medical center, hospital in Jackson (24 hour emergency room) is at 625 E. Broadway at Redmond.)
PL = outdoor swimming pools, weather permitting. They have sometimes been closed during our late fall trips. (Colter Bay cabins guests can use these for free.)
Scroll around at this Google map 360 degree photo to see both pools.
P = Lodge parking
W = Willow Flats overlook parking lot
that sometimes has signs warning people to NOT use the trails out to the view.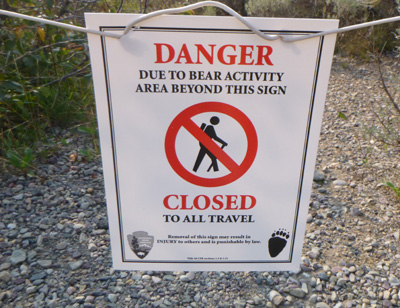 Willow Flats overlook parking lot (360 degree view)
(360 degree tour)
Watch photographer Tom Mangelsen photographing a moose: https://www.youtube.com/watch?v=Duqd8dfrA44

When you enter the Jackson Lake Lodge main building from the main parking lot, you reach the lower lobby. 360 degree tour here

In front of you is the staircase to the upper lobby. There is a small gift shop/newsstand to the left of the staircase. The registration desk will be to your right before the stairs. Public restrooms are down a hall on the right of the staircase beyond the registration desk and elevator.
Down the hall to the right, at the back of this floor of the building, are meeting rooms Antelope (38′ x 19′ + 41′ x 21′), Wapiti (41′ x 20′ + 41′ x 18′), Trumpeter (20′ x 20′), Moose (29′ x 22′ and 29′ x 19′, Osprey (36′ x 32′), Buffalo (26′ x 21′ and 29′ x 19′) and Grizzly (36′ x 41′). (see a map of meeting rooms here.)

At the top of the stairs is a huge seating area (parlor)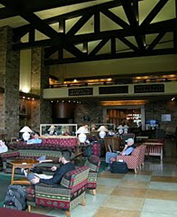 with floor to ceiling windows (two story) with Teton range views (main peak in this view is Mount Moran.)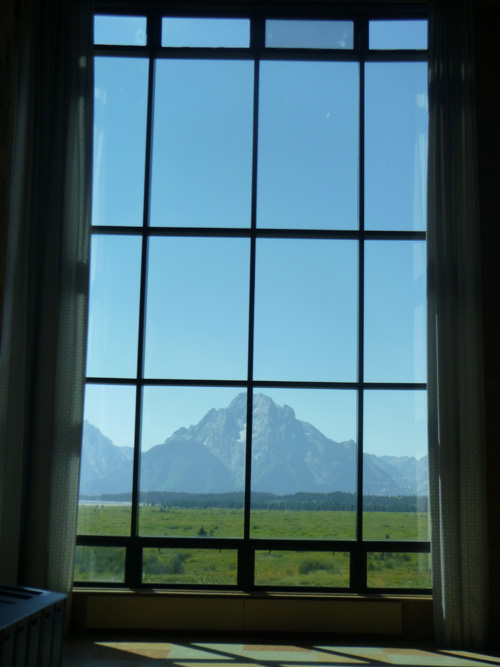 The Pioneer Grill counter and takeout are on the left. The takeout window is in this view of the interior of the and you can scroll around to see more: (360 degree tour)
followed on the left by the Mural Room (360 degree tour) with its tall windows and views.
Banquet Hall at the back of the Mural Room 360 degree view here
On the right at the end is the Blue Heron Lounge/bar with a small menu. Scroll around at this Google map 360 degree photo to see the Blue Heron Lounge and part of the deck seating outside
Grand Tetons restaurants has links to menus.
At the top of the stairs, turn around and to the left and right of the staircase area are clothes/gift shops
(Scroll around at this Google map 360 degree photo to see the large third floor gift / snack shop)
and more restrooms and meeting rooms Homesteader (27′ x 20′), Prospector (27′ x 20′), Wrangler (27′ x 19′), Explorers (4,380 sq ft, 60′ x 73,' height 17'6″ view here) and Trappers (13′ x 13′, 13′ x 19′ and 13′ x 39′). (see a map of meeting rooms here.)
Access to WiFi in the parlor (upper lobby) is free to anyone without a secret code,
(note his administrative assistant standing by at the left).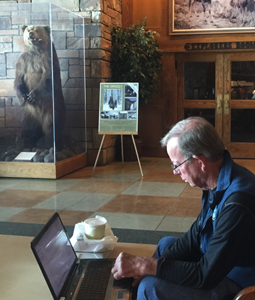 as is the WiFi at the main visitor center in Moose, Colter Bay laundromat, and the main Colter Bay restaurant.
At the far end of the upper lobby are doors ( 360 degree tour) to the large back deck looking out over Willow Flats. Some evenings a Ranger brings a spotter scope and answers questions. Bear right across the deck and you can climb up to Lunch Tree Hill for the same views and less evening crowds, but no seating. Can you spot the trail in the photo below?

Details about which Jackson Lake Lodge cottage or hotel room has the best views, might be quieter, etc. are at: Grand Tetons hotels, cabins, lodging
__________________________________________________________
You can download a Grand Teton National Park map at: http://www.nps.gov/grte/planyourvisit/maps.htm
The trail from Jackson Lake Lodge to Christian Pond, an easy, 3.3 mile / 5.3 kilometer loop trail, (dotted line on the map below) goes under the highway: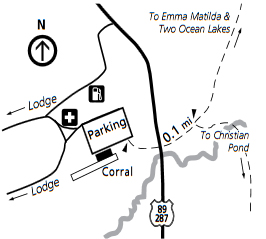 You can find a larger version of this NPS map of the trails from Jackson Lake Lodge to Emma Matilda Lake and Two Ocean Lake at:
https://www.nps.gov/grte/planyourvisit/loader.cfm?csModule=security/getfile&PageID=2326190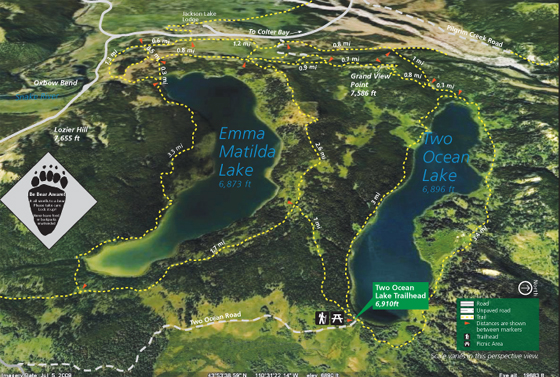 __________________________________________________________
To be able to answer the question: "what is the name of that Teton peak?"
print yourself a larger, more readable copy of these three profile drawings of the Teton Range with the names of peaks seen from these three views:
1) Highway 89, one mile south of Moose Junction
2) Teton Point turnout on Highway 89

3) from Jackson Lake Lodge

go to:
https://www.nps.gov/grte/learn/management/upload/profile.jpg
__________________________________________________________
Jackson Hole, Wyoming has a map and description of the main streets and how to find the largest groceries, Ace Hardware, Target, REI, UPS, Radio Shack, St John's Health Medical Center (hospital) (24 hour emergency room), city parks, electric vehicle charging stations and more.
see also Grand Tetons and Jackson Lake aerial photo
NASA aerial photo of Teton Range
We tell people on our college trips to Grand Teton National Park to fill their gas tank whenever they are in Jackson, Wyoming, as the lowest cost gas stations are in town and the prices almost always get higher the further you go into Grand Teton park. See a map of gas stations in Grand Teton National Park and gas costs at some of them over the years.

Was that a black bear or a grizzly, a coyote or a wolf or a fox we just saw?

Rocky Mountain mammal size comparisons has photos and comparisons of beavers, squirrels, pika, marmot, elk, moose, bison, fox, coyote, wolf, golden-mantled ground squirrel, chipmunk, Red Squirrel (also known as) Chickaree, Unita Ground squirrels, bobcat, lynx, mountain lion (cougar), pine marten, mountain goats, bighorn sheep, pronghorn, grizzly and black bears, tundra swan, trumpeter swan, adult and juvenile Bald Eagles.
___________________________________
Grand Teton National Park
birds
has photos and details about the most common ones we can hope to see
including Bald Eagle, Red-winged Blackbird, Canada Geese, Clark's Nutcracker, Golden Eagle, Great Blue Heron. Great Gray Owl, Harlequin duck, Loon, Magpie, Merganser, Northern Flicker (woodpecker), Osprey, Ouzel, Pelican, Peregrine Falcon, Ptarmigan, Raven, Sandhill Cranes, Steller's Jays, Trumpeter Swan , Western Meadowlark, and Western Tanager, with links to calls / songs from most of them to listen to.
and you can Download photos of over a hundred birds of Grand Teton National Park
https://www.audubon.org/climate/national-parks/grand-teton-national-park

___________________________________