We tell people on our college trips to Grand Teton National Park to fill their tank whenever they are in Jackson, Wyoming, as the lowest cost gas stations are in town
and the prices almost always get higher the further you go into Grand Teton park.
Gas stations in Grand Teton National park are almost all 24 hour pay at the pump,
but they can be inoperable at times when "open," for example when the fuel tanks are inspected a downtime of 2 or 3 hours can be expected and when fuel bank systems are being upgraded stations will not be open for business on the day of installation. When repairs are needed, downtime can be days "pending the arrival of replacement parts."
or they might be, for example, "currently out of 87 octane gasoline. 91 octane and diesel are both still available. We are expecting a delivery tomorrow and the gas pumps should resume normal operation."
Opening and closing dates for gas stations, as listed at the park webpages, vary.
They have been
open May 22, closed October 11 OR
open June 5, closed October 15 OR
could be open all year if the hotel complex is open all year.
Electric vehicle? In Jackson, Wyoming, there are charging stations at a few businesses, hotels and at the airport, only some of which have DC Fast Chargers, see the list of city of Jackson Wyoming Electric Vehicle Charging Stations
Below is a map of gas station locations in Grand Teton National Park (the red dots),
as well as campgrounds in the park for reference. The campgrounds are identified with white triangle on a black square,

next to the name of each campground.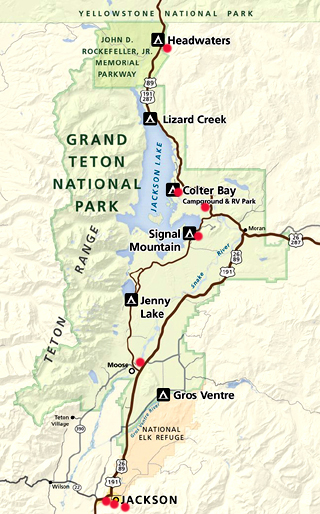 On the map, from south to north (bottom of the map to the top of the map) they are:
Many stations in the town of Jackson, Wyoming.
In Jackson, we most often fill up at the Maverik station, usually one of the lowest cost, the red dot on the map below: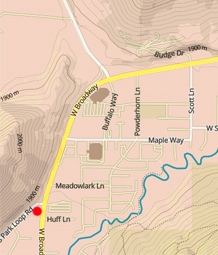 Google maps 360 degree view of the intersection of 191 / West Broadway coming from the north and South Park Loop road approaching the Maverik gas station.
– – – – – – – – – – – – – – – – – – – – – – – – – – – – – – – – – – –
A station in Moose, Wyoming. When you turn left off highway 89 / 191 at the park entrance at Moose, the first right, before you pay to enter the park, is Dornan's. The gas pumps are in the center of a wide road / parking lot past some stores on the left, across from more stores on the right. See map with the location of Dornan's at Moose, Wyoming.

and see the pumps in the middle of the roadway in this 360 degree view.
– – – – – – – – – – – – – – – – – – – – – – – – – – – – – – – – – – –
When you turn left at Signal Mountain Lodge from the inner park road, make the next right and you will see the station at that end of the lodge parking lot.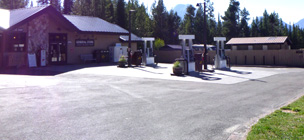 Google maps 360 degree view of Signal Mountain Lodge restaurant /gifts building, gas station, large parking lot. See more at Signal Mountain campground map.
– – – – – – – – – – – – – – – – – – – – – – – – – – – – – – – – – – –
Jackson Lake Lodge is further north, past the intersection of the inner park road and the road from the Moran entrance station. When you turn left into the complex you will pass (on the left) the back of the gas station, and Medical Clinic, then a road to the left for access to these.
and see maps at Jackson Lake Lodge vicinity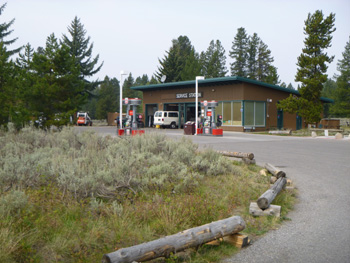 – – – – – – – – – – – – – – – – – – – – – – – – – – – – – – – – – – –
The gas station (with convenience store) at Colter Bay is on the left just before the left hand turn coming from the south onto the road to the campground, cabins, visitor center, the purple dot on the map below: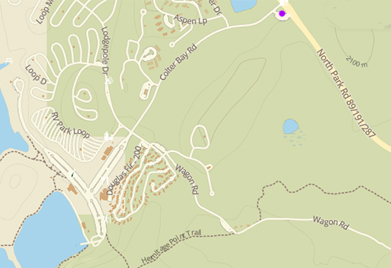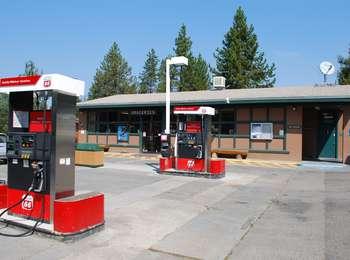 Google maps 360 degree view of the gas station and intersection.
and see another map at Colter Bay, Grand Teton National Park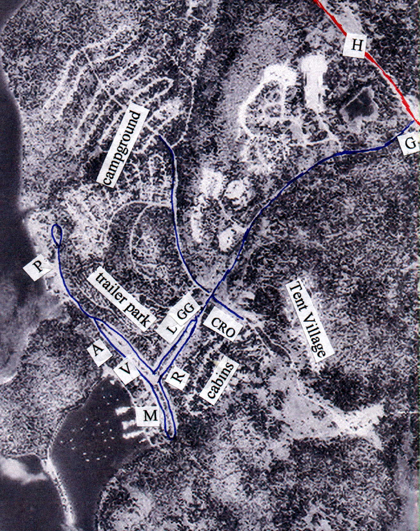 – – – – – – – – – – – – – – – – – – – – – – – – – – – – – – – – – – –
At the northernmost end of Grand Teton, in the John D Rockefeller Memorial parkway, on a road to the left, is Headwaters/ Flagg Ranch. The gas station will be a turn to the right next to the gift shop and restaurant. See map at Headwaters campground.
– – – – – – – – – – – – – – – – – – – – – – – – – – – – – – – – – – –
Groceries are also lower cost (and with a much more plentiful selection and often fresher produce) in Jackson, so most trip participants plan trips into town at least once a week.
These sites try to keep up on gas prices across the country:
Note that Jackson Wyoming is sometimes listed under Teton County.
It uses less gas to drive with the air conditioning on than to drive with windows open.
In parts of Idaho and Wyoming they sell 85 octane regular gas. You can get away with 85 octane at high altitude (6,000 plus, verify in your owners manual) because the thinner air is compressed less in the engine, but you would want 87 at lower altitudes. If you live at near sea level (the west coast of the U.S.) and are sure you will use up all the 85 octane before you leave for home, you will be okay, BUT if you don't, either your engine will start pinging or your engine's knock sensor will retard the ignition timing to compensate, which will result in lower engine power. (A few cars with turbos require Premium, 91 octane). Use what your owners manual says and no lower. Make your last fill up in Jackson 87 or 88 octane (mid-grade) unless you are certain you will use up all the 85 octane gas before you leave the Tetons (Jackson Wyoming elevation 6,000 feet, Grand Teton National Park flats elevation 6,800 feet, Silicon Valley California elevation 240 feet).

Gas prices in Grand Teton National Park in recent years:
All these are 87 octane:
August 2022: in Jackson, gas at the Maverik was lowest (once you swipe your M's card and lower the price two cents) $4.949.
At Colter Bay and Jackson Lake Lodge it was $5.019, Dornan's was $5.08, at Signal Mountain Lodge it was $5.36.
August 2019: in Jackson, gas at the Maverik was lowest (once you swipe your M's card and lower the price two cents) $2.87.
At Colter Bay and Jackson Lake Lodge it was $3.02.
August 2018: in Jackson, gas at the Maverik was lowest (once you swipe your M's card and lower the price two cents) $3.23.
At Dornan's at Moose (the park headquarters area) gas was $3.59,
at Colter Bay $3.80 and Jackson Lake Lodge it was $3.82,
Grant Village in Yellowstone $3.59.
August 2017: in Jackson, gas at the Maverik was lowest (once you swipe your M's card and lower the price two cents). $2.59.9.
At Dornan's at Moose (the park headquarters area) gas was $2.79.9,
at Colter Bay and Jackson Lake Lodge it was $2.80.9
Sept. 2016 found the Maverik at $2.39.9, minus 2 cents with your Maverik card.
At Colter Bay $2.48.9
and at Dornan's at Moose, $2.59.9.
July 2014 found the Maveriks with $3.75 for mid-grade 87 octane gas (2 cents cheaper with their free card)
and the stations near Colter Bay and at Jackson Lake Lodge at $4.30.
August 2012, unleaded gas was $3.58 at the Maverik in town (2 cents cheaper when you swipe their free card at the pump),
$3.84 at Dornan's,
$3.94 at Signal Mountain,
$4.03 at Jackson Lake Lodge and Colter Bay.
July 2010 in Jackson some as low as $2.82,
in Grand Teton Natioal Park at Dornan's in Moose $2.92,
at Colter Bay $3.
– – – – – – – – – – – – – – – – – – – – – – – – – – – – – – – – – – –

Just before you leave home, or along the way if you find online access, consult:
Jackson Hole weather
http://www.mountainweather.com/JACKSON.htm
Tetons area road conditions (Wyoming Department of Transportation)
http://www.wyoroad.info/pls/Browse/WRR.STATIC5?SelectedDistrict=3
Grand Teton Park road construction (possible delays) is at:
http://www.nps.gov/grte/planyourvisit/roads.htm
This advice is from Road trip vehicle prep and recommended service, which includes checklists of things to take a look at, or have a mechanic look at, before any long road trip:
You'll want to keep at least a half-full gas tank
in case you need to turn back completely and change your route,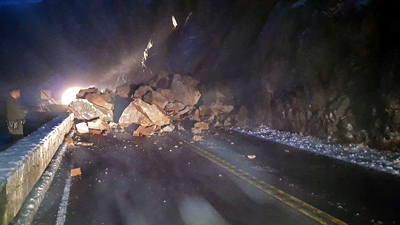 or just idle, drive slowly.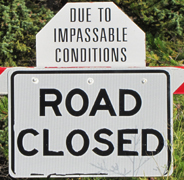 In the winter, to prevent gas line freezeup. Why? Any space above the gas in the tank has moist air in it. In the cold, especially overnight, the moist air can condense into water. The water will sink to the bottom of the tank and if enough builds up it can end up going to your fuel line and cause hard starting or even block the fuel line completely.
If any chance of snow, ALWAYS CARRY TIRE CHAINS OR CABLES! Make sure they are the proper size for your tires and are in working condition. This test is best done at home, on a dry day, in your driveway, before it snows.
Chains must be installed on the drive wheels.
Make sure you know if your vehicle is front or rear wheel drive.
If you don't know ask your mechanic or check your vehicle owner's manual.
Properly inflating your tires can give you up to 3% higher mileage / lower gas cost (and a safer ride).
Jackson Hole, Wyoming has a map and description of the main streets and how to find the largest grocery stores, hardware, Target, REI, UPS, Radio Shack, city parks, St John's Medical Center / hospital, electric vehicle charging stations and more. There are dozens of restaurants in Jackson. They vary from burgers, Chinese, Mexican, sushi, pasta, Italian, steakhouse to four-stars with an award-winning wine list. Most lean towards family or casual atmosphere.
Restaurants in Grand Teton National park are non-smoking, most others in Wyoming and Montana allow smoking. Restaurants in the park are described here.
– – – – – – – – – – – – – – – – – – – – – – – – – – – – – – – – – – –
Overnight accommodations in Grand Teton National Park include:
camp,
or even a hotel suite