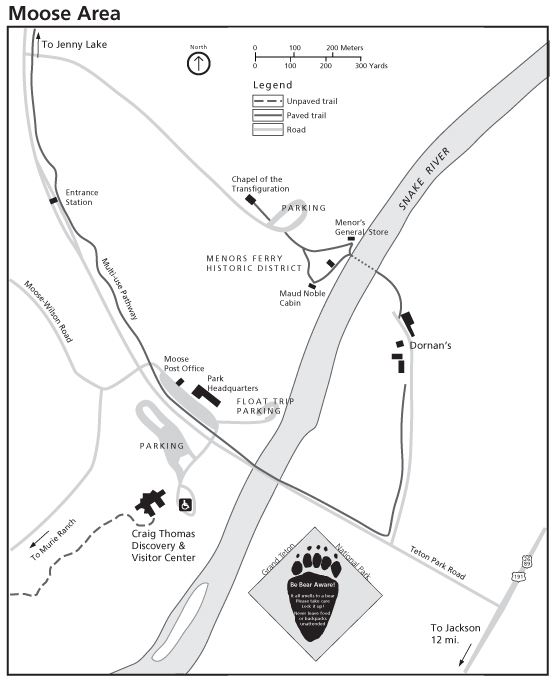 On the map above you can find
The Moose-Wilson road. Four miles south on the slow, winding Moose-Wilson road, is the Laurance S. Rockefeller Preserve. No trailers are allowed and the maximum vehicle length 23.3 feet. (For example, a Sequoia with a fairly long bike rack will fit, but measure your vehicle if you are not certain.) The road goes all the way to Jackson, Wyoming and vicinity.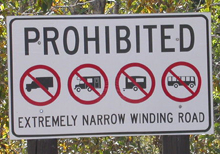 The Chapel of the Transfiguration You'll recognize the altar window view framing the tallest Teton peaks from postcards. The park services asks: "Please be respectful, the chapel is a house of worship."
photo below used with permission from Ron Niebrugge: http://www.wildnatureimages.com/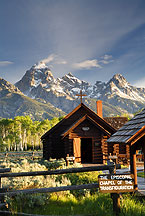 Dornan's has bike, canoe/kayak rentals, gift shop, Dornan's Pizza & Pasta, or the Chuckwagon.
Menus are at: http://www.dornans.com/dining/
and Spur Ranch Cabins, more info at Grand Tetons hotels, cabins, lodging
At the park entrance station (upper left of map above), please do come to a complete stop next to the window. Note that only one of the entrance stations might be open and there might or might not be cones marking a closed entrance.
If you already have the parks pass and photo ID of the person in your vehicle who owns the pass, out and ready to go, you will not hold up the rest of the vehicles in the line as much.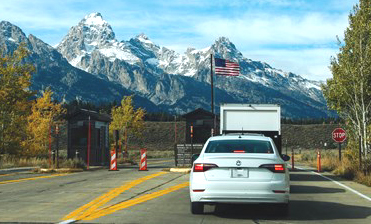 __________________________________
Menor's ferry (the dotted line across the Snake River) General store and cabin, Noble Cabin
__________________________________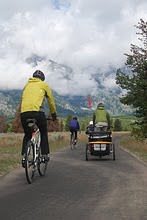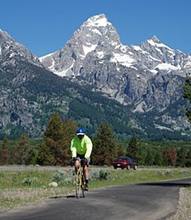 It is safer to enjoy a bike ride on a designated bike/roller blade/walk Multi-Use Pathway than on the road with drivers looking at scenery instead of you on your bike, and there is am 8 mile long pathway from the Moose Visitor Center (please walk your bike in the parking lot) to South Jenny Lake. Pets (except guide dogs) are prohibited and the pathway is closed from dusk to dawn for wildlife and public safety. Grand Tetons biking
__________________________________

The Park Headquarters, which some people will remember as the original park visitor center. That visitor center was closed August 10, 2007. It moved to a new Grand Teton (or Craig Thomas) Discovery and Visitor Center across the road. The visitor center is also known as the Moose Visitor Center.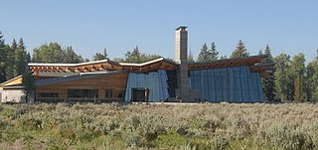 It has the biggest collection of books, postcards and posters for sale (they accept your Yosemite Conservancy membership card for a discount) and free wireless internet.


__________________________________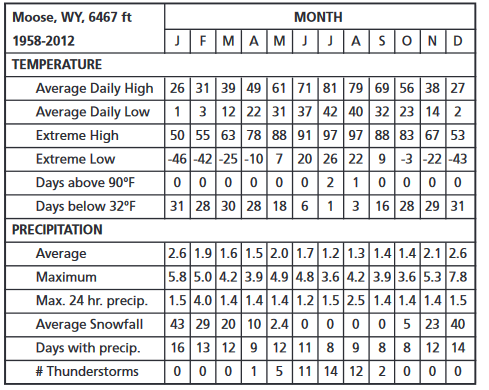 see also Grand Tetons weather.
__________________________________
Grand Tetons sightseeing has more info about the area attractions
Further north you can find the Jenny Lake campground and Jenny Lake Lodge Grand Tetons hotels, cabins, lodging
Grand Teton National Park gas stations.
Grand Tetons and Jackson Lake aerial photo
NASA aerial photo of Teton Range
photo below courtesy of http://rickkonrad.com/