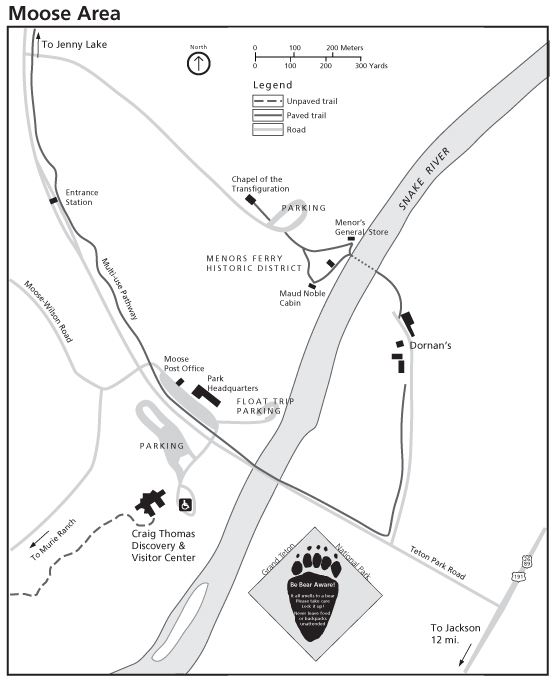 On the map above you can find
The Moose-Wilson road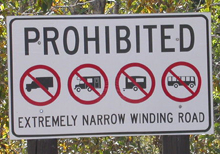 The Chapel of the TransfigurationYou'll recognize the altar window view framing the tallest Teton peaks from postcards. The park services asks: "Please be respectful, the chapel is a house of worship."
photo below used with permission from Ron Niebrugge: http://www.wildnatureimages.com/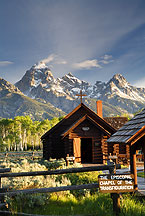 Dornan's has bike, canoe/kayak rentals, gift shop, Dornan's Pizza & Pasta, or the Chuckwagon. Menus are at:
http://www.dornans.com/dining/
and Spur Ranch Cabins, more info at Grand Tetons hotels, cabins, lodging
A park entrance station
Menor's ferry (the dotted line across the Snake River) General store and cabin, Noble Cabin
The Multi-Use Pathway alongside the Teton Park Road is one of the safest places in the park to ride a bike.
The Park Headquarters, which some people will remember as the original park visitor center. August 10, 2007 it closed and moved to a new Grand Teton (or Craig Thomas) Discovery and Visitor Center across the road. The visitor center is also known as the Moose Visitor Center.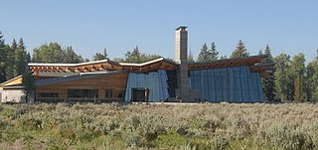 Grand Tetons sightseeing has more info about the area attractions
Further north you can find the Jenny Lake campground and Jenny Lake Lodge Grand Tetons hotels, cabins, lodging
See also Grand Tetons and Jackson Lake aerial photo
NASA aerial photo of Teton Range
photo below courtesy of http://rickkonrad.com/