This page is info about (scroll down in this order) Colter Bay, Jackson Lake Lodge, Signal Mountain Lodge, Dornan's Spur Ranch Cabins, Jenny Lake Lodge, Flagg Ranch, Grand Teton Climbers Ranch, Luton's Teton Cabins, and Triangle X Ranch for the De Anza College Outdoor Club trips to Grand Teton National Park, Wyoming.
It can be difficult to coordinate timing of activities if we don't all stay in the same area, so we've all stayed at Colter Bay for at least part of the time on previous trips.
If you will be staying in a Colter bay cabin, details are at: Colter Bay cabins, Grand Teton National Park
If you want to get a better room, or even a suite with fabulous view, fireplace, fridge, etc, read on.
Most cabins, hotels, etc. in Grand Teton National Park are open only from early May to late September or early or mid October. Dornan's Spur Ranch is open year 'round.
Plan your trip well. Rooms cancellations with partial refunds are allowed with three to 30 days notice depending on the property. If you decide to suddenly change trip plans or camp instead of hoteling you will pay.
There has always been campground space in the vicinity during our fall trips. (Any time near Aug. 21. 2017 could turn out to be an exception, due to the total solar eclipse.)
_____________________________________________
Below: an aerial photo with Colter Bay environs in the foreground and part of Jackson Lake. The cabins are towards the left of the visible buildings, the long stripe of buildings is the stores and restaurants, and the campground area is towards the right. There is a black and white aerial photo/map to go with this picture at Colter Bay, Grand Teton National Park.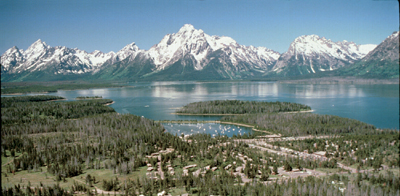 _____________________________________________
The campground at Colter Bay (350 sites – six people max each / 2 vehicles or one RV (2017) $26 per night (6 people, 2 vehicles/one motorhome, 2 tents max.) ($13 with a Golden Age Passport), fills at around noon each day most of the summer. (Jenny Lake (51 sites) is the 'preferred' campground for backpackers / climbers, but it is farther from where most of our activities will take place. It is the first campground to fill and often fills by 8 a.m.)
map of Colter Bay campground Grand Teton National park
Colter Bay campground also has hiker/biker campsites for $12 per night per person. Communal camping with whoever shows up, (much like the pre-or-post backpack trip, if you have a backpack permit, walk-in campsites in Yosemite we have stayed at). No vehicle parking, therefor less security for your belongings, but if you only have one backpack full you can keep everything with you. Sometimes extra gear can be kept in a cabin someone rents.
The club owns lots of equipment that can be used on club events with refundable cleaning and late fee deposits. Details about equipment can be found at: Outdoor Club Equipment. Rentals will go much more smoothly if you have read Outdoor Club Sample Rental Agreement
Be adaptable. Even if you are certain you will not camp, bring tent, sleeping bag and insulated sleeping pad so you can if the opportunity or need arrives.
_____________________________________________
Colter Bay cabins have no air conditioning, phone or TV/radio. There are no lakeshore or mountain view units.
Many cabins have stall showers but no bath tubs.
All non-smoking.
Colter Bay cabins prices, (these prices reflect taxes, but don't include the $2.43 per night, subject to change, utility fee) according to the website:
(2016) $95.04 One Room (semi-private bath)
(2017) $ 204.23 – $ 270 ish One Room (private bath, 1-2 persons (sleeps to 3 or rarely fits 6 guests with rollaway bed, $10 each extra adult over the double occupancy)
(2017) $269.50 Two Rooms (connecting bath, 1-4 persons, four double beds, (sleeps up to eight … ten? with rollaway beds, $10 plus tax each extra adult over the four person occupancy)
Add another $11 plus tax (2016) per extra rollaway bed you want.
2016: a $15 fee for cancellations up to 3 days in advance, lose the whole deposit if cancelled within three days.
and please see: Grand Tetons trip cost.
Colter Bay cabins with a short to moderate walk to the guest lounge, restaurants, Visitor Center, museum and marina are the 205-235 and 430s to 490s. The lower 400s and lower 200s are closest to the store.
If too many people in a cabin sharing a bath means too long of a wait, there are also public (pay $4.25 in 2016) showers at the Colter Bay laundromat, down the road from the cabins, 7:30 a.m.-9 p.m. (+/-) next to the small grocery/gift shop. If you bring in a group of 5 or more the cost is $15 (2016)
below: the first two photos of the cabins area at Colter Bay and a cabin interior are from GTLC, the third is of a bear who was a frequent visitor one summer,



and below, a typical bathroom and the view out a window, usually of parking spaces in front of cabins and/or of other cabins: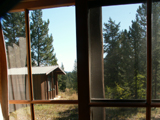 Read details at: Colter Bay cabins, Grand Teton National Park
_____________________________________________

Colter Bay tent cabins with two log walls, two canvas walls and a canvas roof, picnic table, fire ring/grilling area, bear box, four fold down bunks (extra fee for up to two extra cots), interior wood stove for heat, not cooking, shared bathroom facilities (no showers at the tent cabins; fee showers are about three blocks away).
Please note that the pictures at the tent cabins website (and the photo above) do not show that they are next to each other in pairs. They do not share a wall, but they do share a corner. Try looking at Google maps for Colter Bay Village, Wyoming and scroll to the east of the cabins road.
Rates from the website in April 2017:
$74.90 per tent cabin 2 adults, $80.48 for 3 adults, $86.07 4 adults.
They usually close shortly after Labor Day weekend (Sept. 6, 2017)
_____________________________________________
Colter Bay reservations for cabins or tent cabins well in advance are recommended.
Potential accommodations at Colter Bay can be previewed at http://www.gtlc.com including photos of room interiors. You can order a color brochure at that site. The reservations number is: (800) 628-9988.
_____________________________________________
In the GTLC photo below, the main Jackson Lake Lodge building is the tan rectangle at the top of the section of forest at the bottom of the picture, with the hotel cottages, parking lots and swimming pool below it. Colter Bay is just out of the photo to the right.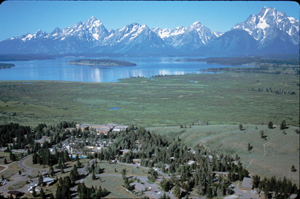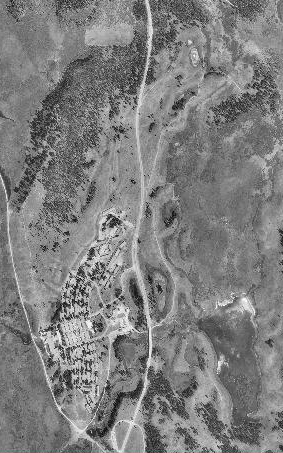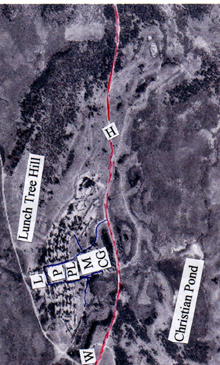 C = corral
G = gas station
H = highways 191/89, Jackson 35 miles, Yellowstone 19 miles, Colter Bay 6 miles
L = Jackson Lake Lodge main building
M = Medical Clinic
PL = outdoor swimming pools, weather permitting, but they have never been open much past Labor Day during any of our fall trips. (Colter Bay cabins guests can use these.)
P = Lodge parking
W = Willow Flats overlook parking lot
When you enter the lodge main building from the main parking lot, you reach the lower lobby. The registration desk will be to your right, the public restrooms are down a hall on the right beyond the registration desk. There is a small gift shop/newsstand to the left. In front of you is the staircase to the upper lobby.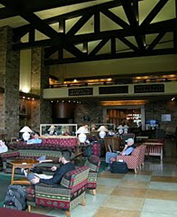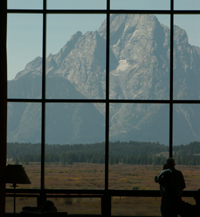 At the top is a huge seating area with floor to ceiling windows (two story, 60 feet tall) with Teton range views and WiFi. The Pioneer Grill counters and takeout are on the left, followed on the left by the Mural Room with its tall windows and views.
At the top of the stairs, turn around and to the left and right of the staircase area are clothes/gift shops and more restrooms.
Meeting rooms on the lower floor, towards the left as you walk into the lobby, are Osprey, Grizzly, Buffalo, Antelope, Wapiti and Trumpeter Swan. On the upper level you will find conference rooms Trappers, Wrangler, Prospector, Homesteader and the big Explorers Room.
At the far end of the upper lobby are doors to the large back deck looking out over Willow Flats. Some evenings a Ranger brings a spotter scope and answers questions.
Jackson Lake Lodge from the website in 2017 (plus tax and $2.25+ per night utility fee)
All non-smoking.
Suites: $699 to 809 (2010: $559 – $775) (2008: $459 – 650) (2014: $705) ( $2017 ?)
out on the grounds
(2017) $320 + (non-view rooms)
(2017) $376+ (view rooms)
in the main building
(2015) 3rd floor room, obstructed view $289
(2015) 3rd floor room, view $385
(2015) Moran suite $845
The two heated pools are open when weather permits until fall.
There is a medical clinic on the grounds of Jackson Lake Lodge, open daytime hours. (St John's Medical Center in Jackson (24 hour) is at 625 E. Broadway at Redmond.)
Rooms 10 to 48 are in the main building.
To determine which rooms to ask for on the grounds, picture a slightly wavy rectangle of rows of two story hotel type units and one story cottages. (See aerial above).
At one end, building 900, that is 900 to 912 on the lower floor, and 901 to 911 upstairs, has the best views. 911 and 912 have bay-windowed sitting areas.
560 thru 578 (down) and 561 thru 579 have the next to the best views. 350 thru 364 (down) and 351 thru 365 (up) are the third best. Each of these buildings looks out across flats towards Jackson Lake. All the units upstairs have balconies (patios downstairs) with room to sit.
below a photo of the best buildings on the right and the main lodge building on the left:

Most of the rest of the lodging (outside of the main building) is cottages. Units on the outside edges of the rectangle have views of trees, etc. from either the rear or front. Units in the inside of the rectangle have views out front and back windows of other cottages and cars.
Nearest to the main building, units 143-121 have tree views from their rear windows, units 119 to 101 have rear window views of the service road and main building. A large general parking area separates these from units 201 to 211. Each of these has tree views from their rear windows, but 201 and 203 have more potential noise and headlights from the main hotel entrance drive.
One row down from these, 212 to 246 front on sage slope/tree views (but 224 is next to a laundry room).
On the far side of the rectangle, two story units (up) 719 to 701 and (down) 716 to 700 look to parking from their fronts and trees out their backs.
They are followed by cottages 552 to 546, (544 is next to a supply closet), and 542 to 516 have tree views at their rear. 514 to 500 look out to the corral (but not too close).
100 to 146, 301 to 347, 300 to 346, 501 to 551 are in the center of this section of cottages and look out both front and back windows to other cottages/cars.
On the other side of the large general parking area, still at the far edge of lodging away from the main building, (801 and 803 again have the potential of noise from the main entrance road) 805 thru 817 front to trees. 819 is next to an ice machine and cleaning office. 825 (again across from the ice machine and cleaning office) to 835 also front on trees, but 835 is at an end closest to employee housing.
Between most of the 200 and 800 units are cottages that front and back to other cottages and cars. 200 to 210, 401 to 447, 400 to 446, 601 to 647, and 600 to 630.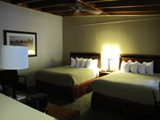 Potential accommodations at Jackson Lake Lodge can be previewed at http://www.gtlc.com including photos of room interiors and some views out windows. As of 2011/ 2012, the photo next to the description of the Moran Suite (kitchenette, two bathrooms, 'spectacular views,' no balcony) at Jackson Lake Lodge was of Oxbow Bend, not of the view from that room. You can order a color brochure at that site. The reservations number is: (800) 628-9988.
_____________________________________________
Signal Mountain Lodge all non-smoking
http://www.signalmtnlodge.com/ has (2017 – May to Oct. – prices) rustic cabins from one room cabin $210.15 – $235.15, two room cabin $240.15 – $270.15 to better rooms $293.15 plus tax and $253.15 – $394.15.
Best rooms, a few with views, fridge, gas fireplace, go up from there to $$363.15 – $394.15. (2017) "There are no televisions allowed in guest rooms in Grand Teton National Park. Grills and other portable cooking devices are prohibited in or around any lodging accommodation." All rooms are non-smoking. "Cancellations are subject to a $20 per room administrative fee and are accepted up to 7 days prior to arrival. Cancellation of or changes to dates of reservation within 7 days of arrival constitutes full forfeiture of deposit. Groups with a combined total of more than 3 rooms will be subject to a 28 day cancellation/change policy and must be approved by management. We do not have restaurant or gathering space for groups. (Note: Reservations including the nights of Aug. 20 & 21, 2017 require a 14 day notice to cancel or change and must maintain a 3 night minimum. May and October reservations will be subject to a 3 day cancellation/change policy for reservations of 3 or fewer rooms; admin. fee still applies.)"
Pet fee, some units $20 per night (2017).
The facility is right on the shore of Jackson Lake with a few units with great views.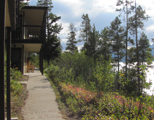 The upper lakefronts front doors are mostly level with the parking area and have a semi-private balcony on the lakeside. The lower lakefronts are a flight down stairs and have a shared porch. As you can see from this picture of the balconies and porches, trees block part of the views of many units.
No pets allowed in upper lakefronts.
Short walk to stores and Peaks restaurant (lines at peak times).
_____________________________________________________
At Moose, Dornan's Spur Ranch Cabins with complete kitchens and living/dining areas, steps from the river with Teton range views. http://dornans.com/cabins/
(307) 733-2522. No pets.
Dornan's summer rates from their website in April 2017:
October 16-May 15 2016 (Closed November and April) Rates: $125-$150/night for a one bedroom Unit
$175/night for a two bedroom unit.
Starting 2017 May 16-October 15:$225 -$250.
Two Bedroom: 1-6 persons $325-$350.
All rates do not include tax
Cancellation Policy (2017) : "Summer and Christmas/New Year's reservations: Three night minimum stay and three night deposit required. Because we are a Destination Resort which relies heavily upon pre-season bookings, it is necessary for us to insure against reservation cancellations. We therefore require 60 day advance notice of change/cancellation, in which case we will refund the deposit minus a $100 per cabin change/ cancellation fee. The entire deposit is forfeited if the reservation is changed or cancelled less than 60 days in advance of arrival."
All share a wall with another unit.
You can't park near/next to most cabins. (There are carts to move luggage). Cabins named Rimrock, Bearpaw, Willow, Hawthorn and Owen are closest to parking.
Larkspur and Cascade seem to have the best views.
Short walk to stores, deli, restaurant. Longer walk to park Visitor Center, etc. at Moose.
Moose, Wyoming has black and white aerial photo/maps.
_____________________________________________________
The photos below of Jenny Lake Lodge main lodge and dining room are from GTLC

Jenny Lake Lodge, just north of Jenny Lake, (2015 plus tax and a $2.25 utility fee per night),
All non-smoking.
"Nightly accomodations include breakfast, a 5-course dinner, access to horseback riding, and bicycle rentals." No TVs or radios.
One room cabin:
duplex $689 (two persons)
free-standing $699 (two persons)
Each additional person is $161 per night
Suites (with wood burning stove, Water Lily suite has a jacuzzi jetted tub):
$869 – 959 (one or two persons)
Each additional person is $161 per night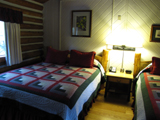 Not all of the 37 historic cabins, featuring exposed beams and handmade quilts, have great views. A couple have views of a few peaks, but not from the cabins, from the porches. Most others look out at trees or other cabins. Many share a common wall.
No part of Jenny Lake Lodge is actually ON Jenny Lake or String Lake, but both are a short walk or bike ride away.
Gentian cabin will have headlights hitting the front porch from the main driveway access for most of the other cabins.
Potential accommodations at Jenny Lake Lodge can be previewed at http://www.gtlc.com You can order a color brochure at that site. The reservations number is: (307) 733-4647.
Jenny Lake has been included by Conde Nast Traveler Magazine in the 50 best Hotels in North America (the only national park concessioner in the ranking) and received a Wine Spectator Award for Excellence.
You can print a topographical hiking map of the area near Jenny Lake Lodge at: https://www.nps.gov/grte/planyourvisit/upload/Leigh_Lake_topo.pdf
Jenny Lake Lodge is just above where the letter "O" is on the One Way road designation.
There is bear activity in all areas of the park and people must keep their food properly stored all the time:
June 12, 2015 press release
"Out of concern for public safety, Grand Teton National Park staff euthanized a 3-year-old female black bear on Thursday afternoon, June 11. Earlier in the day, the bear exhibited bold behavior and appeared to have little concern regarding the presence of humans and their activities, which prompted park officials to make the difficult decision to remove her from the population in order to reduce future threats to people and their safety. This is the first bear to be euthanized in Grand Teton this year. Two black bears were euthanized in 2014.
The brown-colored bear climbed into the open—and temporarily unattended—trunk of a vehicle after guests of Jenny Lake Lodge removed their luggage and entered their cabin to settle in for the night. While in the trunk, the bear found food items, which she ate. She then climbed on top of the same car. Witnesses reported that the bear appeared to be trying to gain entry into the passenger compartment. The bear then proceeded to visit other cabins before she ripped into items left in a parked housekeeping cart and stole a purse, which she carried off into the woods. Witnesses also reported that the bear stood on its hind legs and pressed its front paws and face against the windows and doors of several cabins in an apparent attempt to enter.
The bear was estimated to weigh approximately 125 pounds and had no ear tags or other identification that would mark it as a previously captured bear. .."
_____________________________________________
Headwaters / Flagg Ranch is located on the banks of the Snake River two miles south of Yellowstone National Park and five miles north of Grand Teton National Park, a bit of a distance from where we have planned activities. They have log cabin rooms with bathroom and either two queen beds or one king bed. Some rooms have a view of the Tetons. Patio with rocking chairs and in some cases mini fridge and microwave)
http://www.gtlc.com/lodges/headwaters-lodge-at-flagg-ranch
2017: camper cabin $75, rooms $ 291 – 311 plus tax plus ( ?)
$11 charge for each additional adult. $17 pet deposit."
_____________________________________________
Grand Tetons Climbers Ranch, near Moose headquarters,
(Unfortunately we do not recommend this for our group, despite the low cost. When we went to check the place out we were given permission to look around and look into cabins, etc. As we left, a young man from the front desk spoke loudly to a guest referring to us as "tourists." This leads us to presume that the guests/staff are a bit cliquish and unless you are a "real" climber, you might not feel fully welcome.)
(2017) $25 per night, per bunk, per non-AAC member. Rate is $16 for AAC members (bring your card, but they can look you up if needed). (2016, I could not find it in 2017: 100% of deposit returned if cancellation received more than 30 days before arrival date. 50% of deposit refunded if cancellation received between 7 and 30 days of arrival. No refund within 7 days.)
From the website in 2017: open June 10 – September 11.
Accommodations – The Climbers' Ranch offers dormitory-style accommodations in small log cabins that sleep 4-6-8 people each. You rent a bunk, not a cabin. Parties larger than two will likely be in separate cabins, as the bunks are filled as they become available, but they do try to keep two people together. You can't reserve a particular cabin. Guests supply their own sleeping bags, pads (there are no mattresses), cooking equipment, food, towels, and other personal gear.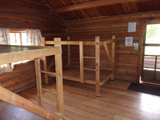 The Ranch has a communal open-air, partially roofed cook shelter (including picnic tables, dish and pot washing facilities),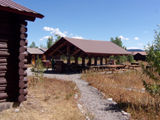 toilet facilities and hot showers,

a small mountaineering library/lounge (woodstove on cold nights), limited storage space and usually some loaner bikes.
To minimize impact on the surrounding environment, tent and trailer camping is not available at the Climbers' Ranch. No pets are allowed at the GTCR. Special permission can be obtained from management for seeing eye or aid dogs but you must contact the ranch manager beforehand. Firearms strictly prohibited. Smoking prohibited in all cabins and indoor spaces.
"Because cabins are one room, open spaces and climbers may be leaving for climbs in the middle of the night, young children and their parents may have difficulty sleeping."
Read important info and make reservations at:
https://americanalpineclub.org/lodging-1/pgmpv5sekytvr2k19i3e0qqgrt7841
307 733-7271 when open.
_____________________________________________
Luton's Teton Cabins are 4 miles east of Moran Junction.
These log cabins have one and two bedroom units, (plus a queen sofa in the sitting area next to the kitchen), dining table/chairs, all with full kitchen (fridge w/freezer, four burner stove, oven with broiler, microwave, coffee maker, dishes) data ports, high speed internet and a front porch. Some units have the same kitchen appliances and a dishwasher, plus bigger beds (king replaces queen; queen replaces double bed). All non-smoking. Some units have long distance Teton views.
A short, passable dirt road takes you from the highway.
The units are arranged in one "L" shape. Unit 1 (2 bdrm) has a view of the Tetons from the master bedroom on its end. Units 2 and on follow. Units A,B and C,D (delux) are at the other end with the office in between. All share a wall with another unit.
(2017) 50% deposit required. 5% convenience charge for credit cards. No pets. "Your deposit (less $75.00) is refundable if your notice of cancellation is received at least 30 days in advance of your arrival date. Any changes in your reservation will need to be made 30 days prior to your arrival or you will be charged for nights reserved but not used."
Prices range from $243 to $457 per night, depending on size and season.
2010/2011/2012/2013/2014/2015/2016/2017 the scenic photos at the website were not all at the property, some are of Oxbow Bend, miles away in the park.
_____________________________________________
Triangle X Ranch, a working ranch, 2017 summer weekly rates per person, per week (plus 15% service charge to cover gratuities, 6% Wyoming sales tax on a portion of invoice and a $.50 per person/per night lodging tax.):
$1920 to $2660 ("3% discount received if paying with your deposit and final bill with Cash or Check.")
includes lodging, family style meals, horseback riding and all ranch activities (summer includes square dancing, ranch history presentation, cookouts, and National Park interpretive programs).
There is a guest laundry.
Off the main highway, north of Deadman's Bar and south of Moran Junction.
_____________________________________________
For info about lodging in the nearby town of Jackson, closer to the restaurants, shopping, art galleries, aerial tram, western shows and the offices of most of the rafting companies:
The Jackson Hole Chamber of Commerce site is at:
http://www.jacksonholechamber.com/chamber/index.php
Another big site of info is at:
http://www.jacksonholenet.com/
and yet another is at:
http://www.jacksonholewy.net/
There are dozens of lodging choices in the town of Jackson, but it is 30 miles from where most of our very early morning kayaking will take place.
___________________________________________
Info about the hotels and cabins in Yellowstone is at:
http://www.ynp-lodges.com/
___________________________________________
There are dozens of restaurants in Jackson. They vary from burgers, Chinese, Mexican, sushi, pasta, Italian, steakhouse to four-stars with an award-winning wine list. Most lean towards family or casual atmosphere.
Restaurants in the park are non-smoking, most others in Wyoming and Montana allow smoking. See also: Grand Tetons restaurants
Jackson Hole, Wyoming has a description of the main streets and how to find grocery stores, K Mart, hardware, Teton County library, St John's Medical Center / hospital and more.
For details about our next club trip to Grand Teton National Park, go to: Grand Tetons.
Grand Tetons trip pages index has brief descriptions of most of the pages about this trip.
Grand Tetons trip transportation has flight info, driving distances and guesses at gas cost, previous trip examples, etc.
Grand Tetons trip cost has examples of
The cheap trip,
The not-so cheap trip,
The slightly more costly trip, but less driving time,
also known as the I-can't-get-much-time-off-work trip,
and The expensive trip.