These are instructions (subject to change) for students on De Anza Outdoor Club trips. Since this webpage can't be kept up to date as well as National park or reservations systems webpages, you should come to a pre-trip planning meeting to coordinate which campsites you will get and how you will get them, how you intend to share them.

Campgrounds in Grand Teton National Park used to be first-come first-served,
but are now on a reservation system.
Now they are opening up one new day at a time, six months in advance, for example:
"On February 18, 2021 at 07:00 am PST, availability will be released through August 18, 2021."
__________________________________

__________________________________

Now that Grand Teton National Park has become by reservation, wise people will plan far in advance of their trip to try to get a favorite campsite. They need to have registered at recreation.gov and become familiar with how to get a site, in advance of the 7 a.m. PST (Pacific Standard Time) first availability of campsites.
(We do not usually stay at the Jenny Lake campground, but people who want to will find it full or 98% full shortly after (even with minutes) campsites go up for sale. Lake view campsites numbers 12 and 15 at Signal Mountain campground get reserved within seconds of the reservations opening up each day.)
(Likewise summer visitors to Yosemite National Park will also find campsites being reserved quickly. For our winter trips to Yosemite National Park, the campgrounds do not usually fill well in advance. People can usually find campsites available to be reserved shortly before our trip (or some years held for first-come first-served in the winter), but to be sure of getting a campsite, especially a "best" campsite, you should plan well in advance.)
FIRST STEP, preferably done well in advance, is to
sign up for a free account at recreation.gov.
To make it easier, leave this webpage of instructions open on a tab on your computer and copy and paste the link below to a second tab.
Here is the link: https://www.recreation.gov/
When you get to the page, you will find at the top on the right hand side, the words Sign Up .
To get a free account you will click there, and fill out a form. The info you give will be what they will use if they need to contact you, for example, "to attempt to notify you" . . . " in the event of an emergency closure."
SECOND STEP, preferably also done well in advance, is to
become familiar with the steps you will complete to get a campsite.
After signing up for the free account you will go back to the original recreation.gov home page and type the words Grand Teton in the large search box near the top of the page. When you do, just below where you are typing, a link to Grand Teton National Park (and other choices) should appear and you can,
you guessed it, click on Grand Teton National Park.
This will get you to a page where you can scroll down slightly on the left hand side to whichever campground you want to look at. See a map of campgrounds near the end of this webpage with links to descriptions /photos of each one and where to find the closest free WiFi.
(For our college trips it can be difficult to coordinate timing of activities if we don't all stay in the same area, so we've all stayed at the same area / campground / cabins for at least part of the time. Please take a look at Colter Bay Campground.)
At the top of the list may be a general Recreation Area – Grand Teton National Park listing. It will be faster to get to info you need if you scroll down to the campground you want – Colter Bay Campground. Note that you are not looking for a "campsite" at the at the Colter Bay RV Park or Colter Bay Tent Village.
When you scroll down to the name of the campground you want to look at, click on that section. The next page you get to has some pictures, a brief description, and when you scroll down you will see a simple map of the campground with numbered sections. Ignore the blue box at the left that says Select Dates. Instead, go to the right hand side of the page and click on a blue box with the words (in white letters) View By Availability Grid.

You then get to a page with a list of campsite numbers / dates on the left and a simple map on the right with a few numbered sections. Once people have made at least a partial commitment to go on the trip, we will tell you in an email (or even better at a meeting when we can discuss which campsites we think are best and why) which numbered section on the map
(numbers in green circles)


to click on to see a more detailed map with the campground loops we prefer to stay in and each campsite identified.
When you click on a campground section (a number in a green circle) the map changes to show the campsites identified by their number.
(If you want to, you could have opened up the map of campsites in one tab on your computer the evening before the morning that the campsites first go on sale, so you can have it for reference as you try to get the campsite on another tab on your computer that morning. And perhaps also open up this webpage of instructions to use if needed, on another tab.)
On the left hand side of the page, when you actually try to make a reservation you will be entering a start date you want. There will be a small box on the left hand side of the page with today's date in it, for example:


you click on it and a calendar appears below it with arrows beside the month name. If you are making a reservation well in advance, click on the right hand arrow to forward through the months to get to the month of the reservation you want to look at or make:

You can try and practice this in advance, to get used to how it works.
– – – – – – – – – – – – – – – – – – – – – – – – – – – – – – – – – – –
PLEASE NOTE If you are making reservations months in advance, there may be a message saying
"Info Notification:
There are no campsites available in the next 14 days. Please use the "Next Available" button highlighted below to check for the next available date"
BUT IF you use the "Next Available" it takes many more steps to get to a date months ahead.
So instead, click on the right arrow hand arrow to forward through the months to get to the month of the reservation you want.
– – – – – – – – – – – – – – – – – – – – – – – – – – – – – – – – – – –
There will be a row of boxes.
Two blue boxes "Sites" and "Loop", and to their right gray boxes with a row of dates.
for example:

Below that are the campsite numbers on the left you can scroll down through to get to the campsite you are interested in.
There will be a chart of small boxes (squares) to the right of each campsite and loop number,
(examples are below):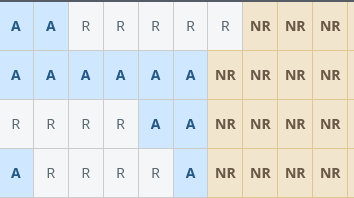 Boxes with an R show that someone else already reserved that campsite with a start date earlier than you, that extends into the days you want to be there.
(They might have reserved it for just a night or two, or started their reservation for over a week before).
Boxes with NR show potential future dates not yet reserved. If you click on the NR box you usually see the first date you can make a reservation.
Blank white boxes show dates "not yet released," too far in advance to be reserved. (Or it shows dates the campground is closed or is not yet open, for example if you left out the step of changing the month and date in the calendar from today's date to the date you want a reservation to start.)
FF is first come, first served, no advanced reservations available. "You must go the facility in person to verify availability."
Some sites are not released months in advance, but are saved until two weeks before the start date. For example, when we looked for sites on Feb. 15, for a start date of Aug. 15, some of the sites said they would not be open for reservations until August 2: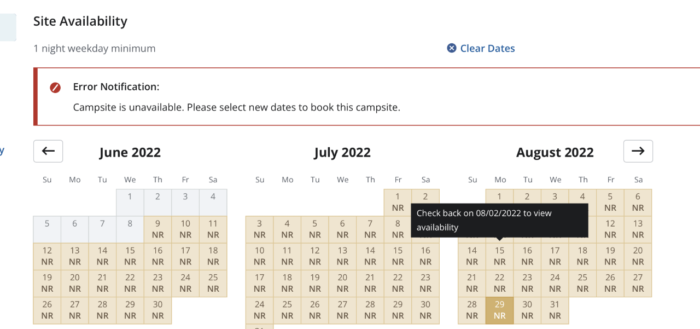 If a date / campsite has an "A" in a box that means it is available.
As you do the clicking on boxes to get your reservation, it is important to click once and wait the short amount of time for the screen to do what it needs to do (change colors of boxes, etc.). If you get impatient and click twice it can confuse the system and you will need to go back in steps.
When you click on the start date it should change color and you can then select an end date. The start and end dates should have checkmarks appear. If you want a maximum 14 night stay, to lengthen the number of nights beyond the ten (or fewer) available in the row of boxes on the screen, you need to click (sometimes moving slowly) on each box with an A
and when you get through all of them, and find yourself with all the boxes dark blue

go to the long box near the top of the page that says, for example:

and click on 5 days > . This should get you to more boxes with A to click on to finish choosing the dates you want. If you try to choose more dates than the maximum numbers of nights allowed in a row in that campground, it may make you go part way back and start over.
(Again, you can practice this in advance of the actual morning you will be trying to get a campsite, to get used to how it works. And again, the reservation system recommends being already logged in and completing the first reservation steps before 7 a.m. Pacific Standard Time on the date you want to try to get a favorite campsite.)
At the bottom of the page it should give you an estimated cost you will need to pay when you reserve the site, for example:

and you can click on ADD TO CART to finish getting your campsite.
(Someone might have already reserved the campsite you prefer with a start earlier than you, and their reservation extends into the days you want to be there. You will need to make a decision to choose a different campsite that IS available for the length of time you want it, OR you might be tempted to stay in one campsite for part of your trip and move to a better one.
BUT do realize that moving from one campsite to another campsite midway through a visit can be difficult and time consuming.
(Picture it raining on the day you need to move and how much fun it will not be to take down and re-pitch your tents.)
You would have wanted to discuss this in advance with your traveling companions.
THIRD STEP: to look at pictures of campsites,
(IF the campground you choose has pictures of all the campsites, when this system was put into place most of the campgrounds had few or no photos),
you can click on any campsite number on the map at the right hand side of the page, it will open up a small photo box, and you can click on the words in the box "view details"

to get to a larger picture of that campsite.
When it is time to actually try to get a campsite, you do not want to be at one of the campsite pictures and use the enter dates box you will see at the lower right of the photo page.


You will be much less frustrated if you are at the long list of campsites / calendar of availability mentioned above when you try to find one of the campsites you want for the dates you want.
From the NPS website in Feb. 2022, the maximum length of stay permitted at Colter Bay, Gros Ventre, Signal Mountain, Lizard Creek or Headwaters campground is 14 nights, the maximum at Jenny Lake Campground is seven nights, and the maximum cumulative stay between all Grand Teton National Park campgrounds is 30 nights.
The NPS gave this advice: (besides already having a rec.gov account in advance) "for your best chance of getting a reservation, be sure your clock is set accurately and start the first few steps of the reservation process at recreation.gov before 7 am Pacific time."
Confirm that your clocks really are set for the official U.S. Pacific Standard time by going to https://time.gov/
Set more than one alarm clock to get yourself up and at your computer soon enough before 7 a.m. Pacific time to start the first few steps of the reservation process.

Please take a look at these
Changes and Cancellations rules at the website as of Jan. 26, 2021
and realize they could change abruptly and you should re-read what you are given when you actually make a campsite reservation.
The main thing we noticed is that you will only need to pay a $10 fee to cancel if you can't go on the trip after all, as long as you meet the (usually two days before the day of arrival) deadline to cancel. If you cancel in time, you get almost all your money back. Most students tell me the ten dollars is a price they are willing to pay to be sure they do have a good campsite. (There have almost always been campsites available at the last minute somewhere in the park during our trips, but it is more fun to have campsites in the same loop in a campground, or even next to each other. One exception was when we went for the total solar eclipse, there were NO campsites available for days before the eclipse.)
PLEASE do not cancel any site you get without first confirming with the club if someone else might need to use it.
"Changing Reservations:
There is no change fee if a visitor extends or shortens a reservation, as long as the change includes dates from the original reservation. Additionally, there is no change fee if the visitor wants to switch sites that are the same price with the same reservation dates in the same facility.
If a visitor wants to switch dates that are entirely outside of the original reservation dates, there is a $10 change fee.
If a reservation is made that includes dates beyond the maximum booking window, that reservation cannot be changed until 18 days have passed from the original booking date.
Once a reservation date has begun, visitors cannot change a reservation using the online system or through the Call Center.
Onsite staff will assist with changes or cancellations.
Cancellations:
Visitors may cancel their reservation prior to arrival both on-line and through the call center.
A $10 service fee will be withheld from any refund for a cancellation.
A visitor who cancels a reservation the day before or on the day of arrival will pay a $10.00 service fee AND forfeit the first night's approved rate including tax and applicable add-on. Cancellations for a one-night reservation will forfeit the entire amount paid and will not be subject to an additional service fee.
Visitors who cancel a group overnight facility reservation less than 14 days prior to arrival date will pay a $10 service fee AND forfeit the first night's rate.
No-Shows:
A no-show visitor is one who does not arrive at a campground and does not cancel the reservation by check-out time on the day after the scheduled arrival date. Staff will hold a campsite until check-out time on the day following the arrival date.
No-shows are assessed $20.00 service fee and forfeit the first night's rate, taxes and applicable add-on for a campsite.
Early Departures:
Visitors are requested to notify staff at the facility if they depart early to allow others to use the site.
If the visitor chooses to depart early, they may forfeit the approved rate and applicable tax and applicable add-on for the day of departure. If a visitor departs prior to the scheduled check-out date, they may be eligible for a partial refund. Visitors may notify the Recreation.gov call center to request a refund of remaining unused nights. If a visitor requests a refund for an early departure after the facility check-out time (11 am) has passed, the visitor will not be refunded for that night and is eligible for a refund on any additional nights that will not be used.
Refunds:
Visitors may submit a refund request through their Recreation.gov profile within 7 days of the end date of their reservation. Visitors may also initiate a refund request through the call center at any time after their reservation has ended.
Refunds for debit or credit card payments will be issued as a credit to the original bank or credit card used to pay.
For check or cash purchases, Recreation.gov will mail a Treasury check for refunds of cash, check, or money order payments to the address associated with the reservation. Treasury check refunds may take up to 6-8 weeks to arrive.
In the event of an emergency closure, the Recreation.gov team or facility manager will refund all fees and will attempt to notify you using the contact information within the Recreation.gov visitor profile."


Grand Teton National Park Campgrounds
Some of the webpages below with maps and pictures of Grand Teton National Park campgrounds
have recommendations for which campsite to choose.
Check in advance which campground will be open early or late season.
For example, in 2021 these were the announced dates:
Colter Bay Campground open May 24, close Sept. 26
Jenny Lake Campground open May 7, close Sept. 26
Signal Mountain Campground open May 14, close Oct. 17
Lizard Creek Campground open June 11, close Sept. 13.
And in 2020:
Colter Bay Campground opened June 5, closed Sept. 27
Signal Mountain Campground opened June 5, closed Oct. 18
Lizard Creek Campground opened June 12, closed Sept. 7.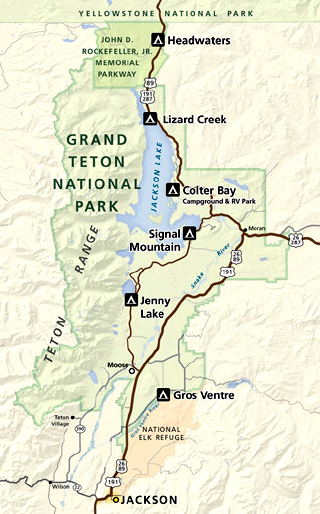 From north (top) to south on the map above.
Headwaters campground, near the Yellowstone National Park border, has 100 trailer sites and 75 tent sites.
Lizard Creek campground also has sites on Jackson Lake, some with views.
Colter Bay campground includes 335 individual campsites (160 tent spots with tent pads), 11 large group campsites (by reservation only), 13 electric sites, and ADA-accessible hookups. None of these campsites are on the lake and none have views.
(Larger RVs should check out the Colter Bay R.V. park with hookups.)
Signal Mountain (86 campsites) is the campground with some sites with views across the lake to the mountains.
Jenny Lake campground, a short distance from Jenny Lake, 49 sites, tents only, one vehicle only less than 14 feet long.
Gros Ventre campground, 4.5 miles from Gros Ventre junction, is the closest campground to the town of Jackson (9 miles +/- Northeast). Sites vary in size and can accommodate RVs up to 45ft. Thirty-six sites have electricity. Ten are ADA compliant with the adjacent restroom being ADA compliant. It has cottonwood trees and sagebrush along the Gros Ventre river. You might see a moose wander through the campground and sometimes can find one along the river.
Not in a "campground" but 2 small campsites you can drive or boat to on Spalding Bay right on Jackson lake. They have bear boxes as well as pit toilets. They are not reserved through the system that makes reservations for the other campgrounds, rather they are considered a part of the wilderness backcountry permits system. If you want one the these you should plan in advance and be ready to get online in early January to try to get one of them. Details about these and 9 other boat-in campsites on Jackson Lake are at Grand Tetons backpacking.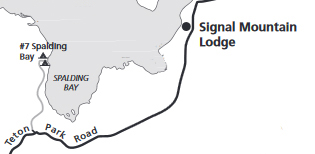 Camping is not allowed along the Snake River.
Grand Tetons hotels, cabins, lodging has info about accommodations IN Grand Teton National Park (Colter Bay, Jackson Lake Lodge, Signal Mountain Lodge, Dornan's Spur Ranch Cabins, Jenny Lake Lodge, Flagg Ranch, Grand Teton Climbers Ranch, and Triangle X Ranch).
_____________________________________________

Was that a black bear or a grizzly, a coyote or a wolf or a fox we just saw?

Rocky Mountain mammal size comparisons has photos and comparisons of beavers, squirrels, pika, marmot, elk, moose, bison, fox, coyote, wolf, golden-mantled ground squirrel, chipmunk, Red Squirrel (also known as) Chickaree, Unita Ground squirrels, bobcat, lynx, mountain lion (cougar), pine marten, mountain goats, bighorn sheep, pronghorn, grizzly and black bears, tundra swan, trumpeter swan, adult and juvenile Bald Eagles.
___________________________________
Grand Teton National Park birds has photos and details about the most common ones we can hope to see
including Bald Eagle, Red-winged Blackbird, Canada Geese, Clark's Nutcracker, Golden Eagle, Great Blue Heron. Great Gray Owl, Harlequin duck, Loon, Magpie, Merganser, Northern Flicker (woodpecker), Osprey, Ouzel, Pelican, Peregrine Falcon, Ptarmigan, Raven, Sandhill Cranes, Steller's Jays, Trumpeter Swan , Western Meadowlark, and Western Tanager, with links to calls / songs from most of them to listen to.
and you can Download photos of over a hundred birds of Grand Teton National Park
https://www.audubon.org/climate/national-parks/grand-teton-national-park

___________________________________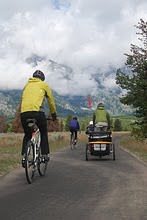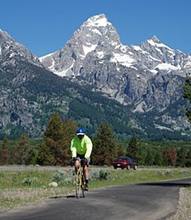 It is safer to enjoy a bike ride on a designated bike/roller blade/walk path than on the road with drivers looking at scenery instead of you on your bike, and there is am 8 mile long pathway from the Moose Visitor Center (please walk your bike in the parking lot) to South Jenny Lake. Pets (except guide dogs) are prohibited and the pathway is closed from dusk to dawn for wildlife and public safety. Grand Tetons biking
__________________________________

Yosemite National Park has campgrounds usually open all year and has this advice for getting a campsite:
https://www.nps.gov/yose/planyourvisit/nrrs.htm
__________________________________