This is some advice about driving to Yosemite from Silicon Valley via highways 580/205/120 for the De Anza College Outdoor Club trips to Tuolumne Meadows.
Should you choose to visit the valley on the way and/or use highway 140, (99/145/41) take a look at Snow camp carpools and driving directions
Some tips for the 580/205/120 route:
trying to shortcut through Livermore on 84 can take more time at stoplights than the longer route of 680 to 580
after Altamont Pass, leave 580 and get on 205,
205 joins 5 for a brief way, then head on to 120,
go past Manteca and on to 99 north using a left lane split,
and look for the next quick exit east on 120.
Most of the rest of the route will be on slow roads rather than freeways, some of it through towns that really want you to do the posted speed limit.
In Oakdale you will make a left turn at a light to continue on 120 east. At Yosemite Junction you will make a right (no light or stop sign in your direction at this intersection).
For the section between Don Pedro Reservoir and Groveland, use Priest Grade, DON'T try OLD Priest Grade. If it is at all hot weather, turn off your air conditioner as you drive the eight miles, sixty curves and switchbacks of Priest Grade, even if your car is in great condition. Don't turn the air conditioner back on right away when you get to the seeming top at Big Oak Flat. There is still some steep uphill through Priest Station. At the elevation 3000′ sign more typical mountain down and up hill starts.
There is a visitor center with a relatively large parking lot and restrooms on the right just after the Big Oak Flat entrance station.
You might want to top off your tank at Crane Flat as the station at Tuolumne Meadows is gone. There is a one way road/driveway into the station. After hours you can pay at the pump with a credit card.
In late June to July, maybe even August or September in heavy snow years, you will see yellow flowers with petals that droop downward at the top of 3 to 6 feet tall stems blooming in the Crane Flat area meadows. These are Coneflowers. Look closer in these meadows and find Shooting Stars, Monkeyflowers, Forget-me-nots, Deers-tongue, Yampah (lacy white flowers on almost leafless stems 1 to 2 1/2 foot tall, which are not really Queen Anne's Lace, but sometimes called that) and Corn Lilies (up to 6 feet tall) in season. See: Tuolumne trip wildflowers.
Are we there yet? Not quite, it's forty miles from Crane Flat to Tuolumne meadows and you will want to make stops and sightsee.

JUST BEFORE YOU LEAVE:
Possible delays due to road work are at: http://www.nps.gov/yose/planyourvisit/roadwork.htm "Work is subject to change due to traffic incidents, weather, availability of equipment and/or materials, and/or construction-related issues. Please drive carefully and watch for warning signs, workers and equipment in the roadway."
The National Weather Service has a map of predicted fog severity at:
https://www.weather.gov/hnx/HNXFogSI.html This below is not the current one, but just an example and the one at the webpage is much easier to read:
Just before you leave, call 1 800 427-7623. It is voice activated, so say 140 or 580/205/120 or whatever highway number for road conditions, detours, etc. The Yosemite road and weather phone message is 1 (209) 372-0200.
CALL the road info number before you leave town, and perhaps again during your drive!
Besides rock slide closures, hazardous tree removal or road paving may be planned along your route.
Below rockfall during a January storm: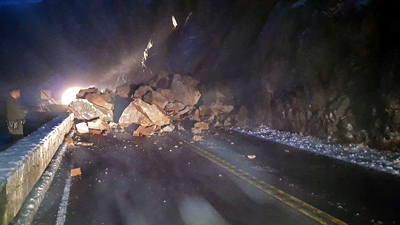 The Park service has noted: "drivers are reminded of the greater likelihood of encountering rock debris on park roads during wet weather. Although rockfalls are always possible along all park roadways, they tend to happen more often during winter storms. . .
If you encounter small rock debris on the road, drive through the area (do not stop within the debris) and promptly report it to Park Dispatch. Do not attempt to remove the debris yourself – leave that task to road crews equipped to do so safely. If you encounter large rock debris on the road, turn around and promptly report it to Park Dispatch."
Having a at least half full gas tank gives you a better opportunity to turn around and take another route if you do not find out about a road closure before you leave town or if it becomes closed when you are already on your way to the park.
A rockslide also closed 120 for a day and then for about six weeks for repairs in 2012.
In winter 2017, highway 120 was closed for weeks. A March 2 news release said: "Significant rain and snow this winter has saturated the soils, resulting in movement under the road bed. This soil movement has caused a large fissure to form in the roadway that has resulted in both lanes of traffic being unsafe for vehicles. Soils under the road continue to move, causing further damage. Over 100 feet of road, near the Big Meadow Overlook, has been impacted by this fissure. There is no estimated date for the road to reopen." An April 5 news release said: "Severe winter storms that have given new life to an underground spring caused saturated, heavy soils under the road to slide downhill. Over 200 feet of roadway has been impacted."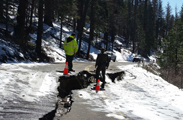 – – – – – – – – – – – – – – – – – – – – – – – – – – – – – – – – – – – – – – – – – – – – – – – – – – – – – – – – – –

The road through Tuolumne Meadows is closed in the winter, you can only ski in. The Tuolumne Meadows campground reservation office for the spring, summer and fall months becomes the Tuolumne Meadows ski hut in the winter. The Tioga road opens mid May to late June, and closes late October to early December, depending on snow amounts/plowing . https://www.nps.gov/yose/planyourvisit/tiogaopen.htm
Tuolumne Meadows weather report:
http://forecast.weather.gov/MapClick.php?lon=-119.35666&lat=37.87522#.WOVLm2e1vct
– – – – – – – – – – – – – – – – – – – – – – – – – – – – – – – – – – – – – – – – – – – – – – – – – – – – – – – – – –
Tips for pulling a trailer over Tioga Pass are at:
https://www.nps.gov/yose/planyourvisit/restrictions.htm
– – – – – – – – – – – – – – – – – – – – – – – – – – – – – – – – – – – – – – – – – – – – – – – – – – – – – – – – – –
Yosemite Park entrance fees:
You will need to pay a park entrance fee. Effective June 2018 the Yosemite park entrance fee is $35 per vehicle or $20 per motorcycle.
A Yosemite annual park pass will cost $70.
A National Parks and Federal Recreation Lands Interagency annual pass (starting in 2018) costs $80 for a year).
Or for a U.S. military member or dependent who has their ID Card (form 1173) can get a free national parks pass http://store.usgs.gov/pass/military.html
OR someone who is 62 or over to get a lifetime seniors pass for $80.
Park entrance fee details are at: https://www.nps.gov/yose/planyourvisit/fees.htm
(The passes can't be transferred/shared, the pass holder needs to be in your vehicle and show a photo ID.)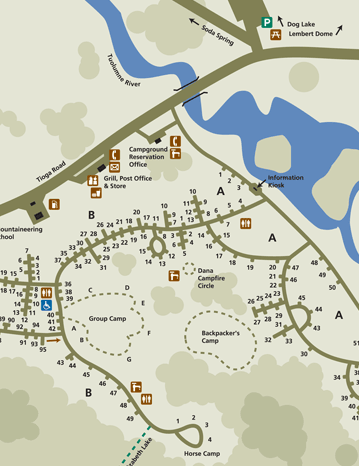 There is more, including a description of what you will find on the rest of the drive into Tuolumne Meadows, at: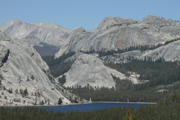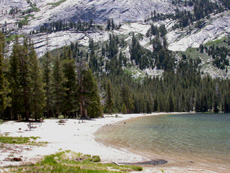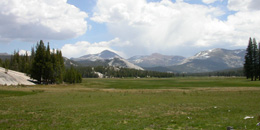 Yosemite Berann poster of Tuolumne Meadows, Tenaya Lake, Cathedral Peak, Clouds Rest, Tioga Pass, Mount Hoffmann, Mount Conness, Mount Dana and Mount Gibbs courtesy of NPS: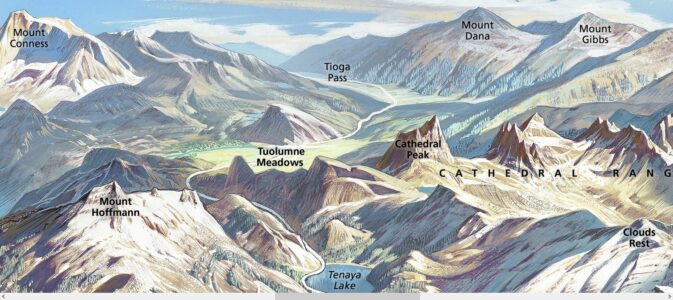 __________________________________________
Snow camp carpools and driving directions has driving directions from Silicon Valley to Yosemite Valley, including routes 140 and 120 (and few notes about 99/145/41). Info there could help you drive from Tuolumne and/or Crane Flat to Yosemite Valley.
Details advice about using the Yosemite valley free shuttle bus is at: https://marydonahue.org/yosemite-valley-free-shuttle-bus
__________________________________________
There is little parking in Yosemite valley or Tuolumne beyond your campsite, hotel area or day use parking. Park off the side of the road, not in a parking space, (as in the photo below, off road behind a large rock meant to deter anyone from parking there) and you can get a parking ticket with a $200 + fine (orange ticket under the windshield wiper) in this photo: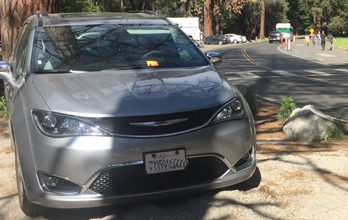 ______________________________________________
The Yosemite National Park rangers would like you to call them if you see a bear in Yosemite,
no matter where it is or what it is doing,
at 1 (209) 372-0322.
If you can, in all the excitement, try to notice if the bear has a tag (usually on the ear), the color of the tag and if possible, the number on it (the tag is large enough that with a telephoto you should be able to read the number).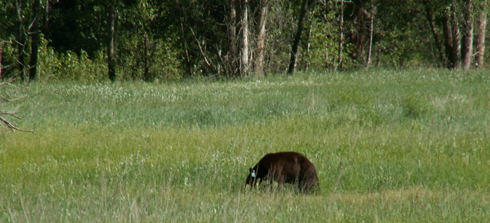 ______________________________________________
Yosemite driving distances
junction Big Oak Flat road and El Portal Road
– Junction Northside and southside drives .9 mile
-Junction Northside and southside drives – junction El Cap crossover 1.4 miles
(Southside drive) junction El Cap crossover – junction at Sentinel bridge 2.7 miles
junction at Sentinel bridge to junction at Curry Village (briefly named Half Dome Village) 1 mile
Yosemite Village – junction El Cap crossover 3.2 miles
Bridal Veil fall parking to far end of Wawona tunnel 1.6 miles
junction of Southside drive at Curry Village (briefly named Half Dome Village) to start of Happy Isles road .4 miles
start of Happy Isles road to Mirror Meadow bus stop 1.2 miles
Mirror Meadow bus stop to junction at start of Happy Isles road .4 miles
junction of Southside drive at Curry Village to main day use parking .8 miles
Yosemite Village to Tioga pass road 18 miles
Tioga pass road to Tioga pass entrance station 47 miles
Tioga pass entrance station to Lee Vining 13 miles
junction Tioga pass road to Big Oak Flat entrance station 9 miles
Big Oak Flat entrance station to Hetch Hetchy 18 miles
Yosemite Village to Chinquapin Junction 14 miles
Chinquapin Junction to Glacier Point 16 miles
Chinquapin Junction to south entrance station 17 miles
Yosemite Village to Arch Rock entrance station 11 miles
Arch Rock entrance station to Mariposa 34 miles
____________________________________________________________
Carpools are arranged among the students going on any Outdoor Club Trip, not by the club or the college. For info on how to get/give a ride go to Carpool FAQs
You might also want to read How to not collide with a deer, Safe driving in rain and fog, Prepare for winter driving, and/or wildlife jams Road trip advice and etiquette has ideas for limiting boredom, getting along on a road trip and some packing and safety tips.
– – – – – – – – – – – – – – – – – – – – – – – – – – – – – – – – – – –

You have a number of lodging choices of where to stay overnight in Yosemite Valley in Yosemite National Park, including campsites or
wood-walled cabin without a bath; heated or unheated wood floored, canvas sided and roofed tent cabin; wood walled cabin with a bath
luxury or generic hotel rooms, suites with a bath
_______________________________________
Ahwahnee hotel map webpage has summer and winter photos of rooms, balconies, parlors, (and the views from some of them), including the Presidential Suite with the huge balcony at the (south) far end of the Ahwahnee from the parking lot, the large third floor parlor with fireplace, two main building ADA Suites, featured room 417 with it's own, small, private balcony, 5th floor rooms that share a balcony, the El Dorado Diggins Suite Jacuzzi tub, the 24 cottages / (bungalows / cabins), including the classic cottages that have an alcove between the bedroom and the bathroom with a bed you can fit a child on, and a door between the bedroom and alcove for privacy, sixth floor Mary Curry Tressider Suite, Library Suite, Underwood room, Sunroom Suite (Sun Porch), Mather, Spencer.

__________________________________________
You can find basic to extravagant, (a few with a dress code),
casual, fast (grab and go)
or with table-side service,
indoor and outdoor food service
at
multiple locations
in Yosemite Valley, as well as four grocery stores
all of which are served by the Yosemite valley
free shuttle bus
.
_______________________________________