Below: De Anza Outdoor Club kayakers on Tenaya Lake, with Mount Hoffman, another destination for this trip, in the background.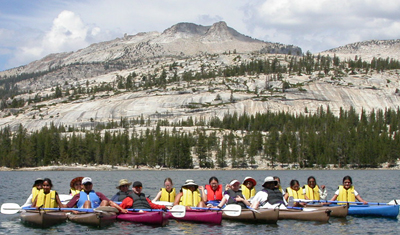 The book Yosemite Wildflower Trails says this about Tuolumne Meadows: "Those who know it best will tell you that here the Sierra attains its ultimate perfection of mountain grandeur. Near the source of eternal snows on the peaks, icy streams flash down the mountain slopes to linger a while in the grassy meanders or lush meadows, trailing garlands of wildflowers along their banks. Many lakes, from the smallest of rocky tarns to those filling ancient glacial valleys, lie in grass-rimmed splendor reflecting the sky, the clouds and the crags."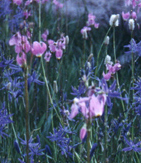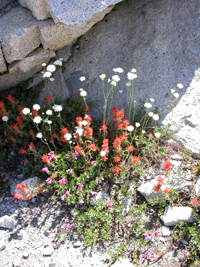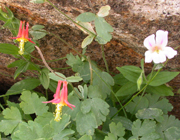 John Muir
said this in 'The Tuolumne Camp', "Probably more free sunshine falls on this magestic range than on any other in the world I've ever seen or heard of. It has the brightest weather, brightest glacier-polished rocks, the greatest abundance of irised spray from its glorious waterfalls, the brightest forests of silver firs and silver pines, more starshine, moonshine and perhaps more crystal-shine than any other mountain chain, and its countless mirror lakes, having more light poured into them, glow and spangle most. And how glorious the shining after the short summer showers and after frosty nights when the morning sunbeams are pouring through the crystals on the grass and pine needles, and how ineffably spiritually fine is the morning-glow on the mountain tops and the alpenglow of evening. Well may the Sierra be named, not the Snowy Range, but the Range of Light."

Tuolumne Meadows as viewed from Medlicott Dome: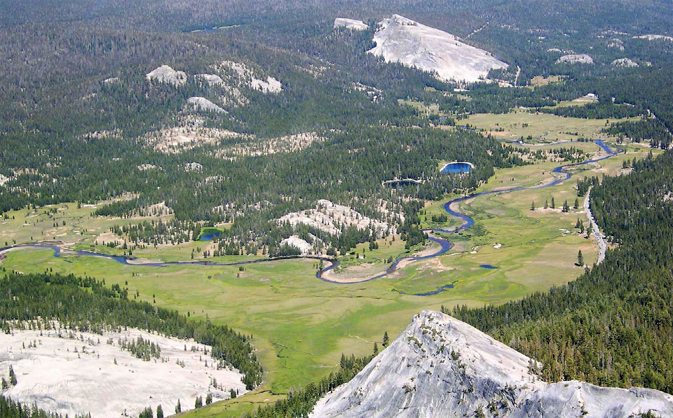 Yosemite Berann poster of Tuolumne Meadows, Tenaya Lake, Cathedral Peak, Clouds Rest, Tioga Pass, Mount Hoffmann, Mount Conness, Mount Dana and Mount Gibbs courtesy of NPS: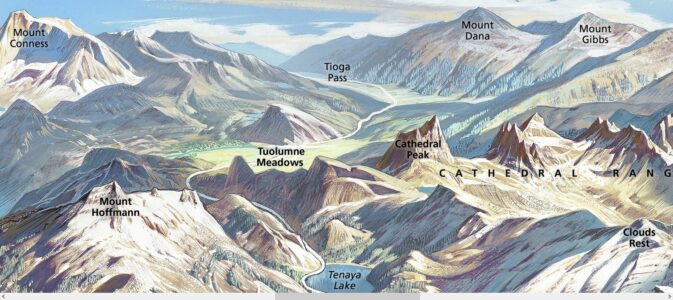 Muir's description of a thunderstorm:
"A range of bossy cumuli took possession of the sky, huge domes and peaks rising one beyond another with deep cañons between them, bending this way and that in long curves and reaches, interrupted here and there with white upboiling masses that looked like the spray of waterfalls. Zigzag lances of lightning followed each other in quick succession, and the thunder was so gloriously loud and massive it seemed as if surely an entire mountain was being shattered at every stroke….Then came the rain in a hearty flood, covering the ground and making it shine with a continuous sheet of water that, like a transparent film or skin, fitted closely down over all the rugged anatomy of the landscape."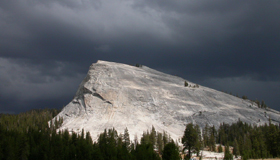 photos below by Quang-Tuan Luong/terragalleria.com, all rights reserved.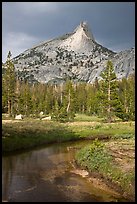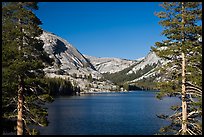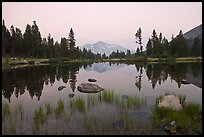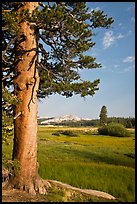 Please note that the road through Tuolumne Meadows is not open all year, the store/ etc. can open quite late into the spring or early summer some years and (rarely) the High Sierra Camps will not open at all due to deep snow.
Tuolumne Meadows, how to get there and what you will find:
Some tips for the 580/205/120 route, most of us will use are at:
San Jose area to Yosemite via 120
including why you don't want to shortcut through Livermore on 84, about the exit from Manteca to 99 north, why you should not try OLD Priest Grade, and more. This description takes you as far as Crane Flat, with 24 hour gas at the pumps with a credit card.
You might also want to read How to not collide with a deer, Safe driving in rain and fog, Prepare for winter driving, and/or wildlife jams</a
Road trip advice and etiquette has ideas for limiting boredom, getting along on a road trip and some packing and safety tips.
Gas will get higher in price as you get into the mountains, so refill the tank regularly when you spot cheap gas. In the park, the gas stations are not staffed that many hours but you can buy gas with a credit card 24 hours a day if the power is on. The gas station in Tuolumne Meadows is permanently closed and the nearest gas stations are Crane Flat to the west (so fill up on your way in) and Lee Vining to the east.
On the forty miles from Crane Flat to Tuolumne meadows (road open late spring to perhaps late fall) you will want to make stops and sightsee.
On the left shortly after Crane Flat is a small parking area for a short hike to the Tuolumne Grove of giant Sequoias.
If you have the time, stop at road marker T11, the Clark Range view, and see if you can spot Mount Hoffman to the east (10,850 feet elevation), our potential hike destination. As you drive, also see if you can spot the roadside marker T21, the turnoff down a dirt road to the trailhead for May Lake and Mount Hoffman.
Please do the speed limit. 15 bears and countless other animals were hit by cars in Yosemite National Park in 2005 and unfortunately even more many years since then.
Once you are near Tuolumne Meadows, even if you think you are running late, watch the map and the roadside markers for road marker T24 for Olmstead Point on the right. Pull into the big parking lot for at least a short stop to look around.
Stop and get out of the car for a look at a different angle at Half Dome than you may have seen, the wide expanse of Clouds Rest and down to Tenaya Lake in the other direction. With a telephoto (photo below) spotter scope or binoculars you can see people going up the Half Dome cables.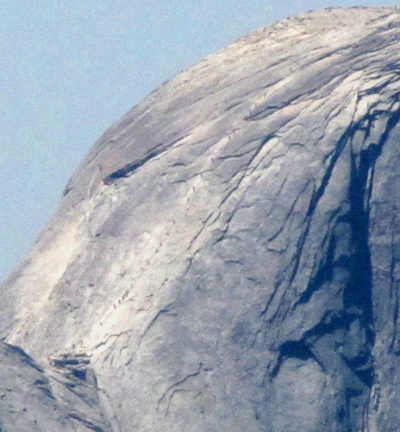 See also more places to take a photo of Half Dome.
Below: photos of Tenaya Lake from Olmstead Point and the view from Olmstead Point with Cloud's Rest (left) and Half Dome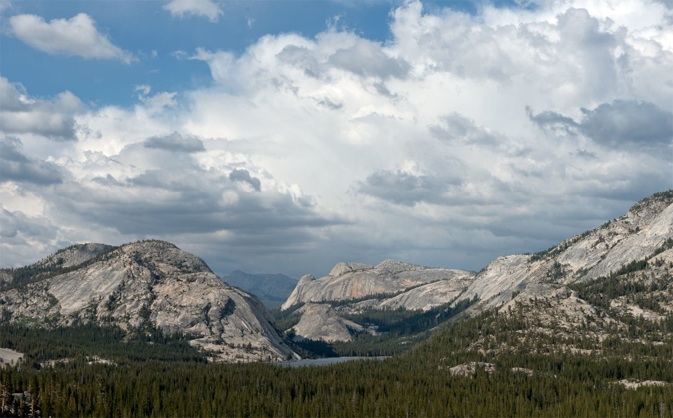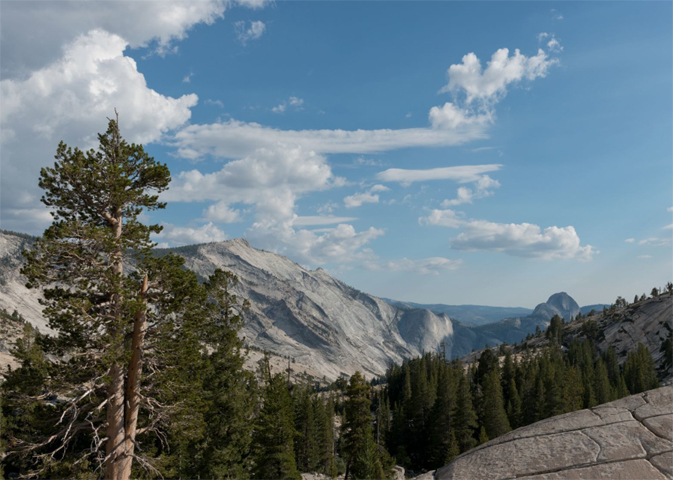 A National Geographic video of President Barack Obama's 2016 visit includes segments taken from the shore of Tenaya lake and from Olmstead Point with Cloud's Rest and Half Dome
Wander around the area and you may see, in season, Paintbrush and Mountain Pride Penstemon up closer than you did driving along the road. This might be a place you'd like to come back to for sunset. Sit still a ways from other people and you might see animals, like this marmot family: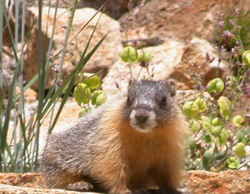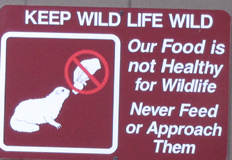 The sandy soil at the parking area often has Pussy Paws blooming, a circle of bright green leaves surrounded by a circle of little round fluffy hot pink flowers (okay, an umbellate cluster). Due to changes in water pressure, the stems rise during the day and lower at night. Later in the summer the pink flowers will turn brown with hundreds of tiny, black seeds for chipmunks to eat and spread, planting even more Pussy Paws.
Pussypaws, Cow Parsnip, Coneflower, Penstemon, Phlox, Columbine, Monkeyflower, Sulphur Flower, Iris, Groundsel and Lupine Tuolumne trip wildflowers
Google maps 360 degree view of Tenaya Lake, and another view.
Stop just down the road at Tenaya Lake if you want to try a swim before coming to the campground. (Please don't risk swimming alone, there are no lifeguards on duty.) The parking lot, restrooms and sandy beach are at the far end of the lake as you approach Tuolumne.
Google maps view of the beach end of Tenaya Lake.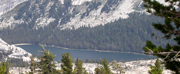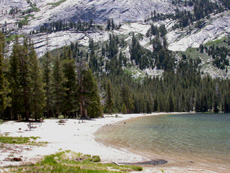 Early in the spring/summer when the water level is high, there isn't much beach and a few of the picnic tables can be submerged: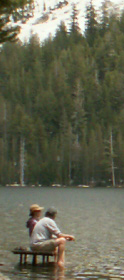 From the lake it's 7 miles to Tuolumne Meadows. The road was built for wagons in 1883 and rebuilt for autos in 1961. In 1911 J Smeaton Chase described the condition of this section of road he used as a trail: "The Tioga road…is a rough track built in historic days by the owners of the once famous Tioga mine… For purposes of technical control a wagon is still driven over it once a year by an adventurous teamster."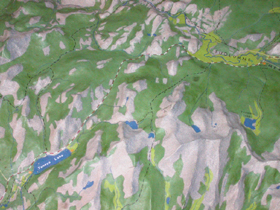 In this section of the raised relief map at the Tuolume Visitor center you can see Tenaya Lake in the bottom left and the meadows in light green the upper right.
When you get to Tuolumne Meadows the meadow itself will be on your left.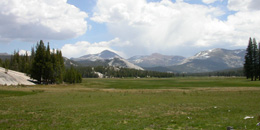 The first dome on the left at this end of the meadow is Pothole Dome. (Some of the glacial polish on this dome is fluted instead of flat (planar) and was not made by glacial debris, but by water flowing beneath the glacier. Hence the name subglacial water polish). It's a much easier walk to the top than other hikes we have planned, with a good view, but if you go there from the road, please don't wear out yet another trail across the meadow, use the slightly longer one that runs around the edge.
Early in the spring /summer season while the meadow is still wet or even flooded, Shooting Stars (with 4 or 5 pink petals coming from a yellow base, arranged like the wings of a diving bird) will be blooming,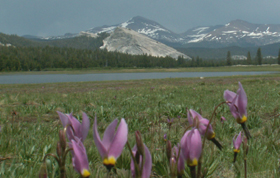 then as the meadow dries up a little, the crimson/magenta Penstemons bloom, and finally the tall red-orange shafts of Paintbrush.
Wander along the river and stay quiet and still for awhile and you might have the chance to see a Marmot family: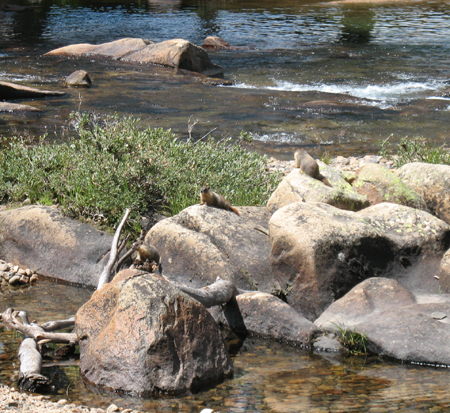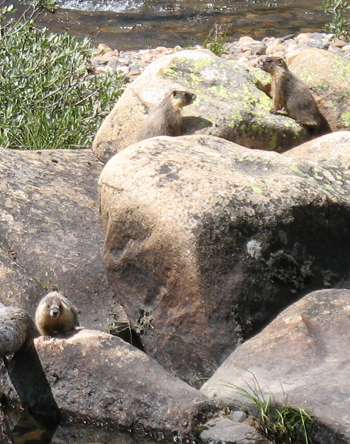 Drawing below courtesy of NPS: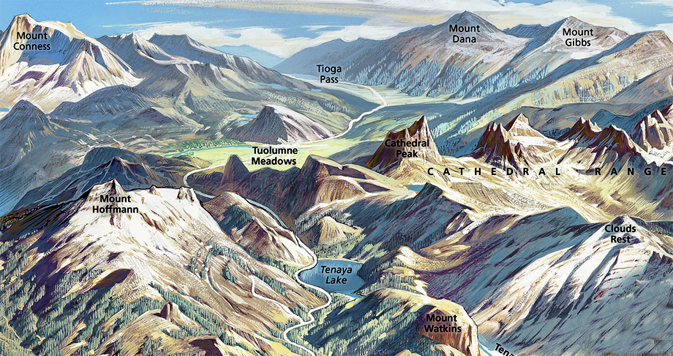 Map below courtesy of NPS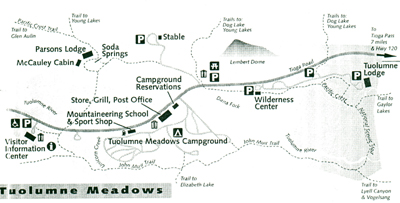 You will be driving in from the left to right on the map above. On the right you will pass (in this order) the Visitor Center (with nature displays and restrooms), trailer dump station, a bit later … (the gas station in Tuolumne Meadows is permanently closed and the nearest gas stations are Crane Flat to the west and Lee Vining to the east), slightly after that… a big white tent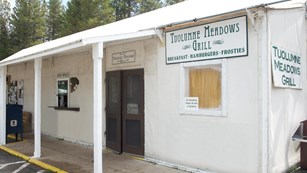 that houses a small grocery/dry goods store (left hand door in the picture above) with a large supply of frozen treats, boxes and boxes of cookies/crackers and a tiny supply of fresh produce- bring your own produce supply, 2016: banana 49 cents, 16 oz strawberries $4.19, 2 lbs grapes, $6.25
the Post Office (center window) and
grill (right hand door) … usually 8 a.m. to 6 p.m. (Early in the season sometimes only open for lunch). Great shakes and/or frosties depending on the year (but sometimes the machine freezes over), great fries/potato wedges, burgers – OK breakfast – . Menu: https://www.travelyosemite.com/media/820316/grill-menu-tuolumne-meadows-lodge.png
At the store the restrooms, picnic tables, a climbers' info display are off to the right of the picture above.
(2016, 2017, 2018 and . . . ) Many Sundays at 9am in the Tuolumne Store parking lot, the American Alpine Club and Yosemite Climbing Rangers offer free Climber Coffee. Bring your own cup and get questions answered, share tales.
The parking lot is often full, so campers would be wise to walk to the store and other visitors who drive should be patient for a parking space in the lot or nearby to open up. Did this driver from Arizona move the no parking a-frame sign over, or was it already moved over and he choose to ignore the sign, red cone, "No Parking" in large letters on the pavement and two giant trash dumpsters?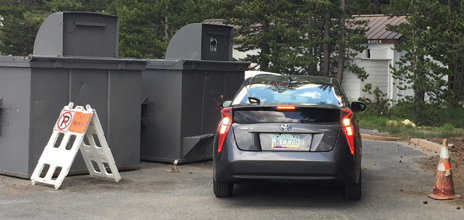 Next you'll drive past (again, on the right) the campground reservations office with payphones (a small stone building), then the entrance road to the campground. (10 mph in the campground.)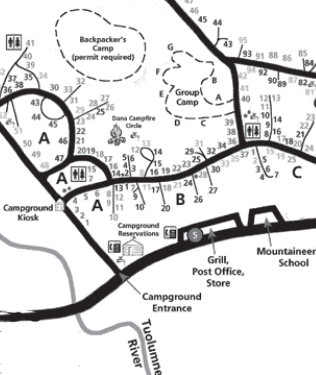 The Park Service is doing ongoing work at Tuolumne Meadows.
We read:
"Tuolumne Meadows Campground Closed Until 2024 or 2025
A major project to rehabilitate the Tuolumne Meadows Campground
https://www.nps.gov/articles/000/gaoa-tuolumne-meadows-campground.htm
is underway. As a result, the campground will be closed until 2024 or 2025 (depending on length of construction season, weather delays, etc.). No camping of any kind will be available at Tuolumne Meadows during this time. The backpackers campground will also be closed.
What will be different when the campground reopens?
• Improved and simplified road system
• Rehabilitated restrooms, with two new restrooms added
• Redesigned campsites with hardened parking pads
• Seventeen campsites relocated from along the river and within the floodplain in A loop to an area away from the river (no change in the total number of campsites in the campground)
• Backpackers campground relocated within the campground to the John Muir Trail trailhead
• Twelve walk-to campsites (with nearby parking)
• New picnic tables, food lockers, fire rings in each campsite
• Improved accessibility for people with disabilities, including at the Dana Campfire Circle
• Updated water and sewer system"
Past these the main road crosses a bridge (lots of swimming holes and rock slabs to sun on just upriver) and with Lembert Dome on the left, the highway bears right slightly and starts to climb to Tioga Pass.
To the right there is a side road to the backpacker's permit/ wilderness center. It has a large parking lot (with lots of metal lockers to store food / ice chests from bears) that people in small carpools or who drove by themselves can park at. (Parking at campsite(s) is limited.)
Up the side road a little more past ranger offices / housing is a trailhead parking lot and finally the Tuolumne Meadows Lodge, (mostly guest parking only) with canvas tent cabins. There is a great cascade a short hike up river from the Lodge (the Lodge tents are on the left side of the river as you go upstream, the trail thru the forest is on the right). There are huge bushes of lupine in season.
Meals are served at the Lodge in another big windowed tent with watercolors/oils on the walls.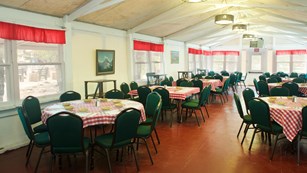 Please verify the following before the trip if you want to partake: breakfast 7 a.m. to 9 a.m. The usual breakfast items including pancakes, eggs/potatoes/meat and some healthy choices.
Dinner from 5:30 (or some years 5:45) p.m. to 8 p.m. (Reservations for dinner strongly recommended or some years required (209) 372-8413 or see the front desk). Dinner is usually a semi-family style meal. Everyone shares 6-8 person tables with whoever arrives/has reservations at the same time. We have been seated with some other interesting backpackers or with a family with noisy ill-mannered children.
For dinner people order from a small choice of vegetarian, steak, chicken, pasta, fish, side orders, many with the salad of the day. Usual beverages and a choice of freshly baked deserts.
Tuolumne Lodge MENUS (including how to order a box lunch for the next day): https://www.travelyosemite.com/lodging/dining/tuolumne-meadows-lodge/
The Lodge is a "smoke free environment".
The lodge often closes earlier in September than the campground.
Google maps 360 degree view.
__________________________________________________

The
Tuolumne Meadows hiking
map
has drawings and descriptions of trails to / around (easy, mostly flat) Soda Springs/Parsons Memorial Lodge, Lyell Canyon via the John Muir Trail, (moderately Strenuous, moderate elevation gain) Dog Lake or Lembert Dome, Elizabeth Lake, Cathedral Lakes, Glen Aulin, Mono Pass, Gaylor Lakes, and (strenuous, long with elevation gain) Vogelsang Area.
__________________________________________________

The
Tuolumne River Plan
(TRP)
https://parkplanning.nps.gov/document.cfm?parkID=347&projectID=14043&documentID=60345
includes work to
move shoulder parking along the Tioga Road
at Tuolumne Meadows . . ." into expanded parking areas within nearby upland areas. The current roadside parking negatively impacts the visitor experience by blocking views of Tuolumne Meadows. Additionally, vehicles encroach into meadow and riparian areas, negatively impacting critical meadow habitat.
The new expanded parking areas will accommodate the same number of parking spaces removed from the roadside along with regional transit buses and other oversized vehicles."
A Department of Transportation Tuolumne Meadows Parking Project Description website at:
https://flh.fhwa.dot.gov/projects/ca/tuolumne/
has more details, "Construction Date: Spring 2020 – Fall 2021."
and a link to the map of Tuolumne Meadows showing the locations of parking projects in red, as shown below: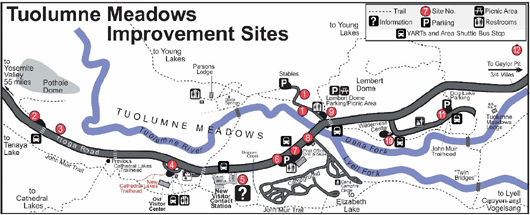 __________________________________________________

club-planned activities
All club-planned activities are optional.
The first day of the trip there are no official plans for anything, just arriving and setting up camp. Get the food/toiletries out of your vehicle and into the food locker right away. Keep the locker door closed and latched ALL the time, except when you are actually getting things out/in. Keep your car doors locked, as some bears have figured out how to open unlocked car doors. We can expect bears in the campground day and night. (But not everyone is lucky enough to see a bear.)
Air out the vehicle if you ate burgers on the drive up. In 2005 Yosemite started warning: "Bears break into cars during the day time. So even while on a day hike, store all scented items in lockers." In 2009 (and later) the reservation said: "Food and toiletries must be stored 24 hours a day in food lockers provided in all campsites. No food in vehicles." Please read more about how bears break in to cars (yes, some know how to open unlocked car doors by using the same handle you use to get in) at bears.

People who can leave town early could plan to do a first day hike, (climbing lesson … if they plan and make reservations in advance.)
Night sky measurements over Tuolumne Meadows have been deemed by the park service to indicate "near-pristine conditions" for stargazing.
If we bring the De Anza owned kayaks we plan to be out on Tenaya Lake for sunrise the first morning. (No, Michael, we can't schedule sunrise for later to accommodate your late night campfire/sleep needs). Only 4 to 20 can kayak at a time, depending on how many kayaks we can transport, so kayaking on large group trips will be first-signed-up-for-the-trip, first served, or people will take turns playing. Remember the "No food in vehicles" rules and if you bring snacks kayaking transport them in a small enough bag that they can go in the kayak with you.
You can also use a canoe over canoe rescue for kayaks.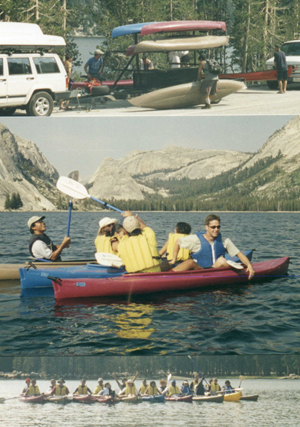 We also plan to continue the
lifetime quest for the perfect swimming hole.
(The Dana and Lyell forks of the Tuolumne River come down from the peaks and meet near the campground, then the river winds through the meadow.) It is usually warm enough to swim in the afternoon, but we don't swim if thunderstorms are lurking. Swimmers, and a trout nibbling at one of them, are at:
World's greatest swimming hole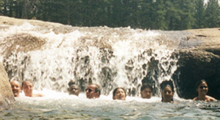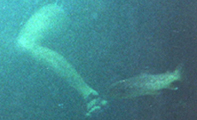 When we go for four days (three nights) we intend to take the whole third day to go to the top or near the top of
Mount Hoffman
(10,850′), the geographical center of the park. (This way we have a couple of days to acclimate to the altitude. But if weather looks like it will come in on the third day, we do the hike on the second day.) From the drive-in up a side-road trailhead, the trail is 1.2 miles to May Lake and then more switchbacks thru tiny wildflower meadows, with view back down to the lake, and on to the summit (or less distance if you want) for a 6 mile round trip. Guidebooks list it as a strenuous day hike. Pictures are at:
May Lake to Mount Hoffman
(Previously there was a rule about
no swimming allowed
near the outlet of May Lake as that is where the High Sierra camp gets water.)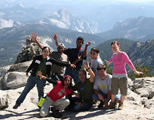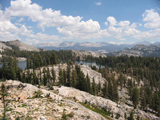 We would like to go to the top of Lembert Dome as well. It is possible to get there without using the official trail, that is to climb up the face of the rock, but we are not allowing it during the trip. One of the senior Tuolumne Rangers gave us the advice that they have not had many serious injuries by people free-climbing the face, but they have had to rescue many who 'ledge-out.' The trail route is a steep .75 mile, then a short flat part, then the top to negotiate. When we go up the trail route some people can stop at the backside 'top' of the dome where they will feel less acrophobic.



→ More pictures are at: Lembert Dome Hike
See a 360 degree view from the top of Lembert Dome.
__________________________________________
This trip is not for you if you don't have enough respect for the plant life and insist on baseball, frisbee, soccer, biking or other trampling of the meadows. Kite flying is banned in Tuolumne meadow and drones are banned everywhere in Yosemite.
It is not the right vacation for someone who wants to sleep in and expects the group to unload a kayak for them after the people who got to the launch site on time have already unloaded enough kayaks for themselves and are ready to play.
If you want to go on a major hike you must get up in time (early) to depart with us and stay with the group (or at least a small number of people hiking at the same speed).

Any hike to the top of peaks and domes must start early so we can get to the top and back down before expected afternoon lightning storms start. If at any point thunder is heard or lightning seen, you should turn back from the top of any peak, even if you haven't gotten as far as you wanted. Don't get zapped! Don't use your cell phone or IPod. Read Thunderstorm and lightning safety .
__________________________________
____________________________________________
Besides the hike and possible kayaking we have in mind …
The Tuolumne Rangers do very good nature walks or longer hikes, campfires at the campground Dana Circle and star or full moon talks.
The climbing school is based in Tuolumne in the summer. Mountaineering School info starts at:
http://www.travelyosemite.com/things-to-do/rock-climbing/
Beginners lesson (from the website in early 2016) $143 to $167.
(Phone in advance of the trip for reservations 209-372-8344.
Horseback riding is no longer offered at Tuolumne. Stables info is at:
http://www.travelyosemite.com/things-to-do/horseback-mule-riding/
There are more hikes than we can begin to describe. The Yosemite park service trail descriptions page (with some photos) starts at:
http://www.nps.gov/yose/planyourvisit/trails.htm

The Parsons Memorial Lodge Summer Series of free talks, films, slide presentations and the Tuolumne Meadows Poetry Festival usually runs July through August. Details can be found at: http://www.nps.gov/yose/planyourvisit/programs.htm
The trail across the meadow to Parsons Lodge starts either across the main road near the Visitor Center or at the end of the road that goes from the Lembert Dome parking area towards the stable. Allow 30 minutes walking time from the Visitor Center or Lembert Dome parking, more from the campground.
Can I ride my mountain bike?
True mountain biking is not allowed, bikes must stay on roads and paved paths only, but 30 miles away, Mammoth has a gondola to the top of the mountain and you can ride up to 100-plus-miles of single-track trail network 3,000 feet to the bottom. http://www.mammothmountain.com
Yosemite fishing regulations are at:
http://www.nps.gov/yose/planyourvisit/fishing.htm
Anyone who wants to use this trip as a way to tackle the hike to the top of Half Dome , ( which requires a permit even if you don't intend to stay overnight) which should start at 5 a.m., should note that the drive to the valley trailhead is about 1 1/2 to 2 hours. Tuolumne is not a good place to locate if you want to visit Yosemite valley a lot.
http://www.nps.gov/yose/planyourvisit/hdpermits.htm
Can I parachute or parasail in Yosemite?
According to the Park Service:
"No. "BASE jumping" was permitted from El Capitan on a trial basis in the 1980s. However, due to the excessive number of injuries and abuses of safety restrictions, the activity is now prohibited. Parasailing is not permitted."
Can I hang glide in Yosemite?
According to the Park Service:
"Hang gliding is permitted only for those with a Hang IV certification and only through the sponsorship of the Yosemite Hang Gliding Association at (719) 632-8300."
ACCORDING TO DE ANZA'S RISK MANAGEMENT:
NO, at least not during one of our trips. At the end of the trip, after the campsite is packed up and vacated, people are on their own. Then people can go to the valley for hang gliding, try a high altitude scuba dive in Tenaya Lake or do rock climbing without an instructor from the climbing school. During our trip none of these will be allowed.
______________________________________
The Outdoor Club has previously gone to Tuolumne many times. We get a group campsite that can hold up to 30 people, usually for
three nights (Sunday to Wednesday or Friday to Monday or . . .), camping, hiking, (and on your own, a climbing lesson with a professional instructor) at Tuolumne Meadows, Yosemite.
Parking at the campsite is usually limited to the three largest carpools, first signed up, first served. Everyone else will park at day use or sections of a road near the campground. There (was in the past but it has not operated in recent years)a fee shuttle bus 7 a.m. to 7 p.m. +/- including stops at day use parking and the store/grill near the campground entrance. The drivers who get a campsite parking space usually volunteer to meet other vehicles and bring in gear/people. Or we arrange for a parking space to be held for dropping off gear.
You don't have to depend on the driver of your carpool to get around Tuolumne. The store, with a shuttle bus stop, is a short walk from anywhere in the campground. The fee ($1 to $18, depending on distance and one way or round trip) shuttle bus runs most of the day to stops at Tuolumne Lodge, trailhead parking near Tuolumne Lodge, Wilderness Center/parking lot, Lembert Dome parking lot, store/grill/campground, Visitor Center, trailhead for Cathedral Lakes at the west end of the meadows, Pothole Dome, the east (beach) end of Tenaya Lake, the west end of Tenaya Lake (also the Sunrise trailhead), the May Lake trailhead and Olmstead Point. Usual schedule: service begins at Tuolumne Meadows Lodge at 7 a.m. Buses arrive at approximately 30-minute intervals between 7 a.m. and 7 p.m. The last shuttle bus leaves Olmstead Point at 6:00 p.m. Most years the shuttle bus also makes two morning (9 a.m. and noon) and two afternoon (3 p.m. and 5 p.m.) runs from Tuolumne Lodge to Tioga Pass with a stop at Mono Pass. All this is subject to change. Look for route maps at the shuttle stops and Visitor Center. Current schedule and costs should be at: http://www.nps.gov/yose/planyourvisit/tmbus.htm
This bus was free for years, but see below for the Yosemite daily Report July 5, 2016:
"Tuolumne Meadows Area Shuttle Rates Now Apply
The Tuolumne Meadows Area Shuttle is now running for a fee, payable by cash only. There are a number of different stops between Olmsted Point and Tioga Pass, with varying fees. A few of the commonly asked about stops and fees are included below.
Tuolumne Meadows Visitor Center to Tenaya Lake $4
Tuolumne Meadows Visitor Center to Olmsted Point $6
Tuolumne Meadows Wilderness Center to May Lake Trailhead $8
Tuolumne Meadows Lodge to Tioga Pass $8
For more information contact the tour desks at Tuolumne Meadows Lodge, Yosemite Lodge or" Curry "(Half Dome) Village."
AND AS OF 2018 it was not operating.
______________________________________
Some people on this trip will leave very early the first day and sightsee/hike or get a climbing lesson before checking into the campsite in the afternoon. Some may not be able to take all the days off and will leave after work on the first or second day. You pay the same price no matter how many nights you camp with us.
Carpools are arranged
among the students going on the trip, not by the club or the college. For info on how to get/give a ride go to
Carpool FAQs
The club will provide:

space at a group campsite (years we can get one, if not, in regular family campsites). The largest carpools (suggest over five people; first drivers signed up get on the list of parking spaces first, some years we need tow vehicles) will be allowed to park at the group campsite. Others will have to park at campground 'overflow' parking at the backpackers permit station.
To find your way to both the group campsites and extra parking there is a map at:
Tuolumne Meadows group campsites map and pictures
When we get a group campsite you will get a map when you sign up for the trip.
The club will also provide a faculty advisor, who will provide a first aid kit, and a water purifying pump for club led hikes/kayaking.
If we kayak, the club intends to provide tandem kayaks, paddles, lifejackets (which must be worn and strapped securely) and the club advisor may possibly loan dry bags.
The club will probably also provide a shared stove and lantern for at least one possibly dining canopy covered cooking area, but if the club does not, members can borrow such club equipment with a cleaning and/or late fee deposit in the form of a cashier's check or credit card.
Trip participants are responsible for all other gear, including food and food preparation equipment, tents, sleeping bag, insulating sleeping pad, mosquito repellant, (read some advice at: insect repellant) waterproof outer layers in case of rain, (you can get a set of rain pants/jacket at Home Depot then Improve your inexpensive rain gear), swimsuit, and other personal gear. Members can borrow some stoves, lanterns, tents and insulated sleeping pads, but we expect a large turnout for this trip and do not have enough of such gear for everyone.
The club requires that we see your rain gear before you can sign up,
because on previous trips the faculty advisor has had to dress people in plastic leaf bags.
Really.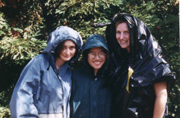 You must have a
waterproof
jacket and pants, either a simple rain jacket/pants set like the construction workers ones they sell at hardware stores, or as fancy as a set of Gortex gear. We will not accept rain ponchos or thin, easily torn temporary rain gear like they sell at airports for emergencies.
Pleeease follow the MUST HAVE guidelines at the Camping equipment checklist
You can find lists of gear to bring for winter camping that have things that apply to this trip at Snow or rain camp must-haves. If you don't have gear for or have never been rainy/cold camping OR have never been happy while rainy/cold camping we really recommend you read the lists.
For a list of gear you'll want on a long day hike/kayak read day hike gear at: Camping equipment checklist
Enhance your hike by reading:
The day hike gear section at Camping equipment checklist
Thunderstorm and lightning safety includes the answer to the question: Why can't you swim during a lightning storm? A strike on a lake doesn't kill all the fish in the lake.
see also: Cell phones in the wilderness which has advice on how/when to use a cell phone to contact 911 in the wilderness and a warning about interference between cell phones, iPods and avalanche beacons.

You can't always expect a helicopter rescue
fatal, near fatal or close call incidents/accidents in camping, backpacking, climbing and mountaineering
Can a person who is prescribed an epi-pen risk going into the wilderness? and some sting prevention notes are at: Anaphylaxis quick facts
FIREWOOD: As long as Sudden Oak Death is still a problem, we must follow quarantines of host material, including local (Santa Clara County and other infected coastal counties) firewood. We can't even bring cut up scrap lumber or pallets. We need to buy it in the park, or use Presto type "logs" or collect it in the park outside of Yosemite Valley.
Campfire pictures are at:
Tuolumne photos Aug. 2002
Answers to most questions about how the club works are at: Outdoor Club Basic Info The main rules common to most of our trips, including who is eligible to go, are at: Outdoor Club trip rules.
______________________________________________
LOGISTICS:
When camping with a large group of people some

complain there is not enough room
in their shared bear box for all their gear. In the summer at Tuolumne, when we often get a group campsite, we have had serious problems fitting everything because there are only 5 bearboxes for each group campsite.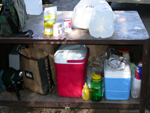 More things could fit in the campite bear-proof storage lockers if everyone brought smaller containers of food, etc.
NO!→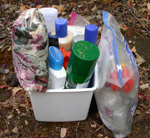 ← Yes!!
and if everyone brought their gear in small, deep plastic trash cans or other plastic boxes close to, but no more than, 17 inches tall. A typical bedroom waste receptacle could be 9″ by 12″ by 17″ deep and hold quite a few cans of food, cooking items and toiletry bags.
→ Pleeeease read:
→ Using a campsite food storage locker
If we have a big group you will be limited in what you can put in the bearboxes at the site and leftovers will have to be left at the Wilderness Center or other extra bearboxes. Moving food back and forth can be a big pain.
______________________________________________

The Yosemite National Park rangers would like you to call them
if you see a bear in Yosemite,
no matter where it is or what it is doing.
Since 2003 there has been a note in the Yosemite Guide: "REPORT ALL BEAR SIGHTINGS! To report bear sightings, improper food storage, trash problems, and other bear-related problems, leave a message for the Bear Management team at: 1 (209) 372-0322. Your call can be made anonymously."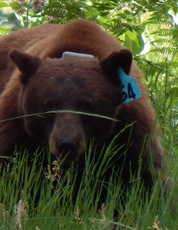 If you can, in all the excitement, try to notice if the bear has a tag (usually on the ear), the color of the tag and if possible, the number on it (the tag is large enough that with a telephoto lens you should be able to read the number).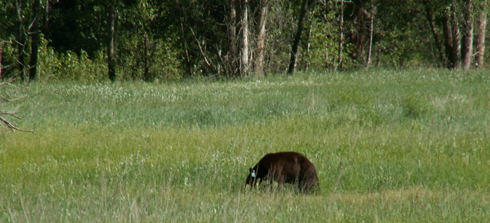 From the Yosemite Daily Report newspaper:
"It is extremely important to remember to yell at bears that are in and around development, even if they are foraging on natural food. Though it is very tempting to get close for a picture, or just to watch these incredible animals, it is important not to give into this urge. Yelling at them if they are in residential areas or near people is critical to keep bears natural fear of humans. Giving bears plenty of space. When bears become too comfortable around people, they will often start causing damage to structures and vehicles, or will even become too bold around people, creating safety concerns."
And the Yosemite Daily Report also said:
"Scare bears when you see them. . . in developed areas- Yell like you mean it!
Make as much noise as possible, try waving your arms, stomping your feet
or anything to make you look intimidating and to get the bear to run away.
We know it's fun to see bears and it can feel mean to scare them,
but this is a simple way to truly help save a bear's life."



______________________________________________

There will be

bears

in the campground

and quite possibly

in our campsite

, please read the trip handout carefully, as well as the material on

how bears break into cars, what to do if you see a bear

and more at:

Bears

below a warning note a Tuolumne ranger put on a car (not one of ours) and a bear's eye view in the window: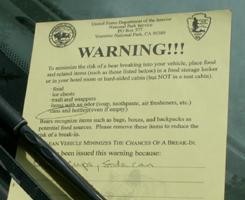 A good way to wake up the whole campground is to set your car alarm. Then if a curious animal or clumsy person bumps the vehicle at night you've succeeded.(The alarm won't keep bears out of your vehicle).
Tent walls are thin. You can wake up everybody in the vicinity when you want to get into your car and you use the keyless (remote) door opener and the car makes the usual loud beep. People don't think to just use the key to open the door or don't know that if you look in the owner's manual you can usually find a way to disable the beep.
For a laugh, go to:
Camping Blunders
______________________________________________
We are staying at 8,600 plus feet elevation. You will probably feel out of breath at first and may even get a headache and lose appetite. You can get more sunburned. Read
At altitude
for advice. It includes why your tent mate might seem to stop breathing.
______________________________________________
For details about club events and on

how to find us

to pay for a membership, sign up for events or volunteer, go to:
Outdoor Club Coming Attractions
Please read all the bears info and food storage info before you come to sign up and bring proof you are a De Anza student.
______________________________________________
Especially if you've never been to Yosemite, the Yosemite newspaper has lots of the most current safety info, a calendar of park activities including Ranger walks, and hours of operation for visitor centers, museums, stores.
http://www.nps.gov/yose/planyourvisit/guide.htm
______________________________________________

photos below by Quang-Tuan Luong/terragalleria.com
, all rights reserved.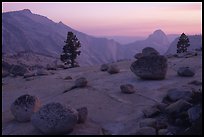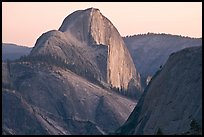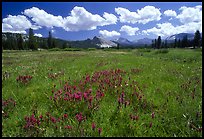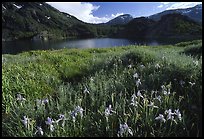 FAQS, nature notes, recommended reading
NOAA weather for Yosemite Valley is at:
http://www.wrh.noaa.gov/total_forecast/printable_forecast.php?wfo=hnx&zone=caz096&county=cac043
Tuolumne Meadows weather report:
http://forecast.weather.gov/MapClick.php?lon=-119.35666&lat=37.87522#.WOVLm2e1vct
White Wolf weather report:
http://forecast.weather.gov/MapClick.php?lon=-119.64886&lat=37.86591#.WeoyfTtrzct
If we are having a heat wave at home, Tuolumne (8,000 feet elevation) or other high mountain locations are the place to get away and be cooler. Look at these predictions for one July day:
San Joaquin Valley (Fresno, etc.) Highs 104 to 114, overnight lows 70 to 80.
Yosemite at 5,000 feet elevation 93 to 99, overnight lows 57 to 67.
Yosemite at 8,000 feet elevation 84 to 89 overnight lows 48 to 58.
There is a greater chance of thunderstorms and wind at higher elevations, so wind chill can make it feel much colder, especially overnight or out on a hike on an exposed ridge.
Bring sweaters, rain jacket, fleece, non-cotton longjohns/socks even if the weather seems hot at home.
______________________________________________
You can read these
books about Yosemite by John Muir
for free:
The Mountains of California http://www.gutenberg.org/ebooks/10012
Can I recommend these chapters?
VII THE GLACIER MEADOWS
XII SIERRA THUNDER-STORMS
XIII THE WATER-OUZEL
The Yosemite http://www.gutenberg.org/ebooks/7091
some favorite chapters include:
Winter Storms and Spring Floods
Snow-storms
Snow Banners
______________________________________________
Why are parts of the rocks around Tenaya Lake so smooth and shiny?
This is glacial polish. As the glaciers carved out much of the Yosemite landscape, (Tenaya Lake was gouged out by the Tenaya branch of the Tuoumne glacier), the fine-grained debris at the bottom of the glaciers polished some of the rock. The bigger debris gouged scratches called striations. The polished surface layer will wear away after a few centuries.
Here is John Muir's description of glacial polish
"The pavements are particularly fine around Lake Tenaya, and have suggested the Indian name Py-we-ack, the Lake of the Shining Rocks. Indians seldom trouble themselves with geological questions, but a Mono Indian once came to me and asked if I could tell him what made the rocks so smooth at Tenaya. Even dogs and horses, on their first journeys into this region, study geology to the extent of gazing wonderingly at the strange brightness of the ground, and pawing it and smelling it, as if afraid of falling or sinking…
In the production of this admirable hard finish, the glaciers in many places exerted a pressure of more than a hundred tons to the square foot, planing down granite, slate, and quartz alike, showing their structure, and making beautiful mosaics where large feldspar crystals form the greater part of the rock. On such pavements the sunshine is at times dazzling, as if the surface were of burnished silver."
Read the whole section from the book Our National Parks by John Muir at:
http://www.abovecalifornia.com/lib/index.php

Why are people carrying thick 2 foot by 3 foot double-folded pads on shoulder straps?
These are crash pads, fat pads or mad pads, a place to intend to land when you fall while bouldering. They can also be used as a couch – but at $100 to $200, are expensive outdoor seating. One company describes theirs: "To create the best possible landing zone, Metolius researched the foam combinations that would absorb the most energy. The open-cell foam is a great shock absorber, but by itself, it takes a very thick piece to keep from bottoming out. So they added a layer of firmer closed-cell foam on top to cut down on bulk and spread the force outward." Some have auto floor mat type carpeting for wiping off shoes. Trampolines are not a recommended replacement.
Yosemite National park gives these tips for use:
"Bouldering
Yosemite Valley boasts some of the best bouldering in Yosemite and the sport continues to grow in popularity every year. With increased popularity comes increased impacts.
Here are some things you can do to help out:
Take the time to find and follow established approach trails when hiking to bouldering areas.
Never cut or break tree limbs, remove excessive lichen, or damage vegetation to establish a boulder problem. Maybe some problems weren't meant to be climbed… and there are many more still left that don't necessitate gardening.
Keep bouldering areas clean. Pick up your trash, even the little stuff (cigarette butts, tape, wrappers, etc.)
Think twice before putting down the pads. Bouldering pads protect our ankles but trash fragile plant life. If the area looks fragile, maybe find an extra spotter and skip the pad.
Do you really need to chalk up again? Try to minimize chalk use and clean off chalked holds when possible, especially on overhung routes where rain doesn't hit. If you tick holds, clean the marks when you're done."
Zion National park gives these tips for use:
"Reduce Your Impact When Bouldering
Place your crashpad carefully at the base of the boulder.
Carry your crashpad rather than dragging it.
Minimize the size of your group.
Don't cut or break tree limbs, remove lichens, or damage vegetation.
Clean off chalk holds and tick marks when you are done."
____________________________________________
Why are Lembert Dome and Pothole Dome lopsided?
This is also the result of the glacial erosion of Yosemite. The glaciers pushed up the slope of the east side of Lembert Dome and quarried chunks off the west side. The term for this kind of small hill is roche moutonnee. Each is smooth and gently sloping on the side of the glacier's advance (stoss side) and the lee side is steep and jagged.
____________________________________________
Why are there trees in the bottom of Tenaya Lake?
"1,000 years ago, trees grew in then-dry Tenaya Lake. Today only their tops show: still rooted in as much as 70 feet of water."
Read the article The Great Droughts of Y1K, by Scott Stine, Ph.D, California State University, Hayward,
at http://sierranaturenotes.com/naturenotes/archives.htm
____________________________________________
Read John Muir's description of a hike to the top of Mount Hoffman and a visit to Tenaya Lake from the book My First Summer in the Sierra, (Chapter 6) written July 26 to August 1st.
http://www.sierraclub.org/john_muir_exhibit/frameindex.html
_____________________________________________

photos below by Quang-Tuan Luong/terragalleria.com, all rights reserved.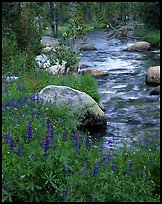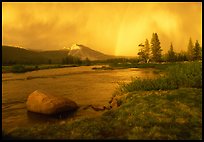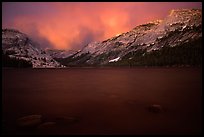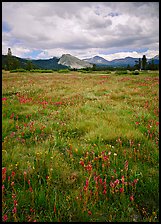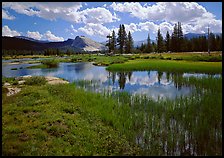 ______________________________________________
Yosemite nature and photography links
has links for wildflower, mammal, bird, geology, star guides and more
Yosemite Valley spring runoff and flooding / Yosemite snow pack
has info on when the Tioga road opens in spring, which has an effect on when the campgound, etc. at Tuolumne can open.
______________________________________________
MAPS:
Maps of Yosemite are at:
http://www.nps.gov/yose/planyourvisit/maps.htm
______________________________________________
The menu for the Whoa Nellie Deli at the Tioga Gas mart in Lee Vining (near Mono Lake, 13 miles from Tioga Pass, intersection of 120 and 395) is at:
http://www.thesierraweb.com/tiogagasmart/deli.html
_____________________________________________
_____________________________________________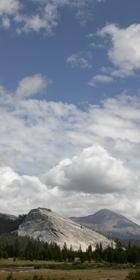 _____________________________________________

The current details of ranger walks, hikes, talks / hours of operation of stores, etc. are at: http://www.nps.gov/yose/planyourvisit/guide.htm
——————
Grill, store and Post Office in the big white tent at the edge of the campground:
Tuolumne Meadows Grill
usually 8:00 a.m. to 5:00 p.m.
Tuolumne Meadows Store (Groceries, Gifts, Books, postcards. t-shirts, etc.)
usually 9:00 a.m. to 5:00 p.m.
Post Office
usually Monday – Friday: 9:00 a.m. to 5:00 p.m.
Saturday: 9:00 a.m. to 1 p.m.
Mountaineering School and Sport Shop (at the gas station)
usually 9:00 a.m. to 4:00 p.m.
Tuolumne Meadows Bookstore
usually 9:00 a.m. to 5:00 p.m.
Inside the Tuolumne Meadows Visitor Center
Tuolumne Meadows Wilderness Center usually 8 a.m. to 5:00 p.m.
_____________________________________________
Changes are coming to Tuolumne. To read the Tuolumne Wild and Scenic River Final Comprehensive Management Plan go to:
http://www.nps.gov/yose/parkmgmt/trp_feis.htm
Start at the executive summary.
21 campsites (no, not all of loop A, just along the river: 1-6, 48-55, 63, 66, 67, 71, 72, 88 and 89) will be removed and the sites relocated west of where they are now. The entrance road into the campground will be moved away from the river as well. Restrooms will be added/upgraded.
Parking lots will be created away from the main road and roadside parking not allowed, making better views unobstructed by parked cars. Informal trails will be fenced off and damage to the meadows repaired. A new shower house will be put in at the high sierra camp, giving non-guests (backpackers/campers) a shower house to use. Picnic areas will be improved at/near the store/grill and Lembert Dome areas. The gas station will be removed (more parking will be added there) and the mountaineering school relocated to the high sierra camp.
_____________________________________________
See some of the peaks of the Tuolumne area in relation to Half Dome at a webcam: https://www.nps.gov/yose/learn/photosmultimedia/upload/sentineldome-key.jpg (From the webcam you can see Half Dome, Mount Watkins, Tressider Peak, Clouds Rest, Kuna Crest, Fletcher Peak, Vogelsang Peak, Mount Watkins, Cathedral peak, Ahwiyah Point, Quarter Domes, Little Yosemite Valley and Tenaya Canyon.)
and in summer only, a webcam at the Tuolumne store, with the top of Fairview Dome in the distance.
_____________________________________________
Tuolumne Meadows group campsites map and pictures
_____________________________________________
When will the Tioga Road and the Tuolume Meadows Campground open?
Tioga road opening (anywhere from April 29 to July 1, but most often in May) and closing (from Oct. 17 to Jan. 17, but most often in November) dates are at: http://www.nps.gov/yose/planyourvisit/tiogaopen.htm
below: a NPS photo of the Tioga road in early May, 2005

Watch a video of plowing (it is potentially dangerous, they have an ambulance on site)
https://www.nps.gov/media/video/view.htm?id=F99C47BC-DA5D-5DB6-9B080585218403F4
The NPS had this note about the process of opening the Tioga road, then the Tuolumne facilities:
"Once the Tioga Road opens, crews begin working in campgrounds and other facilities to prepare them for opening. Before campgrounds can open, crews assess the condition of the campgrounds, remove hazard and fallen trees, make emergency road repairs, de-winterize restrooms, pump vault toilets, and turn on and test water systems. Additionally, sewer and utility systems often need repair each spring.
All this work also has to happen at visitor centers, offices, residences, and other facilities, as well. Opening offices and residences for staff are a high priority because campgrounds and other facilities need staff in order to operate.
As a result, campgrounds usually don't begin opening until at least two to four weeks after the Tioga Road opens."
_____________________________________________
Below: NPS photo of the reservations office in winter when it becomes the ski hut. Read more at Tuolumne Meadows ski hut . You'll find the answer to the question: Can you ski across Tenaya Lake in the winter?