For the De Anza College trips to the Grand Tetons, our trip can start and end when people traveling together mutually want it to. The official days of each trip will be posted at: Grand Tetons
We could not find any bus or train line that serves Jackson Hole. But http://www.mountainstatesexpress.com can take you from the Salt Lake airport to Jackson.
If you fly or stuff a lot of people in a car, you will be limited in what you can bring. If we can transport the kayaks (we almost always can) we will also bring lifejackets, paddles and a limited supply of dry bag(s). We usually also can find room for a dining canopy. The club and/or the drivers will not be responsible for the safety of items we transport for you.
NO CAR ON OUR TRIP?
During our trip, if your driver has plans for the day that you don't want to participate in, or if you arrive by plane before the main group, or if your driver stayed up late and slept in all morning, there is plenty to do at or from Colter Bay without access to your own vehicle. See below at NO CAR ON OUR TRIP?
.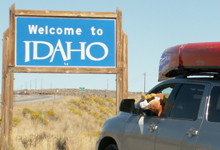 DRIVE
Carpools are arranged among the students going on the trips, not by the club or the college. Carpool FAQs
The drive from Silicon Valley to the Tetons, as estimated from AAA tour maps, going through Reno, and across Nevada, is about 21 hours without many stops or heavy traffic. In 2002 it took one van 31 hours with lots of stops. In 2009 one guy said it was a 17 hour drive and he swears he didn't speed (no one believed him).
If you ride in a carpool driving straight through, pack a small bag with the items you will wish you had for 24 hours so that you don't need to stop and go through your luggage looking for: your toothbrush/floss, flashlight (electric torch), rain jacket, pillow, book, journal, camera, headphone CD player. Other people in the vehicle will appreciate it if you wear freshly laundered clothing without perfume or cologne and have recently washed yourself. There's more on packing at, you guessed it: Road trip advice and etiquette .
We advise people who intend to drive straight through to leave town in the afternoon or evening to be able to drive across the desert at night. A Tetons road trip veteran advises:
"add the Great Salt Lake to that, too. That was one of the absolute worst hours of the drive. The sun was scorching; there was absolutely nothing out there but salt to look at; and, as far as I recall, there were absolutely no overpasses,underpasses, trees, or buildings to stop in for shade; it was horrible. I guess it took only about an hour or two to drive through there, but I just remember it as being torture."
(The Salt Lake route is an hour longer than the southern Idaho route, but if you have relatives who will let you camp in their backyard as students on a previous trip had …)
Whoa, does this make you think you can't endure a road trip across the US desert? Will you die of boredom? Go to:
Road trip advice and etiquette for ways to save your sanity and save friendships on a long expedition, including decisions to make before the trip, packing advice and more from previous road trip members that could make the long drive more tolerable.
Can you pass the "Winnebago test"? It's a test discovered by a friend of the Outdoor Club faculty advisor. If you are stuck on a winding mountain road behind a huge, slow moving motorhome and you realize they are not going to pull over and let the dozen plus cars behind them pass, will you wreck your vacation? The test is at: Road trip advice and etiquette . It has decisions to make before the trip, packing advice and more from previous road trip members that could make the long drive more tolerable.
If there is an emergency in the park call 911 from a pay phone or (307)739-3300 from a cell phone for park dispatch. (Please verify this phone number in the park newspaper when you get there.)
It is worth investing in a spare vehicle key or two or three, in the pockets / daypacks of various people, since your cell phone does not function everywhere in the park and you could need to take a bit of a hike to get to a hotel front desk to try to use their phone to get a Auto Club locksmith to unlock you car when you lock the keys in it. And getting that help to your vehicle can take quite awhile! If you rent a vehicle for the trip, talk to me about where you might be able to find a spare key in that rental.
Grand Tetons trip cost includes mileage and gas costs estimates.
This warning from Canada can apply to any long-distant drive: "Visitors to large cities and popular tourist destinations should be aware that parked cars are regularly targeted for opportunistic smash-and-grab thefts, and they are cautioned to avoid leaving any unattended possessions in a vehicle, even in the trunk. Due to the high incidence of such crimes, motorists in Montreal, Toronto, Vancouver and some other jurisdictions can be fined for leaving their car doors unlocked or for leaving valuables in view. Visitors should exercise precaution to safeguard their property."
These sites try to keep up on gas prices across the country:
http://www.gaspricewatch.com/new/
It uses less gas to drive with the air conditioning on than to drive with windows open.
If you rent a vehicle, try to get the typical AAA rate with unlimited mileage. Remember that most rental agencies will not let you tow anything. Most rental agencies at the Jackson, Wyoming airport will not let you put a canoe or kayak on the vehicle if you choose to rent your own.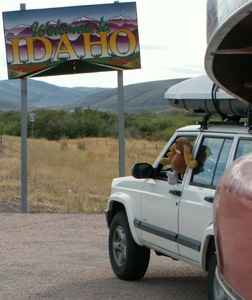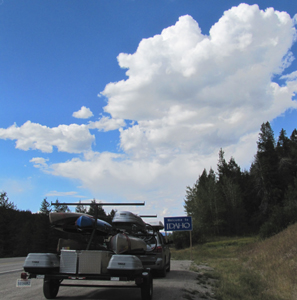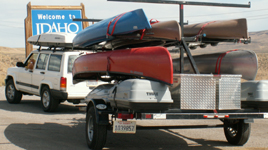 The club and the College are not responsible in any way for your transportation on trips, but they expect that everyone will wear seatbelts and obey all traffic laws, drivers will have sufficient insurance, and vehicles will be in good repair. Please have the courtesy to let your driver/ passengers / the club advisor know of any changes to your ride needs or ability to drive.
A Wyoming law, (with fines of up to $200 and jail terms of up to 20 days, or both), requires that drivers slow to 20 mph under the posted speed limit when passing stopped emergency vehicles with flashing lights, unless directed otherwise by law enforcement.
The speed limit slows to 15 miles per hour within 100 feet of a park entrance station.
Highway(s) 191, 26/89, from Jackson into and through the park has a nighttime (30 minutes after sunset to 30 minutes before sunrise) speed limit of 45 m.p.h.
If you get pulled over, remember you are driving a vehicle with out-of-state plates for much of this road trip. Even if you are sure you did nothing wrong, be calm and extra polite (but not sarcastically so) when stopped by the police/Highway Patrol/park ranger, and do nothing unexpected.
If you decide to caravan, cars in a caravan should stay at all times in sight of each other. If you decide to drive to Wyoming straight through, remember that it doesn't matter if you arrive later than expected, and each driver should get enough sleep.

Don't exceed the speed limit, and consider going slower. According to the FTC, "The faster you drive, the more fuel you use. For example, driving at 65 miles per hour (mph), rather than 55 mph, increases fuel consumption by 20 percent. Driving at 75 mph, rather than 65 mph, increases fuel consumption by another 25 percent … If you anticipate traffic conditions and don't tailgate, you can avoid unnecessary braking and acceleration, and improve your fuel economy by 5 to 10 percent."
In 2010, vehicles in Grand Teton park hit and killed two wolves, five bears, 6 pronghorn, 17 bison, five moose, 41 deer and 48 elk. Most of the deaths occurred between dawn and dusk on the main highway between Moose and Moran Junctions. Please drive the speed limit and be prepared to stop suddenly. Speed was the biggest factor, especially at night when people "overdrive their high beams – when stopping distance is greater than the headlight illumination distance."
"Motorists are reminded to drive the posted speed limit and to be prepared to stop suddenly for wildlife along or on park roadways. Driving slower than indicated speed limits, especially at night, can increase the margin of safety for people and wildlife. Collisions between motor vehicles and wildlife may result in severe damage to a vehicle, serious or fatal injuries to the wildlife."
Car after an impact with a bison: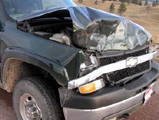 Driving slower than the posted speed limit, especially after dark, can save animal (and human) lives.


====================================
Driving notes for the Tetons trip. SAVE MONEY ON GAS AND TIME ON THE ROAD.
In parts of Idaho and Wyoming they sell 85 octane regular gas. You can get away with 85 octane at high altitude (6,000 plus, verify in your owners manual) because the thinner air is compressed less in the engine, but you would want 87 at lower altitudes. If you are sure you will use up all the 85 octane before you leave for home, you will be okay, BUT if you don't, either your engine will start pinging or your engine's knock sensor will retard the ignition timing to compensate, which will result in lower engine power. (A few cars with turbos require Premium, 91 octane). Use what your owners manual says and no lower. Make your last fill up in Jackson 87 unless you are certain you will use up all the 85 octane gas before you leave the Tetons (Jackson elevation 6,000 feet, Grand Teton park flats elevation 6,800 feet).
Gas stations don't always have clean restrooms, but they are at least better than some of the reststops going across Nevada. In 2018 the rest area at the intersection of 80 and 95 had vault toilets with many varieties of flying and crawling insects. In 2019 the bugs were mostly gone.
Sometimes crossing Nevada you can see heavy rain falling a distance away, and if you are going directly towards and into it, double check the waterproofedness of what is on the roof or in the truck bed.

A major brand gas station right at a freeway exit in Lovelock had (in 2009/2012/etc.) gas at 33/28 cents a gallon more than the non-name brand station two blocks down a side street in town or the other major name brand station on the opposite side of the freeway exit.
Winnemucca exit 176 had a Flying J with lower cost gas than the station at the next exit.
In Carlin the Pilot station posted their prices on a large overhead sign and the major name brand station next door didn't even have fully readable ones at the pump, but they were at least ten to twenty cents a gallon higher. The Pilot station also had a Subway sandwich shop and lots of possibly needed fuses, bulbs, hose clamps, etc.
Wells: At the exit you will need for 93 north there's a Love's Travel Stop at the intersection of higway 93 and 80, with a 24 hour McDonalds. (Yes, that is cigarette smoke in the restaurant from the casino next door.) Fill up there and you can drive right past the much-higher-cost-every-year-we-have-had-the-trip stations in Jackpot.
Just out of Jackpot on the right there is a pullout with a Welcome To Idaho sign suitable for photo taking.
Below: the photos of rental cars with kayaks loaded on top and the stuffed Bullwinkle trip mascot are by Wendy Sato.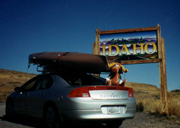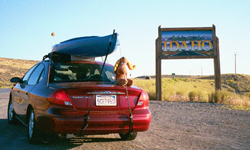 It's faster to go across southern Idaho than through Salt Lake.
Going from Nevada into southern Idaho, the gas in Jackpot has often been much higher priced than in Twin Falls, Idaho.
You can get through Twin Falls, Idaho without going through some downtown, but you can spend a great deal of time on slow side roads if you don't watch out. Coming from Jackpot do not take the Twin Falls city center #74 exit. Continue along as the road widens to a four lane and take the exit that circles around down to town. It follows Addison and turns on to Blue Lakes, then highway 93. If you are going through at all late in the day you will find even the fast food places closed. The gas stations in Twin Falls were (2009) 11 cents to 14 cents more (2010) 10 cents more than just outside of town (listed as in Jerome, Idaho, but at the freeway 84 entrance) Flying J station, which is open 24 hours and at night might be the only restrooms and food you can find. (Flying J mid-grade $3.84 Aug. 2014). But with a Maverik card to swipe at the pump you might beat that price (Maverik 883 Blue Lakes Blvd. and Falls Avenue, open 24 hours.)
When you get to Idaho Falls do not take the first exit that says towards Grand Teton/Jackson, Wyoming, That exit forces you to drive for many narrow downtown blocks (especially not fun when towing a trailer). Instead, get a street map and take exit 119, following route 20 for a bit, go right on an exit to Science Center drive, which becomes Anderson as it crosses Holmes, then bear left onto Yellowstone Highway (route 26). You will save as much as a half hour, perhaps more, as the directional signs have been previously missing on the usually indicated route the city businesses would have you take from the freeway.
Going through Jackson, Wyoming into the park the main route takes you past the Town Square with a lot of slow traffic and pedestrians. It can be fun to take that route at least once, but the faster route is the one marked as a truck route. Get a street map from the club with the alternate route, as well as where to find the hardware store, auto parts store, Dairy Queen, Kmart, Outdoor Club favorite whole-food-type grocer, huge brand name groceries, Visitor Center, hospital, etc, marked on it.
Plan to fill your tank whenever you are in Jackson, as the cheapest gas stations are in town and the prices get higher the further you go into Grand Teton park.
August 2019: in Jackson, gas at the Maverik was lowest (once you swipe your M's card and lower the price two cents) $2.87. At Colter Bay where most of us stay $3.02 and Jackson Lake Lodge it was $3.02.
August 2018: in Jackson, gas at the Maverik was lowest (once you swipe your M's card and lower the price two cents) $3.23. At Dornan's's at Moose (the park headquarters area) gas was $3.59, at Colter Bay where most of us stay $3.80 and Jackson Lake Lodge it was $3.82, Grant Village in Yellowstone $3.59.
August 2017: in Jackson, gas at the Maverik was lowest (once you swipe your M's card and lower the price two cents). $2.59.9. At Degnan's at Moose (the park headquarters area) gas was $2.79.9, at Colter Bay and Jackson Lake Lodge it was $2.80.9
Sept. 2016 found the Maverik at $2.39.9, minus 2 cents with your Maverik card. At Colter Bay $2.48.9 and at Dornan's at Moose, $2.59.9.
July 2014 found the Mavericks with $3.75 for mid-grade 87 octane gas (2 cents cheaper with their free card) and the stations near Colter Bay and at Jackson Lake Lodge at $4.30.
July 2010 in Jackson some as low as $2.82, in the park at Dornan's in Moose $2.92, at Colter Bay $3, in Moran $3.30. August 2012, unleaded gas was $3.58 at the Maverik in town (3 cents cheaper when you swipe their free card at the pump), $3.84 at Dornan's, $3.94 at Signal Mountain, $4.03 at Jackson Lake Lodge and Colter Bay.
Groceries are also cheaper (and with a much more plentiful selection and often fresher produce) in town, so most trip participants plan trips into town at least once a week. Grocery stops will take less time if you have planned ahead for what you want, especially if you want to stop at one of the Outdoor Club favorite groceries. Check it out in advance: http://www.jacksonwholegrocer.com/
====================================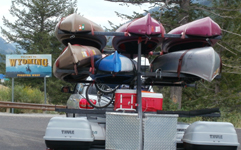 ====================================
Just before you leave, or along the way if you find online access, consult:
Jackson Hole weather
http://www.mountainweather.com/JACKSON.htm
Tetons area road conditions (Wyoming Department of Transportation)
http://www.wyoroad.info/pls/Browse/WRR.STATIC5?SelectedDistrict=3
Grand Teton Park road construction (possible delays) is at:
http://www.nps.gov/grte/planyourvisit/roads.htm
====================================
FLY
Jackson Hole airport, located between the town of Jackson and the park, is served by Sky West / Delta (through Salt Lake City), United and American Airlines. Alaska Air only gets as close as Idaho Falls. If you look online for tickets, the airport code for San Jose is SJC, Oakland is OAK, for Salt Lake it's SLC and for Jackson, Wyoming it's JAC.
In 2004 trip participants got early cheap tickets to Salt Lake City, Utah, rented a tiny car and drove the remaining 6 hours.
In 2007 a guy who wanted to ride in a carpool one way and fly one leg of the trip found that the round trip ticket was less than the one-way.
But often it can be cheaper to fly in on one airline (one way) and out on a different airline (again, one way).
Any recent prices for flights we know of are at Grand Tetons trip cost
LOGISTICS OF FLYING
We recommend that if you fly and rent a car, you head into town and get a spare door key made for convenience and so you can't wreck part of your trip by locking yourself out of the car far away from the rental location. (OR look for a spare key in the rental vehicle, we can give you ideas on where one might be stored.)
On the trip into/through Jackson you can stock up at one of the huge grocery stores, each with a complete deli, bakery, made-to-order foods and lots of produce. No need to pack all those large sized toiletries for a two week trip in your luggage, most everything you would want is at the two huge groceries. (The Albertsons at 105 Buffalo Way and the Jackson Whole Grocer 1155 South Highway 89 http://www.jacksonwholegrocer.com/)
Yes, you should be sure to get a detailed map with businesses from the club before you leave for the trip.
Wear your hiking boots on the flight to save on weight in your luggage AND to be sure your well-broken in, comfy boots actually get to your adventure. When you get there and your luggage has been delayed or lost, buying new boots and trying to get them broken in enough for our longer hikes would be a mistake.
The standard bag size for one airline is "must not exceeded 62 inches when you total length + width + height." One year flying to a trade show we packed clothes and gear in an electric (plug into the car or use an adaptor in a cabin) ice chest, which we put in a box we made for it just the right size and it came out to just under the 62 inches. That way you won't need to buy an ice chest when you get there. It is especially not fun trying to use a styrofoam ice chest for any length of time. (Sometimes people who drove all the way have made room for an ice chest for someone who is flying.)
You know that if you choose to pack gear in an ice chest that needs ice (instead of electric), you would not want to risk melting ice on the plane, correct?
For carry on bags, one airline quoted "Baggage may not exceed 45 linear inches (or 114 cm) in combined length, width and height, including any handles and wheels . . . Baggage must meet carry on size limits (approximately 22″ x 14″ x 9″ or 56 x 35 x 23 cm)."
Consider whether you want to make your really great day pack for our hikes your carry-on instead of a small suitcase.
If you fly in and/or out and are not old enough to rent a car, you could make arrangements in advance to be picked up by a carpool. If you arrive at a time when carpools can't get you, you can take an airport shuttle. The airport shuttle requires reservations at least 24 hours in advance. 307-733-3135 http://jacksonholealltrans.com
You can not carry bear spray in your checked or carry-on luggage, so if you already own some, give it to someone else on the trip to take it there for you. Yup, you should check if it is expired. If it will expire after the trip, but before you could use it again, we can arrange for officials to give it to someone who could possibly use it after we depart our trip.
_______________________________________
NO CAR ON OUR TRIP?
During our trip, if your driver has plans for the day that you don't want to participate in, or if you arrive by plane before the main group, or if your driver stayed up late and slept in all morning, there is plenty to do at or from Colter Bay without access to your own vehicle.
A short walk from the cabins or campground, there are a restaurant and store as well as a Visitor Center with Ranger walks, talks and campfire programs.
TRAILS: At the north end of Colter Bay there is a 1.5 mile trail with a small causeway to an island. A self-guiding nature trail goes around the island. The trail starts behind the visitor center or at the day use area.
A longer hike to Swan Lake starts about a half mile from the cabins/campground. From there you can take the Hermitage Point trail along Third creek, out to a peninsula on the lake and follow the shoreline of Jackson Lake back to the marina.
Since it is not safe to hike by yourself, you can join a Ranger for this hike, for example, from 2019:
"Swan Lake Hike
Join a ranger to hike through the forest and learn about the park's natural history. A classic national park experience. Bring food, water, binoculars, rain gear, and insect repellent.
3 hours * Meet at flagpole in front of Colter Bay Visitor Center
3 miles * Moderate hike
Daily 4 pm, June 5-Sept 3, 2019"
—————————————-
You can find a larger size copy of the NPS photo trail map below, with Colter Bay campground/cabins/Colter Bay village streets in the bottom right hand side, as well as Donoho Point, Hermitage Point, Half Moon Bay, Colter Bay, Little Mackinaw Bay, Willow Flats, Pilgrim Creek, Elk Island, Heron Pond, Swan Lake, and Cygnet Pond
at:
https://www.nps.gov/grte/planyourvisit/loader.cfm?csModule=security/getfile&PageID=2326181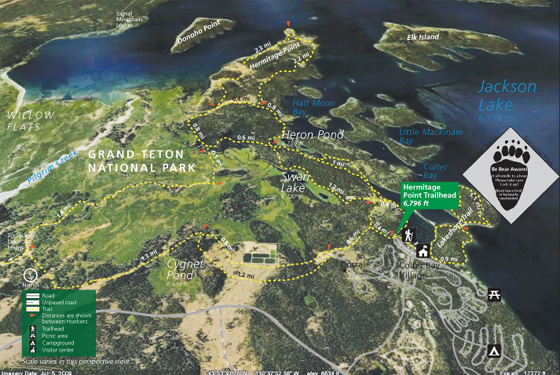 and a hiking map of the Hermitage Point area at:
https://www.nps.gov/grte/planyourvisit/upload/Hermitage_Point_topo.pdf
—————————————-
Most years there is a fee or free (for guests at Colter Bay cabins) shuttle bus back and forth a few times a day from Colter Bay to Jackson Lake Lodge, Jenny Lake Visitor Center, Moose Visitor Center and into town. Please note that if you go all the way into town on this shuttle you must come back through a ranger staffed entrance station, and most years you will need to either have a park pass in your name or pay the daily rate to get into the park. Check with the shuttle driver before you use the shuttle. https://www.gtlc.com/media/2574/2019-grand-teton-guest-shuttle-schedule.pdf
Most people on our trips who have used this free shuttle have only used it for a round trip to town for a day long exploration, or to get to Jackson Lake Lodge (swimming pool/restaurants/trail rides) if they have a ride back or perhaps to the Jenny Lake area for a hike or for the return after a backpack so a driver does not have to plan their day around your return time and you can take your time coming back. Please carefully note exactly where you meet the bus and the latest return times from each location.
Once in the town of Jackson there is FREE for anyone shuttle, usually 6 ish a.m. to 10 ish p.m. The route map is worth printing just for the list of things that are at various stops:
routes:
https://www.jacksonwy.gov/404/Schedules
fares:
https://www.jacksonwy.gov/396/Fares
Activities besides free hikes, ranger walks/talks and visitor centers
Horseback riding: In the fall the corral at Colter Bay sometimes closes before we are there, Jackson Lake Lodge is often open longer and you can take a horseback trail ride: 307 (543-3100)
http://www.gtlc.com/activities/horseback-riding
If your driver doesn't want to go on a general sightseeing tour, doesn't want to go to Yellowstone:
1 (307) 543-3100. http://www.gtlc.com/activities/narrated-national-park-tours
Boat Cruises
On many of our fall trips the 'bay' at Colter Bay has been a mud flat due to irrigation water being drained from Jackson Lake. If it is not:
http://www.gtlc.com/activities/jackson-lake-boat-cruises
_______________________________________
TOTAL COST???
Since different people will have different budgets: drive or fly; some may camp, (but in fall they should expect regular rain, possible snow and cold overnight temperatures and well as warm sunny days), some may get a hotel room, some may get a cheap cabin, the trip cost will vary.
Grand Tetons trip cost has examples of
The cheap trip,
The not-so cheap trip,
The slightly more costly trip, but less driving time, also known as the I-can't-get-much-time-off-work trip,
and The expensive trip (rent a Harley, try parasailing, private stargazing, sunset airplane sightseeing tour . . . )
For details about our next club trip to Grand Teton National Park, go to: Grand Tetons.
Grand Tetons trip pages index has brief descriptions of most of the pages about this trip.
_______________________________________
Grand Teton and Yellowstone driving distances
Idaho Falls- Jackson 86 miles
Jackson – Gros Ventre river 7 miles
Jackson at south highway 89 to Colter Bay 43 miles
Gros Ventre river – Moose 6 miles
Moose – Moran 18 miles
Moran -Jackson Lake junction 4 miles
Moose – Colter Bay 28.4 miles
Moose – Jenny 10 miles
Jenny – Jackson Lake Junction 11 miles
Jenny – Colter Bay 18 miles
Jackson Lake Junction – Colter Bay 10 miles
Colter Bay – Leek's marina 2.4 miles
Colter Bay – Signal Mountain Lodge 9.4 miles
Colter Bay – West Thumb Yellowstone 39 miles
Colter Bay – Jackson Lake Lodge 5.9 miles
Moran – West Thumb Yellowstone 48 miles
Moran – Old Faithful Yellowstone 66 miles
West Thumb Yellowstone – Madison Junction 33 miles
Madison Junction Yellowstone – Norris Junction 13 miles
Norris Junction Yellowstone – Canyon Junction 12 miles
Canyon Junction Yellowstone – Lake Junction ( fishing bridge) 15 miles
Lake Junction ( fishing bridge) – West Thumb Yellowstone 20 miles
Old Faithful Yellowstone – Boseman, Montana 119 miles
Old Faithful Yellowstone – Cody, Wyoming 116 miles
Old Faithful Yellowstone – Idaho Falls 138 miles
_______________________________________