The De Anza College Outdoor Club is back in business and has permission from the college to go on this trip.
We will still wear masks when / where required, and washing our hands regularly has always been a good idea. The college has not told us it will require vaccinations, but people already planning to go, as of July, have been fully vaccinated and are saying they only want fully vaccinated people in their carpools.
Carpools are arranged by individual students, not by the club or the college.
People are considered fully vaccinated for COVID-19 two weeks after they have received the second dose in a 2-dose series (Pfizer-BioNTech or Moderna), or two weeks after they have received a single-dose vaccine (Johnson and Johnson (J&J)/Janssen).
The 2021 De Anza Outdoor Club trip to Grand Teton National Park will be
August 16 – Sept. 1, 2021 +/-
The first people saying they are sure they want to go are aiming for 2 weeks (August 17 – 31) this year, since there is so much to do and we travel so far (2,500 + miles average (?) round trip mileage).
Participants can stay for a shorter, longer or much longer trip
(that could include ten-national-parks-in-three-weeks).
Grand Tetons is the main trip page. Grand Tetons trip pages index has brief descriptions of most of the pages about this trip.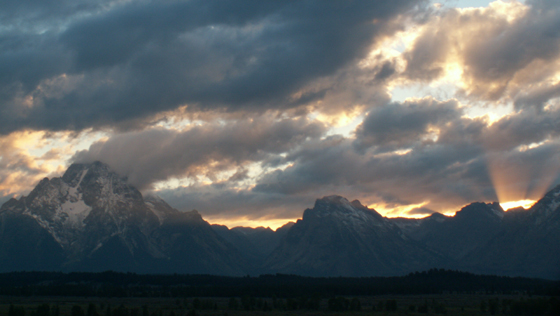 – – – – If you are fairly sure (or completely sure) you are going on the 2021 Grand Teton trip, please email the club advisor at donahuemary@fhda.edu to get on the trip email list.
Include how sure you are that you are going, how you will get to Grand Teton park,
which days you think you will be there (or are sure you will be there).
The club advisor does not have the time to answer questions about the trip that you could have found the answers to by reading the trip webpages thoroughly and carefully.
(And you will have an adventure that is much more fun
if you really understand everything before you sign up.)
If all goes as planned, the ten De Anza owned tandem (two or one person) kayaks, paddles, and life jackets (which will be fitted before the trip for each trip member) will be transported to the park. Beginners please note that the kayaks De Anza owns are not the kind you get your legs stuck in, they are more like user-friendly small canoes.
(2021 canoe rentals at Jackson Lake, Jenny Lake or Signal Mtn: Sea Kayaks: 1 Person Hourly: $23 + tax, 1 Person Maximum daily rate: $99 + tax, 2 Person Hourly: $29 + tax, 2 Person Maximum daily rate: $119 + tax. Another said for canoes "full day (8 hours): $85", some are $20 to $40 an hour, some with a 2 hour minimum. Another place $55 for 24 hours, no hourly rate. ("There will be a $50.00 fee for late returns after 6:30 pm.")
Most "rentals are on a first-come, first-served basis." Some do not allow their boats on the Snake River.
If we only kayak part of our trip we can save at least $100 or $200 per boat,
even with the permit fees.
photos below used with permission from Ron Niebrugge: http://www.wildnatureimages.com/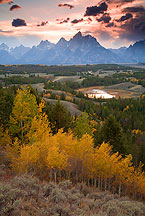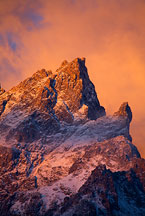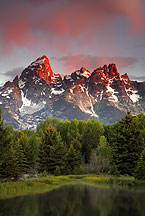 We will have three or four or … official kayaking days suitable for beginners. If we get a huge group, since only 20 can kayak at a time, each person might get fewer sunrise, etc. kayaking experiences
(or we might decide to kayak more times).
We plan to do a short to quite long (your choice of distance, with or without a Ranger Naturalist), hike into Cascade Canyon, the premier Grand Teton National Park hike, and people usually do many other hikes together if they are on the trip for enough time. People usually sightsee both Grand Teton and Yellowstone parks and have some or many meals (Lunch Tree Hill evening picnic or cookout at the Colter Bay swim beach or dine at a restaurant) together.
We know the best places to look for elk early in the morning, where a pair of bald eagles usually nest, and (some years) where to find and watch a beaver colony (and when we bring people to these locations we make certain they don't disturb the animals).
—————————————
Compare Outdoor Club trip costs below, to a few local outfitters who offer (2018/ 2019 / 2020 prices)
1/2 day paddle $79, A one day paddle for $175, a 2 day/1 night kayak trip for $599. A long weekend camping and kayaking for $1,099 – $1,249,
A half-day "wildlife" bus tour for $145, or all day for $275. Another place offers a 4 hour tour for $125, 5 day photographers bus tour $2,150.
—————————————

The Outdoor Club pays substantial parts of the Grand Teton trip expenses, without charging trip participants.
For the 2021 trip (and for many years before), the Outdoor Club will pay these expenses: the gas expense and bridge toll fees as needed to transport the kayaks to, during and back home from the trip, and the group wilderness permit fees.
The 2021 trip cost paid to the club will be:
$140 club members and $155 other students
spent on:
$18 One round-trip ride on the hiker shuttle boat across Jenny Lake for the all day Cascade Canyon hike on a day picked by the group. (The boat shuttle takes four miles off the round trip hike, allowing people to hike farther into the mountains, or people can join a Ranger Naturalist for a shorter walk.) Day to be chosen once we are in the park. No refunds if you do not join us that day.
$25 There is also a kayak cleaning/loading/unloading fee. We need to clean all the kayaks between uses so we don't risk spreading zebra mussels, etc. Everyone pays a $25 fee. If you help with all the kayak cleaning/loading/unloading chores you will get at least a $25 credit towards a club event within one year. If you don't, as in you just don't want to help, or you are not free on the days/times we choose to do the work, your share will go for a larger credit for someone else to do the work.
(2021 higher price) $32 per boat for the Grand Teton park permits ($17) and Wyoming annual Aquatic Invasive Species decals ($15). No refunds if you decide to not kayak with us or if weather/or . . . keeps us from going on any of the paddling, (which would not be likely).

$50 We fully expect to be able to bring all the kayaks, BUT if the club can't transport the De Anza owned kayaks, $50 will go toward rental of canoes. We can expect canoe rental prices of at least $48 to $82 for 24 hours ($248 a week), so the trip fee won't cover a lot of water adventures, and certainly not the wilderness overnight, if the De Anza owned kayaks can't be transported. If we can transport the kayaks and do not need to rent anything, you can get a $50 refund if you give the club $50 worth of gas receipts from the trip by the deadline.
If they can be transported, (and we really do expect they will be), the club will provide: kayaks, paddles, drybags, and lifejackets (which must be worn and strapped/zipped securely). Again, all this is if the De Anza-owned kayaks can be transported, if not, we will rent canoes in the park. AND please note that if we have a really big group, the first signed up and paid will have priority for boat use, others will/might need to rent craft.
$15 towards the purchase of bear spray, which is required for everyone to carry. Each trip member is required to attend a ranger program on safe bear spray use and watch an online video and read about bear spray before they go hiking, biking, kayaking or even walking away from developed areas. The ranger programs are offered every day at at least one Grand Teton National Park visitor center. (The material to read is at: https://www.nps.gov/yell/learn/nature/bearreact.htm and https://www.nps.gov/yell/learn/nature/bearspray.htm and the Yellowstone bear spray video is linked to at that page.) In a dozen years of club trips no one has had to use (spray) any bear spray. We expect that we will need to pay up to $60 per can. Since people will probably not actually use (spray) the bear spray (will only carry it), and might not return to the Rocky Mountains again soon, having each trip member pay for a can of bear spray seems too expensive. The club will buy the cans and charge people one fourth of the cost as a kind of rental (we expect to be able to find spray that does not expire for four years and can be carried again by future trip members). Trip participants will not "test" spray the spray, it should be returned unused (except in the incredibly rare instance it actually needs to be used on a bear). Bear spray will be returned promptly at the end of the trip or the student will be charged $60 for it.
NO REFUNDS for no-shows or partial participation.

People who have done at least 12 hours of volunteer work with the Outdoor Club this school year will not have to pay their share of bear spray ($15) or the $50 potential boat rentals and their total cost will be club members $75, other students $90.
(Definition of volunteering will be at the discretion of the club advisor, but can include work as an officer at required ICC meetings, staffing the Club Day tables, or work on club documents.)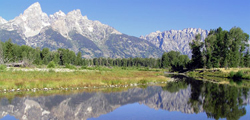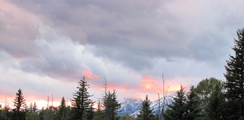 Trip participants are responsible for all other arrangements and costs, including, but not limited to: food, park entrance fees, campsite, cabin or hotel cost, gas and other transportation costs, sleeping and eating gear and other personal gear.
Grand Teton trip equipment is really worth reading, whether you camp or stay in a cabin or hotel.
Carpools are arranged among the students going on the trips, not by the club or the college.
How many vehicles and how many people in each vehicle? Carpool FAQs
Sometimes people do whitewater rafting, a horseback trail ride, or go to a rodeo or show in town, but these are not club-sponsored events and the club does not pay for them.
More details of optional things to do are at: Grand Tetons .
Yup, this is all subject to change. For example, numbers I got from some websites in May 2017 changed by July 2017.
Each carload will pay their own park vehicle entrance fee. Effective June 1, 2018 (and we expect it to be the same in 2021) the park entrance fee will be $35 per vehicle, or $30 per motorcycle, and an annual (Grand Teton park only) park pass will cost $70.
$35 is for for seven days (only one week and most people go on this trip for more than one week and want to see adjacent Yellowstone National Park as well, which has it's own weekly fee).
If you stay for more than one week and visit Yellowstone, this would come to $105 if you buy 3 separate $35 passes, so you save money by investing in a $80 National Parks and Federal Recreation Lands annual pass. Then you will get in free to see other National parks on the way to and from Grand Teton and free if you go on a Yosemite adventure with the club.
OR better yet, find someone to carpool with who already has a National Parks and Federal Recreation Lands annual pass OR find someone who is an active duty U.S. military member or dependent and has their ID Card (CAC card or form 1173) and can get a free national parks pass http://store.usgs.gov/pass/military.html
OR find someone who is 62 or over to get a lifetime seniors pass for $80.
(The passes can't be transferred/shared so the person who gets the pass needs to be in the vehicle and show a photo ID.)
We tell people to fill their gas tank whenever they are in the nearby town of Jackson, Wyoming, as the lowest cost gas stations are in town and the prices almost always get higher the further you go into Grand Teton park. (Plus the groceries have much more selection and often lower costs.) See a map of gas stations in Grand Teton National Park and gas costs at some of them over the years.
There is usually free WiFi available at the Colter Bay laundromat, the main Colter Bay restaurant, the Moose Visitor Center and in the Jackson Lake Lodge parlor that anyone can use without a secret code.
Budget for hotel rooms/campsites on the way if people in your vehicle don't take turns driving straight through, or if you have an emergency on the way.
Before you sign up the advisor must see and approve of your rain jacket/pants, tent, sleeping bag, NON-COTTON fleece jacket/pants and long johns. If you don't have a proper rain jacket/pants, fleece jacket/pants and long johns during the trip you will not go kayaking. Please read: Snow or rain camp must-haves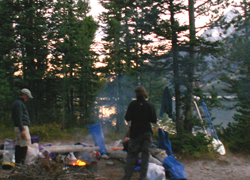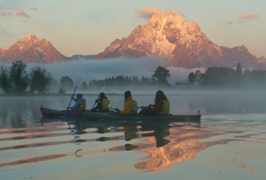 TOTAL COST???
Since different people will have different budgets:
drive or fly; some may camp, some may get a hotel room / suite,
(most usually share a campsite or cheap cabin),
… the trip cost will vary.
Below you can find:
The slightly more costly trip, but less driving time also known as the I-can't-get-much-time-off-work trip
Below, trumpeter swans and young moose photos courtesy of NPS: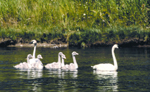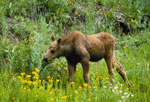 ________________________________________________
See trip cost paid to the Outdoor Club, (above), and add:
Split the park vehicle entrance fee (see notes above)
Stuff six or more people into a car and split the gas .
Remember that gas is often cheaper outside of our area. In July 2021, when mid-grade gas could be found at $4.39 in Cupertino, gas in Jackson (the main town near the park where you will likely fill up the most often) was as low as $3.58, Pocatello (Idaho) $3.54, Elko (Nevada) $3.59 Reno at $3.98.). Wyoming enjoys the low gas prices due in part to lower gas taxes. See gas stations in Grand Teton National Park for why you might want mid-grade instead of regular.
Plan to fill your tank whenever you are in Jackson, as the cheapest gas stations are in town and the gas prices get higher the further you go into Grand Teton National Park. Yipes, as much as 60 cents a gallon. (We often plan some of our days around going into town for gas and the larger choice of groceries.) See a map of gas stations in Grand Teton National Park and gas costs at some of them over the years.
The Grand Tetons road trip drive can be as much as 3,000 miles round trip with lots of driving in the park(s).
(The trip odometer for one vehicle ran up 1000.2 miles between the home driveway and the town limits of Jackson, Wyoming.)
A van/SUV full of people with a current tune-up could be expected to get at least 15 miles per gallon. 3,000 miles divided by 15 = 200 gallons.
If gas were an average of $3.75 this would be $750. If it were $4 per gallon, this equals $800. Divide this by the number of people you expect you can cram into that van.
If no van/truck is available, we might go with the example of the 2000 trip. One rental car transported two kayaks and three people. At 28 mpg this came to 107 gallons or (if $3.60 per gallon) $385.20 divided by three people= $128.4 each.(if $4 per gallon) $428 divided by three people= $143 each.
(Depending on trip size, we might be able to transport some camping gear, say at least a dining canopy for shade or rain on the kayak trailer, but the club, drivers, officers, advisor, college, etc. can't be responsible for your gear.)
Grand Tetons trip transportation has driving notes for the Tetons trip to SAVE MONEY ON GAS AND TIME ON THE ROAD by not taking the obvious exit to drive slowly through towns you don't need to and to drive a bit past the major brand name gas station right at the freeway exit to find substantially lower gas costs along the route.
Don't exceed the speed limit. According to the FTC, "The faster you drive, the more fuel you use. For example, driving at 65 miles per hour (mph), rather than 55 mph, increases fuel consumption by 20 percent. Driving at 75 mph, rather than 65 mph, increases fuel consumption by another 25 percent…If you anticipate traffic conditions and don't tailgate, you can avoid unnecessary braking and acceleration, and improve your fuel economy by 5 to 10 percent."
Another article said that when gas prices are at $4.50, "you can assume that each 5 mph you drive over 60 mph is like paying an extra 30 cents per gallon for gas."
Properly inflate your tires and get up to 3% higher mileage (and a safer ride).
Regular tuneups can save 10 to 20 percent.
see: Road trip vehicle prep and recommended service
—————————————
Eat food from home or the local grocery, including peanut butter/banana or peanut butter/red onion sandwiches. In 2016 I wanted to do a food price comparison so I started with the cost, in the Albertson's in Jackson, of a gallon of milk $2, a head of iceberg $1.99 and a rotisserie chicken $6.99. At Dornans at Moose the gallon of milk was $5.09, no chicken and no iceberg, but the typical bag of salad 'kit' was $2.99 to $3.99. At Colter Bay milk was $5.39, iceberg $1.69 and no chicken.
—————————————
Get a Colter Bay campsite instead of a cabin: (2021) $42 per night (6 people, 2 vehicles or one motorhome) = if six people, $7 per person each night, ($22 for the site with a Golden Age Passport, Access pass or Military Pass). map of Colter Bay campground Grand Teton National park
Some years people have decided they did not want to share a campsite food storage box between six people, and decided the cost per person for four people ($10.50 per person per night) was okay. OR they were driving in 2 person carpools and did not want to find somewhere to park their extra vehicle, so they go with 4 people and the maximum 2 vehicles in a campsite.
The "Outdoor Club" does not get campsites (or any overnight accommodations),
students on the trip get them and share them as they want to.
How many campsites will be needed?
Campsite reservations become available six months before the trip.
See: getting a campsite
If there are less than 3 people who want to camp the hikers/cyclists walk-in site at Colter Bay is (2021) $13 per person per night and would be cheaper than a campsite for one or two people. This walk-in site would work for people who don't have a vehicle or can park it (if it will fit) with the rest of the group at the cabins.
If we have a big group of campers they should probably get regular family campsites, since group campsites can be more expensive per person, (depending on group size) and allow fewer vehicles per the number of people.
If we have a big group and everyone wanted to have dinner together, it would not be fair to nearby campers for everyone camping to meet and cook/dine at one of the family campsites, as it is impossible to control noise even with courteous people. (And there have been park service rules: "Sites are limited to six people . . . Larger groups will need to split up into two separate sites and must do all activities (cooking, sleeping, etc) separately.") We can still have the group dinner experience. At least once we go to Lunch Tree Hill, one of our our favorites for sunset watching, then Milky Way star gazing. AND just down the road from the Colter Bay campground there is a beach with a much better view than the campsites have, parking, picnic tables, fire rings and restrooms. Colter Bay, Grand Teton National Park has a map and pictures, as well as where campers can find free WIFI, take a (fee for) shower, etc.
(On our fall trips, the Colter Bay campground has rarely filled, but now that campsite reservations in advance are available, planning ahead can make it more possible to get a better campsite.)
How to get a campsite will require some advance planning, six months in advance.
—————————————
Bring your own bike and/or fishing gear.
Budget for ice to refill ice chests, unexpected emergencies, unexpected souvenir shopping.
Budget for showers (2020) "$4.50 and there is no time limit on that. If you have a group of five or less, you can pay the family shower rate of $13.25 and each additional person after the first 5 will be $3.00 extra." at the Colter Bay shower house/launderette.

See trip cost paid to the Outdoor Club, (above), and add:
Split the park vehicle entrance fee (see notes above)
Split the cost of a rental car and gas.
Make your own food but eat out a few meals besides that, including possibly
one really nice dinner ($29-49+?) and a few really nice buffet breakfasts ($42+).
—————————————
Split the cost of a large cabin:
Colter Bay cabins prices, (these prices reflect taxes, and the subject to change, utility fee) according to reservations some of us got / or according to the website:
(2016 – no longer available?) $95.04 One Room (semi-private bath)
(from the website in Dec. 2020 for 2021)
$224 One Room (one double bed, private bath, 1-2 persons)
$ 241.76 One Room (private bath, 1 dbl bed, 1 twin, 1-2 persons) 3 adults $253.41
$301.70 One Room (private bath, 2 dbl beds, 1 twin, 1-2 persons) 3 adults $313.35
$ 308.36 Two Rooms (connecting bath, 1-4 persons, one dbl and two twins, (sleeps up to eight … ten? with rollaway beds, 6 adults – – 2021 $354.98)
$ 302.81 Two Rooms (connecting bath, 1-4 persons, four double beds, (sleeps up to eight … could you be comfortable with ten? with rollaway beds, 2021 – 6 adults $326.12, 8 adults $349.43, 10 adults $380.51)
Eight people sharing a 2 bedroom cabin at $349.43 per night (subject to change) comes to $43.68 per person per night.
2021: a $15 fee for cancellations up to 3 days in advance, lose the whole deposit if cancelled within three days. " All changes and cancellations due to inclement weather or changes in flight schedules are subject to the penalties. . ."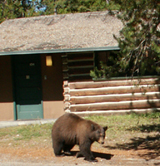 FAQ: Why should I pay for a cabin when I can camp for much less?
Because even when people are behaving courteously towards others, campgrounds are noisy until late at night and again fairly early in the morning. If you share a cabin with others who agree to the same schedule you can get to sleep early, be up before sunrise, (or take mid-day naps if you stayed up late and got up early). That's the reason people on this trip have shared two bedroom, one bath cabins to some extent every year we have gone. (If you get a one bedroom, one bath cabin, most have a shared wall with others that is not thick enough to keep you from missing seemingly inevitable family arguments.)
Plus, interesting fall weather, with expected occasional rain, is easier to deal with in a cabin.
photos and details about Colter Bay cabins, Grand Teton National Park, Wyoming
—————————————
T-shirts, postcards, more film you need to buy, maybe a laundromat charge. Budget for ice to refill ice chests, unexpected emergencies, unexpected souvenir shopping. Bring your own bike and/or fishing gear.
Budget for whitewater rafting, a horseback trail ride, or going to a rodeo or show in town.

I-can't-get-much-time-off-work trip

is the above The not-so cheap trip, but fly into Salt Lake City, Utah (two hour flight plus one hour time change), rent a car and drive the last six hours.
When we looked online at various cheap ticket websites in January 2021, an August 2021 round trip from SF/SJ/Oakland to Salt Lake was going for $157, $159, $199 and people have often spotted an occasional much lower price. (Salt Lake City is a Delta hub.)
In 2007 a guy who wanted to fly in and ride home in a carpool at the end of the trip found that the round trip ticket was less than the one-way, so guess which he bought.
If you look online for tickets, the airport code for San Jose is SJC, Oakland is OAK, San Francisco is SFO, for Salt Lake it's SLC and for Jackson, Wyoming it's JAC.
Grand Tetons trip transportation has flight info, driving distances and guesses at gas cost, previous trip examples, etc.
photo below courtesy of http://rickkonrad.com/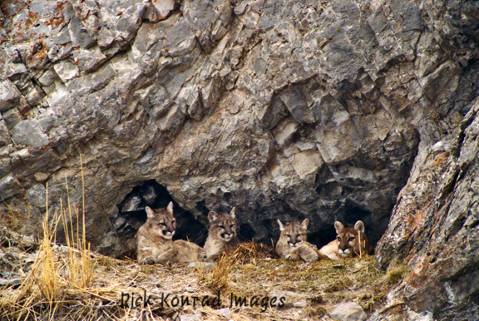 also known as …Grand Teton National Park on $2,000 – 5,000 + a day…
See trip cost paid to the Outdoor Club, (at the top, above), and add:
Fly into Jackson Hole (2021 Delta as much as $1,017 first class) and rent a car.
Rent a Harley for $175 for 24 hours.
$180 per person, 2 person minimum, for an airplane sightseeing tour.
Eat out most of the time, including at least one exceptional dinner ($100 – $400 per person + + + . . .?) and a few nice buffet breakfasts ($50 +).
Split the cost of a two bedroom one bath cabin between two people (2021 plus taxes plus utilities per night = $381),
or get a great hotel room with a kitchen, TV, fireplace, (or a suite) for $559 – $870+ per night. Grand Tetons hotels, cabins, lodging
or book a 3,500 – 4,500 + sq ft penthouse resort residence in town with 3 or 4 or 5 bedrooms and an equal number of full marble bathrooms, a bathroom with a shower in the den,
plus a powder room in the common area or off the kitchen (which has a large pantry),
master bedroom closet and laundry room each bigger than your kitchen at home,
multiple fireplaces and private balconies / terraces for $3,000 + a night .
Sign up late after twenty other people have first claim on the ten De Anza kayaks, so you get to pay for canoe rentals $300 + + for a week.
'Executive' private one day tour to Yellowstone $700+ for up to four passengers.
Private stargazing $500 for up to 2 people; $175/person for 3-13 people
White water rafting (8 miles…$80 +/-, more with meals) and the poster of you rafting they would like to sell you, see info at: Grand Tetons whitewater rafting,
Bike rentals in Moose, 29 miles from Colter Bay: (from the website in April 2016, no new prices as of May 2017, and when I checked in June 2021, no prices at all listed) hour $15 to $25, half day $34 to $55, 24 hours $40 to 65, week $210 to 400 — depending on the quality of the bike) ("We are unable to pickup, deliver or provide rescue. Please plan ahead for all circumstances.") see also Grand Tetons biking,
horseback riding $50-$80 (2020),
Jackson Lake dinner cruise $74 (2020),
Head into Jackson and spend $1,000 to $10,000 or $100,000+ on a painting or sculpture. There are a dozen stores in Jackson ready to dress you to the part of the matriarch of a wealthy ranching family.
A ten mile private balloon ride can set you back $1,200.
Paragliding per session $225 +, or work towards a pilot rating, $1,950 to start.
A 4-5 hour evening boat ride with a 'five star dinner and wine' for two people starting at $800.
A two day yoga / climbing lesson retreat for $550.
Grand Teton climb
4 – Day Ascent: $2996 private 1:1; $2400 per person/private 2:1;
$1660 per person for a group of 3 or more
Guided fly fishing ($645, 2 people for a day).
Private coaching and video analysis of your fly-casting (no price given, by appointment only).
____________________________________

If you fly or stuff a lot of people in a car, you will be limited in what you can bring. If we can transport the kayaks we will also bring your lifejacket, paddle and dry bag(s). We might also have room on the trailer for a dining canopy (or more gear, depending on how may people sign up). The club and/or the drivers, advisor, college, etc. will not be responsible for the safety of items we transport for you.
It can be difficult to coordinate timing of activities if we don't all stay in the same area, so we've all stayed at Colter Bay cabins or campground for at least part of the time on previous trips.
If you will be staying in a Colter bay cabin, go directly to Colter Bay cabins, Grand Teton National Park for details about the cabins and the logistics of sharing one.
If you want a better room, Grand Tetons hotels, cabins, lodging has details about all the properties in the park, including a description of which rooms on the grounds of Jackson Lake Lodge have the best/worst views.
Grand Tetons trip transportation has flight info, driving distances and guesses at gas cost, previous trip examples, AND trip notes with where to find some mega-cheaper gas stations and ways to keep from driving the slow route through towns we need to go through by not taking the obvious freeway exit.
The trip is open only to De Anza students/staff. Answers to most questions about how the club works are at: Outdoor Club Basic Info.
For details about club events and on how to find us to pay for a membership, sign up for events or volunteer, go to:
Outdoor Club Coming Attractions
We can expect sunny days and rain/thunderstorms, or possibly even a little overnight snow. Interesting weather does not cancel club events. Club activity areas, and all park restrooms or other buildings are non-smoking. Even though there is smoking allowed in Wyoming restaurants, all National Park restaurants, etc. are non-smoking. No alcohol or drug use is allowed before/during club activities.
This is not just a rule written to make the College happy, it is a trip rule.
The trip will only be an official club event while we are kayaking (or canoeing), and possibly a hike or some other sightseeing or a group meal at a restaurant or an overnight canoe/kayak trip.
How you get to Grand Teton National Park, where you stay overnight, most meals, most sightseeing, any bike riding, whitewater rafting or horseback riding, going to a movie in town, etc. will not be official club business.
The faculty advisor must be along for all kayak/canoe use, and all safety recommendations by the advisor, park and De Anza rules must be followed.
____________________________
For details about our next club trip to Grand Teton National Park, go to: Grand Tetons.
Grand Tetons trip pages index has brief descriptions of most of the pages about this trip.
Back to:
The cheap trip,
The slightly more costly trip, but less driving time also known as the I-can't-get-much-time-off-work trip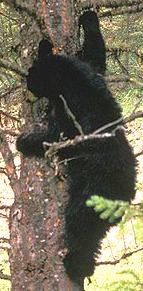 In 2018, very near the Colter Bay Village cabins, we saw a mama bear and two cubs.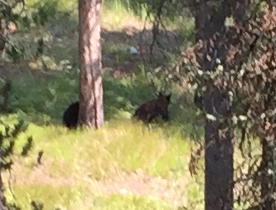 We got a chance to watch them for quite awhile.
The two cubs played and wrestled with each other. One climbed part way up a tree and when the other one tried to climb, it slid down. Then they went to a second tree and both tried climbing again.
We were wondering where their mama was, as it is not good for people to get between a mama bear and her cubs, so watching from a good distance was in order.
(We were up a hill across a road from them.)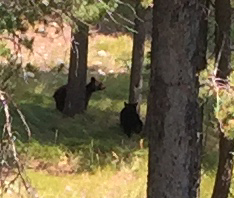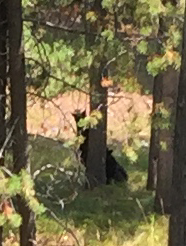 A park Ranger stayed near them in his vehicle. He spoke sharply on the (loud) vehicle public address system to a guy who drove up in a pickup truck and started to open his door
"STAY in the TRUCK ! ! !"
as the mama bear joined the two cubs and led them off.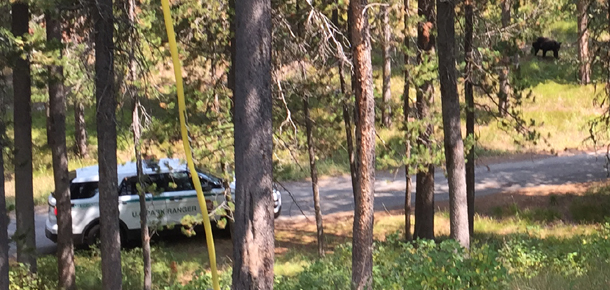 Yes, we were so busy enjoying them that we only took a few pictures with the cell phone. We were worried we would miss some of the fun they were having if we looked around for the better camera / telephoto.
This year you will get better pictures, okay?
__________________