Colter Bay tent cabins have
"two permanent log walls and two weatherproof canvas walls with a weatherproof canvas roof" that extends out over about half of the concrete patio.
"Tent Cabins share a common log wall with an adjoining private cabin." (See drawing of the floorplan of the duplex cabins below.)
Outside on the concrete patio there is a fire ring/grilling area, bear box and a movable picnic table.
Inside there are four fold down bunks "two sets pull-down bunk beds for a total of four beds with padding . . . sleeping bags and pillows not included" and an interior wood stove for heat – not cooking. The website said: "Guests are encouraged to bring their own linens, however a limited quantity of sleeping bags, pillows and blankets are available on a first-come basis for a nightly fee." "Firewood and kindling can be purchased at the Tent Village office or the nearby grocery store." "Add two single cots (for a nightly fee) and sleep a maximum of 6 guests."
Tour a tent cabin.
There are "nearby water spigots." Shared bathroom facilities.
No showers at the tent cabins; pay-for showers are about three blocks away at the Colter Bay laundromat, (with free WiFi) next to the grocery. There are public showers (11 each men's and women's showers), sometimes there is a wait for these.
The coin-op launderette has 22 dryers and 21 washers. If you have a roll of quarters you will not have to depend on the change machine being operable. They sell laundry products but it you want unscented (scented can attract mosquitos) or hypo-allergic, or a specific brand of detergent or stain remover, it would be wise to bring small containers from home.
If you are not careful about food storage, you might find a bear got into your food (and you could pay a fine):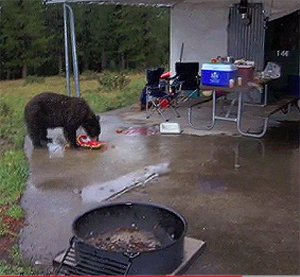 Please note that the pictures at the tent cabins website (and the photos above) do not show that they are next to each other in pairs. They do not share a wall, but they do have corners together and if people are not careful to talk quietly their next door neighbors will hear everything.
(The brown stripes in this drawing are log walls, the brown rectangle is the bear box, the circle with red and yellow is the fire ring):

Here, tent units 37 on the left and 39 on the right:

and you can also see the arrangements (look for the units not in the trees) in the NPS aerial photo below: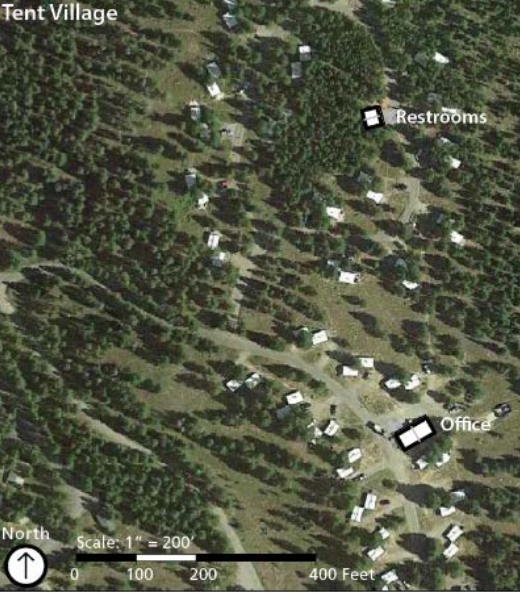 If you have a big group, or just want to share a wall with another couple or family you know, these are the notes we had with the numbers of the adjoining tent cabins:
(Please note that cabin #107 had damage from a truck a guest was driving in 2021, and is not on the list at Recreation.gov as of early 2022, or is listed as FF first come, first served, no advanced reservations available. "You must go the facility in person to verify availability.")
at the outside edge of the northern loop, from where the main road comes into the tent cabin village: 154/156, 152.150, 148/146, 142/144, 140/138, 136/134, 130/132, 126/128, 122/124, 120/118, 116/114, 110/112, 106/108, 102/104. In the center of the northern loop: 139/141, 143/145, 101/103 and 105/107.
Along the section of tent cabins that back up to the Colter Bay Stables Road, from where the main road comes into the tent cabin village, 4/2, 6/8, 12/10, 14/16, 18/20, 22/24, 26/28, 32/30, and across from them on the tent cabin office side of the road, 39/37, 35/33, 31/29, 27/25, the Tent Village Office, 9/11, 5/7, 1/3.
____________________________
Some tent cabins have very little vegetation & forest around them, others do have more greenery.
Here tent cabin number 39, at the end of a row, facing forest instead of another tent (but adjoins cabin # 37).

Here, tent cabins 101 and 103, and the forest to the side: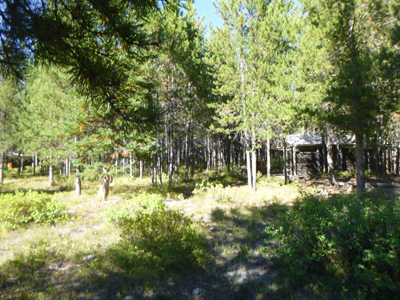 Here, tent cabin #5, looking down the road towards the Tent Village Office and main restroom: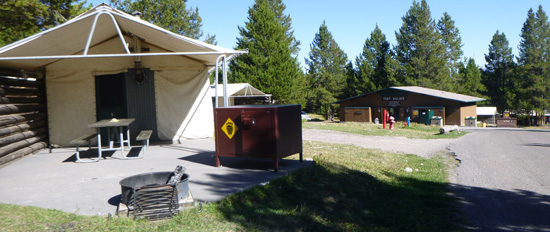 and the Tent Village office building, center doors for the office, men's restroom on the right, women's on the left:

The sign below the Tent Village sign said:
"No RV, Boat, motorcycle or utility trailer parking available in tent village.
(Exception for commercial tours only.)
Overflow parking across from cabin office."
Here, the sink counter in the main restroom in the Tent Cabin office building: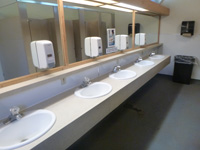 If you hang a hammock from a tree without putting paddling under the rope where it goes around the tree trunk, you risk stripping bark off the tree and allowing insects in to do damage: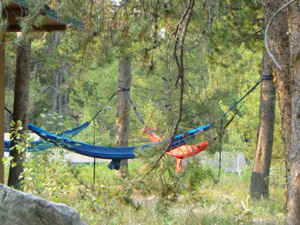 __________________________________________________________
The park service announced on Nov. 24, for Reservations for 2022 "The Colter Bay RV Park and Tent Village, as well as Headwaters Campground and RV Park, which were previously reservable through Grand Teton Lodge Company, are moving to https://www.recreation.gov/
Go there and search for Grand Teton National park, then scroll down to Colter Bay Tent Village, where you will find a map of all 66 cabins (in 33 duplex units) to choose from.
Rates from the website in Nov. 2021 and early 2022:
May 27, 2022 – September 04, 2022 $93.00 "Displayed rates do not reflect discounts, taxes, or incremental charges."
Rates from the website in Jan. 2021:
$87.69 per tent cabin 2 adults, $94.35 for 3 adults, $101.01 for 4 adults, $107.67 for 5 adults, $114.33 for 6 adults (rate includes tax, utility fee).
The 66 tent cabins (in 33 duplex units) usually close shortly after Labor Day weekend (May 25 – September 6, 2021, May 27, 2022 – September 04, 2022)
At Recreation.gov, we read this about the Colter Bay tent cabins:
". . . Parking for one vehicle is available at each cabin, however, oversized vehicles are not permitted. Parking for oversized vehicles is available within a 5-10 minute walk.
Quiet hours are 10pm – 7am.
Camping accommodations are pet-friendly. . ."
____________________________
From the National Park Service Morning Report of August 08, 2003
"Grand Teton National Park (WY)
Structural Fire at Colter Bay
David Al___, his wife, and two teenage daughters were staying at the concession-owned Colter Bay Tent Cabins on the night of July 15th. Although area temperatures had been unseasonably high, Al___ decided to light a fire in the tent's potbellied stove before the family went to bed at 11:30 p.m. After several unsuccessful attempts to light the fire with wood and paper, Al___ removed a lid on the top of the stove and poured Coleman fuel into the opening. The smoldering fire immediately burst into flames and quickly spread to the tent walls and ceiling. The family evacuated the burning structure and the North District Fire Brigade was summoned. Nearby campers assisted by dousing the fire with extinguishers; fire brigade members put out the fire and conducted the investigation. Fortunately, Al___ suffered only minor injuries, but the family clothing, camping gear and bicycles were destroyed. The tent-cabin is constructed of a combination of log and canvas walls with a canvas roof. The canvas was treated with a flame resistant coating that ensured the complete structure did not ignite and burn, but significant damage was incurred.
[Submitted by Bill Holda, Acting Chief Ranger]"
____________________________
There is a cell phone tower on Signal Mountain so the area at
Jackson Lake Lodge has had more consistent cell phone reception than at Colter Bay
. Walking around outside the tent cabins people usually did find some bars of service with some providers. You can use the phone at the cabin rental office front desk to make dinner reservations at the Lodges if your cell phone is not getting service. BUT in late summer 2021, a cell phone tower was put in the campground and we can expect better service.
Here are views of Colter Bay campground loop F with the cell phone tower:
See more about Colter Bay
Take a look at
Colter Bay cabins, Grand Teton National Park.
or other Grand Teton National park overnight accommodations.
___________________________________


An app for Grand Teton National Park info (best downloaded before you get there when you can find reliable internet) with info about visitor centers, historic places, natural features, and services throughout the park.
"Even without cellular service, the app will be able to share your location on the map and bring up all site content."
https://www.nps.gov/grte/planyourvisit/nps-grand-teton-app.htm
___________________________________
We tell people on our college trips to Grand Teton National Park to fill their gas tank whenever they are in Jackson, Wyoming, as the lowest cost gas stations are in town and the prices almost always get higher the further you go into Grand Teton park. See a map of gas stations in Grand Teton National Park and gas costs at some of them over the years.
___________________________________
When you are about to leave, check your cabin area for microtrash
—look for bandages, twist ties, fruit peels, bits of wrappers, stray potato chips, torn corners of candy bar wrappers and power bars, plastic bottle caps, bits of G.O.R.P. etc.
___________________________________

Was that a black bear or a grizzly, a coyote or a wolf or a fox we just saw?

Rocky Mountain mammal size comparisons has photos and comparisons of beavers, squirrels, pika, marmot, elk, moose, bison, fox, coyote, wolf, golden-mantled ground squirrel, chipmunk, Red Squirrel (also known as) Chickaree, Unita Ground squirrels, bobcat, lynx, mountain lion (cougar), pine marten, mountain goats, bighorn sheep, pronghorn, grizzly and black bears, tundra swan, trumpeter swan, adult and juvenile Bald Eagles.
___________________________________
Grand Teton National Park birds has photos and details about the most common ones we can hope to see
including Bald Eagle, Red-winged Blackbird, Canada Geese, Clark's Nutcracker, Golden Eagle, Great Blue Heron. Great Gray Owl, Harlequin duck, Loon, Magpie, Merganser, Northern Flicker (woodpecker), Osprey, Ouzel, Pelican, Peregrine Falcon, Ptarmigan, Raven, Sandhill Cranes, Steller's Jays, Trumpeter Swan , Western Meadowlark, and Western Tanager, with links to calls / songs from most of them to listen to.
and you can Download photos of over a hundred birds of Grand Teton National Park
https://www.audubon.org/climate/national-parks/grand-teton-national-park

___________________________________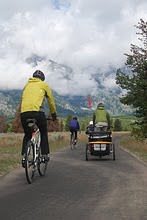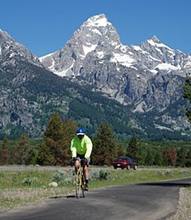 It is safer to enjoy a bike ride on a designated bike/roller blade/walk path than on the road with drivers looking at scenery instead of you on your bike, and there is am 8 mile long pathway from the Moose Visitor Center (please walk your bike in the parking lot) to South Jenny Lake. Pets (except guide dogs) are prohibited and the pathway is closed from dusk to dawn for wildlife and public safety. Grand Tetons biking
– – – – – – – – – – – – – – – – – – – – – – – – – – – – – – – – – – –
Grand Teton National Park boat launch access has maps and answers to questions:
When do Grand Teton National Park and Jackson Lake boat ramps open and close?
Where and how long can I park my boat trailer in Grand Teton National Park?
Can I bring my dog on my boat in Grand Teton National park?
and photos, details & maps about marinas and/or free boat launch ramps at Leeks Marina, Colter Bay, Jackson Lake Dam, Snake River Launch to Pacific Creek Landing, Snake River Launch and take out, Signal Mountain Lodge, and a String Lake launch ramp for non-motorized, hand carried boats
as well as details and maps of boat-in camping on Jackson Lake.
– – – – – – – – – – – – – – – – – – – – – – – – – – – – – – – – – – –
Grand Teton National park restaurants has links to menus and links to info about restaurants in Jackson, Wyoming.
Grand Teton National Park
al fresco dining: