In the map below, the Curry Village day use and guest use parking lot is the black square with the letter P in white in the center of it towards the right hand side of the map. (It has an arrow pointing to it from the green box with white lettering: Curry Village Parking.)

On some maps the Curry day-use parking lot is named Apple Tree Orchard Visitor Parking.
In the aerial photo below you can see the day use and guest parking lots at Curry Village (briefly named Half Dome Village), Yosemite National Park.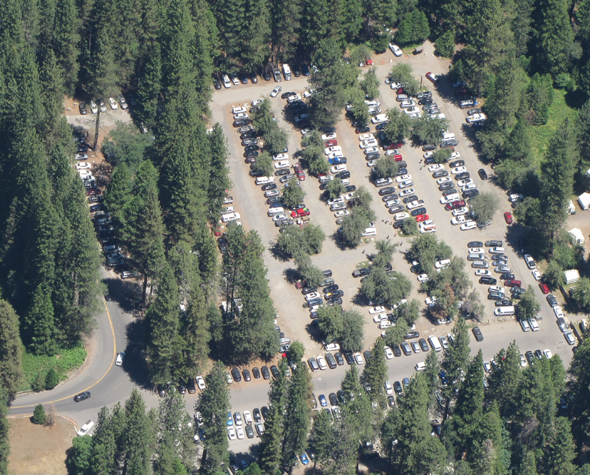 The rows of cars at the bottom, running right to left are in the lot designated for guests of Curry Village . The rows above that, running top to bottom are for day use, and overflow parking for Curry Village guests.
The Campground Office is in the upper right hand corner.
Near the upper left hand corner is parking designated for RVs only. Below a photo of a ranger vehicle parked to talk to the driver of a car that pulled into the RV parking only area and blocked legally parked RVs from being able to pull out.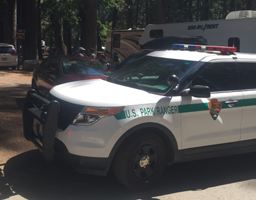 – – – – – – Whenever you park in an area you are not familiar with, take a photo on your smart-enough phone, standing a bit away from where you parked, so you can find your vehicle.- – – – – –
– – – – – – – – – – – – – – – – – – – – – – – – – – – – – – – – – – – – – – – – – – – – – – – – – – – – – – – – – –
Google maps street view (photo you can rotate) of part of the Curry Village parking lot.
– – – – – – – – – – – – – – – – – – – – – – – – – – – – – – – – – – – – – – – – – – – – – – – – – – – – – – – – – –
Plan ahead which lane to be in as you approach the Curry Village intersection.
During high traffic times, especially on busy weekends in the summer, traffic at this intersection can be backed up for many car lengths.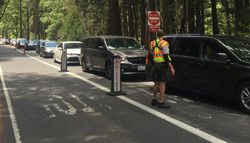 A ranger might be directing people who do not have reservations for Curry Village or a Pines campsite to turn left and not try to park in the full parking lots to the right.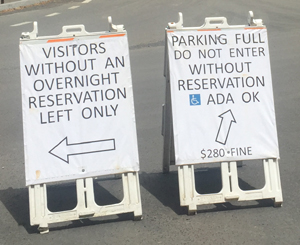 Or there might be different signage,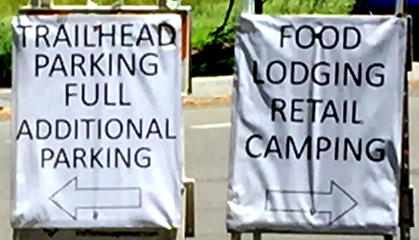 As you approach this intersection, to the left is the old site of one of the flooded River campgrounds, to the right is the Curry Village free day use parking lot, Curry Village (briefly named Half Dome Village), with the wood floor canvas roofed/walled tent cabins. If you arrive after dark in winter you might see the lights of the ice rink.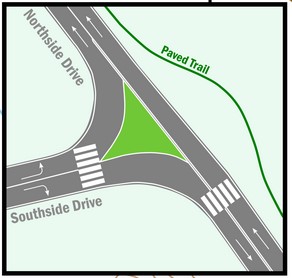 Be in the right hand lane and turn right to go to Curry Village (briefly named Half Dome Village) and the Pines Campgrounds.
OR, if you are not going to Curry Village or the Pines Campgrounds, get in the left lane and turn left to go to Yosemite Village Day Use parking (which is a short walk to the main Visitor Center, biggest grocery, museum, Post Office, various restaurants) and to the garage, Medical Clinic, and the Ahwahnee hotel, or back out of the park. The road you would be turning left on to is a one-way two lane road, and is shown where Stoneman Bridge crosses the Merced River in the upper left of the photo below.
In the photo below, the Curry Village parking lot is in the lower right corner.
The red X shows where Southside Drive previously went through to the Pines campgrounds. The two-way road to the campgrounds is still there, but you need to drive through Curry Village and alongside the left of the Curry parking lot to get to it. On some maps the road changes name to Happy Isles Loop Road, which is the long strip of road between the two meadows in almost the center of the photo below.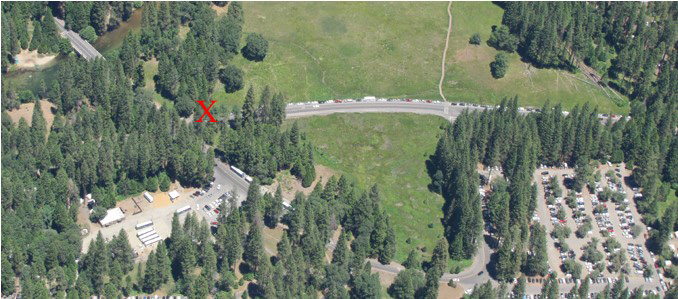 The section of Southside drive (Happy Isles Loop Road) at the center of the photo, showing above the parking lot, goes straight to the Pines Campgrounds, trailhead parking, and a shuttle bus road around to Happy Isles/trailhead for Vernal mist trail and Nevada falls, a trailhead for Mirror Lake, and the stables. Find locations and details about each of these places at the Yosemite free shuttle bus page.
Within Curry Village, Curry Village Drive is mostly two way, with the exception of a short one-way loop through registration parking. Happy Isles Loop Road to the Pines Campgrounds from Curry Village splits off before the campgrounds and goes past the trailhead parking lot and becomes a one way only shuttle bus-only road to Happy Isles.
And in the summer that road may have signs closing it.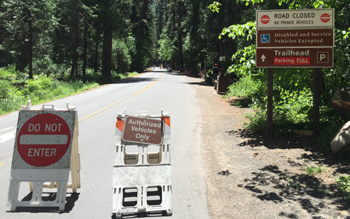 The most current route map for the free Yosemite Valley shuttle bus is in the Yosemite Guide newspaper https://www.nps.gov/yose/planyourvisit/guide.htm
(Most maps people are used to have north at the top and and south at the bottom, but this next one has north and south reversed, so it will seem different than the photos above.) If you stay overnight at Curry Village (briefly named Half Dome Village), in this map note the office you will check in at, the pink almost-square labeled "Front Office" and the free Yosemite Valley shuttle bus stops 13b, 14 and 20. On this map the day use and Curry Village guest parking lot is named Apple Tree Orchard Visitor Parking.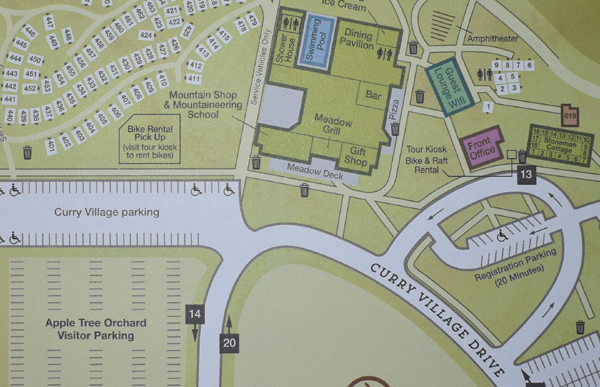 Find pictures and details about COST and AVAILABILITY of all potential Curry Village overnight accommodations, including Curry Village (briefly named Half Dome Village) tent cabins, wood walled cabins without a bath, cabins with a bath, cabin 819, and Stoneman Cottage, as well as the shower house, pool, restaurants, bike and raft rentals, guest lounge with WiFi at Yosemite Valley Overnight Accommodations. Details about choosing among the canvas walled tent cabins and advice to more thoroughly enjoy your stay, are at: Yosemite Valley tent cabins tips and tricks.
below: Curry Village wood-walled cabin without a bath, canvas tent cabin, wood walled cabin with a bath
Here is a link to a map at their website, of all the tent cabins / cabins without a bath (in white) and wood walled cabins with a bath (in orange) /shower house/restrooms/pool/restaurants and more.
http://www.travelyosemite.com/media/524862/half-dome-village_property-map_web.jpg
Bears have broken in to vehicles in Yosemite National Park (all year). Bears, Ravens and raccoons get into that ice chest you left in the back of your pickup truck and food storage rules apply all over the park, as in this sign at the Curry Village (briefly named Half Dome Village) day-use parking lot: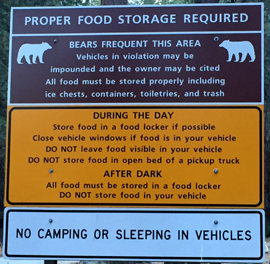 You might find a dumpster in the parking lot.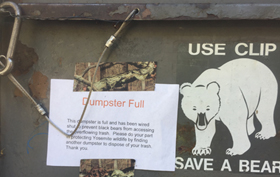 In the photo above, the note on it says:
"Dumpster Full
This dumpster is full and has been wired shut to prevent black bears from accessing the overflow trash. Please do your part in protecting Yosemite wildlife by finding another dumpster to dispose of your trash. Thank you."
PLEASE, when a dumpster is full don't just leave your trash sitting next to it, find another dumpster.
__________________________________________
This photo is from the Merced River Plan (look for page H-20), where there are plans to get better views at many locations in Yosemite. About the Curry Village Day-Use parking lot the plan says: "There are a number of conifers (30) at the east end of the lot that could block the view of Half Dome in the future, removal should be considered at that time."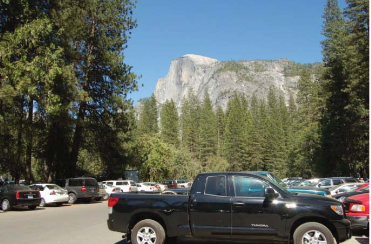 A boardwalk leads across Stoneman Meadow across the road from the day use parking lot (lower right corner of this photo) to Lower Pines Campground: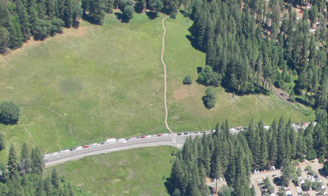 With one of the best views of Staircase Falls, here in full flow in May: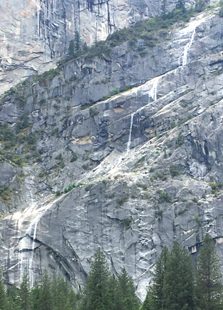 and in this panorama, Staircase Falls on the left and upper Yosemite Fall on the right, both barely visible in this photo, but striking in person:

A better view than the photo above is at a Google maps 360 degree view showing upper Yosemite Fall, the top of Royal Arch Cascade, the Royal Arches, North Dome, (if you tip the photo up a little) Glacier Point, and Staircase Falls as seen from along the Stoneman Meadow boardwalk.
__________________________________________
In 1965 people camped (legally) in the Curry Village parking lot (orchard) :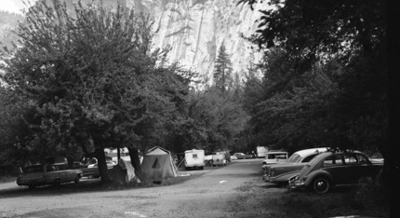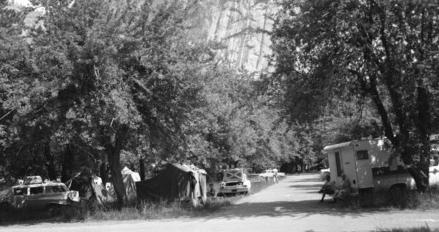 __________________________________________
swimming in Yosemite including thunderstorms, bacteria in the water, safety issues, favorite beaches, swimming pools with lifeguards, places you should not swim.


The National Park Service warns:
"Each year, Yosemite National Park welcomes over four million visitors. If you are planning to visit Yosemite, plan ahead and arrive early. In summer, expect extended traffic delays and extremely limited parking. Expect delays of an hour or more at entrance stations and two to three hours in Yosemite Valley . . . If you are planning to visit Yosemite valley by car for the day, arrive before 9 am, after which parking is usually full.
Parking is available at Yosemite Village, Curry Village (briefly named Half Dome Village), and near Yosemite Falls. If you find a parking space, plan to leave your car there; you will not be able to find another parking spot. Use the free shuttle to get around Yosemite Valley.
If you have lodging or campground reservations, park your car at your lodge or campground and use the shuttles to get around.
Once all parking in Yosemite Valley is full, you may be redirected to other areas (which will also have limited parking)."
Again, here is a map of the three main Yosemite Valley day use parking lots, each with a black square with the letter P in white in it.

See details about more parking lots in Yosemite for people without an overnight accommodation (day-use parking) at Parking and Traffic Jams in Yosemite Valley Tips and Tricks.
__________________________________________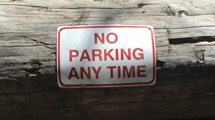 If you arrive too late to easily find parking, will you be thinking about
Inventing a parking space?
There is little parking in Yosemite valley beyond your campsite, hotel area or day use parking.

You can park along sections of some roads,
but if you park off the side of the road, not in a parking space, (as in the photo below, off road behind a large rock meant to deter anyone from parking there) you can get a parking ticket with a minimum $130 fine (ticket under the windshield wiper) in this photo: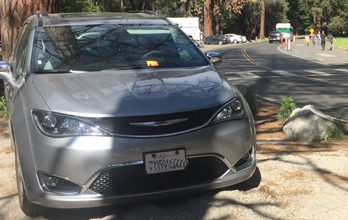 Putting on your emergency flashers when you pull into a shuttle stop driveway does not turn it into a parking space for you, and when the shuttle bus arrives you will be honked at to move, as the red car below was: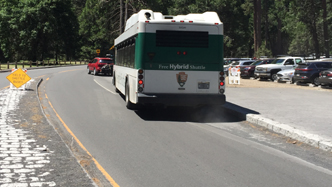 Did they not see the two signs at the side of the shuttle stop driveway/shuttle parking space?
A red painted curb is a no parking zone anywhere in the U.S., (including Georgia, where this mini-van was from), and in national parks, in part because some red curbs mark the space an ambulance or fire truck would need to get by. Yes, no parking is allowed even if one family member stays in the vehicle while the other rushes in to shop: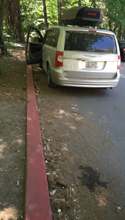 Each space in a parking lot is usually paved, has painted stripes and has a concrete beam your tires would hit to keep you from going too far (see the car on the right). In this photo, the driver of the SUV on the left decided to move into the dirt/plants to the side of a parking space at the end of a row, with tires slightly into the legal space already occupied by someone else. Ooops, tires partially in that space does not make it legal.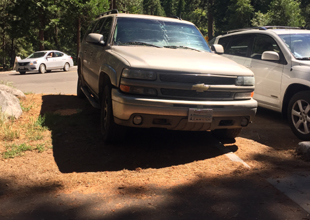 Did this driver from Arizona move the no parking a-frame sign over, or was it already moved over and he choose to ignore the sign, red cone, "No Parking" in large letters on the pavement and two giant trash dumpsters?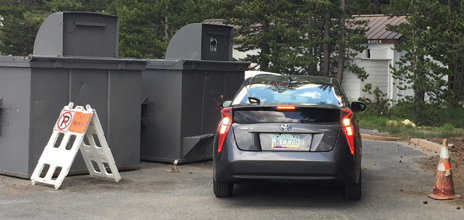 When a helicopter needs to land in the Ahwahnee meadow across the road from Church Bowl, to pick up someone who needs to go to a bigger hospital, (or when a helicopter needs to land for Search and Rescue training) people are asked to stay on the restroom/picnic area side of the road, and traffic going through is stopped. Because you won't know a helicopter is coming and won't be able to move your vehicle fast enough, the entire meadow side of the road at Church Bowl is closed to any parking at all times, (even to get out and quickly take a picture or use the restroom).
In this photo you can see a few parking spaces in a row alongside the road and the stripes for no parking on the other side of the road:

Some park visitors have found themselves spending
a lot of time
tracking down where their vehicle was towed to
or where their ice chest / cooler was taken when a Ranger confiscated it from their open pickup truck bed.
__________________________________________
The apple trees in the Curry Village parking lot "have reached the end of their lifespan,"
according to a study published October 2020:
"Yosemite National Park, California, USA has hundreds of apple trees in orchards that were planted in the 1800s by local settlers. These orchards played a cultural role in the early history of the land that was to become a national park. Most of Yosemite's orchards are well over one hundred years old and have reached the end of their lifespan. Genetic data has facilitated the assignment of cultivar names to historic apple trees within Yosemite and this information will be used to develop an Orchard Management Plan. Yosemite will use this Plan to balance orchard conservation with other necessities such as reducing human‐wildlife conflict from bears that enter developed areas to consume fruit from the trees."
". . .While important from a cultural perspective, Yosemite fruit trees are problematic from ecological and public health perspectives. Ecologically, these non‐native trees attract a myriad of wildlife species to places they would not normally inhabit in order to exploit the abundant food. This includes black bears (Ursus americanus), coyotes (Canis latrans), deer (Odocoileus hemionus), raccoons (Procyon lotor), ravens (Corvus corax), and multiple rodent species. Animals are brought into contact with humans and their food and garbage because many of the apple trees are located in or near human developments . Some of these animals, particularly raccoons and rodents, carry zoonotic diseases that are transmissible to humans and can even lead to death. Others, particularly bears, habituate to human presence and risk conditioning to human food and garbage while gorging on apples. The Yosemite Curry Orchard is particularly problematic, as it is also a parking lot and is surrounded by cabins and concessions services. This juxtaposition has led to property damage, human injuries by bears, and bears killed after they destroyed excessive property or approached humans too closely.. ."
https://nph.onlinelibrary.wiley.com/doi/10.1002/ppp3.10152
__________________________________________
Top reasons to not speed in a National Park.