String Lake in Grand Teton National Park is located right up next to the mountains. It isn't really a lake, it's actually a wide section of a river. But its slow current makes it feel and look like a lake. It is often called a flat water lake because there are less waves, but when the wind comes up in the afternoon it can have mini-waves or even whitewater. The relatively flat water makes it a better swim area and great for SUPs (stand-up paddleboards) and practice paddling.
You can find a larger copy of the NPS photo trail map below of Thor peak, Mount Moran, Mount Woodring, Rockchuck Peak, Mount Moran, Paintbrush Divide, the Jaw, Jenny Lake, Leigh Lake, String Lake, Bearpaw Lake, Trapper lake, Paintbrush Canyon, Leigh Canyon, Cascade Canyon, Moran Canyon, Holly Lake and Lake Solitude
at https://www.nps.gov/grte/planyourvisit/loader.cfm?csModule=security/getfile&PageID=2326000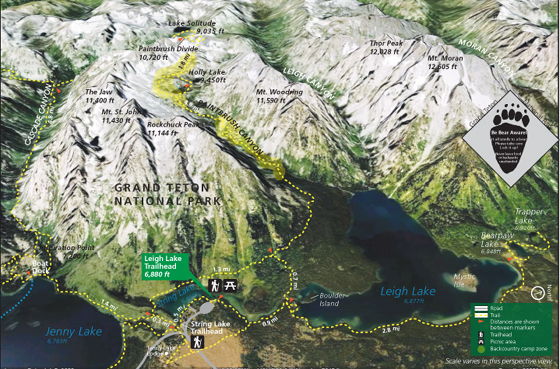 A virtual tour of String Lake is available at:
http://www.nps.gov/features/grte/stringlake/eHike.html
and below, a photo/map at the String Lake to Leigh Lake trailhead: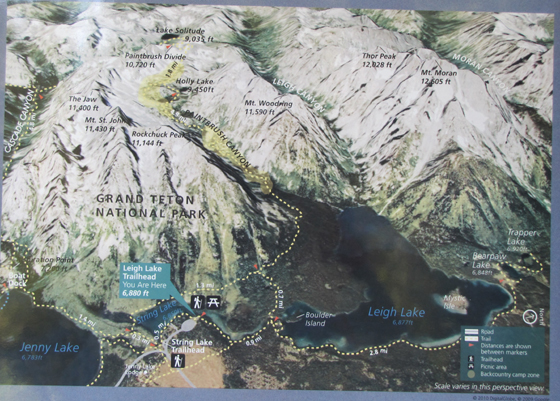 Each year that the De Anza Outdoor Club has gone paddling in the Tetons we have launched on String Lake. Sometimes we go there for a beginners paddling lesson, sometimes we have portaged (carrying the craft) to Leigh Lake.
Parts of String 'Lake' are so shallow that you can easily get stuck. You might see all the lines in the sand on the bottom that the keels of canoes and kayaks have left.
Here a trip member balances on his kayak after it got stuck.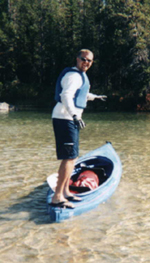 __________________________________
Food storage and staying close to your food is important even at a picnic area.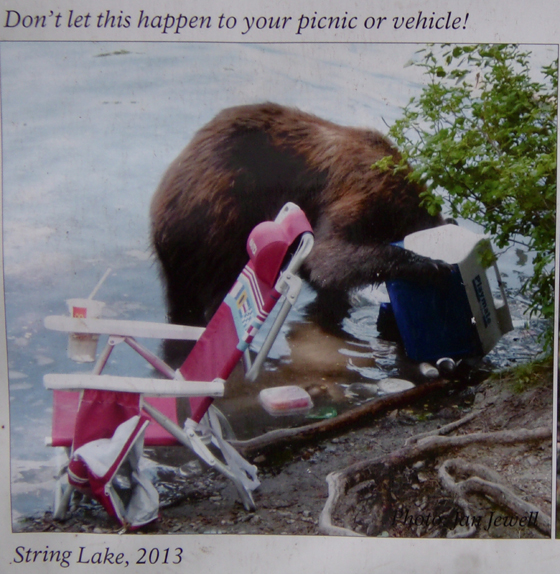 __________________________________
Many years we have done an overnight on Leigh Lake.
Below: landing at the end of String Lake and a picture of the portage with a trailer Alan made.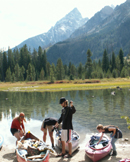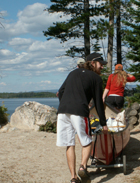 There are more pictures at:
String Lake to Leigh Lake, Grand Teton National park
The photo below shows the staircase at the Leigh Lake end of the portage trail from String Lake. In 2000 the students didn't stay with the advisor when we finished paddling across String Lake. They also didn't spot the trail sign for the wide, relatively flat portage trail. They carried their craft on the winding hiking trail instead. We all used the real portage trail on the way back.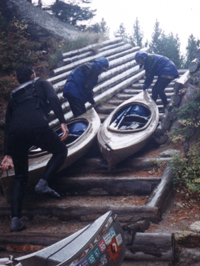 After paddling on shallow, relatively warm (less cold?) String Lake we could swim if we're intrepid and it's a warm, sunny day, or better yet, if people bring spring suits or full size wetsuits. In fall 2002 people swam with and without.

__________________________________
The main website page about our Grand Tetons trips is:
See also:
Cascade Canyon, Grand Teton National Park