This is one of the ways we ask students to prepare for our trips. On your smart-enough phone, find the compass, (details of how to do this are below) which also shows the elevation
(32 feet above sea level in parts of Monterey, California,
242 feet above sea level in Cupertino, California,
6,000 to over 13,000 feet above sea level in Grand Teton National Park,
4,000 to over 10,000 feet in Yosemite National Park).
Knowing the elevation you attained on a hike can be fun for the been-there-and-done-that part of your adventure.
The compass app also has the latitude and longitude of where you are.
I won't try to give you details of how latitude and longitude were invented. The basics are, there are lines around the globe that allow us to pinpoint a specific place where they intersect.
They are described in degrees, minutes and seconds. (N = north W = west).
A weather report, for example for Yosemite valley,
Point Forecast:
Yosemite Valley CA
37.73°N 119.62°W (Elev. 3999 ft)
Or in Grand Teton National park:
Point Forecast:
Moose WY
43.66°N 110.72°W (Elev. 6509 ft)
might only list degrees and minutes, because it is for a fairly large area.
Your smart-enough-phone can (depending on how accurately the satellite is sending you info) also give you "seconds" along with the degrees and minutes, giving a much more specific location description, for example: 37° 17′ 12″ N, 121° 59' 29" W
Let's imagine that you are out on a hike / paddle / trail bike ride and you come upon someone hurt. Since you will always have the phone number for park dispatch with you, if your phone gets any service, you can call dispatch and get advice or help. But telling them accurately enough where you are can be difficult. You might be able to tell them you are on the trail up into Cascade Canyon, up past the cutoff to Hidden Falls, and even say you are at the lookout over the lake. The problem is there are many lookouts over the lake. If you can look up your latitude and longitude, then they know better where you are.
And if you see someone waving and hear them (a climber maybe?) yelling for help up on a nearby ridge, you can tell dispatch your location AND tell them the compass direction from you that the person you hear is at. Search and Rescue will have a much better chance at helping them in time.
We should try this, using good topographic maps, before the next trip (or maybe the first day of the trip).
To try this, if you have an iPhone 6S, the part you need to click on to get to the compass might usually be on the left side of the first screen. If you have an iPhone 6, the part you need to click is usually not on the same first screen as your phone / camera. Go to the second screen and click on Utilities, then on Compass.
Here, the elevation at Lake Solitude (9050 feet), up in Cascade Canyon, Grand Teton National Park: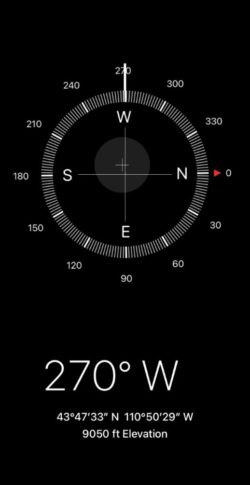 Just below the circular dial of the compass will be a number and letters that tell you which direction the cell phone is pointing, useful to reference a map, for example 270 degrees W (west), and
below that are usually more numbers showing the latitude and longitude
(listed as degrees, minutes and seconds) and letters (N = north, W = west, etc.)
and finally, the elevation.
The winter Yosemite Tuolumne Meadows rangers gave this advice about map and compass:
"Practice with these tools when you know where you are;
not when it's getting late, dark, cold and/or cloudy."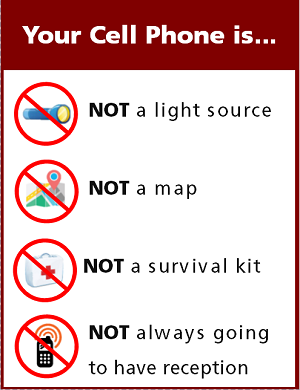 Cell phones in the wilderness has advice on how/when to use a cell phone to contact 911 in the wilderness and a warning about interference between cell phones, iPods and avalanche beacons.
The use of cell phones for photography (with or without a selfie stick) has made preventable injury or even death by selfie common They were just taking a selfie . . .


Teton range peak names has the altitude of the peaks in Grand Teton National Park. People who join us for our annual trip to Grand Teton National park, and hike as far at Lake Solitude if they go on the Cascade Canyon hike, will go to over 9,000 feet elevation.
All air has 21% oxygen. At higher altitudes the barometric pressure is lower, so the effective oxygen is less.
At sea level the pressure is 160 mm hg and we have all the use of the 21% of oxygen.
At 5,000 feet the pressure is 130 mm hg and we have the effective use of 17% oxygen. You will need to breathe deeper.
At 10,000 feet the pressure is 110 mm hg and we have all the effective use of 14% oxygen, only two-thirds that of sea level. Besides needing to breath deeper, you may feel lightheaded or dizzy, very tired or get a headache.
Being in good physical shape unfortunately is not protective against high-altitude illnesses.
At altitude has info about sunburn (sunburns develop more quickly at high altitudes), hiking, diet at higher altitudes for De Anza Outdoor Club trips. It includes why your tent mate might seem to stop breathing.
Any hike to the top of peaks and domes must start early so we can get to the top and back down before expected afternoon lightning storms start. If at any point thunder is heard or lightning seen, you should turn back from the top of any peak, even if you haven't gotten as far as you wanted. Don't get zapped! Don't use your cell phone or IPod. Read
Thunderstorm and lightning safety,
which includes the answer to the question: Why can't you swim during a lightning storm? A strike on a lake doesn't kill all the fish in the lake.
___________________________________

An app for Grand Teton National Park info (best downloaded before you get there when you can find reliable internet), with info about visitor centers, historic places, natural features, and services throughout the park. "Even without cellular service, the app will be able to share your location on the map and bring up all site content."
https://www.nps.gov/grte/planyourvisit/nps-grand-teton-app.htm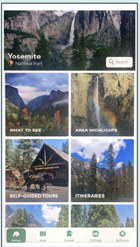 Yosemite also has a free download of an App with "information about park services and programs, as well as an interactive map designed to help visitors locate iconic features, scenic spots, trailheads and amenities. . ."
". . . Most app content can be downloaded before arriving in the park and used offline in areas of limited cell service"
___________________________________
Hiking Advice has hot weather hiking advice, hiking logistics and the answer to the question: When is the best time of day to cross a mountain stream?

You can't always expect a helicopter rescue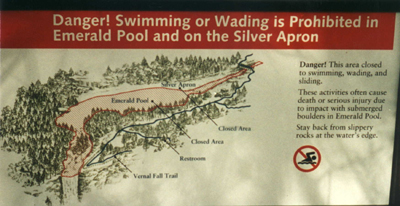 fatal, near fatal or close call incidents/accidents in camping, backpacking, climbing and mountaineering
Can a person who is prescribed an epi-pen risk going into the wilderness? and some sting prevention notes are at: Anaphylaxis quick facts
backpacking advicehas these sections: Must bring for each large group (or perhaps for each couple or person), Must bring backpacking for each person, Some (crazy?) people think these are optional for backpacking, Backpacking luxuries(?), Do not bring these backpacking, To keep down on weight backpacking, Don't rush out and buy, BACKBACKING FOOD, Low-cook backpacking foods, Yosemite National Park WILDERNESS PERMITS, Leave no trace camping has these basic principles.
Enhance your drive to your next adventure: Road trip advice and etiquette
Camping solutions for women has tips for and answers typical questions from first-time women campers, including the question: Can menstruating women camp or backpack around bears?

water in creeks, lakes, etc. is only safe to drink if you brought a water purifier.
Your safety in grizzly bear territory

Rocky Mountain mammal size comparisons has photos and comparisons of beavers, squirrels, pika, marmot, elk, moose, bison, fox, coyote, wolf, golden-mantled ground squirrel, chipmunk, Red Squirrel (also known as) Chickaree, Unita Ground squirrels, bobcat, lynx, mountain lion (cougar), pine marten, mountain goats, bighorn sheep, pronghorn, grizzly and black bears.


Safe distances from wildlife includes reasons to stay away from even friendly seeming animals in parks and charts and photos to better be able to determine and visualize how far away from wildlife you need to stay to be safe (and obey laws that do have penalties).



Where were they when they got that great picture in Yosemite?

Where can I take a photo that looks like the one on a Yosemite postcard I just bought?
Places to take photos of
Half Dome
,
Bridalveil Fall
,
El Capitan
,
Yosemite Falls
and
Staircase Falls
.

We advise people to check everything that powers, stops, cools, heats, ventilates and lights their vehicle before they leave on an adventure. Road trip vehicle prep and recommended service has checklists (including many things people can do without a mechanic).
If the owner of the Buick below had cleaned the battery terminals before the trip, the half hour spent trying to get his car to start the last morning of the 2016 winter Yosemite trip could have been spent on something more fun. See: Road trip vehicle prep and recommended service