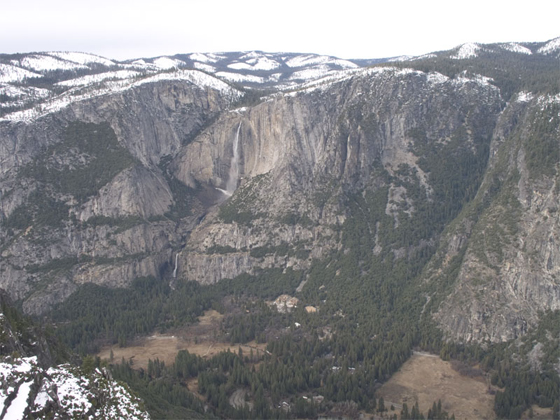 photo above courtesy of the National Park Service (NPS)

photo below by Quang-Tuan Luong/terragalleria.com, all rights reserved.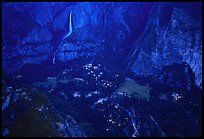 The Ahwahnee Hotel (briefly named the Majestic Yosemite Hotel) as seen from Glacier Point: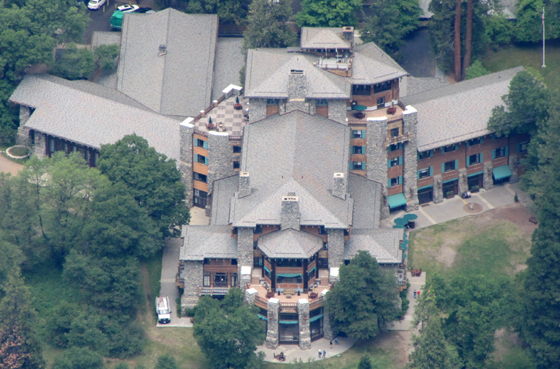 This photo of Teddy Roosevelt and John Muir at Glacier Point with Yosemite Falls in the background is from the National Park Service historic photo collection: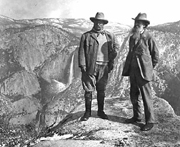 Vernal and Nevada Falls and the Mist Trail from Glacier Point: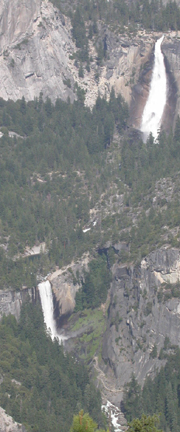 Half Dome and Nevada Falls from Glacier Point, courtesy of the National Park Service: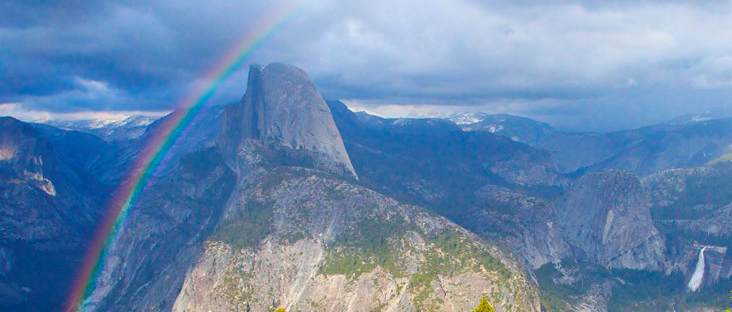 From Glacier Point, looking towards Half Dome, you can see (left to right) North Dome, Mt Hoffman, Basket Dome, Mt Watkins, Tenaya Canyon, Echo Peak, Clouds Rest, Half Dome, Vogelsang Peak, Bunnell Point, Mt Broderick, Mt Florence, Liberty Cap, Vernal Fall, Nevada Fall and the mist trail, Mt Clark and Gray Peak.
A Google street 360 degree view from Glacier Point down to Vernal and Nevada falls, and across to Half Dome.
During many summers, amateur astronomy clubs host star gazing at the Glacier Point Amphitheater (in cooperation with the park). The program is canceled if the sky is overcast.
https://www.nps.gov/yose/planyourvisit/programs.htm
The Glacier Point hiking map includes drawings of and descriptions of trails to / around (easy) Glacier Point, Mc Gurk Meadow, (moderate) Dewey Point, Taft Point and the fissures, Sentinel Point, Taft Point / Sentinel Dome loop, (strenuous) Four Mile Trail, Panorama Trail, Mt Starr King View, Ostrander Lake and Pohono trails.

To hike to Glacier Point via the Four Mile trail
(4.8 miles one way, 3,200 foot elevation gain), not open at all or all the way in winter, "when partially closed, only the lower three miles (5 km) are open to the gate below Union Point." There is very little parking at the trailhead, but you can use the Yosemite Falls day use parking lot at shuttle stop #7 and take a short walk across the river at Swinging Bridge and slightly south/west on the main road to the trailhead. (This could be faster than using the free shuttle bus to go to stop 11.)
A Google street 360 degree view from Glacier Point down to Vernal and Nevada falls, and across to Half Dome.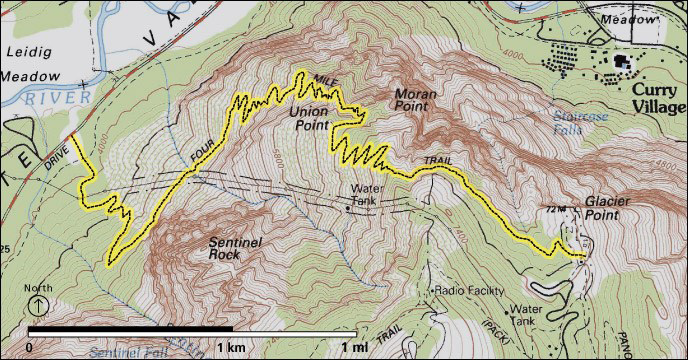 Read more at the park service page: https://www.nps.gov/yose/planyourvisit/fourmiletrail.htm
People who want to get a bus ride from Yosemite Valley to Glacier Point and back to Yosemite Valley
OR a bus ride up to Glacier Point and hike back down the Four Mile trail or the trail past Illilouette, Nevada and Vernal Falls,
can do so in months when the Glacier Point road is open. The road has opened anywhere from April 14 to July 1, depending on snow pack. Book a ride on the Glacier Point tour, most years leaving 8:30 a.m. from the Lobby entrance to Yosemite Lodge, free shuttle bus stop 8 http://www.travelyosemite.com/things-to-do/guided-bus-tours/
This photo / map of the Four Mile trail from Yosemite Valley to Glacier Point is on a display in front of the Yosemite valley main Visitor Center (free shuttle bus stop #5, across the street from stop #9):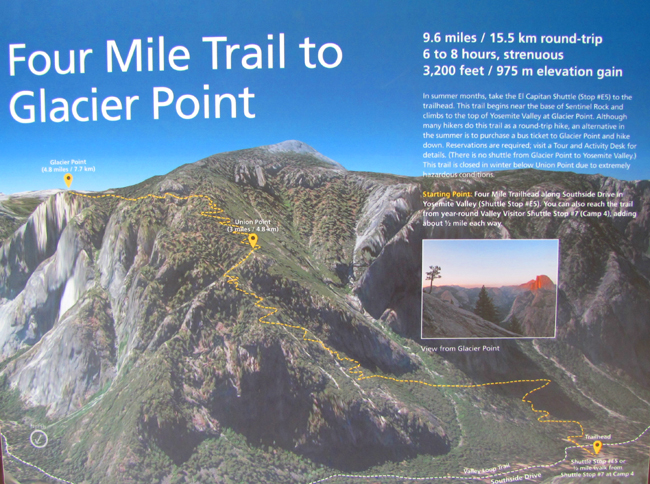 ______________________________________________
Parking and traffic jams in Yosemite valley tips and tricks has the above advice, with maps of each of the three major day-use parking lots, with advice to help you NOT get a Yosemite National Park traffic or parking ticket, and not contribute to preventable traffic backups. And some details of where you can't park in Yosemite, or can't park without a permit.

See also an index to over a dozen park webpages with park laws, rules, regulations and policies.
_________________________________________________________
Hotel, cabin and tent cabin choices in Yosemite valley
are at: Yosemite Valley
accommodations
Restaurants, cafeterias, coffee bars, pizza, grocery stores are at: Yosemite valley restaurants, coffee bars, cafeterias, food service and groceries
Yosemite Place names.

Where were they when they got that great picture in Yosemite?
Where can I take a photo that looks like the one on a Yosemite postcard I just bought?
Places to take photos of Half Dome, Bridalveil Fall, El Capitan, Yosemite Falls and Staircase Falls.

At bears you will find:
links to general info about bears,
then practicalities of camping and backpacking around bears, (Food Storage , what to do if you see a bear, how bears get into cars, info for backpackers) and lots of stories about bears getting into cars, tents, camps, etc., mostly geared towards De Anza College Outdoor Club trips around bears in California (especially Yosemite National Park) and Grand Teton National Park.
And the answer to the question:
Why don't the rangers just move the problem bears?
and the question:
How can I keep a bear out of my campsite? (You can't, but you can almost always keep it out of your food.)
__________________________________________________
______________________________________________

The Yosemite National Park rangers would like you to call them
if you see a bear in Yosemite,
no matter where it is or what it is doing.
Since 2003 there has been a note in the Yosemite Guide: "REPORT ALL BEAR SIGHTINGS! To report bear sightings, improper food storage, trash problems, and other bear-related problems, leave a message for the Bear Management team at: 1 (209) 372-0322. Your call can be made anonymously."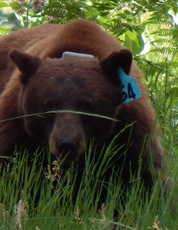 If you can, in all the excitement, try to notice if the bear has a tag (usually on the ear), the color of the tag and if possible, the number on it (the tag is large enough that with a telephoto lens you should be able to read the number).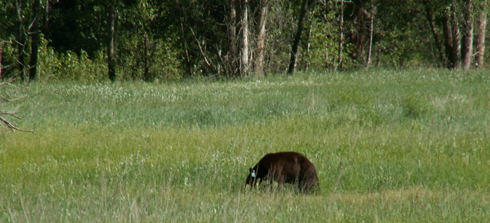 From the Yosemite Daily Report newspaper:
"It is extremely important to remember to yell at bears that are in and around development, even if they are foraging on natural food. Though it is very tempting to get close for a picture, or just to watch these incredible animals, it is important not to give into this urge. Yelling at them if they are in residential areas or near people is critical to keep bears natural fear of humans. Giving bears plenty of space. When bears become too comfortable around people, they will often start causing damage to structures and vehicles, or will even become too bold around people, creating safety concerns."
And the Yosemite Daily Report also said:
"Scare bears when you see them. . . in developed areas- Yell like you mean it!
Make as much noise as possible, try waving your arms, stomping your feet
or anything to make you look intimidating and to get the bear to run away.
We know it's fun to see bears and it can feel mean to scare them,
but this is a simple way to truly help save a bear's life."



______________________________________________