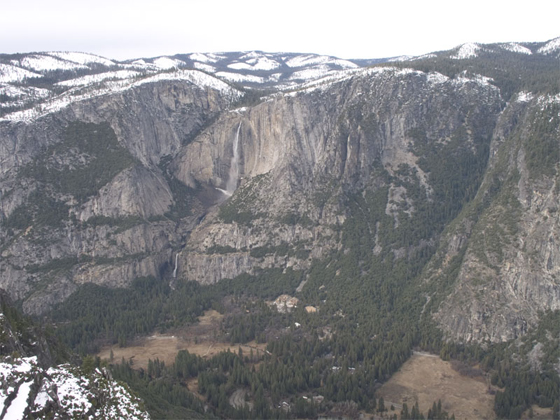 photo above courtesy of the National Park Service (NPS)
and see also more locations to photograph Yosemite Falls

photo below by Quang-Tuan Luong/terragalleria.com, all rights reserved.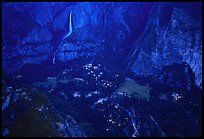 The Ahwahnee Hotel (briefly named the Majestic Yosemite Hotel) as seen from Glacier Point: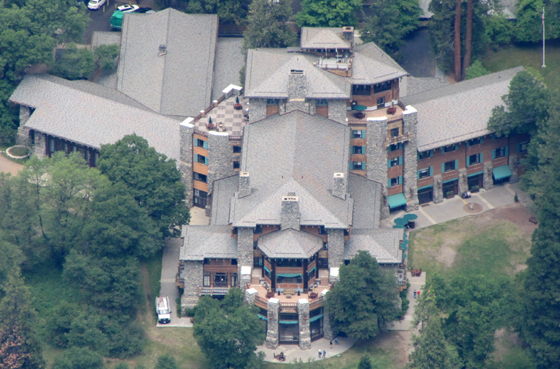 This photo of Teddy Roosevelt and John Muir at Glacier Point with Yosemite Falls in the background is from the National Park Service historic photo collection: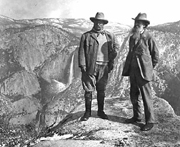 Vernal and Nevada Falls and the Mist Trail from Glacier Point: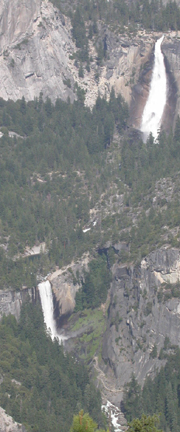 Half Dome and Nevada Falls from Glacier Point, courtesy of the National Park Service: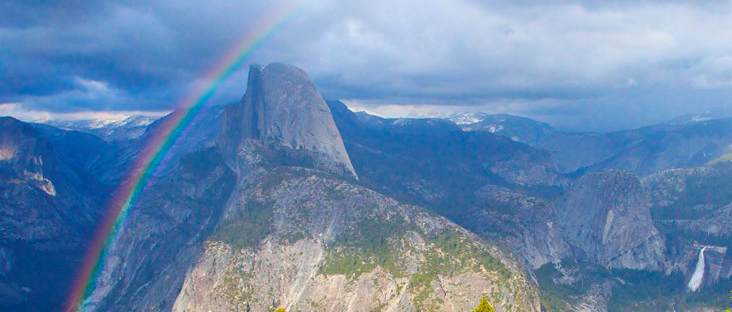 From Glacier Point, looking towards Half Dome, you can see (left to right) North Dome, Mt Hoffman, Basket Dome, Mt Watkins, Tenaya Canyon, Echo Peak, Clouds Rest, Half Dome, Vogelsang Peak, Bunnell Point, Mt Broderick, Mt Florence, Liberty Cap, Vernal Fall, Nevada Fall and the mist trail, Mt Clark and Gray Peak.
A Google street 360 degree view from Glacier Point down to Vernal and Nevada falls, and across to Half Dome.
During many summers, amateur astronomy clubs host star gazing at the Glacier Point Amphitheater (in cooperation with the park). The program is canceled if the sky is overcast.
https://www.nps.gov/yose/planyourvisit/programs.htm
The Glacier Point hiking map includes drawings of and descriptions of trails to / around (easy) Glacier Point, Mc Gurk Meadow, (moderate) Dewey Point, Taft Point and the fissures, Sentinel Point, Taft Point / Sentinel Dome loop, (strenuous) Four Mile Trail, Panorama Trail, Mt Starr King View, Ostrander Lake and Pohono trails.