Ahwahnee Hotel accessible rooms have widened doors, grab bars in the bathroom, raised toilet seats, low density carpet.
Five have a roll-in shower: main building room numbers 116, 206 and 421, cottage room numbers 702 and 703. Other main hotel building accessible rooms, with grab bar tubs but no roll-in shower, are 106, 219, 346, 507, 607.
ADA rooms in the main building include:
(116, 219, 346, 421, 507 and 607 'Spencer' are closer to the elevators than many other rooms.)
116 (roll-in shower) has the north mezzanine lounge on one side of it, and a storage room on the other side.
219 has a storage room on one side of it.
346 has a storage room on one side of it, and on the other wall, closets and the next door neighbors' bathroom.
421 (roll-in shower) a storage room on one side of it and on the other side, an adjoining door to room 422. With advance planning, you can book them together.
ADA room 507 shares a balcony with room 502 and with advance planning you can book both rooms:

the balcony has a view of Half Dome: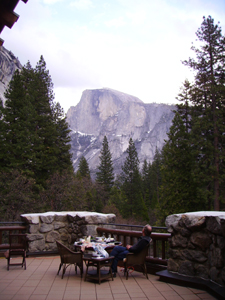 At the balcony level photo below, the doors to 502 are on the left, the door to ADA room 507 is on the right. On the floor above, the leaded glass windows on the left are sixth floor ADA room 607 'Spencer' (with windows in two directions since it is on a corner) and the windows on the right are of the Sunporch (603, parlor) that it optionally attaches to.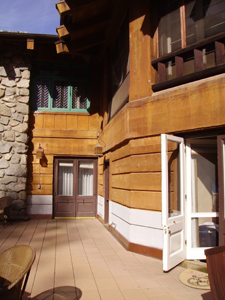 In the east wing, north side, there are two ADA Suites, 106 and 206 each with one king bed and a parlor with a hide-a-bed. One of the main building ADA suites, room 206, has a roll-in shower: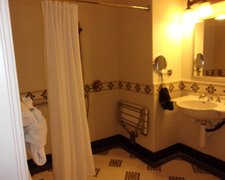 The other ADA Suite, room 106, without a roll in shower, with a grab bar tub, will have much less privacy than 206, see why below.
On the north side of the east wing, first (mezzanine level) floor, there are two rooms (104 and 105) with balconies, with a tall wall between the balconies, as seen from the fourth floor (with the flagpole lawn next to the porte-cochere just beyond at the left-center of the picture):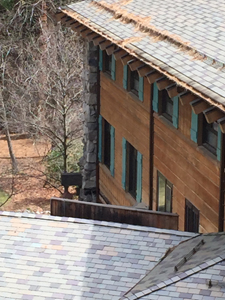 here as seen from the flagpole lawn next to the roofed walkway from the porte-cochere to the hotel main entrance: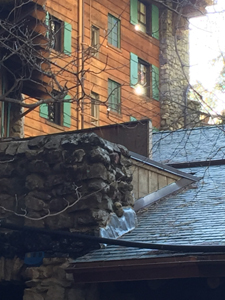 (105 in the foreground of the photo, 104 behind the tall wall).
Because the balcony for 105 is extended from the hotel building right next to a window of ADA room 106, it has a clear view in the window of ADA 106, and ADA 106 has a view of people dining on the little balcony for 105 unless they move their table back towards their room door.
The balcony for 106 is within a few feet of the outside stairs coming down from the east end of the main building to and from the swimming pool.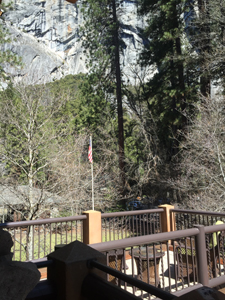 Cottages at the Ahwahnee are out on the grounds of the hotel, a long or short distance out in the weather, accessed by a wide paved pathway over a small bridge over seasonal Royal Arch creek.
Here is one of the wide paved pathways with a deer right next to the pathway: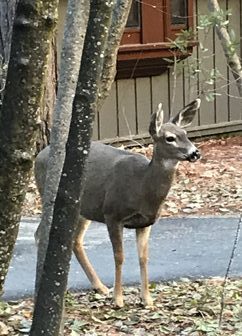 And here with a bobcat crossing the pathway: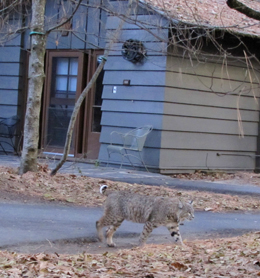 ADA cottage 702 has an adjoining door to ADA cottage 703, and with advance planning, you can book them together. Each one has a roll-in shower.
Here is a photo of an ADA cottage bathroom with a roll-in shower: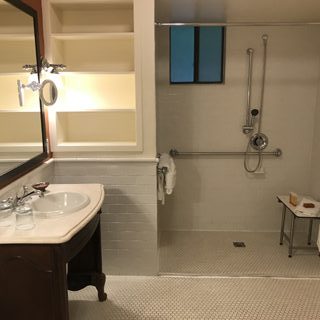 Here is the floor plan for the 2 ADA cottage bathrooms:
A dressing room space is at the top of the drawing.
They are on this map: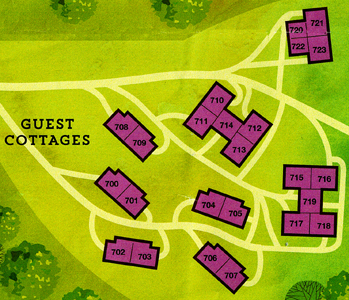 Off to the right (east) side of the above map is the river, off to the left (west) side of the map of the cottage buildings / rooms is the main Ahwahnee hotel building.
There is a larger version of the map below at map of the Ahwahnee hotel main building.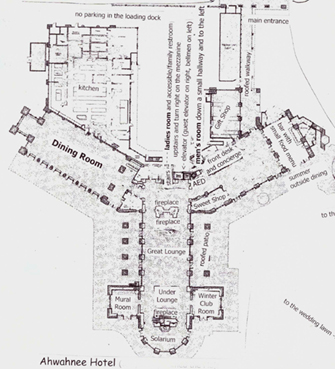 All the Ahwahnee rooms have large flatscreen televisions,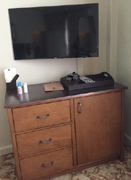 including (in the main building),
an in-house TV channel that plays videos from the Yosemite Conservancy Nature Notes series.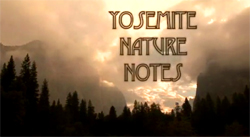 You can watch the videos at:
https://www.youtube.com/playlist?list=PL890957589F8403A4
All the rooms have a safe, ironing board/iron, robes and a small refrigerator:

An Ahwahnee Hotel "Frequently Asked Questions" page given out at check-in had this: Due to its (the Ahwahnee Hotel's ) historic status, the existing walls can't be modified to dampen the sound in the rooms. To keep you comfortable, we observe quiet hours from 10 p.m. to 8 a.m."
See the concierge for details about in-room massages.

The swimming pool is only open to guests of the hotel.
Your room key opens the locked gate to the pool. If there is also a padlock on the gate, the pool is not available for guest use, for example evening/overnight or due to occasional weather/chemical problems or when a large branch / section of trunk from a nearby tree falls into the pool.
In the photo below the white pool lift is partially hidden by the branches of a broken tree, to the right hand side of the photo behind the pool stairs: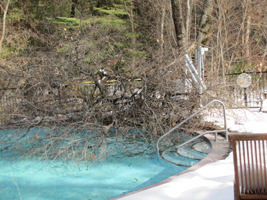 There is an AED attached to the pool-side towels cabinet. Photos below of two kinds they have had:

and one in the main hotel building on the corner of a wall of the hallway going from the front desk towards the dining room, next to the side hall to the men's restroom (see on map):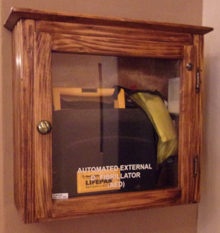 Detailed DIRECTIONS to get to the Ahwahnee hotel from any/all roads/entrances to Yosemite Valley are at
mid-May through mid-October (most years, during the Yosemite Valley Circulation Pilot) directions.
mid-October to mid-May (most years) are at: driving directions.
When you arrive you will find the Porte-cochere (roofed driveway) with a roofed walkway to the hotel main entrance.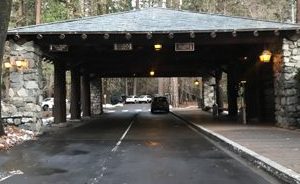 The roofed driveway / walkway into the hotel is very nice during rainy or snowy weather: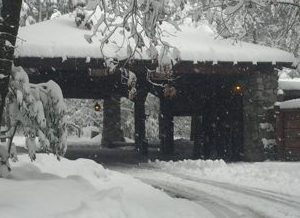 and see: Parking and traffic jams in Yosemite valley tips and tricks

You can see drawings of floor plans of ADA rooms 116, 346, 421 and 607 at this report:
Yosemite National Park Ahwahnee Hotel Retrofit Rooms to Meet ADA Standards (CIF 4507) Document List
https://parkplanning.nps.gov/document.cfm?parkID=347&projectID=16043&documentID=18002
– – – click on Approved CE Package
"This project will retrofit certain Ahwahnee Hotel rooms to meet ADA standards; the basic scope of work involves: relocating bathroom walls to allow for a 60″ turn area; widening bathroom doors; providing 36″ x 36″ showers; adjusting proper height toilet and grab bars; lowering lavatory and counter, and light switches and other controls. Also, included as needed: enlarge closet doors; lower clothes rods, robe hooks, and shelves; install touch sensitive switches on lamps and bedside lights; provide compliant drawer pulls; and install strobe light alarms. The completion of this project will allow the proper number of guest rooms to be fully compliant. The suggested rooms for remodel are: 116, 346, 421, and 607. ARG Architects has confirmed rooms meet ADA compliance."
https://www.nps.gov/yose/planyourvisit/accessibility.htm has info on access to areas, facilities, and services for people with disabilities, and usually has a link to the Yosemite Accessibility Guide.


The Ahwahnee hotel has a small selection of frequently requested over-the-counter medications and toiletries. The main grocery, the largest grocery in Yosemite valley, has a much larger selection including, but not limited to, brand name and some generic, (adult and in some cases children's) pain relief, allergy, stomach upset, cough syrups and lozenges, first aid supplies, and lots more.
The Yosemite valley Medical Clinic does not sell over-the counter meds. Read current Yosemite Medical Clinic details, including hours open, services offered and methods of payment at https://www.nps.gov/yose/planyourvisit/ymc.htm
The main grocery is a 15 / 20-ish minute walk from the Ahwahnee or one free bus stop away. Get on the shuttle bus at the Ahwahnee stop #3, (a short distance out in the parking lot from the main entrance to the hotel), seen in this view from the free shuttle bus stop looking toward the Ahwahnee Porte couchere on the center-right in the photo: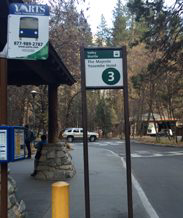 and get off the shuttle bus at stop #4, then go towards the store. After shopping come back by getting on the shuttle bus at stop 2, a little ways down from the store, since getting on at stop 4 where you got off will add at least a half hour, maybe even an hour, to your trip. (See the shuttle bus map and descriptions of routes.)
All the free Yosemite valley shuttle buses are accessible with wheelchair lifts and tie‐downs. "Maximum size for wheelchairs on shuttle buses and tour buses is 24 inches wide x 46 inches long with a weight limit on tour buses of 750 pounds. Bus drivers will help passengers on and off buses or notify them of stops. If you need assistance, ask the bus driver."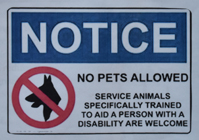 – – – no pet dogs (or any pets) are allowed on the shuttle buses (or on trails).
U.S. Department of Justice
Civil Rights Division
Disability Rights Section
Frequently Asked Questions about Service Animals and the ADA
https://www.ada.gov/regs2010/service_animal_qa.html

the Yosemite National Park entrance fee, effective starting in June 2018, is $35 per vehicle or $20 per motorcycle. An annual park pass will cost $70.
OR
a (National Parks and Federal Recreation Lands) Interagency annual pass is $80, valid for 2,000 federal recreation sites / National parks: https://www.nps.gov/planyourvisit/passes.htm
OR
a U.S. military dependent and who has their Dependent ID Card (form 1173) can get a free national parks pass http://store.usgs.gov/pass/military.html
(The passes can't be transferred/shared, the pass holder needs to be in your vehicle and show a photo ID.)
"80 percent of entrance fees stay in the park and are devoted to spending that supports the visitor." The https://www.nps.gov/yose/planyourvisit/fees.htm park entrance fee which addresses "many important maintenance and infrastructure needs," covers your entrance into the park for your choice of payment for a length of time and size / type of vehicle, free parking at the various day use parking lots, use of trails / visitor centers, Ranger programs, walks, talks (but not fee based programs by park concessionaires, see lists of dates/times of each in the park newspaper).
Your park entrance fee does not cover the cost of your campsite or overnight accommodation. (Campsites were once free in Yosemite.)
These entrance fee webpages:
https://www.nps.gov/planyourvisit/passes.htm
and
https://store.usgs.gov/faq#Access-Pass,
have more information and current prices / info about annual passes to United States National Parks, passes for seniors, free passes for military, free access (permanent disabilities) passes
some of which "may provide a 50 percent discount on some amenity fees charged for facilities and services such as camping, swimming, boat launch, and specialized interpretive services."
______________________________________________


The Yosemite National Park rangers would like you to call them
if you see a bear in Yosemite,
no matter where it is or what it is doing.
Since 2003 there has been a note in the Yosemite Guide: "REPORT ALL BEAR SIGHTINGS! To report bear sightings, improper food storage, trash problems, and other bear-related problems, leave a message for the Bear Management team at: 1 (209) 372-0322. Your call can be made anonymously."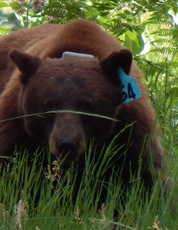 If you can, in all the excitement, try to notice if the bear has a tag (usually on the ear), the color of the tag and if possible, the number on it (the tag is large enough that with a telephoto lens you should be able to read the number).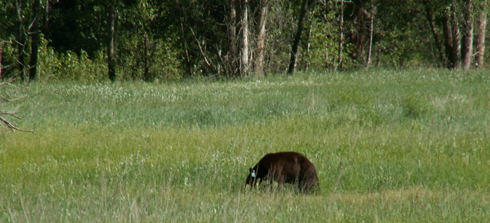 From the Yosemite Daily Report newspaper:
"It is extremely important to remember to yell at bears that are in and around development, even if they are foraging on natural food. Though it is very tempting to get close for a picture, or just to watch these incredible animals, it is important not to give into this urge. Yelling at them if they are in residential areas or near people is critical to keep bears natural fear of humans. Giving bears plenty of space. When bears become too comfortable around people, they will often start causing damage to structures and vehicles, or will even become too bold around people, creating safety concerns."
______________________________________________


Where were they when they got that great picture in Yosemite?

Where can I take a photo that looks like the one on a Yosemite postcard I just bought?
Places to take photos of
Half Dome
,
Bridalveil Fall
,
El Capitan
,
Yosemite Falls
and
Staircase Falls
.
Selfies can be great, OR dangerous. The use of cell phones for photography (with or without a selfie stick) has made preventable injury or even death by selfie common. They were only taking a selfie
Using a drone is illegal in Yosemite National park, including for photography. See an index to over a dozen park webpages with park laws, rules, regulations, policies and prohibitions about pets, bikes, permits, campground regulations, food storage, smoking, speed limits . . . and much more. Many of the park websites have detailed reasons behind the rules.

Other hotel, cabin and tent cabin choices in Yosemite valley are at: Yosemite Valley accommodations

Other restaurants, cafeterias, coffee bars, pizza, grocery stores are at: Yosemite valley restaurants, coffee bars, cafeterias, food service and groceries
– – – – – – – – – – – – – – – – – – – – – – – – – – – – – – – – – – –
Drivers should note that there are sections of road in Yosemite Valley with two lanes (usually) in the same direction, with the right lane ONLY for the free shuttle buses, ambulances, ski bus, commercial vehicles with ten or more passengers. The NPS says: "The bus lane ensures emergency vehicles can respond to incidents when traffic is backed up and provides preference for mass transit."
Parking and traffic jams
in Yosemite valley
tips and tricks
has the above advice, with maps of each of the three major day-use parking lots, with advice to help you NOT get a Yosemite National Park traffic or parking ticket, and not contribute to preventable traffic backups. And some details of
where you can't park in Yosemite, or can't park without a permit.

=================