FAQ: I can find Camp 4, but what are people referring to when they talk about Camp 11 or Upper Tecoya??
The Yosemite campgrounds were originally numbered. I've read that this system dates back to the 1800s and was formalized after 1906, during the time of the Cavalry. My 1958 topographical map of the valley has some of the numbers.
Camp 4 – (Yosemite Valley free shuttle bus stop #7) (sometimes written as Camp Four) "Sunnyside Walk-in Campground", is listed in the National Register of Historic places. Read about it at https://www.nps.gov/yose/learn/historyculture/upload/Camp-4.PDF where it says "besides its function as a campground, Camp 4 served as the intellectual and social area for Yosemite's expert climbers and climbing innovators."
Swan Slab Meadow – is the open area immediately to the east of Camp 4 along the trail to Lower Yosemite Falls. Cliffs to the east of Swan Slab meadow and boulders in the vicinity are used for climbing practice. Some of the boulders between Camp 4 and the meadow have names, examples: Columbia, Titanic, Tor and Elegant Gypsy. Along the trail leading from Camp 4 to Upper Yosemite Falls you can find Thriller boulder.
The largest boulder within the campground, at the back behind the rows of campsites, Columbia Boulder, (or Big Columbia) has the "world's most famous boulder problem" – the route named "Midnight Lightning."
There is fascinating reading on how Yosemite climbers can avoid injuries / stay alive, by Search and Rescue (SAR) Ranger John Dill, (including sections on environmental dangers, descents, big wall bivouacs, unplanned bivouacs, loose rock, climbing unroped, leading, falling, learning to lead, the belay chain, helmets, states of mind, rescues, and risks, responsibility and the limits of climbing), at:
climbing advice
NPS map from 1941 showing free Yosemite valley campgrounds numbered 4, 6, 7, 9, 11, 12, 14 and 15 (plus camp 16, Housekeeping Camp, not a free campground)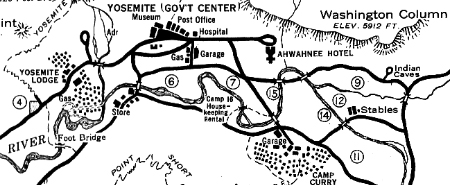 Camp 6 – not a campground anymore, now the Day-Use parking area south of the village (once called Camp Tresidder). It was used as employee housing until the flood of 1997. Pictures below of employee housing at Camp 6 after the flood: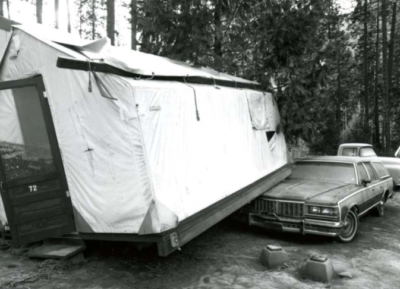 During the 1997 flood, according to the NPS, "Camp Six – 80 wood framed employee tent cabins and support facilities floated off their footings and destroyed attached underground gas and overhead electric utilities. Several contractors used this location as a construction staging area. Field offices, stockpiles of material, and equipment were extensively damaged. The concessioner stored seven tour tram vehicles in this area. Major engine damage occurred when they were submerged."
Camp 7 – former (flooded in 1997) Lower River Campground
Camp 9 – was a group campground, then backpackers' walk-in
Camp 11 – Upper Pines Campground (A.K.A. Clark's Campground)
Camp 11 in 1965 (center of photo is a 1964 Chevy Impala)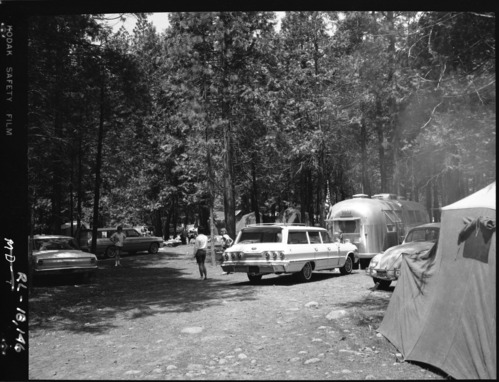 Camp 12 – North Pines Campground
Camp 14 – Lower Pines Campground, in the 1960s it had 800 campsites
Camp 15 – former (flooded in 1997) Upper River Campground, in the 1960s it was the only campground with fireplaces.
Camp 16 – Housekeeping Camp
see details and pictures at Yosemite valley overnight lodging
A 1933 map listed all campgrounds as free. It also noted where you could find a telegraph, the bearfeeding platforms, and noted that the Big Oak Flat Road was max. 15 miles per hour, "go down on odd hours only, go up on even hours only."
In 1965 people camped (legally) in the Curry Village parking lot (orchard) :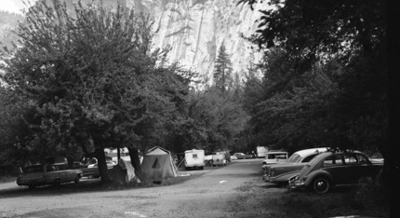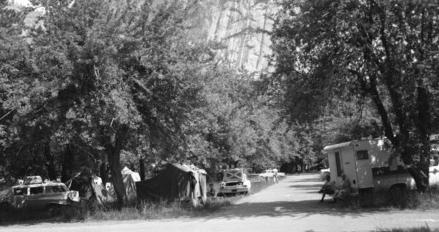 In YOSEMITE: THE PARK AND ITS RESOURCES A History of the Discovery, Management, and Physical Development of Yosemite National Park, California,
https://www.nps.gov/yose/learn/historyculture/upload/greene1987v1.pdf
Linda Wedel Greene wrote:
"Camp No. 1–El Capitan Meadow. Early campers needed meadows for pasturing their horses and mules. Abandoned for sanitary reasons soon after 1906.
Camp No. 2–Bridalveil Meadow. Used almost exclusively by army troops when in the valley between 1890 and 1906. Abandoned for sanitary reasons soon after 1906.
Camp No. 3–west of Yosemite Village on the south side of the Merced River in the trees at the west end of the meadow near Galen Clark's house. Abandoned for sanitary reasons soon after 1906.
Camp No. 4–Leidig Meadow, including portion of present Yosemite Lodge grounds. Retired from public use upon establishment of army headquarters in the valley. Abandoned for sanitary reasons also soon after 1906.
Camp No. 5–east of Yosemite Creek bridge, extending as far as the apple orchard and Hutchings's cabin, including the area later occupied by the park supervisor's home. Abandoned for sanitary reasons soon after 1906.
Camp No. 6–very old site. Later used by government and Yosemite Park and Curry Company employees. Located south of present park headquarters on north side of the Merced River. . ." (Again, it is now now the Day-Use parking area south of the village.)
" . . .Camp No. 7–still in original location along Merced River north of Camp Curry. Eventually divided by new road, creating two separate camps. East portion became No. 15.
Camp No. 8–located above Royal Arch Creek and included present Ahwahnee Hotel grounds. Erection of the hotel in 1926 forced its abandonment.
Camp No. 9–old site on Tenaya Creek adjacent to and including Royal Arch Meadow. Known as the "Organization Camp."
Camp No. 10–near Iron Spring on Tenaya Creek, south of the old Mirror Lake Road. Contained only limited space, and camping was discouraged as demand for space in the area grew. Abandoned with change of road alignment to Mirror Lake in the administration of Superintendent Washington B. Lewis.
Camp No. 11 –originally intended to include the area now occupied by the Curry Company stables and extending eastward, but that area never functioned as a public campground. Number 11 was then assigned to its present site south of Camp 14 on the road to Happy Isles.
Camp No. 12–located across the Merced River from Camp No. 14, near Yosemite Park and Curry Company stables.
Camp No. 13–never existed for reasons of superstition.
Camp No. 14–still in original location, northeast of Camp Curry.
Camp No. 15–one-half of original Camp No. 7.
Camp No. 16–originally open to auto camping, but then reserved for visitors desiring rental equipment and housekeeping facilities. Northwest of Camp Curry on south side of Merced River.
Camp No. 17–known at one time as "Camp Tecoya," later utilized for permanent residences of employees of Yosemite Park and Curry Company. (Now commonly referred to as Lower Tecoya)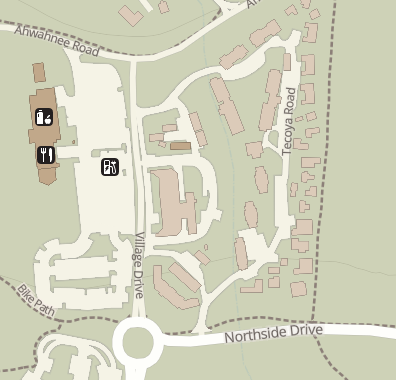 Camp No. 18–later occupied by post office and photographic studios in New Village.
Camp No. 19–formerly a public campground, then used exclusively by government employees. Located about 600 feet southwest of Sentinel Bridge. Beginning in 1912, the gradual segregation of employees and park visitors in campgrounds began.
Camp No. 20–now occupied by the Church Bowl."

Lamon Campground and Happy Pines Campground were proposed additional campgrounds.

Where were they when they took that great photo in Yosemite?
Where can I get a photo that looks like the one on a Yosemite postcard I just bought?
Places to take photos of Half Dome, Bridalveil Fall, El Capitan, Yosemite Falls and Staircase Falls.
__________________________
The original name for the Ahwahnee (briefly named the Majestic Yosemite Hotel) (Yosemite Valley free shuttle bus stop #3) was to be the "Yosemite All-Year-Round Hotel."
Much of the exterior is stained concrete, textured to look like redwood, making that part of the hotel, as well as the slate roof, fire resistant.
Photographer Ansel Adams wrote that
"the (Ahwahnee) architect had tried to compete with the environment. He lost."
The original 6th floor roof garden and dance hall were converted to an apartment in 1928 for the Tresidder family (Donald Bertrand Tresidder (then head of the Yosemite Park and Curry Company) and Mary Curry Tresidder). It included a kitchen and dining room/library. The sixth floor penthouse was converted to rooms and suites in 1971, but the kitchen, on the north side, is no longer used. All the parlors and bedrooms can be booked together. The Library Suite parlor (room 602) on the east side, with a Yosemite Falls view and Glacier point view, has leaded glass windows, a fireplace, large dining room table and a living room. The Underwood Room (604) is the bedroom directly attached to the library suite. The Sunroom (Sunporch) parlor (603) on the west side has no fireplace, but has floor to ceiling windows with views in two directions, of Glacier Point and Half Dome. Bedrooms 601 (Mather) and/or 607 (Spencer) can be included with it. The Mary Curry Tresidder Room, (605) with a Yosemite Falls view, and leaded glass windows, has a four-poster canopy bed and a larger than usual bathroom with built-in cabinetry. It used to have access to a maximum 2 person standing-room-only balcony. It does not directly attach to a parlor, but again, the entire sixth floor is sometimes booked together.
Queen Elizabeth stayed in the Mary Curry Tresidder Suite, or actually the whole hotel, in March 1983. All existing reservations at the hotel were cancelled, including some for weddings, because she did not book her stay the usual one year and one day in advance.
The Presidential Suite (President Kennedy stayed in it) on the second floor, south end of the hotel, has a parlor (room 232) with fireplace, a large balcony and can have 1 to 2 to 6 bedrooms included, all accessible to a can-be-made-private hallway to the parlor and balcony.
A large third floor parlor (room 332) with fireplace, but no balcony, can have 1 or 2 to 4 bedrooms included with it.
From the hotel website: "The El Dorado Diggins Suite was at one time a private dining room, a cocktail lounge, and a chapel in the 1940s," The living room space is step down from the entry hall with a slate floor. (Room 118)
Ahwahnee hotel map webpage has summer and winter photos of rooms, balconies, parlors, (and the views from some of them), including the Presidential Suite with the huge balcony at the (south) far end of the Ahwahnee from the parking lot, the large third floor parlor with fireplace, two main building ADA Suites, featured room 417 with it's own, small, private balcony, 5th floor rooms that share a balcony, the El Dorado Diggins Suite Jacuzzi tub, the 24 cottages / (bungalows / cabins), including the classic cottages that have an alcove between the bedroom and the bathroom with a bed you can fit a child on, and a door between the bedroom and alcove for privacy, sixth floor Mary Curry Tressider Suite, Library Suite, Underwood room, Sunroom Suite (Sun Porch), Mather, Spencer.
Standard rooms are smaller than other rooms, cost less, but most in the main building have loading dock views and one has no view at all. Most rooms are Classic rooms. A few are Featured, each with a (often shared) balcony. 417 has it's own, small, private balcony. Ahwahnee room photos and descriptions.
And see: Ahwahnee Hotel Yosemite National Park Americans with Disabilities Act (ADA) rooms and restoring Ahwahnee hotel views.
A photo of the Ahwahnee from Glacier Point: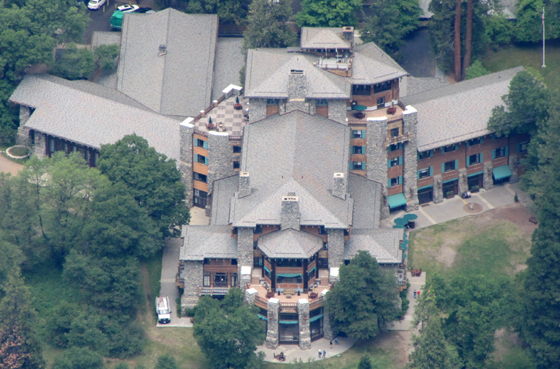 The Ahwahnee had a nine hole, 800 yard golf course, south of the main building, described as "sporty but hazardous" in a book about the Naval Special Hospital that the hotel was turned into (1943 – 1945). https://www.nps.gov/yose/learn/historyculture/navy-hospital.htm
The tennis courts "a necessary evil in connection with the hotel operation" were removed in 2019.
https://www.nps.gov/yose/learn/nature/tenniscourtrestoration.htm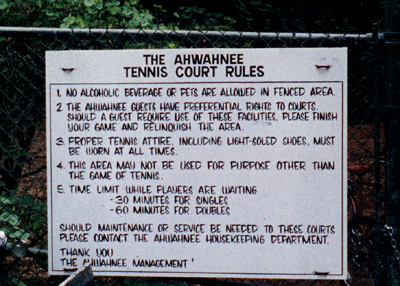 There is a larger version of the map below at map of the Ahwahnee hotel.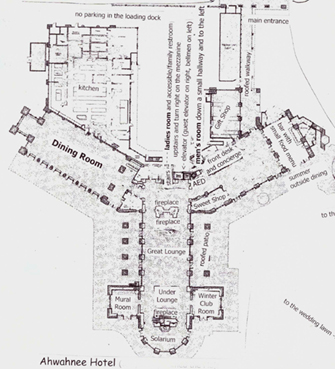 The Awahnichi (or Ahwahnechee) tribe inhabited Yosemite.
Ash Can Alley from the Yosemite webpage: "It wasn't until 1916, along with the creation of the National Park Service, that winter sports began to truly evolve in Yosemite Valley. Employees created an 800-foot snow slide near Curry Village and enthusiasts were creative in finding devices to slip and slide their way down. Using trash can lids or hotel trays, the run became known as Ash Can Alley. . . drawing large crowds which required up to seven rangers to assist with managing traffic, people, and keeping the pulleys in working order."
1928 A wooden "super-elevation" is installed on the Ash Can run curve "to prevent the lids from leaving the track and, incidentally, provide
an added thrill when the cans travel up this slope and down again into the track."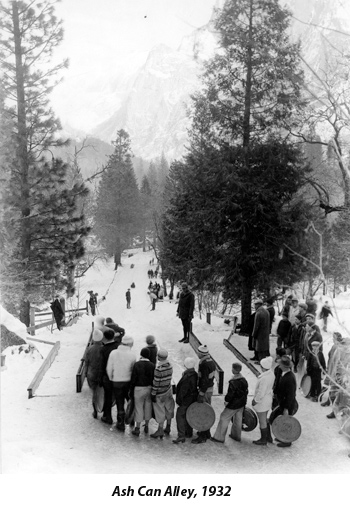 Richard J. Hartesveldt, Senior Ranger Naturalist, wrote in a January 1955 article:
"BASKET DOME is located on the north rim of Tenaya Canyon directly across from Half Dome and just east of North Dome. The name comes from the Indian legend of Half Dome, in which the harried wife, Tis-sa-ack, fled from her husband, Nangus, and tossed aside her burden basket which landed upside down and turned to stone."
Big Oak Flat Road (BOF Road) is from the park boundary near the Big Oak Flat Entrance to the El Portal Road. Richard J. Hartesveldt, Senior Ranger Naturalist, wrote in a January 1955 article that Big Oak Flat Road "was the second road built into Yosemite Valley from Knights Ferry, through Chinese Camp and Big Oak Flat. It was built to the Hodgden Ranch in 1870 and was completed by the Yosemite Turnpike Company to the Valley floor on July 17, 1874. The settlement of Big Oak Flat was named for a large valley oak, (Quercus lobata) 11 feet in diameter. According to (James) Hutchings "the tree had fallen in 1886."
Big Trees Lodge was briefly the name of the Wawona Hotel during a lawsuit.
https://www.nps.gov/yose/learn/news/yosemite-national-park-to-change-historic-property-names.htm
Boy's Town was a staff housing area at Curry. You see the tents as you go along the road between the Curry orchard and Lower Pines Campground, upper right hand side of the map below:

Bridalveil Straight is along (usually one-way) Southside drive in Yosemite valley, (0.25 miles east of the intersection of Southside Drive and Wawona Road) with long paved turnouts on both sides of the road with a view of El Capitan on the left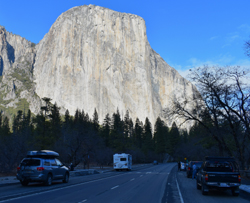 and Bridalveil Fall on the right, where a long trail to Bridalveil fall comes out to the road.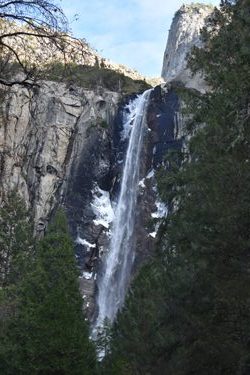 Watch out as you drive through here for people standing in the roadway to look at the view, get a picture, often not looking out for oncoming traffic:


Bridalveil Straight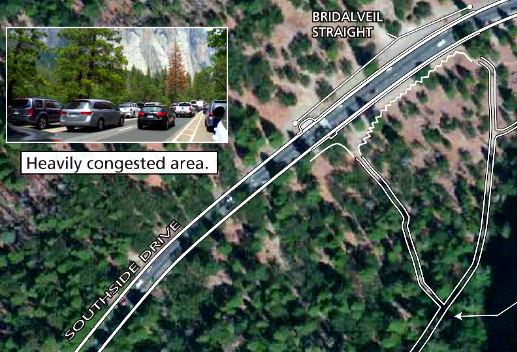 is being redesigned and will eventually look like this, with tour bus parking and a better viewing area away from traffic:

see also other places to take photos of Bridalveil fall and El Capitan.
Bug Camp at Tuolumne is an Insect Research Station.
Camp AE Wood, which became the Wawona Campground (from the Yosemite Park webpage: "Camp AE Wood . . . Each summer, beginning in 1891, some 200 Cavalrymen rode out from the Presidio in San Francisco to patrol Yosemite, in order to "prevent timber cutting, sheep herding, trespassing or spoliation in particular." When they weren't out patrolling the high country, these soldiers on horseback were billeted in Wawona, at the spot that would become the Wawona campground many years later. During its time as a military camp, the future Wawona campground was known first as Camp Wawona and then as Camp AE Wood, after the first acting superintendent of Yosemite National Park, Captain Abram Epperson Wood . . . Camp AE Wood . . . was home not only to the Cavalrymen who protected the young park, but also to the very first marked nature trail in the national park system. In 1904 acting superintendent Major John Bigelow, Jr. created an arboretum next to the camp, complete with a footbridge, a path, benches, and signs identifying plants and trees by their Latin names. Three men were tasked with the construction and upkeep of the arboretum; all three were buffalo soldiers, members of an African American troop of the Cavalry."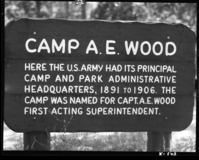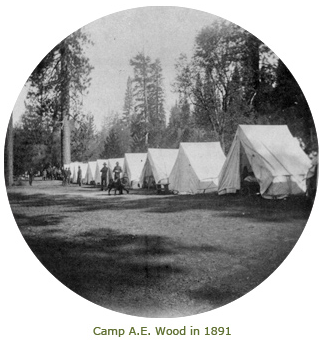 Camp Yosemite, later Camp Lost Arrow, was a military post at the base of Yosemite fall.
Chinquapin was named after Chinquapin Creek, which was named after the bush Sierra Chinquapin (Chrysolepis sempervirens).
Chowchilla Mountain Road is from Wawona Road to the park boundary.
Cooks Meadow has multitudes of views.
Cosmopolitan Bath House and Saloon
had "ladies' parlor, a gentleman's reading-room furnished with the latest newspapers of Eastern and Western cities, full-size billiard tables, carpeted baths, elegant glassware and a barber-shop . . ."
"Visitors to Yosemite Valley found respite at the Cosmopolitan Bathhouse & Saloon . . . known as a spot where visitors could get an excellent bath of hot or cold water at any hour of the day, the Cosmopolitan was furnished extravagantly with billiard tables, full-length mirrors, bathtubs, and a fully-stocked bar. The Cosmopolitan attracted many travelers who appreciated its unexpected comforts. Wealthy individuals from the northeastern United States, Californians, and a large number of foreigners made up the majority of visitors It operated from 1871 to 1884."
https://www.nps.gov/yose/learn/historyculture/past-exhibit-views-and-visitors-2010.htm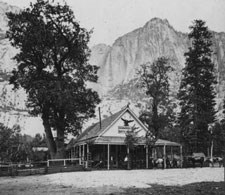 https://www.nps.gov/yose/blogs/curious-matters-dirt-granite-and-fine-china.htm
Crane Flat Complex, Tamarac Complex and Mariposa Complex refer to the three basic cultural complexes of the original people who lived in the Yosemite area, as early as 1000 B.C.
Camp Curry, now Curry Village (briefly named Half Dome Village) was originally seven tents. In 1899 "a good bed and clean napkin with every meal" could be had for $2 a day. By "1922, Camp Curry had grown to 650 tents, 60 rooms in cottages, a cafeteria, a bakery, an ice plant, a candy kitchen, soda fountain, a studio, laundry, bathhouses, pool, auditorium, bowling alley, pool hall, a post office, and a store."
A multitude of photos from the October 2008 rockfalls that eventually closed 233 cabins, etc. and 43 staff housing units can be seen at:
https://www.nps.gov/yose/learn/nature/upload/Stock-et-al-2011-Geosphere.pdf
Read about Jennie Foster Curry at https://www.nps.gov/yose/learn/historyculture/women.htm
See details and pictures at Yosemite valley overnight lodging
Some history of Curry Village accommodations, from NPS webpages:
"1918 a new "Studio" attached to the central complex provided guests with photographic dark room developing and a small variety of sundries. Behind the dance pavilion, Foster erected a bowling alley and men's lounge/billiard room
1920 With the completion of the refrigeration plant, ice for Camp Curry no longer had to be cut at Mirror Lake and stored at camp.
1927 Fences are constructed around the swimming pool at Camp Curry to keep people from using the facility without paying and to keep
the pool clean.
By 1940, Camp Curry boasted a "tailor shop" on site. Perhaps this was part of the laundry facility.
1955 Upon request from NPS, the YP&CC agrees to "tighten up" on the liberalized dancing (jitterbug, Bunny Hop, "fast" Latin dances) at the Pavilion. The dance floor was extremely congested and rock and roll dancing was too space consuming. Superintendent was mostly concerned that modern dancing was offensive to family values.
1956 Tents in guest and Housekeeping Camp are painted "in order to cover the misdirected tendencies of our visiting public to write and draw on the canvas tent walls with charcoal and lipstick.
1961 Camp Curry converts the old auditorium and dance pavilion to a new lodging unit, named the Stoneman House.
1971 Plans for construction of a coffee house in the Curry Garage near the ice rink are blocked. Supt. felt the proposed facility would not be "in keeping with the atmosphere we would like to maintain and foster at Yosemite." He felt that a coffee house was "in the category of dance pavilions and evening movies. Also, the proximity of the facility to Stoneman meadow and the difficulties [with hippies] experienced in that locale cause us additional concern."
The old Curry dump site is east of Curry Village.
The Curry orchard is now a day-use parking area. James Chenowith Lamon planted orchards in Yosemite Valley, including the apples at the Curry Village parking lot.
https://www.nps.gov/yose/blogs/the-first-pioneer-settler-of-yosemite-valley.htm
This map of Yosemite Valley from 1872 shows Lamons orchard, as well as the locations of Leidigs, Blacks and Hutchings: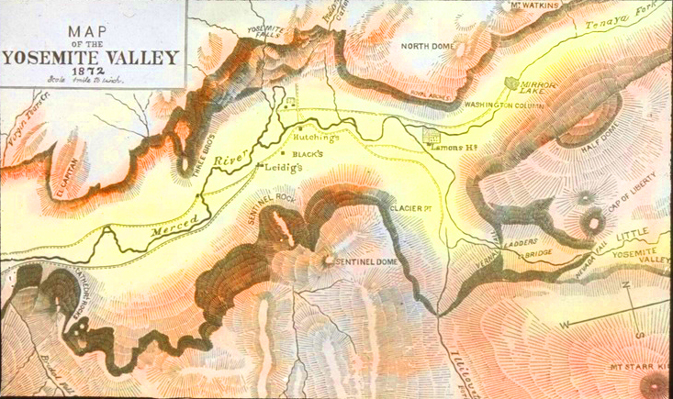 and here is Lamon's cabin, the first cabin built in Yosemite: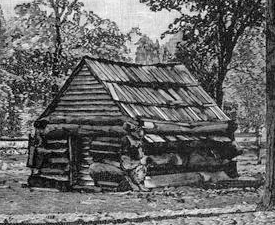 Devil's Bathtub or The Bathtub is a little soaking pool with comparatively warm water in the rocks at the base of Royal Arches Cascade, relatively safe some times of the year.
El Cap Crossover (El Capitan Drive) is the road section between Northside and Southside drives that goes over the El Capitan bridge.
El Portal Road is from the park boundary west of the Arch Rock Entrance to Pohono Bridge.
El Portal Maintenance Complex includes warehouses, archives, historic preservation, and various machine shops and offices.
The Ferguson rock slide closed highway 140, and that section of the highway is one way at a time, with traffic lights. There is a vehicle size limit. One day a driver of an oversized vehicle ignored the size restrictions, got stuck and closed the road to everyone for hours.
The two story Utility Building #527 at the back of Yosemite Village, is also named Fort Yosemite.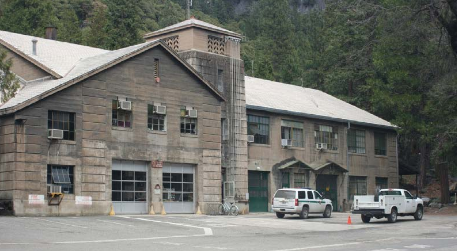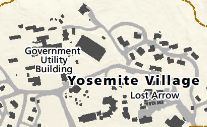 Gentry Station was the last station on the original Big Oak Flat road, on a cliff overlooking the Merced River canyon.
A Yosemite Museum Technician wrote:
The Glacier Point Hotel was open from 1918 through 1969, when an electrical fire destroyed the building and the adjacent Mountain House. The view from the hotel included Half Dome and Yosemite Valley. Nevertheless, you can still see this historic view by driving up to Glacier Point in the summer (the road opened for the season today!) or skiing out during the winter. Not much is left from the hotel, however, the Yosemite Museum does have these keys and key fobs from this structure in its collection.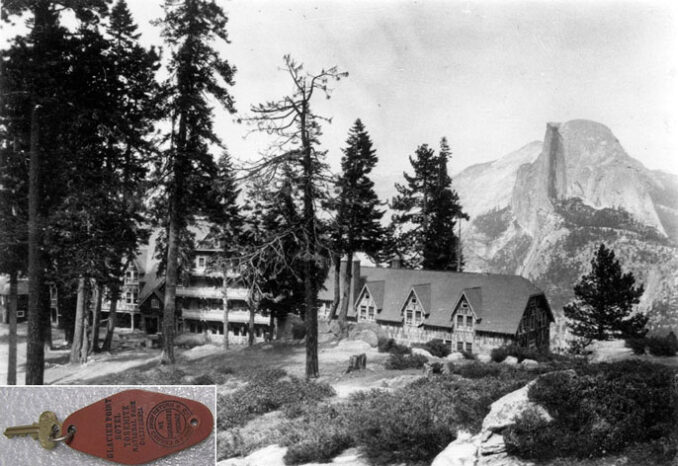 16 mile long Glacier Point Road is from Chinquapin to Glacier Point. In the winter it is sometimes referred to as the Badger Pass road. After the ski resort closes at the end of winter, and when plowing the road starts, a gate at Chinquapin is closed and locked. Bicycling is not allowed on the road during plowing operations.
The views from Glacier Point include:
The Tioga Road was originally the Great Sierra Wagon Road, built in 1882, and with the help of the Sierra Club, opened to motorists in 1915 as the Tioga Road.
see places to take photos of Yosemite Falls and Half Dome.
Half Dome Village was briefly the name of Curry village during a lawsuit.
https://www.nps.gov/yose/learn/news/yosemite-national-park-to-change-historic-property-names.htm
Happy Isles is at Yosemite Valley free Shuttle Bus stop number 16. Richard J. Hartesveldt, Senior Ranger Naturalist, wrote in a January 1955 article that the Happy Isles "were earlier called Island Rapids by James Hutchings. The name, Happy Isles was given by W. E. Dennison, Guardian of Yosemite Valley in 1885. "—no one can visit them without for the while forgetting the grinding strife of his world and being happy."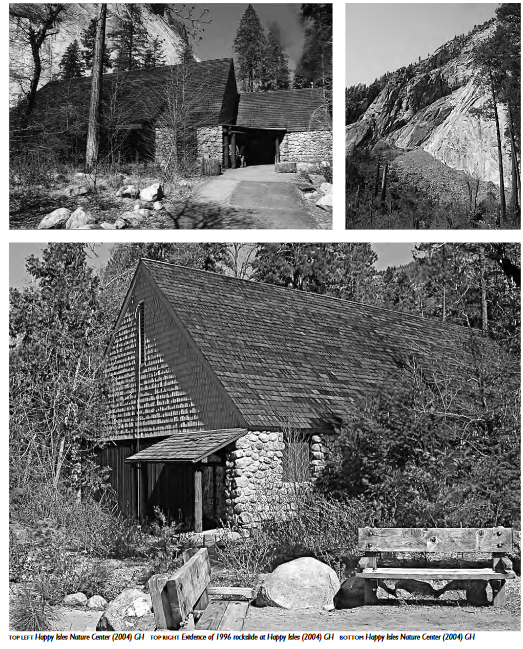 Three photos above, with a photo at the top right showing evidence of the the Happy Ilses rock slide of 1996, are from a Sense of Place, Design Guidelines For Yosemite National Park
Huff House is staff lodging near Curry Village, on the left hand side of this map:

Old Hutchings View "is located adjacent to the southwest corner of Sentinel Bridge. This vista looks across the Merced River to Yosemite Falls. This is the view that originated from the Hutchings House (also called the Upper Hotel) that was across Southside Drive to the south. The original hotel began in 1859, and was added onto during the tenure of James Hutchings." (Description from NPS.)
Inspiration Point is above Yosemite Valley right next to a tunnel on the Wawona road.
The jail in Yosemite valley is referred to by some as the John Muir Hotel.
Kenneyville was a stables complex where the Ahwahnee was eventually built.
La Casa Nevada, originally the Alpine House, was at the base of Nevada fall.
https://www.nps.gov/yose/learn/historyculture/snow.htm it says:
"Snow's La Casa Nevada has become deservedly famous all over the world, not only for its excellent lunches and general good cheer, but from the quiet, unassuming attentions of mine host, and the piquant pleasantries of Mrs. Snow. … And, although they do not know whether the number to lunch will be five or fifty-five, they almost always seem to have an abundance of everything relishable."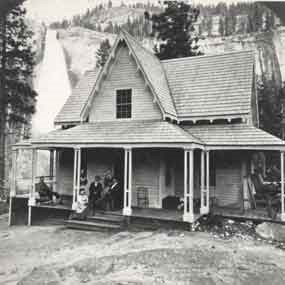 Le Conte Memorial, (Yosemite Valley free shuttle bus stop #12) (Yosemite Conservation Heritage Center), built by the Sierra Club in Tudor Revival design, was named after Joseph LeConte, a University of California geology professor. It was originally built further up hill at Curry Village but eventually moved (about 15 years after) by Mary Curry so she could expand Curry Village. Photographer Ansel Adams was a caretaker for the LeConte Memorial Lodge for a few years. (The Ansel Adams gallery is near the visitor center at shuttle stops 5 and 9.)
Lembert Dome in Tuolumne Meadows is a do-able day hike.
Lost Arrow is very basic employee housing in Yosemite valley, small shared rooms, restrooms in a separate building, but with views of Half Dome and upper Yosemite Falls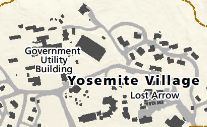 The Majestic Yosemite Hotel was briefly the name of the Ahwahnee during a lawsuit.
https://www.nps.gov/yose/learn/news/yosemite-national-park-to-change-historic-property-names.htm
McCauley Cabin is west of Lee Vining at Tuolumne Meadows
Miller Cascade is on the Dana Fork of the Tuolumne River, near (and often heard from) Tuolumne Meadows Lodge.
Miwok round houses,cabins can be found at the https://www.nps.gov/yose/learn/historyculture/indian-village-of-the-ahwahnee.htm The word "Miwok" is also spelled "Miwuk" or "Me-Wuk." Translated as "people" or "Indian people," it is used to identify people who are descended from any one of the several different Miwok groups in California.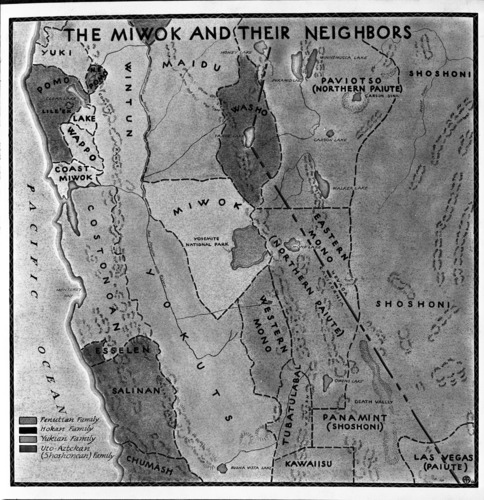 Mirror Lake is no longer always full of enough water to reflect Half Dome
Monroe Meadows – now the downhill ski area at Yosemite Ski and Snow area (also named Badger Pass).
Mount Hoffman is just about the geographical center of Yosemite. From the top, or near the top, you can see Tenaya Peak above Tenaya lake, and along the skyline or slightly below, left to right, Simmons Peak, Vogelsang Peak, Mt Lyell, Mt Maclure, Mt. Florence, Mt Ansel Adams, Foerster Peak, Long Mtn, Isberg Peak, Post peak, Triple Divide Peak, Mt. Clark, Gray Peak, Clouds Rest, Buena Vista Crest, Quarter Domes, Buena Vista Peak, Mt Starr King, Horse Ridge and Half Dome (with binoculars or a good telephoto you can see the hikers on the cables).
The domes viewable down at Tuolumne Meadows from Mount Hoffman are (left to right) Pothole Dome, Fairview Dome and Lembert Dome.
Above Tuolumne Meadows and across to Tenaya Lake, from left to right, you might be able to identify:
Gaylor Peak, Tioga Pass, Dana Plateau, Mt Dana, Mt Gibbs, Cathedral Peak, Unicorn Peak, Lower Cathedral Lake, Johnson Peak, Cockscomb, Koip Peak, Echo Peaks, Blacktop Peak, Tresidder Peak, Rafferty Peak, Matthes Crest and Donohue Peak.
Looking from Tuolumne Meadows, moving right to left towards the northeast you can see: White Mountian, Ragged Peak, Mt Conness, Sheep peak, Shepard crest, Tuolumne Peak, Virginia Mtn. and Whorl Mtn.
"the Narrows" is a section of El Portal Road between Pohono Bridge and the Big Oak Flat intersection, also described as a quarter-mile section of road upstream of the Big Oak Flat Road.
Northside Drive is the main road on the north of the valley. It runs from the Curry Village intersection to Pohono Bridge.
Ostrander Ski Hut, completed in 1941, was the last building erected in Yosemite by the Civilian Conservation Corps. You can ski in and stay overnight https://www.yosemiteconservancy.org/ostrander-ski-hut "All revenue from overnight fees is used to operate the ski hut . . . This trip should not be made by novice skiers."
Ostrander Lake: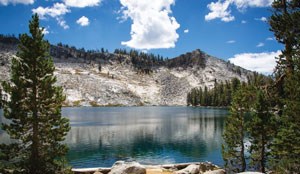 Two photos above of the ski hut in winter and summer are from
a Sense of Place, Design Guidelines For Yosemite National Park
Priest Station is at the top of Priest Grade on the way to Yosemite on highway 120. In 1855 it was named the Rattlesnake Store and expanded into a hotel, a rooming house for miners, a carriage house, stable, barns and out-buildings.
Ranger's Club is the name for a 2 story historic building across from the Yosemite Valley Administration Building.
https://www.nps.gov/yose/learn/historyculture/rangers-club.htm
Rancheria Flat, Railroad Flat and Abbieville (Hennessey's Ranch) are in the (Old El Portal) El Portal Administrative site.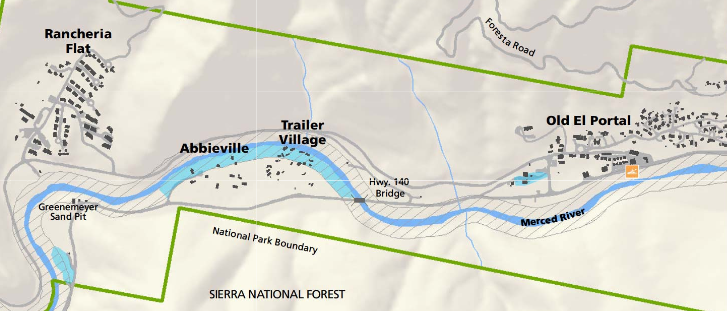 a Rancheria Flat house: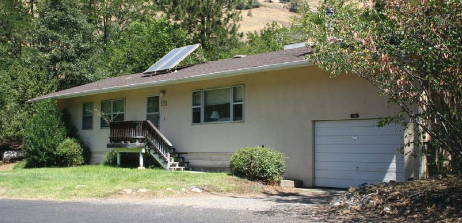 River Straight refers to the section of road between the intersection at Curry Village (briefly named Half Dome Village) and the intersection at the Day-Use parking area south of the village.
Royal Arches Meadow is north of North Pines campground / Tenaya creek and east of Backpackers (Backpackers walk-in) campground.
From Sentinel Dome you can see Half Dome, Mount Watkins, Tressider Peak, Clouds Rest, Kuna Crest, Fletcher Peak, Vogelsang Peak, Mount Watkins, Cathedral peak, Ahwiyah Point, Quarter Domes, and Little Yosemite Valley and Tenaya Canyon and each of these is identified at:
https://www.nps.gov/yose/learn/photosmultimedia/upload/sentineldome-key.jpg
Southside Drive is the (usually mostly one-way) main road on the south of the valley. It runs from the Pohono Bridge to the three way intersection adjacent to Upper and Lower Pines Campgrounds.
Stoneman House at Camp Curry (Yosemite Valley free shuttle bus stop #13 / #13B), was originally a dance hall.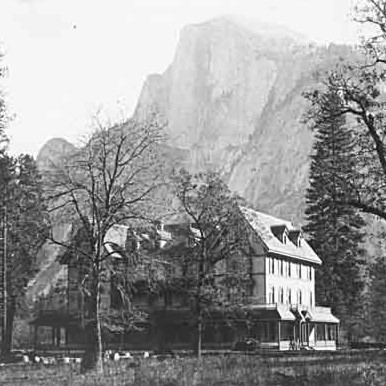 The four-story Stoneman House hotel, in Yosemite Valley, (photo with meadow in foreground and Half Dome in distance), was built in 1887, destroyed by fire in 1896.
Sugarpine Bridge is along one route to Mirror Lake
At the west end of Sugarpine Bridge you can take a panorama photo of Royal Arch Cascades (coming down the cliff on the left in the photo below) and Half Dome:

In the photo below, the Ahwahnee Hotel is in the upper left, the Ahwahnee Bridge crosses the Merced River near the center and Sugarpine Bridge is to the right.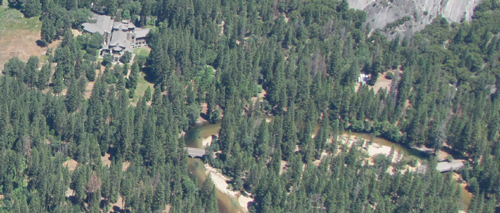 Swinging Bridge , which you cross on the Cook's Meadow hike / walk or can swim in the vicinity of, much of the year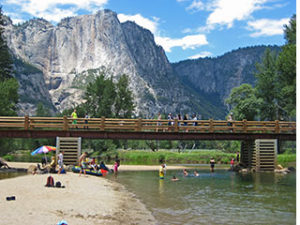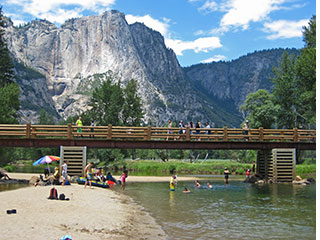 no longer swings, but it did when this picture was taken in 1934: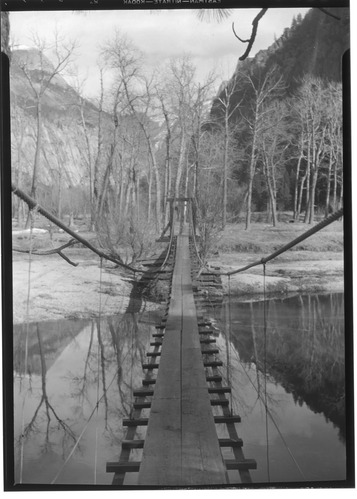 Taft Toe is at the base of Taft Point, at the south end of El Cap crossover.
Tecoya (Upper, Middle and Lower) are park housing areas, around and north of the Village store and Administration area. Lower Tecoya is employee housing behind the valley garage and at the edge of the Ahwahnee Meadow. Upper Tecoya and Middle Tecoya (behind the Medical Clinic) are employee housing north of that. There are also Tecoya Dormitories, south of all of these. Tecoya was an original name for North Dome.
Tenaya lake near Tuolumne Meadows, was named after Chief Tenaya in NPS materials we read:
"The lands now encompassing Yosemite National Park are considered traditional homelands for a
number of contemporary Indian peoples. During the 1800s the regional landscape witnessed broadscale
and traumatic cultural change resulting from the invasion of nonnatives triggered by the California Gold
Rush. At the time of contact with Euro-Americans (1851), Yosemite Valley was home to a diverse group
who called themselves the "Yosemites" and were led by Tenaya, son of a Miwok father and a Mono
Lake Paiute mother. Tenaya's band likely included individuals from Southern Sierra Miwok, Mono
Lake Paiute, Central Sierra Miwok, and Yokuts, and probably included former Mission Indians, likely
from Ohlonean groups. The larger park area was inhabited and used by several cultural groups,
including Southern and Central Miwok, Western Mono, and Chukchansi Yokuts groups from the
southern foothills, and Northern Paiute from Mono Lake and other areas."
Thousands Cabins employee housing is right across the road from the Lodge pool.
Tioga Road is from Crane Flat intersection to Tioga Pass at the east park boundary.
The toboggan run at Curry was east of the main development and photos show it had a great view of Half Dome.
Too-lool-a-we-ack was an early reference to Illilouette Fall.
Train Wreck (Highland Court) is a name for employee housing trailers behind Yosemite Lodge, across from the Juniper hotel building.
Tunnel View is just above Yosemite valley when you come on highway 40: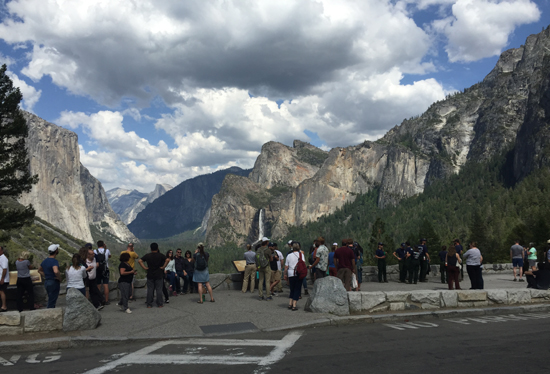 The Tuolumne Meadows Visitor Center was originally a Civilian Conservation Corps mess hall for a road crew camp.
The Tuolumne Meadows campground reservation office for the spring, summer and fall months becomes the Tuolumne Meadows ski hut in the winter.
The U.S. District Courthouse is up a road above Yosemite Village.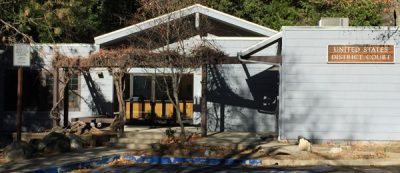 Someone made an addition to a sign out front of the Yosemite Courthouse at the left of the photo above, to tell people where their improperly parked, then towed, vehicle could be reclaimed: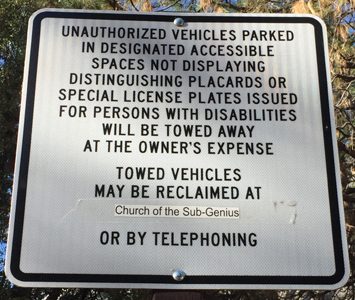 Village Drive is the name of the shuttle bus route road that runs in front of the Valley Visitor Center (Yosemite Valley free shuttle bus stop #5) .
Vogelsang High Sierra Camp is a 6.8 mile, 11.0 km, 3.5 hour hike from Tuolumne Meadows.
see info at:
https://www.travelyosemite.com/lodging/high-sierra-camps/, where it has said:
"The highest of the High Sierra camps at over 10,000 feet above sea level, Vogelsang was established in 1940 and is a great basecamp for hikes to the surrounding alpine lakes, including Evelyn Lake, Ireland Lake, Boothe Lake, Emeric Lake, and Vogelsang Lake. Here, you'll find comfortable accommodations and great hospitality—at nearly two miles high. A dramatic step up from tent camping, our 12 cabins offer 42 guests comfortable beds—but no showers."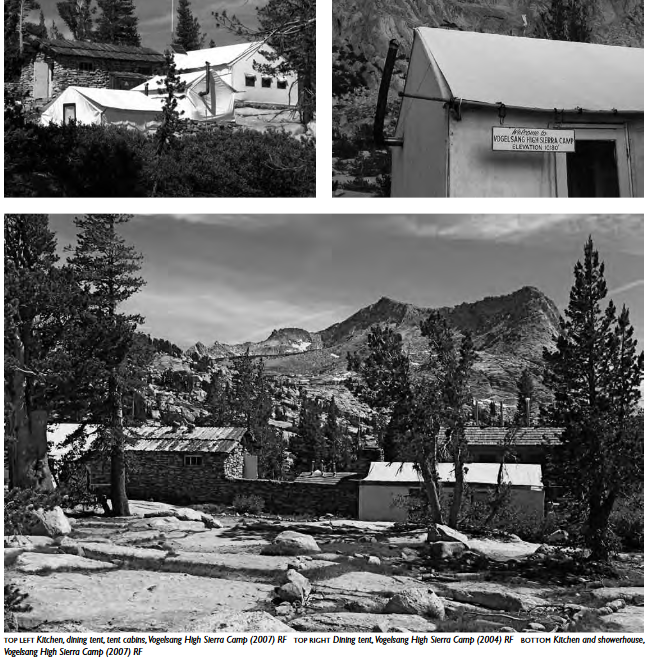 Three photos above of Vogelsang High Sierra Camp (2007) are from
a Sense of Place, Design Guidelines For Yosemite National Park
The first Vogelsang High Sierra Camp, on the north shore of Boothe Lake, was moved due to "intolerable" mosquitoes.
Wahhoga (or Wah-hoga) was the site of the last historically occupied Indian Village in Yosemite Valley (just west of Camp 4). It was removed in 1969.
Washburn Point is on the Glacier Point road: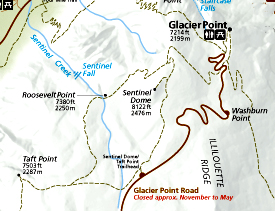 It has this view of Half Dome:


Wawona Road is from the park boundary near the South Entrance to Southside Drive in Yosemite Valley.

Wawona from the Yosemite webpage: "One of several explanations of how Wawona got its name is cited in the book of The Giant Sequoia of the Sierra Nevada which claims that Wawona was named in the Miwok tongue as "who-who'nau". "Wawona" represented the hoot of an owl which was considered to be the guardian spirit of the sequoia trees. Later this name was adopted by the hotel and community located a few miles north of the grove which still retains the name. This story demonstrates a connection between the native cultures of the region and European pioneers who later settled in this area of Yosemite."
NPS map of Wawona area (note that this map was produced when the Wawona Hotel was named Big Trees Lodge):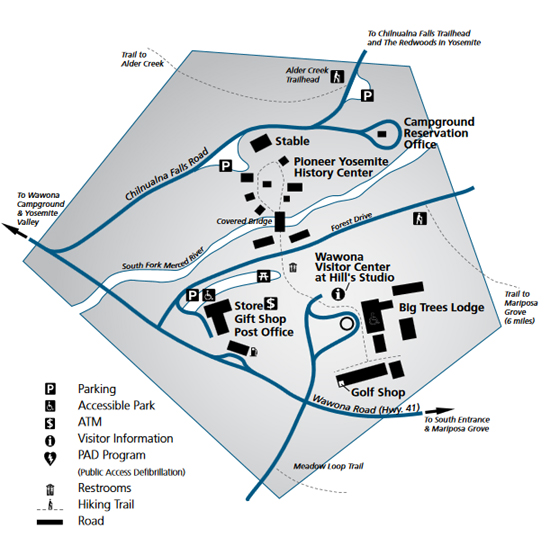 "Wosky brown" refers to the warm brown color of park service buildings recommended by John Wosky, a NPS landscape architect in the 1930s.
Wosky Pond is about 2 miles west of the Yosemite Lodge on Northside Drive with views of Cathedral Spires and Cathedral Rocks.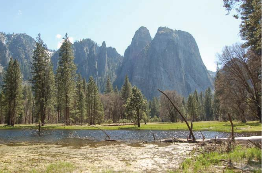 Yosemite has also been spelled (and/or pronounced) "Yohamite valley," Yo-hem-i-ty valley, "yo'hem-iteh," "Yo Semity," "Yo Semite," and "Yo-sem-i-ty."
Old or Lower Yosemite Village was originally in the vicinity of where Swinging Bridge (see photos above) is now (see it and Sentinel Bridge on the map below). Note that the location of the Chapel on this map is not where the Chapel currently is. ( You can also reference the Yosemite valley free shuttle bus route.)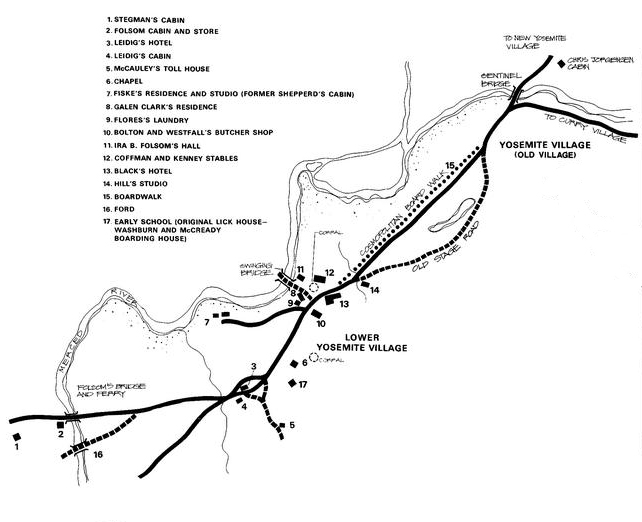 The list of locations on the map includes:
Hutchings House https://www.nps.gov/yose/blogs/hunting-for-the-hutchings-house.htm
Galen Clark had more than one Yosemite residence. https://www.nps.gov/yose/learn/historyculture/galen-clark.htm
Yosemite Lodge Pine and Oak cabins were removed after being damaged by the 1997 flood
Yosemite Ski & Snowboard Area was briefly the name of the Badger Pass ski area during a lawsuit.
https://www.nps.gov/yose/learn/news/yosemite-national-park-to-change-historic-property-names.htm
__________________________________________
Especially if you've never been to Yosemite, the Yosemite newspaper has lots of the most current safety info, a calendar of park activities including Ranger walks, and hours of operation for visitor centers, museums, stores.
http://www.nps.gov/yose/planyourvisit/guide.htm
__________________________________________
free Maps of Yosemite are at:
http://www.nps.gov/yose/planyourvisit/maps.htm
__________________________________________
Webcams brought to you by the Yosemite Conservancy, a non-profit park support group:
http://www.yosemiteconservancy.org/webcams
__________________________________________
In 1918 there was a zoo of sorts in the valley, with three orphaned mountain lion cubs and a black bear cub.
Leidig Meadow once had an oval race track for horse races.
In the late 1800s people spelled it Yo-Semite, Yo Semite or Yo-Hamite.
The Four Mile trail had a toll of one dollar when it was first built and a part of the Vernal Falls trail cost 75 cents.
In June 1900 the first automobile arrived in Yosemite Valley (a Locomobile).
In the 1960s there was still telegraph service in Yosemite Valley, but only in the summer.
______________________________________________

The Yosemite National Park rangers would like you to call them
if you see a bear in Yosemite,
no matter where it is or what it is doing.
Since 2003 there has been a note in the Yosemite Guide: "REPORT ALL BEAR SIGHTINGS! To report bear sightings, improper food storage, trash problems, and other bear-related problems, leave a message for the Bear Management team at: 1 (209) 372-0322. Your call can be made anonymously."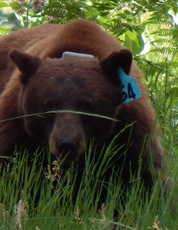 If you can, in all the excitement, try to notice if the bear has a tag (usually on the ear), the color of the tag and if possible, the number on it (the tag is large enough that with a telephoto lens you should be able to read the number).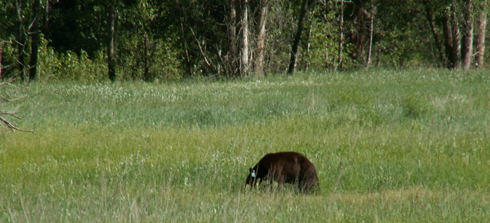 From the Yosemite Daily Report newspaper:
"It is extremely important to remember to yell at bears that are in and around development, even if they are foraging on natural food. Though it is very tempting to get close for a picture, or just to watch these incredible animals, it is important not to give into this urge. Yelling at them if they are in residential areas or near people is critical to keep bears natural fear of humans. Giving bears plenty of space. When bears become too comfortable around people, they will often start causing damage to structures and vehicles, or will even become too bold around people, creating safety concerns."
And the Yosemite Daily Report also said:
"Scare bears when you see them. . . in developed areas- Yell like you mean it!
Make as much noise as possible, try waving your arms, stomping your feet
or anything to make you look intimidating and to get the bear to run away.
We know it's fun to see bears and it can feel mean to scare them,
but this is a simple way to truly help save a bear's life."



______________________________________________

Where were they when they got that great picture in Yosemite?
Where can I get a photo that looks like the one on a Yosemite postcard or t-shirt I just bought?
Places to take photos of Half Dome, Bridalveil Fall, El Capitan, Yosemite Falls and Staircase Falls.
______________________________________________
Hotel, cabin and tent cabin choices in Yosemite valley
are at: Yosemite Valley
accommodations
Restaurants, cafeterias, coffee bars, pizza, grocery stores are at: Yosemite valley restaurants, coffee bars, cafeterias, food service and groceries
– – – – – – – – – – – – – – – – – – – – – – – – – – – – – – – – – – –
Drivers should note that there are sections of road in Yosemite Valley with two lanes (usually) in the same direction, with the right lane ONLY for the free shuttle buses, ambulances, ski bus, commercial vehicles with ten or more passengers. The NPS says: "The bus lane ensures emergency vehicles can respond to incidents when traffic is backed up and provides preference for mass transit."
Parking and traffic jams in Yosemite valley tips and tricks has the above advice, with maps of each of the three major day-use parking lots, with advice to help you NOT get a Yosemite National Park traffic or parking ticket, and not contribute to preventable traffic backups. And some details of where you can't park in Yosemite, or can't park without a permit.