Yosemite Valley free shuttle bus has a link to the most recent shuttle bus map and locations for art classes, bike rentals, bike paths, campsite availability, grocery store, hikes, horseback riding, ice skating, free and fee internet access, laundromat, lost and found, photo walk, rafting, Ranger talks/walks/evening programs, restaurants, showers, swimming, waterfalls and links to local weather reports.
Here is a close up from the NPS map of the east end of Yosemite Valley: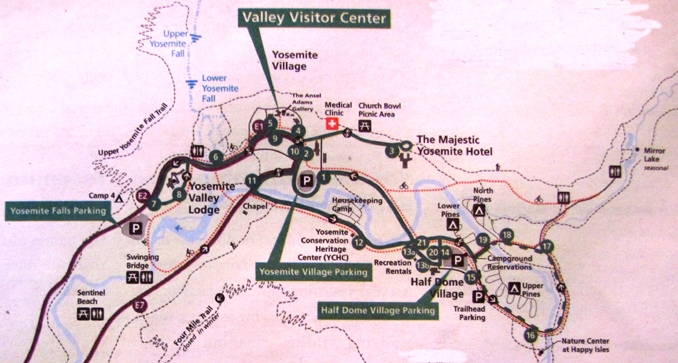 and here are links to:
Map of the Ahwahnee Hotel
Map of Lower, Upper and North Pines campgrounds
Map of Curry Village (briefly named Half Dome Village) day use parking lot
Map of Yosemite Village day use parking and the notorious round-about
If you are coming for the day, you might want to read Parking and traffic jams in Yosemite valley tips and tricks
Maps below courtesy of the National Park Service: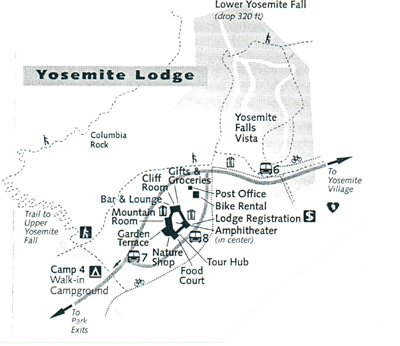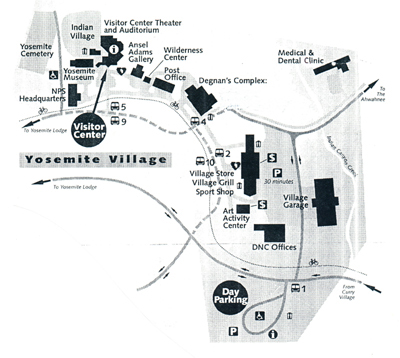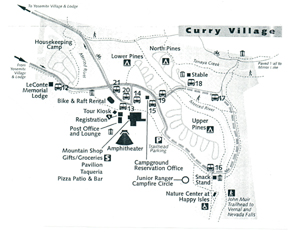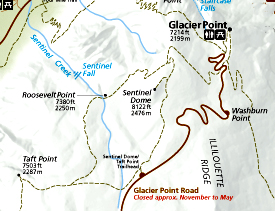 You have a number of lodging choices of where to stay overnight in Yosemite Valley in Yosemite National Park (heated or unheated wood floored, canvas sided and roofed tent cabin / wood walled cabin without a bath / cabin with a bath / various designs of hotel rooms or campsites).
Yosemite Valley is an attempt to show the grandeur of the depth and width of the valley through photos of Yosemite Falls.
See also:
Where were they when they took that photo of Half Dome, Yosemite Fall, Staircase Fall Bridalveil Fall, El Capitan?
Yosemite Valley from Glacier Point with day time and night time views